Paris is the perfect city to host your next event.
A rich history, stunning architecture and world-class cuisine are just a few reasons why it draws millions of international visitors each year.
Add to this two international airports, an efficient public transit system, and a variety of venue options—and you have the ultimate event destination.
But with so many venue choices at your disposal, it can be challenging to narrow down the right one.
For guidance, we've turned to Leasyt, a Paris-based company that specializes in unique event spaces for small to midsize conferences and events. Leasyt gives you free access to their curated list of locations that you can book for zero fees or commission.
We've combined their knowledge of spectacular spaces with our expertise in engaging events to bring you a list of the best event venues in Paris for your next meetup or conference. See which one is your favorite below!
For a striking setting: Élysée Montmartre
Blow your attendees away by hosting them at the Élysée Montmartre: a concert hall and Paris institution that boasts 1,000m² of open space. Set the room for a 1,100-person cocktail evening or a conference for up to 600 attendees. The building is air-conditioned and has tech, sound & light equipment available on site.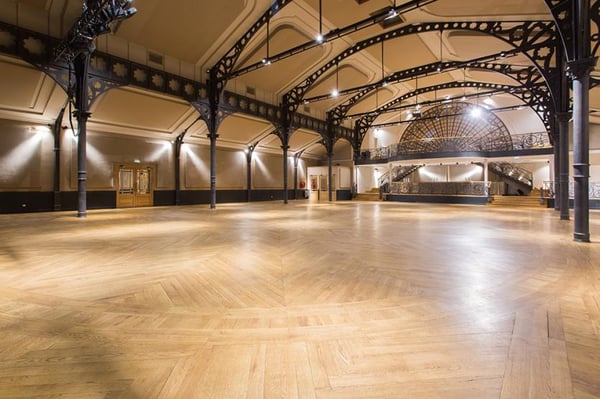 Élysée Montmartre
For multi-functionality: Espace Saint-Martin
Espace Saint-Martin offers nine meeting rooms spread over four floors, for a total of 1,500m². You can book these rooms separately or all at once.
The 450m² auditorium can accommodate a conference for up to 350 people. There are also smaller rooms that range from 70m² to 280m², which are ideal for brainstorming sessions and workshops. The site is fully equipped and includes Wi-Fi, a sound system, and a projector & screen.
For events in a larger space like this one, it's crucial to keep everyone connected and the schedule clear. You can do so by implementing an event app like Swapcard.
Swapcard empowers your attendees by matching them with the right people using Artificial Intelligence. It also allows them to set up meetings and gives them easy access to the event program so that they know where to be and when. Real-time updates and push notifications will keep them in the loop if anything changes.
Learn more about how Swapcard can take your event to the next level by joining one of our webinars here.
For a trendy after-work: Salons du Louvre
Impress your crowd with an evening at the Salons du Louvre. This 700m² event venue—with exposed brick walls and an atmosphere akin to a New York loft—holds up to 600 attendees in a cocktail set-up. Organizing your event is made easy with catering, a sound system, and a DJ table all available on-site.
For elegance & efficiency: Atrium Saint-Germain
In the center of the bustling Latin Quarter, this Art Deco building offers 500m² of modular space. Eight meeting rooms range from 30m² to 120m², with some that connect thanks to movable partitions.
In its largest area, it can accommodate a conference for up to 200 guests. A glass ceiling—plus practical features like Wi-Fi and tech equipment—create an ideal balance of beauty and functionality.
For the creatives: Espace Cinko
Located between the Opera and the Palais Royal, Espace Cinko is 400m² of unlimited potential. Natural light floods the plant-filled space, which can be set up in conference seating for up to 80 people or a 170-person cocktail networking event. Other perks include a projection screen, air conditioning, and Wi-Fi.
For over-the-top events: Les Salons Hoche
Relive the 'Roaring Twenties' with an event in this former dance club that dates back to the Belle Époque. The reception hall covers an area of 325m², plus there are an additional four halls, five suites, and an outdoor terrace.
Catering, tech, and decoration services are all available through the venue. Bookings include complimentary valet parking, hosts, and a cloakroom.
For a quiet location: La Maison de la Recherche
Show participants a quieter side of Paris at this former mansion on the Left Bank turned into one of the best event venues in Paris.
Its 300m² of space includes a private salon that can host a conference for up to 100 attendees, as well as an outdoor garden that's well-suited for breaks. They also offer catering services for easy on-site lunches.
For a complete package: Pan Piper
Pan Piper in Paris' 11th arrondissement features an auditorium for up to 250 attendees, with a professionally equipped stage and excellent acoustics. It also offers three other rooms including a conference room, an outdoor garden, and a reception hall. You can book these all individually or privatize the building for 1,500m² of space.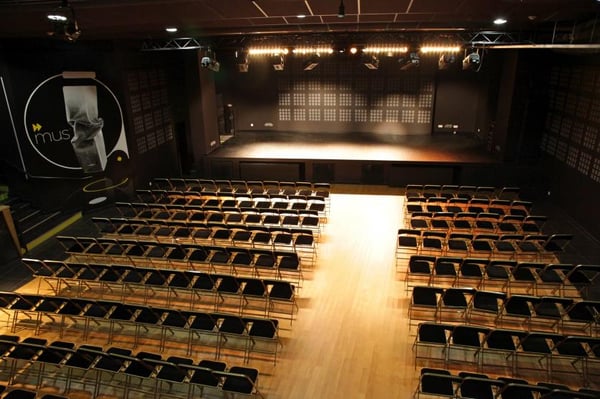 Pan Piper
For the minimalists: Galerie Joseph Turenne
Looking for a blank slate? Opt for the bright, white space of Galerie Joseph Turenne and its 850m² of workable space.
This former workshop enjoys a central location in the Marais, making transportation a cinch for up to 250 guests to get to and from your event. Amenities include Wi-Fi, a video projector & screen, and tables & chairs.
For the purists: Cloud Business Center
A ten-minute walk from the Louvre, this contemporary business center offers an 800m² modern workspace. It can host up to a 200-person conference in a comfortable theatre, with state-of-the-art technology and on-site tech support. Privatize the building and take advantage of five more rooms to use for smaller sessions.
Once you've landed on your dream venue, it's time to start taking care of the details. Take the experience further for your attendees and set them up with an event app like Swapcard.
Swapcard will have your participants connect in advance, give them access to the program, and get them to generate a buzz around your Parisian event.