According to the Q1 2023 Index results from the Center of Exhibition Industry Research (CEIR), the exhibition industry is encountering challenges due to a decelerating economy, prompting greater caution among businesses. These issues have been apparent since mid-2023 and are projected to persist until early 2024.
On the other hand, findings from the 30th UFI Global Barometer Report reveal that for 30% of exhibition organizers, the impact of digitalization, competition with other media, and competition with other exhibitions are top concerns.
In the face of these challenges, trade show organizers are looking for innovative revenue streams.

Nina Bourotte, Strategic Account Manager at Swapcard and an event industry veteran, consulted several organizers over the past few months, developing seven proven strategies to support organizer revenue generation.
Let's get this party started!
1. Offer premium packages to VIP exhibitors
Premium packages are great incentives to make sure your exhibitors invest in a premium experience. From early bird programs to exclusive services, offering exclusive benefits to a select number of exhibitors is highly effective in bringing in additional revenue for event organizers.
Here are some examples of exclusive services and benefits that you can offer your VIP exhibitors for added value:
Personalized tours and a dedicated concierge
Host live interviews with influencers exclusively for premium exhibitors
Launch a hosted buyer program with speed networking activities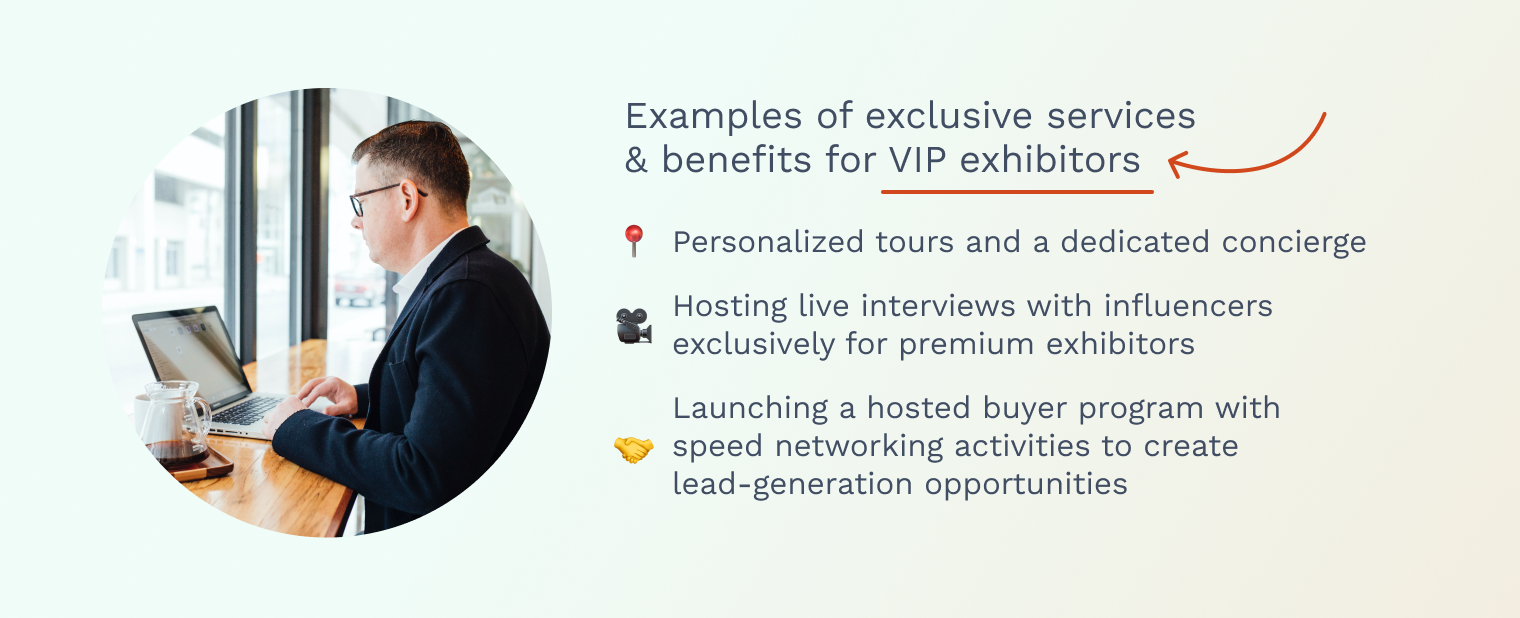 Hosted buyer programs are usually built for highly qualified professionals who will understand the value of a tailored experience, saving time and helping them meet the right exhibitors more efficiently.
Incorporating an exclusive exhibitor list enhances the program, offering pre-booked meetings for participating exhibitors.
In any case, the key point of these premium offerings is to identify and amplify the number of exhibitors willing to pay a premium to access meaningful connections and these additional services.
2. Offer referral programs for exhibitors too
Most companies have partners in the same industry that can become great ambassadors. Organizers can tap into a vast network of potential participants by incentivizing exhibitors to refer other businesses or industry professionals.
Referral programs encourage exhibitors to promote the event actively, leveraging their connections and relationships. This expands the pool of exhibitors and increases attendee engagement as the network grows.
Ultimately, referral programs create a win-win situation, driving organizers' revenue while allowing exhibitors to showcase their products or services to a broader audience.
Referral programs must revolve around incentives for participating exhibitors who consistently seek ways to boost their return on investment (ROI). Organizers must consider the budget when deciding how much is spent on incentives for participating exhibitors.
3. Introduce smart sponsorship opportunities
Sponsorship opportunities play a crucial role in generating revenue as an exhibition organizer, but most event organizers aren't fully tapping into the potential. It is time to move from standard sponsorship to smart sponsorship.
To focus on next-gen strategies:
Provide a networking lounge for the main sponsor, featuring a splash screen, banners, and logos on the home page
Allow sponsors to participate in sponsored sessions and collaborative workshops to showcase their expertise while running ads during video intros, further enhancing their brand exposure
Run sponsored games, offer logo placement on emails and allow targeted push notifications to ensure sponsors reach the right audience, maximizing their impact and revenue potential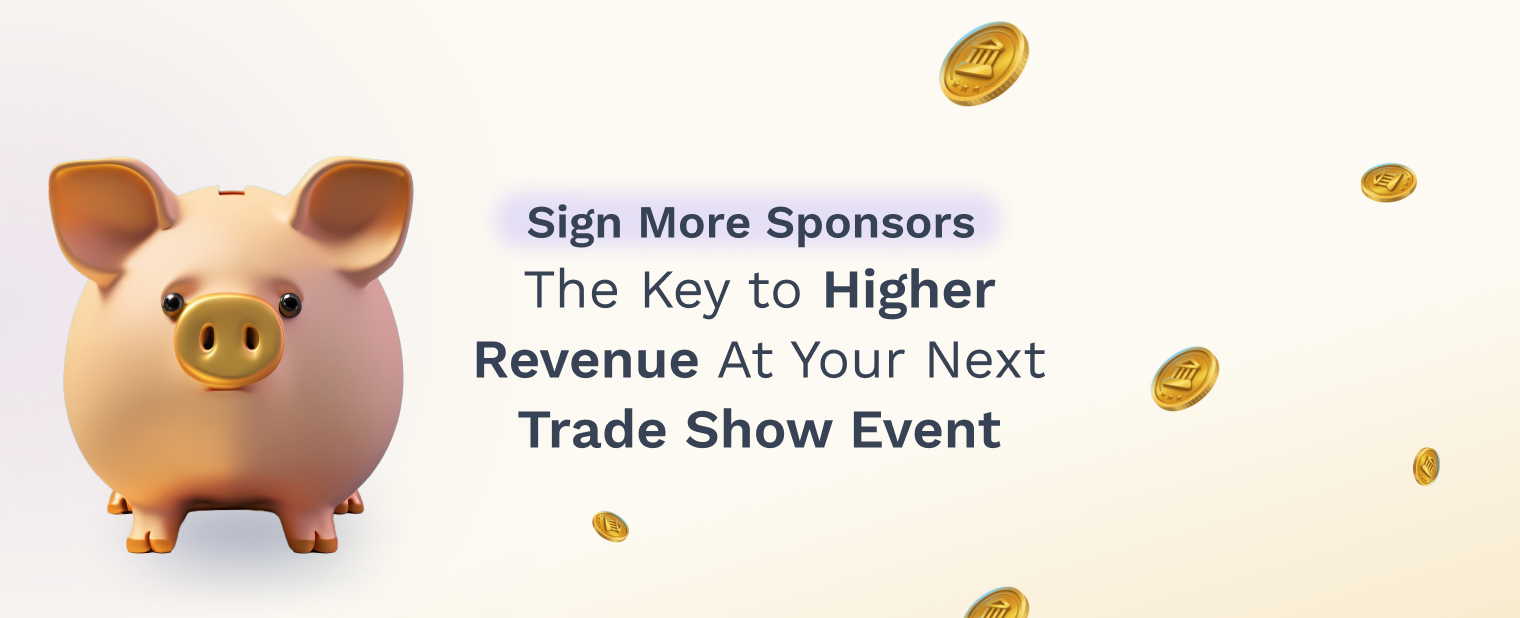 Today, organizers blend traditional visibility packages with new digital services, offering benefits like instant qualified leads and exposure that wouldn't be possible with print materials.
4. Tap into the reach of micro-influencers in your industry
Including industry micro-influencers in your marketing strategy can be a game-changer for revenue generation. These niche experts have a dedicated and engaged following in your target audience, making them strong advocates for your exhibition. By partnering with micro-influencers, you can tap into their credibility and reach to effectively promote your event, drive ticket sales, and create a buzz among their highly receptive followers.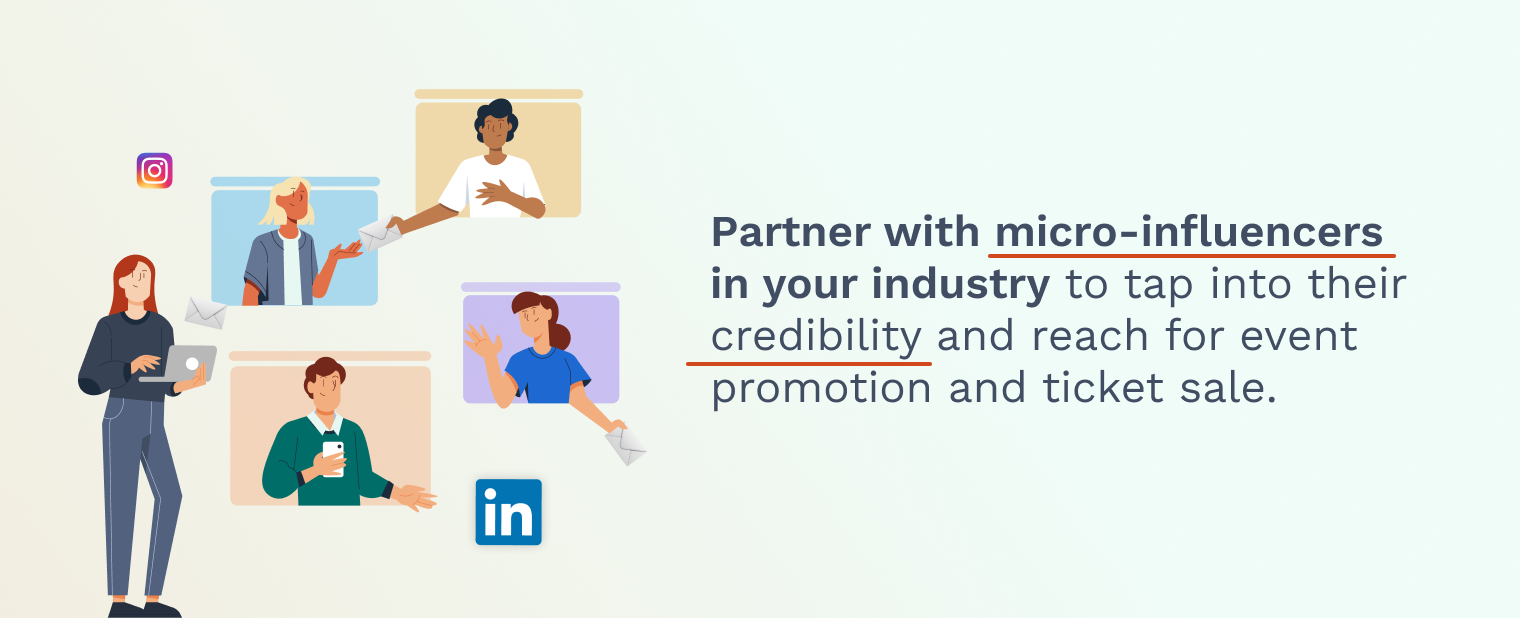 Their authentic recommendations and content can help generate excitement, increase attendee turnout, and ultimately contribute to the financial success of your exhibition.
5. Use gamification to keep attendees coming back for more
Event organizers can leverage gamification as a tool for boosting revenue. By implementing gamification techniques, you can create an engaging and interactive experience for attendees.
Use gamification to manage and route traffic at your virtual and/or in-person event, and incentivize participation with rewards such as digital swag bags and special offers from your main sponsors.
This increases attendee engagement and encourages them to explore, interact with exhibitors, and ultimately generate more revenue for your event.
Gamification adds a fun and competitive element that keeps attendees coming back for more. You can build this with partners to generate even more sponsorship opportunities.
6. Save money by going for a paperless event
A growing challenge in the industry is the need to adopt sustainable event solutions. This isn't about greenwashing for a competitive advantage; green practices are becoming the standard. Of course, you'll have the usual actions surrounding recycling, reducing energy consumption, waste management, and offsetting travel and shipping impacts tied to the event. However, organizers must address the undeniable mountain of paper waste produced at events. The solution is simple - eliminate the need for printed materials to reduce printing, shipping, and logistics costs significantly.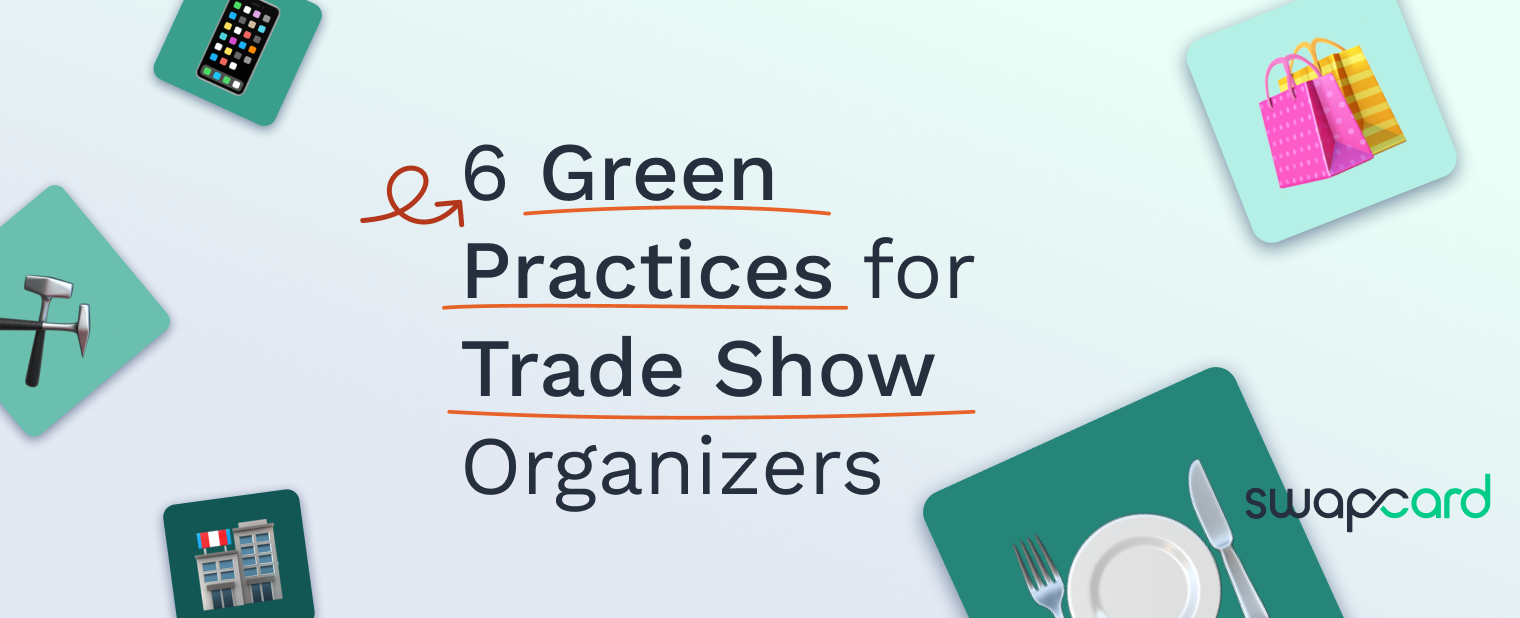 An additional benefit of going paperless is increased flexibility. Edit, crop, and insert new content at a moment's notice. The more up-to-date and relevant your content is, the more engagement and interaction you'll see from your attendees.
Digital platforms and mobile apps offer targeted advertising opportunities, personalized experiences, and real-time updates, all contributing to increased revenue through sponsorships, advertisements, and enhanced attendee satisfaction.
7. Leverage Data-Driven Insights for Improved Decision-Making
Understanding the key KPIs for the event lays the groundwork for an effective strategy and determines the success of your event. Organizers can acquire crucial data by utilizing a comprehensive tracking and analytics tool.
One of the significant advantages of using a marketing amplification tool is the ability to track and analyze the performance of your marketing efforts. You can monitor key metrics such as click-through rates, conversion rates, and ROI to understand what strategies drive ticket sales. This enables you to make data-informed optimizations to maximize revenue generation.
These tools also allow you to track everything that's going on on the show floor, giving you strong insights into booth traffic so you can address any issues on the fly.
Here's an example: Using real-time lead capture technology, an organizer notices several exhibitors in an isolated area aren't performing well. You can visit them, understand the current situation, and reassure them. But you can also send push notifications to attendees, incentivizing them to visit the area.
Once the event door closes, send this data to your exhibitors to demonstrate the success of your strategies, increasing the likelihood of returning exhibitors and sponsors.
Looking ahead
The strategies outlined here provide a solid foundation for success. However, as new challenges continue to emerge, the methods to address them will also evolve. Yet, the fundamental lesson remains clear: Prioritizing engagement and harnessing the power of data will continue to be the cornerstones of effective revenue enhancement.
By embracing these proven strategies and adapting to the changing landscape, trade show organizers can confidently navigate the path toward increased revenue and sustained success.
We'd love to hear from you if you have successfully implemented other strategies. Join us on the Swapcard Connect Community—your gateway to event success—to keep the discussion going on trade show monetization and ROI.