Eventprofs are human. Part of what makes them human is their innate need to connect with others and to belong to social groups. There are plenty of spaces for eventprofs to connect, meet like-minded people, and learn something new.
Here are the main reasons professionals join a community:
To meet like-minded people from their industry and exchange ideas
To network, grow their influence or find a new job
To do business, sell their own product or source suppliers
To make friends
To find a group of people who attend the same events and meet up in-person
To ask burning questions about their industry or sector and get answers from people on the ground
Learn more about the concept of community by diving in head-first. Practically speaking, that means becoming part of a community. We found 5 inclusive and exciting communities designed specifically for event professionals. Some are fully online, some are hybrid, all of them are fun!
This list will help you easily browse and discover the best online and hybrid communities out there for eventprofs. Check them out, discover which one appeals to you, then join the one (or 5) that interest you the most.
Communities for eventprofs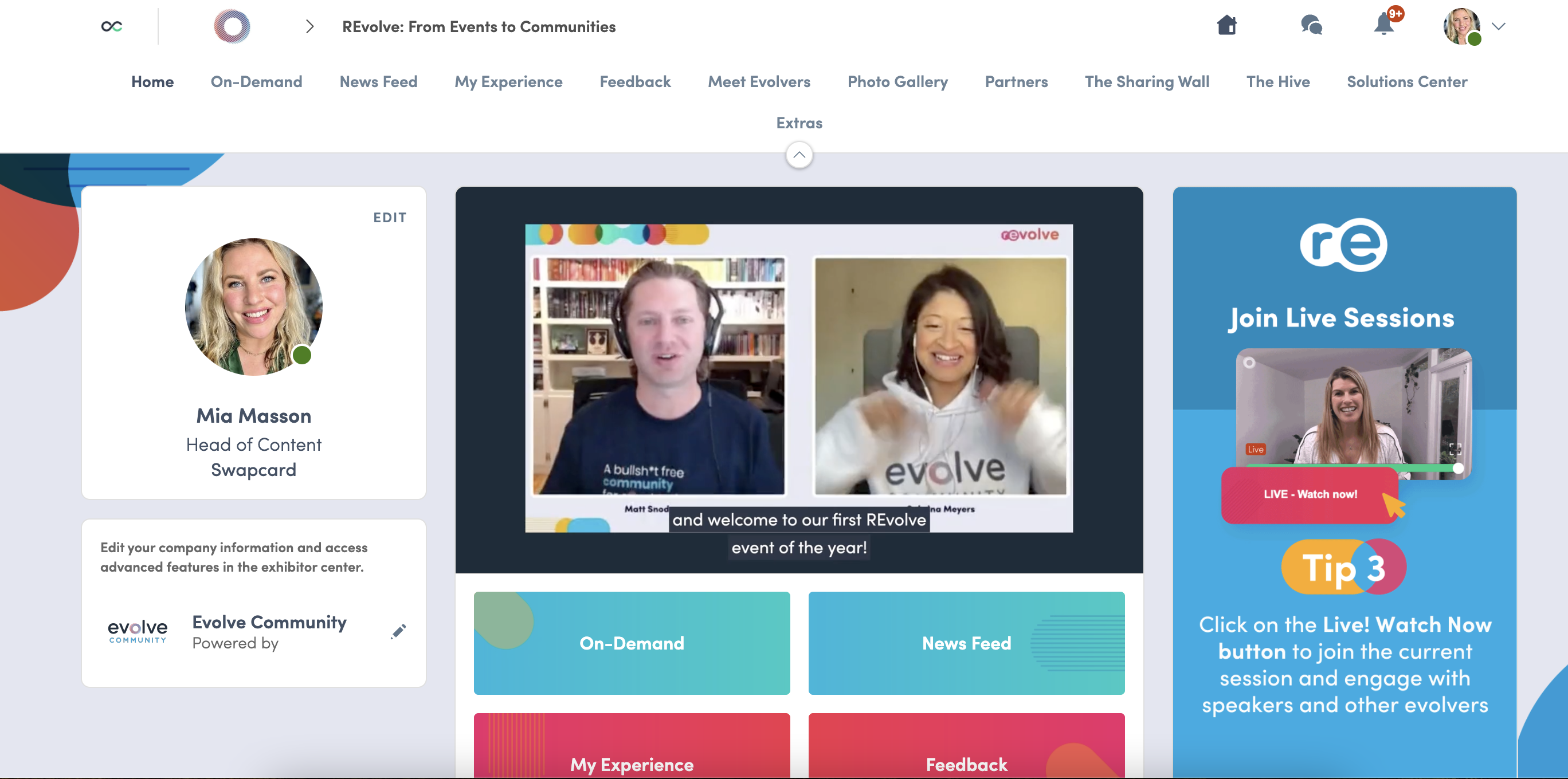 Quick look:
Where:

on their brand new website and also accessible in their branded, bullsh*t-free community platform where you have your own profile and can attend upcoming events in one place.
What they offer: Community news feed, monthly webinars, quarterly larger virtual events, networking opportunities, incredible educational content, and much more
Size: About 13,000 members
Community makeup: Event industry professionals with the following job titles: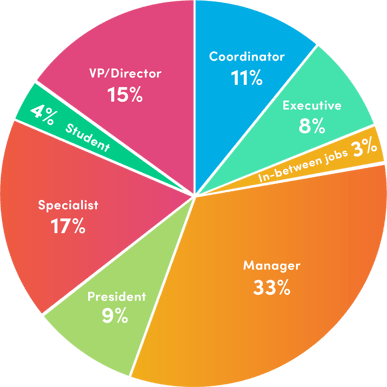 Source: Evolve internal study, March 2022
Cost to join: Free
How to join: www.theevolve.community
The Evolve Community is recommended for eventprofs who want to have their own voices heard, because the community owners crowdsource a lot of content. Each member has opportunities to be interviewed, go on stage, and thereby increase their own personal brand and visibility. But this community is also the perfect place for eventprofs to learn from other industry professionals, network or find a new job, and source suppliers.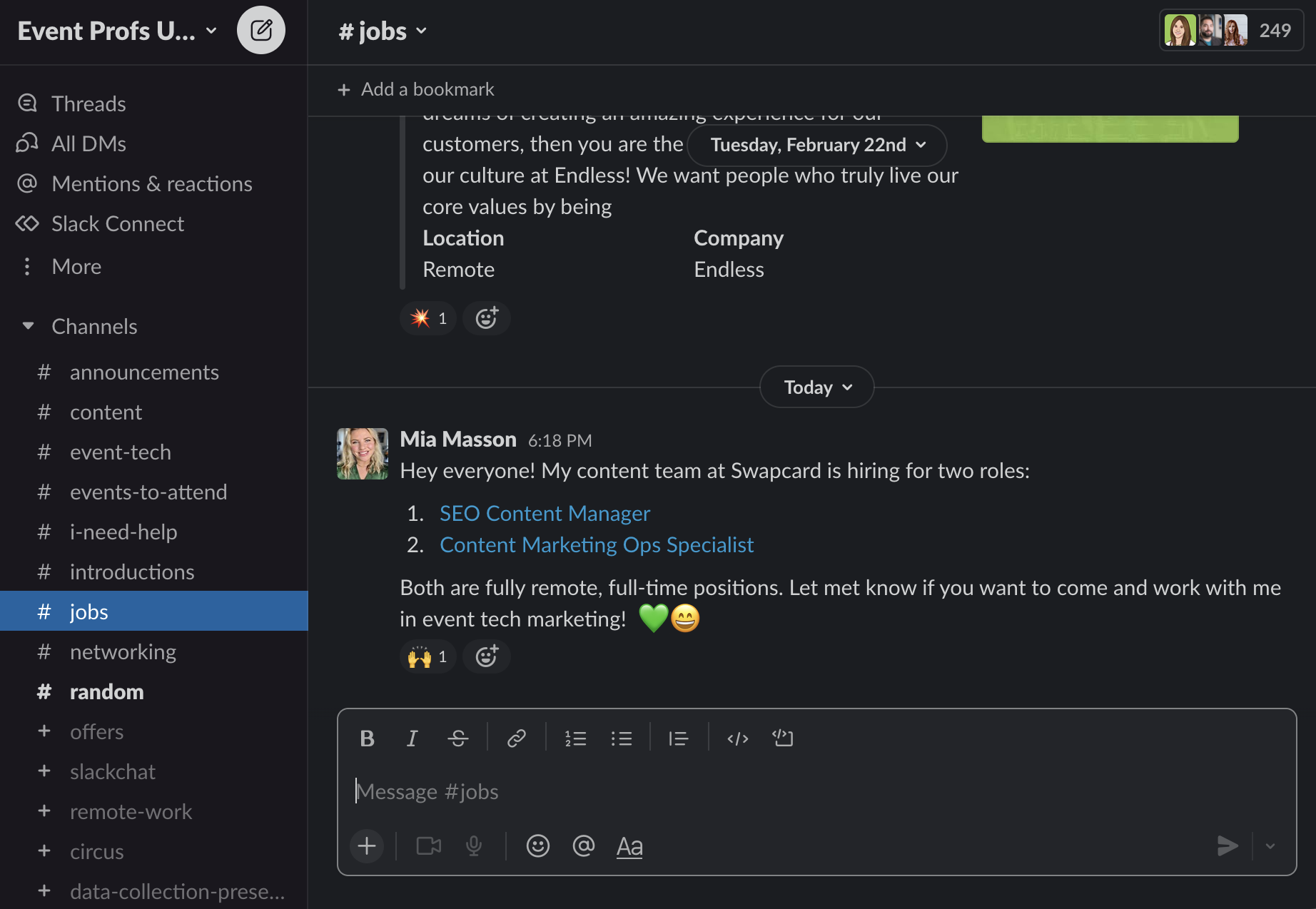 Quick look:
Where: Slack
What they offer: Multiple channels with group chats, arranged by topic, as well as the opportunity to network 1-on-1 with other eventprofs. Channels include Events to attend, where you can advertise your upcoming events or find new ones that you can attend, I need help, where you can ask questions related to events, tech, budgets, and any other type of event-related uncertainty, and also Jobs, where you can hire or be hired.
Size: 1,350 (approx.)
Community makeup: Mostly North American eventprofs

Cost to join:

Free
We asked Will why he created this community:
"​​Event Profs Unite started as a chance for planners at the beginning of the pandemic to get exposure to the instant messaging tool, Slack. The community has mainly grown through word-of-mouth.
People here love to talk about things they need help with and find ways to help each other in different channels: #i-need-help, #events-to-attend, they share content through #content, and bond in #random.
- Will Curran, Founder of Event Profs Unite and Chief Event Einstein at Endless Events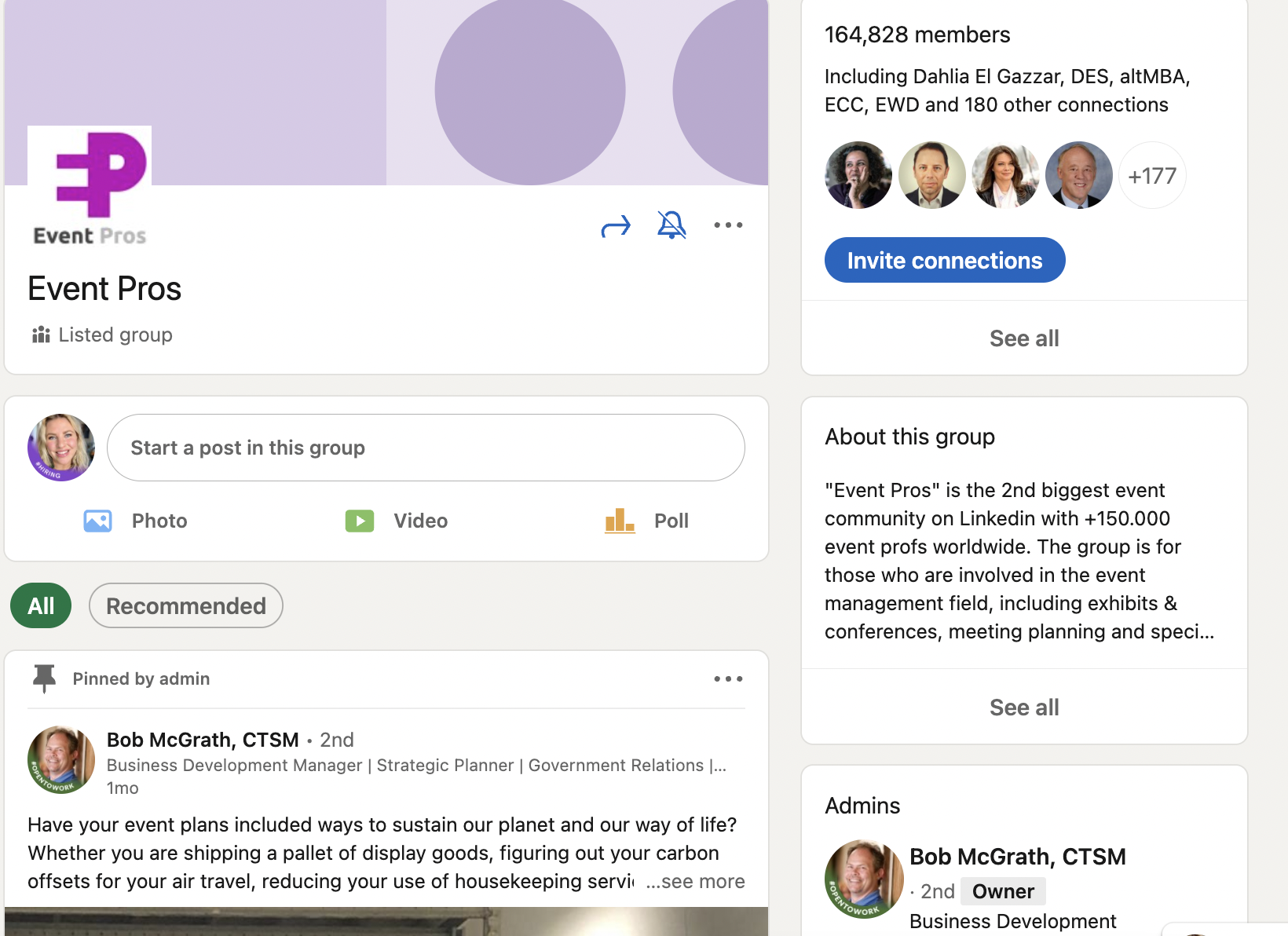 Quick look:
Where: LinkedIn
Community makeup: Event professionals from all around the globe, including event tech, venues, speakers, planners and organizers, production services, and more.
What they offer: Most of the interaction that takes place in this group is the posting of content by its members. They post either personal or company-related content on the timeline. The group owners mention that they sometimes do surveys in which members can participate. The main attraction in a group of this size, however, is its members. We recommend you scroll through the members and add them as individual LinkedIn contacts to grow your network.
Size: 164,000
Cost to join: Free

How to join:

https://www.linkedin.com/groups/116527/
The group is for those who are involved in the event management field, including exhibits & conferences, meeting planning, and special events.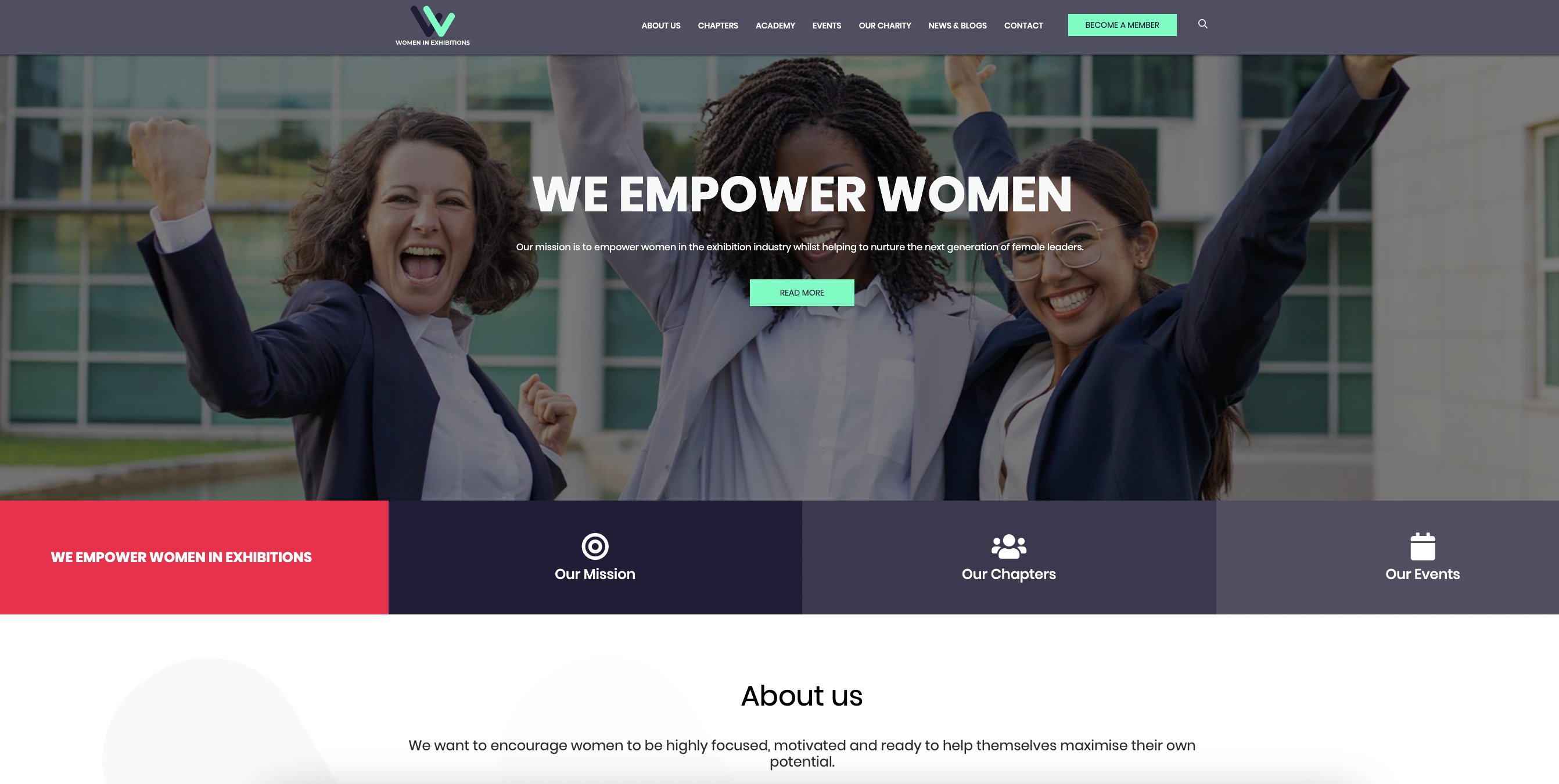 Quick look:
Where: LinkedIn, website, and in-person meet-ups!
Community makeup: Women and those identifying as such in various regions around the world who work in the events industry. This includes event tech, venues, speakers, planners and organizers, trade show professionals, corporate event planners, production services, and more.
Regions: Chapters in the UK, North America, Germany, and the Middle East. Join the one closest to you!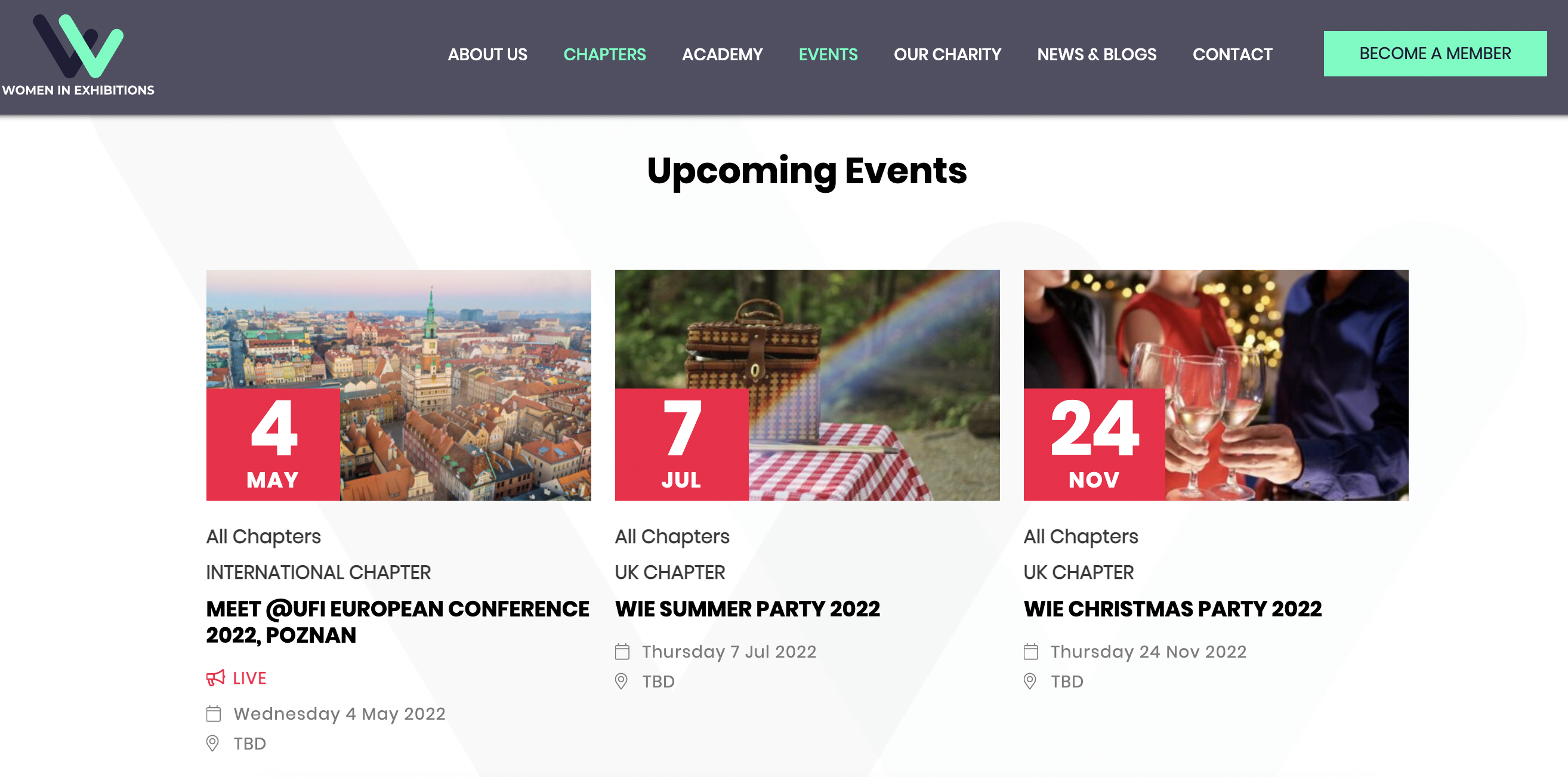 What they offer: Regular online events, meet-ups at regional in-person events, book clubs, excellent networking opportunities, academy courses to learn specific industry topics, and more
Cost to join: Individual membership is around $90 per year. Corporate membership is around $2,300 per year.
How to join: https://www.womeninexhibitions.com/become-a-member/
Women in Exhibitions Network welcomes as members professionals representing exhibition organizers, venues, and suppliers in the event industry whose business is related to the organization and facilitation of exhibitions or trade fairs.
The Women in Exhibitions Network has been set up to fulfill the mission of empowering women in the industry whilst helping to nurture the next generation of female leaders. This community is the result of a joint effort of inspirational female leaders from our industry who are our founding members and ambassadors.
We recommend this network for women in the events industry who are specifically looking to learn in a safe space, network with other women, raise their personal profiles, and to take on impactful learning projects.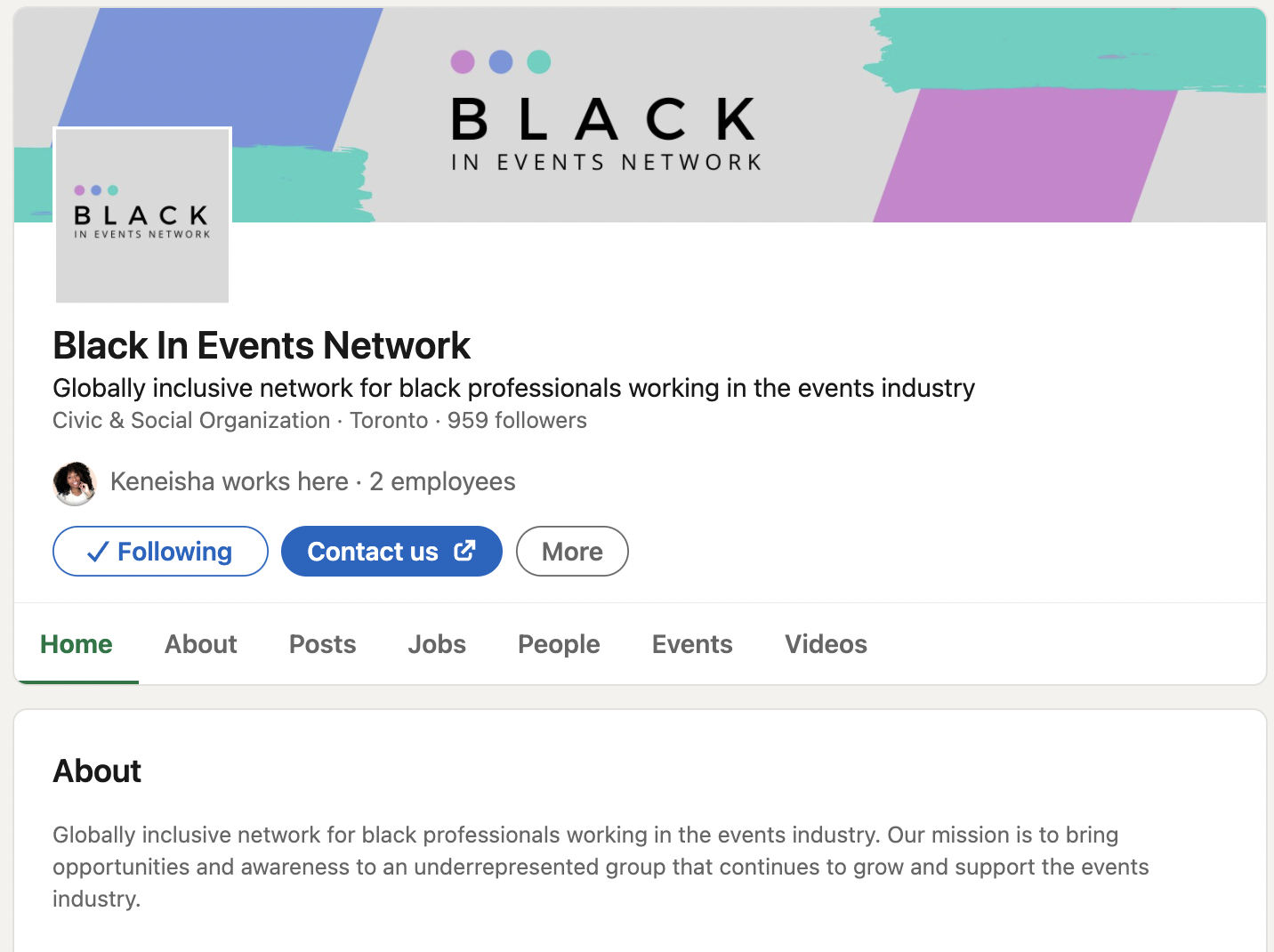 Quick look:
Where: LinkedIn
Community makeup: Black event professionals and those looking to source and support Black industry experts, speakers, suppliers, freelancers, and other roles in the industry.
What they offer: Great networking opportunities and a chance for members to get featured in content, allowing them to gain visibility in the industry and promote themselves and their businesses.
Size: 1,000 members
Cost to join: Free

How to join:

https://www.linkedin.com/company/blackinevents/
Black in Events is a globally inclusive network for black professionals working in the events industry. Their mission is to bring opportunities and awareness to an underrepresented group that continues to grow and support the events industry.
We recommend you join this community if you're a Black event professional looking for a safe space to share, learn, and exchange with others who live through similar experiences to yours. We also recommend this group if you are anyone looking to work with, support, and source Black event professionals for your next event. Diversity and representation matter on panels, in studios, in boardrooms and at events. Allies of the Black community can no longer say they don't know where to find talented people to diversify their teams. This is where - Keneisha does a great job of spotlighting members for their talents and experience.
Follow them and see what it's like building a community from the ground up!
You'd be surprised to discover just how much fun it is connecting with like-minded individuals who understand the grind that comes with being an eventprof. And hey, who said you need to always talk about work?
Communities are becoming more and more prevalent in the events community. If you're an event planner, you can also turn your audience into an engaged, year-round community. We can help. Click the button below to find out more about how eventprofs can use community to build their brands.