When it comes to free event registration software, the amount of options can be overwhelming.
That's why we've researched what's out there and come up with this list of 8 top options to simplify your decision-making process.
Once you've gone through this list, you'll have all the facts to make an informed decision on the free event registration software that will suit you best.
Overview of Top Free Event Registration Software
Here's a handy chart where you can see an overview of all of the event registration tools that we've listed so you can compare them easily before we provide more details below.
Event Registration Software
Best Fit For Event Type
Features provided with free service
Swapcard
Complex large-scale events; small-scale events; recurring or single events; conferences; trade shows; association events; corporate events; hosted buyer events; virtual, hybrid or in-person

User friendly
Customizable
Multiple attendee type forms
Unlimited data capture
Unlimited marketing and promo codes

Eventbrite
Large-scale, complex events

1 ticket type (i.e. Early Bird)
Data analytics (does not include detailed cross-event analytics or detailed analytics by ticket type at Essential)
Logistical support (Team does not have access or permissions at Essential level)

Digitevent
Small-scale or medium-scale events

Customizable outreach emails
Customizable campaigns
Platform works offline

Wild Apricot
Small events/Non-profit

Supports up to 50 contacts
Member, event & email management
Website builder
Donations assistance

*Free plan does not include online payments, online store, apps

Tito
Non-profit/Charity

Mobile-friendly web app interface
Payments directly to your bank account,
Event-branded tickets you can embed to your website
Option to make flexible discount codes.

Xing Events
Large-scale events

Offers support for ticket registration & payment processing
Access to the app EasyEntry for free entry management
Provides access to Xing community

Eventmaker
French-speaking small-scale events

Offers online registrations
Badges with QR codes
Event website customization

Weezevents
Large-scale or small-scale events

Comprehensive event registration support
Widgets to share on the event website
How do I decide on the right free event registration software?
Keep in mind that this is your attendees' initial investment in your event. This is why the event registration process needs to be quick and easy to navigate. An uncomplicated, straightforward event registration experience will be a reflection of the smooth and seamless event experience that you're promising your attendees.
When we were researching the free event registration options out there, we made sure to have a number of important considerations in mind when determining what constituted the best event registration platform. These are also considerations you should keep in mind when deciding which event registration company you ultimately want to work with.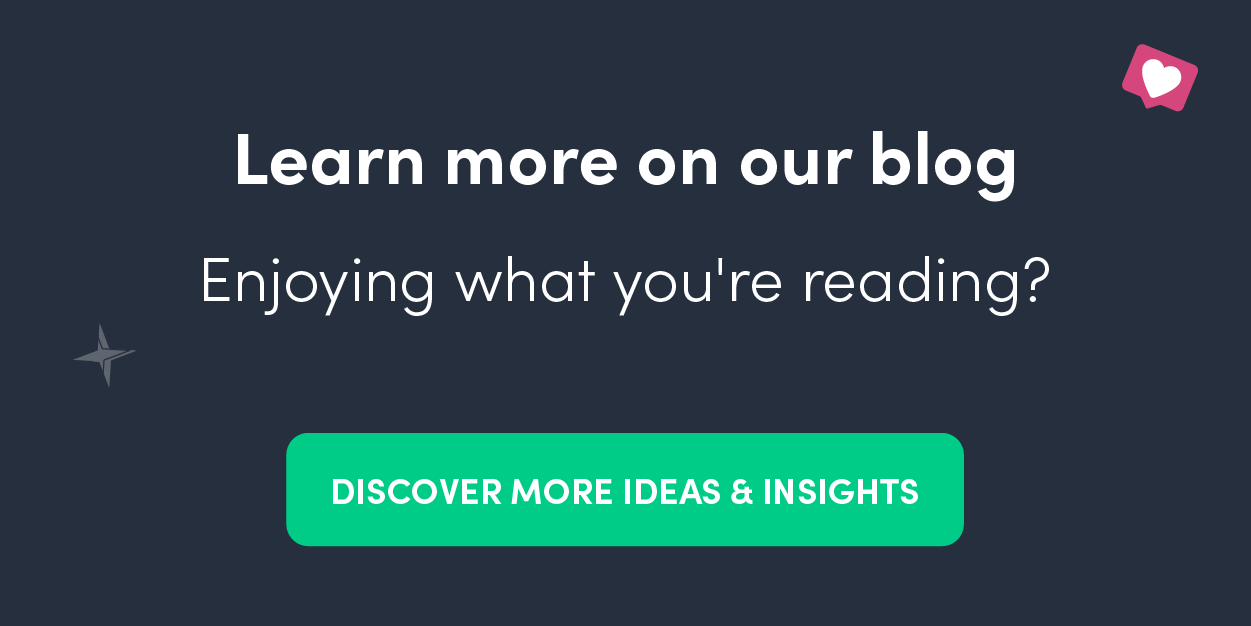 Required features
Write up a list of required features that you need for your event, then check that against the software you are considering. Some features that you might require include: custom ticket creation, personnel and attendee registration management, sponsor & exhibitor management, custom and API integration options, data retrieval and analysis, comprehensive privacy and security capabilities, and so on.
Multiple platform support
Although it is easy to get caught up in the excitement of looking to the future and planning for in-person events only, we would caution against this approach. Choosing a platform that only supports only in-person or virtual event registration respectively will limit the scope and reach of your event before it has even begun.
Customizable options
Make sure that your event registration software has options that give you the freedom and ability to customize your event registration experience. If it doesn't offer customizable options, it probably can't handle the complexities of your upcoming event. Some customization options include: simplified online or onsite self-check-in, customized badges, and promo and discount code creation.
Cost
Event planners know better than anyone how important it is to work within your budget. This is why it is important to pick an event registration tool that will give you the most bang for your buck. Keep in mind the required features you had listed earlier and weigh out the costs and benefits accordingly. This will help inform your final decision and keep your bottom line intact.
Attendee interaction
Maintaining an open line of communication with attendees is an integral part of running an event. Once an attendee has registered for your event, the platform should facilitate hassle-free communication between organizers and attendees from the time they have committed to your event until the event ends. This can even extend to after the event, where there is an opportunity to build on the excitement of the event and build a 365-day community.
Read reviews
Once you have narrowed down your options, it is helpful to read about real-life experiences from other event planners or organizers that have used the software before. Try to look for reviews that are reflective of your own event or reviews written by peers in your industry. It's also best to read the latest reviews since platforms have had the time to identify issues from earlier (potentially negative) reviews and correct them.
Request a demo
Put your mind at ease and see how the event registration software or app will work in real-time. Demos are a great way to engage with a software directly and see whether or not you actually like what it has to offer. If you are planning to put your time and money into a particular event registration software, a product demo would be time well spent.
Let's get to it: Our top 8 in no particular order
1. Swapcard (formerly Avolio)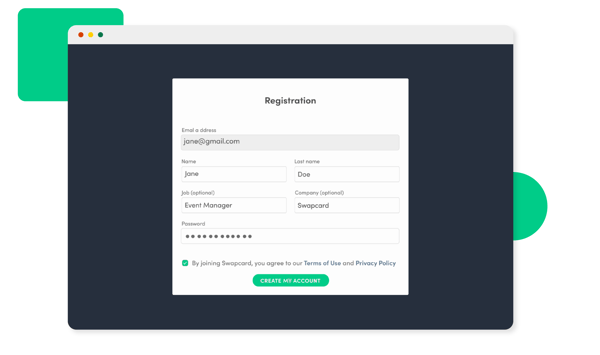 In December of 2020, after a successful year of pivoting to virtual, Swapcard acquired Avolio, Inc., the Atlanta-based registration software company. As part of Swapcard's mission to become an all-in-one technology platform, the registration software was integrated into Swapcard's platform and can support a wide-range of events from virtual to in-person to hybrid. They have the capacity to handle high-volume and complex events, as well as provide tailored event management for small-scale events that may not require as many complex features (although they are still offered as part of their event registration platform). They are a versatile and comprehensive event registration platform that also keeps the user experience in mind, making their interface very user friendly and the overall integration with your event seamless for the attendee. Although they are not a standalone free event registration platform, their integration with Swapcard gives you access to all of Avolio's beneficial features when you use Swapcard as your all-in-one event platform.
Avolio does not charge a transaction fee on payment ticketing, which in turn saves organizers money and keeps them well within budget. They can link directly to a bank account, giving organizers immediate access to registration funds rather than the stress of having to wait and deal with burdensome transaction times. They offer numerous customization options at no extra cost, including the ability to customize your event registration platform with graphics and other features that can exactly match the event site and provide a seamless experience (and first impression) for the attendee.
Another benefit of Avolio is the availability of multiple attendee type forms. These registration forms can vary based on the attendee type and can be categorized for an attendee, speaker, media, or exhibitor. This makes it easier for planners to differentiate pricing and registration packages, which simplifies the overall event planning process. They also offer unlimited data capture in the number of fields or question types, as well as unlimited marketing and promo codes with bulk import capabilities. When it comes to event day, they offer on-site attendees a touchless check-in process with integration to mobile digital wallets and a digital pass that can be scanned at the entrance kiosk. As we said before, they are a very robust and reliable event registration platform that will support a wide-range of events.
2. Eventbrite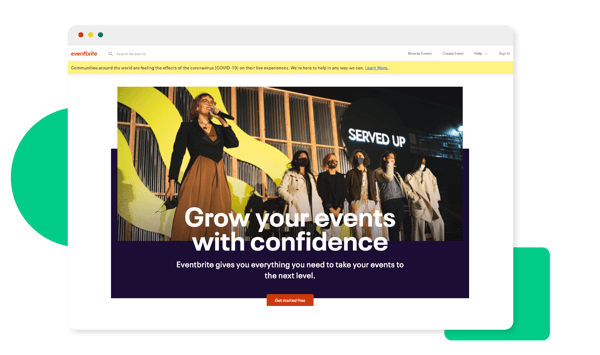 Pros: Eventbrite provides event registration management that is commonly used across many industries. They work well for both small-scale and large-scale events. Since they provide support for all types of events and have been around for so long, attendees will likely have come across this platform before and be familiar with how it works. They offer customizable options, support multiple payment methods, and also have mobile-app availability. Eventbrite can also be seamlessly integrated with Swapcard.
Cons: Although the fee per free ticket is "free," Eventbrite does charge a 2.5% payment processing fee per ticket. Fees for Eventbrite have been steadily increasing over the years, which can be a budgetary limitation, particularly for non-profit events. A complaint from some reviewers is that their data collection and reporting is not detailed or advanced enough given their high price point. According to some reviewers in event forums, their badge creation also has limited design options.
3. Digitevent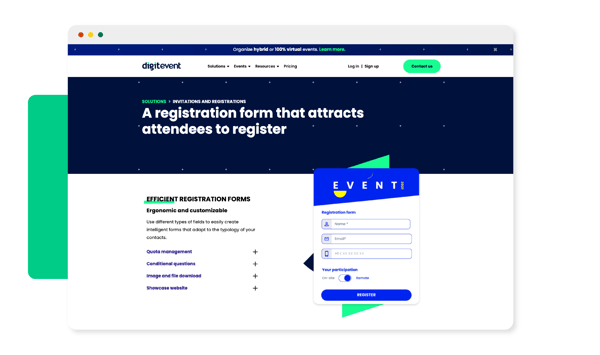 Pros: They offer a broad range of support for various events and also adapt prices per project. This way planners are able to know the exact cost of using their service before committing. With Digitevent's subscription service, the cost of subscription (and in turn, ticket prices per user) goes down the more participants you have per event. This makes it a useful choice for large-scale recurring events and can be integrated into platforms such as Swapcard for a complete event experience.
Cons: If you are running a large-scale event (5,000+), Digitevent might not be the best choice for you. Although they were originally focused on the French market, they have since been working to expand their market reach internationally.
4. Wild Apricot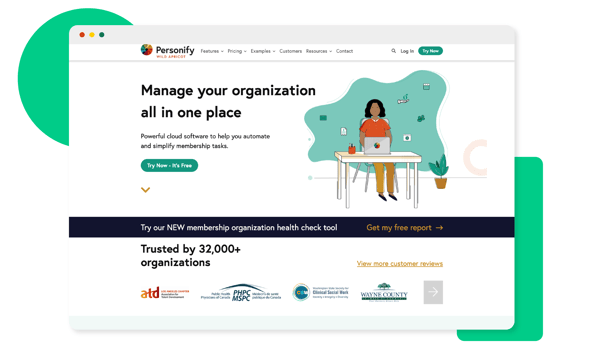 Pros: If you're looking for support for small, regular gatherings, this might be a good option. Not only does it have various pricing options for different types and sizes of organizations. Wild Apricot might be right for you if you are organizing small- or medium-sized events. It provides complete management on membership, communication and payment collection.
Cons: If you are holding a one-off or an annual event, or actually you don't need memberships, this event software may not be the most practical choice. It is also not suitable for large-scale events.
5. Tito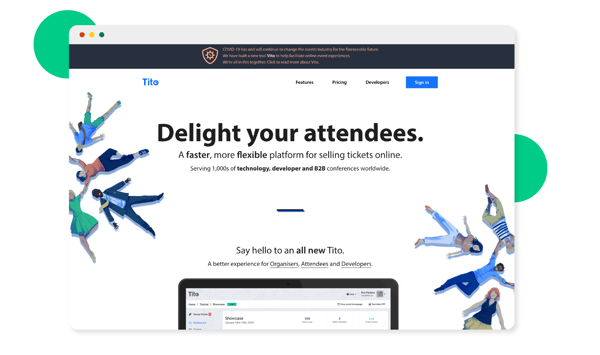 Pros: User-friendly interface and straightforward pricing, this software is geared mostly towards community and non-profit events. Their commitment to ethical business practices and favourable rates for charities and non-profits makes them a good choice for smaller scale events. If you choose to integrate them with a platform like Swapcard, you will ensure that your charity or non-profit event will provide a polished and complete experience for your attendees.
Cons: To use Tito to sell paid tickets, you'll need to use one of their supported payment gateways, some of which are region-specific. Although they do offer integration with Stripe, this can be limiting when running a larger event.
6. Xing Events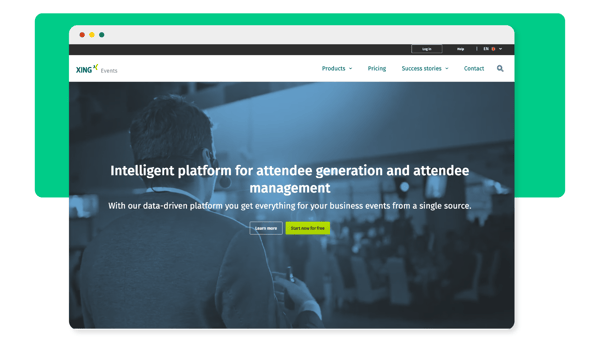 Pros: Their 'Basic' package includes online registration, integration to your website and Facebook, integration with other event platforms such as Swapcard, printable badges and access to EasyEntry (an app for free entry management for event exhibitors). Xingevents also gives users exclusive access to 19 million potential and relevant attendees in the Xingevent community. What this means is that you can access target groups within the Xingevent community (so not quite 19 million at once) once you've signed up to use their platform.
Cons: Reviewers on online forums have stated that the user-interface is complex and not easy to understand when attendees are registering for their events. Their layout was also not as customizable as some reviewers would have liked, which caused some issues when attendees would register and miss out on inputting discount codes, for example.
7. Eventmaker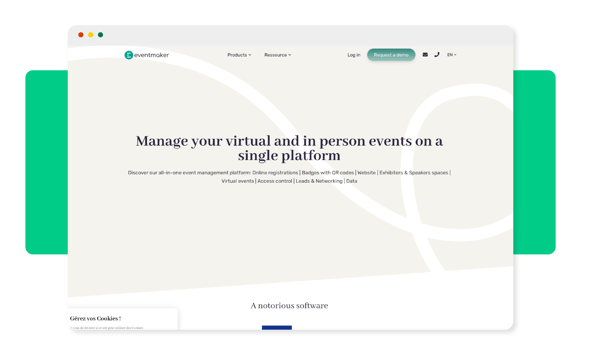 Pros: Eventmaker software offers customizable options and event management support that makes the event registration process easy to understand and quick to complete for attendees. They also offer API integration with event platforms such as Swapcard. Their simple user-friendly interface makes them ideal for small events.
Cons: They are primarily optimized for French-speaking events, which in turns limits their usability outside of the French market.
8. Weezevent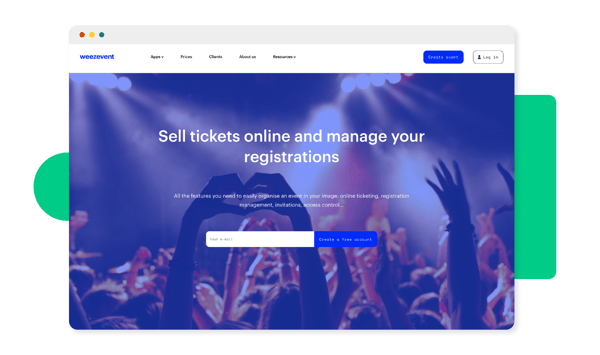 Pros: Weezevent offers quick and easy event registration set up in less than five minutes. Their three apps—Weezticket, Weezaccess and Weezpay—provide a comprehensive event registration package by offering ticketing and registration, access control and management of digital payments respectively. They also offer customizable ticket and form creation options, which can be integrated with event platforms such as Swapcard. One of their fun features is the ability to create and use widgets to share the ticket on your event website.
Cons: Although they offer badge creation, it is a manual creation process (meaning badges have to be created from scratch). Reviewers have also noted that there are limited industry options to choose from during the registration process, and that they are often forced to start the registration or search process from the beginning because their sessions time out quickly.