Set the tone for your event with a strong first impression. These are the best free event ticketing and registration tools to get things started on a positive note.
Acquiring a ticket to your event is your attendees' initial investment, registering is their first experience—both need to be as smooth as possible. Event ticketing and registration software are an essential part of your event's success.
They allow your attendees to RSVP online, buy tickets in a few clicks and gather your participants' information in one streamlined solution. They also support your marketing efforts, keep track of your sales and manage the details of your guest list.

Whether you're throwing a small get-together or a multi-day conference, turn to any of these event ticketing and registration tools to help you out.
For the complete package: Eventmaker
Using cutting-edge technology, Eventmaker allows you to create an event website, register participants online, generate name badges and much more. We spoke with Eventmaker's Channel Manager Mickaël Onillon to learn more:
"Eventmaker is an event marketing software company with ten years of experience under its belt. The platform increases event marketers' and organizers' productivity and provides the participant with a unique experience.
Event planners can build and control end-to-end event processes for every kind of event. Quickly create a branded event website that includes a map, program & speakers list, registration forms and a chatbot. Effortlessly manage on-site services and give participants a high-quality experience with fast check-in, self-service registration and badge printing.
No more dealing with complex spreadsheets—follow your event's statistics and get custom reports all along the event life cycle. Plus, you'll have a dedicated contact and 24/7 online support.
Eventmaker is connected to a sophisticated collection of external services to deliver the best experience for participants and the highest ROI for event planners."
Eventmaker offers tailor-made solutions where you can select what you need from a range of features. Try out Eventmaker for yourself by signing up for a 14-day free trial.
Free for small gatherings: Digitevent
Have you been wondering how to tackle that important VIP get-together? Let Digitevent guide the way with their free trial for up to 15 guests. Their easy-to-use platform empowers event organizers to market their event and boost registration with features to create attention-grabbing emails and customizable campaigns.

To use Digitevent, download the software to any hardware device. Whether Apple or Android—all you need to ensure is that you have an up-to-date version of Google Chrome to get started on your guest list. Digitevent's platform also works offline.
The social media superstar: Eventbrite
Look to Eventbrite to manage your ticket sales, collect participant information and track your event's progress.
One of Eventbrite's unique features is participants can share they're attending your event to their social media, which helps increase visibility. They take this feature even further by showing you which sharing service generated the most sales so that you can measure your social media ROI and define on which channels you should focus your efforts.

Eventbrite is free for any free event. Once you charge for your tickets, they will collect a fee, depending on which plan you select and the features you need.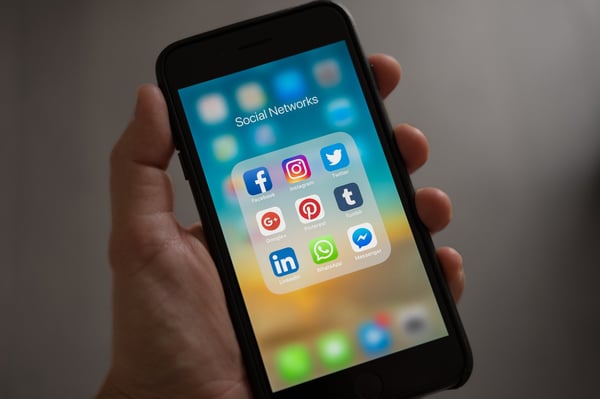 Event registration tools help monitor your event's success on social media. © David Stewart / Flickr
Ticketing and CRM all in one: Yurplan
Yurplan ensures your transition to digital software is seamless thanks to smart software that's simple to set up. They propose different solutions depending on your event's needs like custom business badges and access control for B2B events.
Their service follows all the way through to the finish line with an on-site sale function—so that you can fill those remaining spots—as well as a built-in CRM software to collect your data on a single platform. Yurplan is free for free events; otherwise, it costs 2% per ticket sold, with a minimum ticket cost of 0.49 EUR.
For non-profit and community events: Tito
Tito is the best option for non-profit and community events thanks to its low fee of 1% per ticket price and 3% for all other event types. Free events and charity events can use Tito's service free of charge.
Tito considered the user experience when designing their clean, mobile-friendly web app interface. As for you, perks include payments directly to your bank account, event-branded tickets you can embed to your website and the option to make flexible discount codes.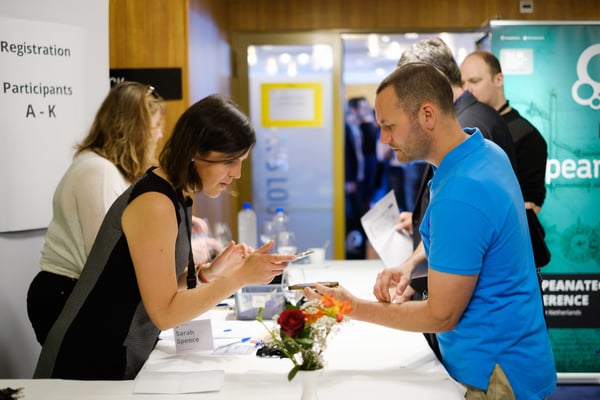 A happy attendee is one who doesn't wait in line :) © Enterprise 2.0 Conference / Flickr
Join an event community: Xingevents
Xingevents is a service that supports you before, during and after your event. On top of online ticketing, registration, and payment, you get exclusive access to 15 million potential and relevant attendees in the Xingevent community.
Use Xingevents for free if you're hosting a free event. Their 'Basic' package includes online registration, integration to your website and Facebook, printable badges and access to the app EasyEntry for free entry management for the events exhibitors.
Free for any free event: Weezevent
Use Weezevent to set up your event for success in less than five minutes. Their three apps—Weezticket, Weezaccess and Weezpay—provide a comprehensive package, offering ticketing and registration, access control and management of digital payments respectively.
With Weezticket, you can design personalized tickets, custom-create a form to collect client data at the point of purchase and use widgets to share the ticket on your event website. Weezticket is free for free events. Once you start to collect money, they'll keep 99P per unit sold.
Swapcard for event matchmaking & networking
Remember that ticketing and registration are only the beginning. If you are organizing a larger conference or trade show, be sure to look at implementing a virtual event app like Swapcard.

With Swapcard's virtual and hybrid events platform, you extend the smooth event experience to your attendees' networking opportunities thanks to matchmaking powered by AI and an in-application chat. You also keep their meeting schedule, the event program and their bookmarked sessions in one go-to place. All the solutions noted above can be integrated into the Swapcard event matchmaking platform. Find out more and schedule a demo with one of our experts.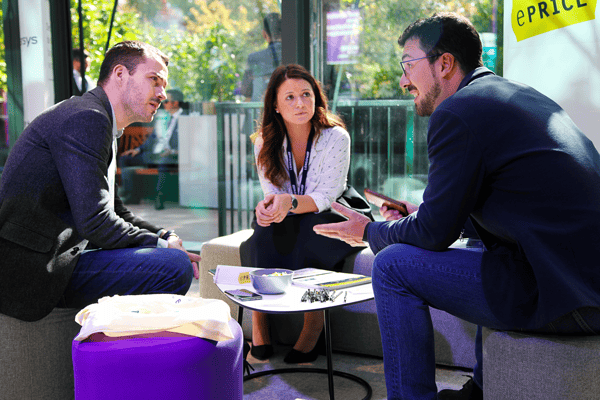 Conclusion
These tools go beyond selling tickets and registering your attendees. Enlisting the help of any of the solutions mentioned above will let you reach a wider audience, simplify your to-do lists, save you time and improve the overall attendee experience.