Audience engagement at events is always one of the hardest things to get right. Attendee participation is crucial to ensuring your ROI at the end of the day is good. Engaged attendees are the ones likely to return to future events, possibly bringing friends or coworkers with them. In short, attendee engagement is an essential component of a successful event
Public speaking is a nightmare for most of us. The prospect of asking questions at talks and keynotes is going to be another layer of stress that a lot of people would sooner just avoid.
What this can mean for events is that you only ever get questions and audience engagement from a small group of people and the rest can feel ignored. The following web services and apps get around this problem using live polls and text questions.
Swapcard now lets you integrate any webservice into your your event's Swapcard page, quickly and easily.
Slido
Slido aims to ensure that audience engagement is no longer the preserve of the extroverts among us. Attendees can easily ask questions of speakers and even participate in live polls. By reducing the need for public speaking from attendees who want to ask questions, Slido helps improve engagement and create a greater depth and variety of input at events.
Wisembly
Wisembly provides a multipurpose solution to the question of audience engagement. As useful at large events as for team meetings, Wisembly is scalable enough to be great at both. Wisembly Q&A functionalities with emoji responses reminiscent of Slack. It also includes a rating functionality so audience members can tell you what worked and what didn't, polls and media sharing.
Beekast
Beekast integrates both audience participation and presentation seamlessly. Audience members can swipe through slides on their phones, as well as answer polls and ask questions through the app which are then displayed on screen. The web app also includes a moderation function for these questions so you can control which comments and questions are shown. The web app also lets attendees network and chat with each other.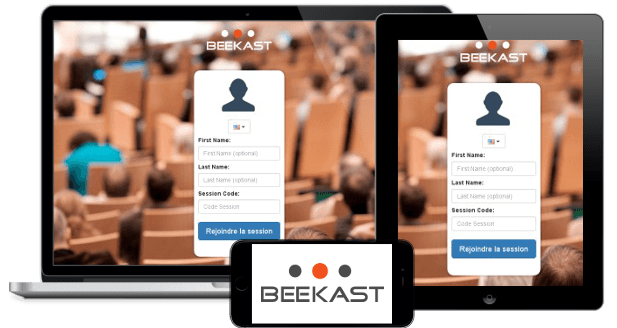 Crowd Mics
An ingeniously simple idea – Crowd Mics uses the apps in attendee's own smartphones in lieu of handing attendees microphones when they want to ask questions. Crowd Mic then links to the sound system of the event.  There is also a function for text questions, so everyone can participate to their own comfort level. Running microphones round the room has always been inconvenient and time consuming, Crowd Mics provides a very clever workaround.