Adopt to Adapt: Technologies to Take You Further with KiKi L'Italien, Community Engagement Expert, Association Chat | Tecker International; Corbin Ball, Meetings Technology Speaker, Consultant, and Writer, Corbin Ball and Co; and Stephan Forseilles, CTO, Easyfairs.
Technology evolves just as quickly as our needs as event planners. As we are forced to adapt to industry changes, we can rely on technology to support us. Experts in Technology and Events, Corbin and Stephan, weigh in to help us find solutions in technology, moderated by Kiki L'Italien, in this on-demand session which took place during Evolve: The Virtual Event for Planners and is available for streaming on the Evolve platform.
Kiki jumps right in asking Corbin and Stephan how long the COVID-19 impact will last in the industry, which makes for some interesting debates. They discuss the most relevant event technologies for a post-pandemic world and broach the question of gaining attendee trust. Corbin and Stephan have some notable views on how technology can help the trust between attendees and organizers.
The trio also discusses which aspects the events industry needs to work on to become more sustainable and the controversial question of why there are suddenly so many online event companies! You don't want to miss this insightful debate.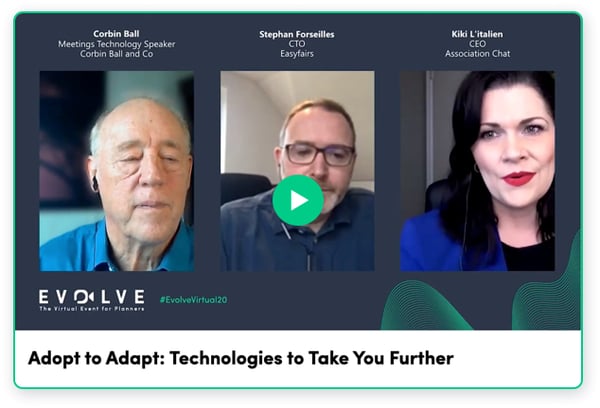 If you want to watch the whole interview and download their presentation material, you can sign up for free to the Evolve platform and access this session and many others. Evolve is a year-round online community where you can network with event experts from all over the world and access exclusive content. You'll be able to watch all the sessions on-demand and also be the first to know about new content coming up in the Evolve Series. The first new session will take place at the end of July and you'll be able to attend live, ask questions to the speakers and interact online.