What you need is a step-by-step checklist that you can refer to throughout the process of planning your hybrid event. We've made that checklist for you, to ensure you have everything in one place. It'll help you answer questions like, "Did I remember to define the attendee touchpoints on the platform?" or "What are the essentials I need to consider when choosing my platform?"
Feel free to print this checklist out, put it on your wall and use it as a manual for your hybrid event process.
Many event planners are faced with the new challenge of incorporating technology as the world opens up and in-person gatherings become authorized. They're wondering how to run successful hybrid events.
What are hybrid events?
There is no clean-cut definition of a hybrid event that encompasses all the variations available in today's tech-centric world. The Events Industry Council defines hybrid meetings as "a meeting that combines face-to-face and virtual aspects." While there may be many variations to the hybrid model, one golden thread will link them all together - the existence of both a virtual and in-person component to a gathering of people and exchanging of ideas.
Are hybrid events here to stay?
You've probably heard of hybrid events being referred to as "the best of both worlds" or "the bridge between online and on-site" or even "the future of events." They create an opportunity for people at home and people who've traveled to experience the same content, to meet each other, and to become part of the same community.
Research conducted in April 2020 for Swapcard's report on hybrid events provides striking results. It revealed that close to 75% of event organizers are currently planning hybrid events for 2021 and 2022. Only 5% are planning all in-person events, and 11.5% are sticking to virtual-only.
Below is a list of 22 ideas for hybrid events to make the planning process a little easier for you.
Networking & Engagement Logistics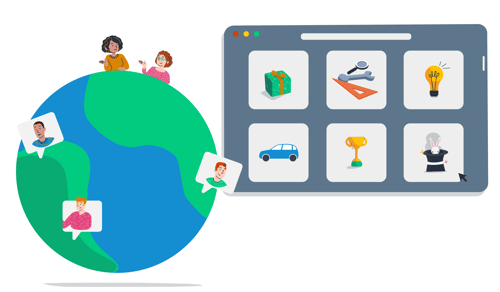 1. Dedicated MCs for the virtual audience
When designing content with speakers, organizers should target virtual attendees first, seeing as they're the most complex audience to pin down. Get dedicated MCs or moderators in a studio or on-site and are streamed live to the online attendees to make regular check-ins, updates, venue tours, and announcements. Have a dedicated virtual MC who's in charge of making sure those joining from home don't feel like an afterthought.
2. Virtual entertainment boosts the online experience
The fun part of events, including cocktail parties, coffee breaks and dance floors, are more challenging to translate into a digital world. Event organizers may opt to host virtual-only cocktail parties with a DJ set on live stream while facilitating lots of interaction in the group chatbox. Encourage attendees to share this experience by posting videos and photos on social media to make those joining from home feel part of a community.
3. Make networking fun for both attendee groups
Hybrid event planners should consider speed networking sessions where the on-site audience plays "musical chairs," landing on a new chair in front of a tablet screen with a different online attendee's video each time and being given 5 minutes to chat before moving on. Not only is this a fun icebreaker, but it's also a great way to get both audiences engaged and enjoying spontaneous interactions.
4. Virtual booths for all exhibitors increase their reach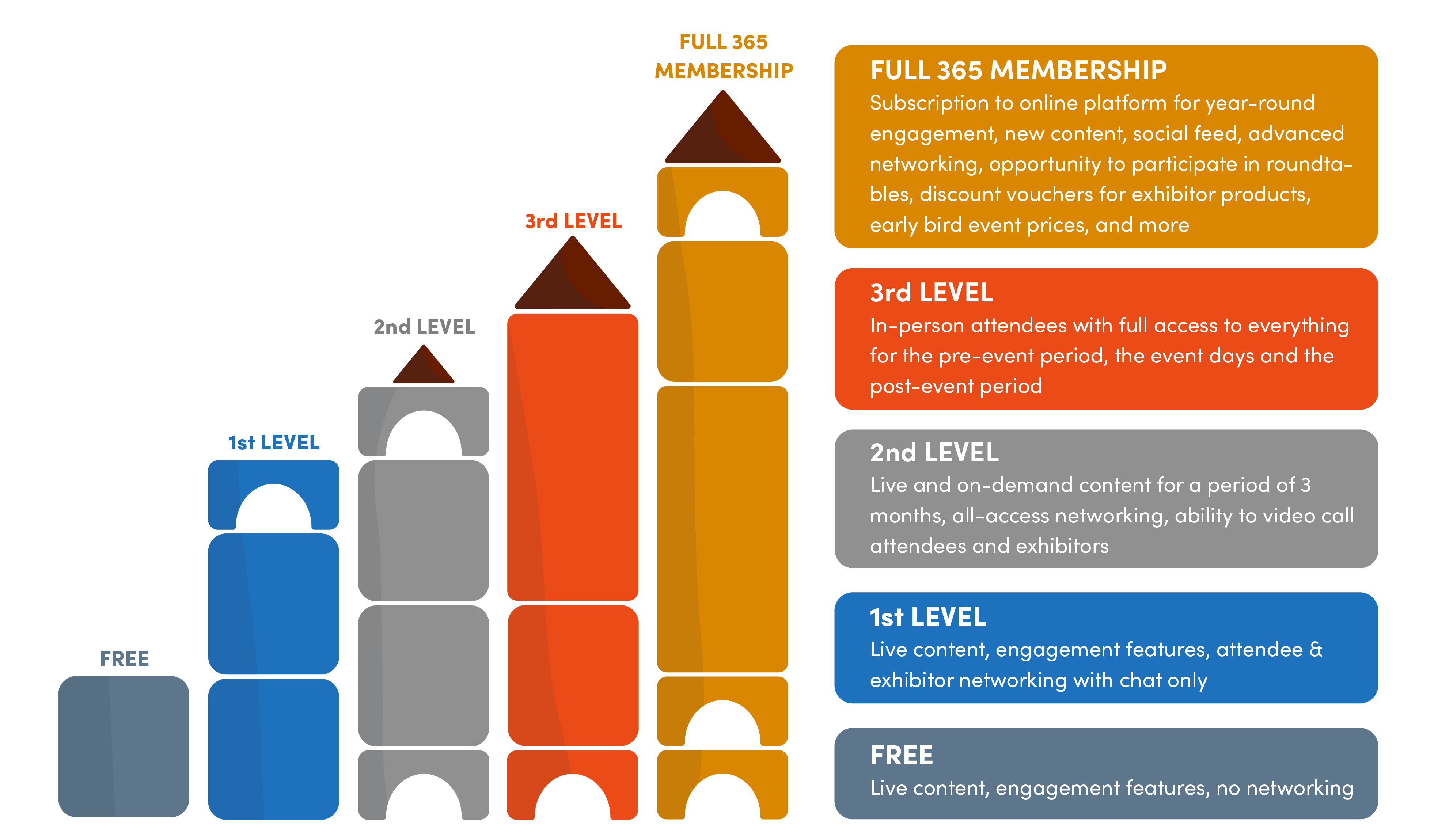 New data released by Swapcard shows that virtual booths are where the business happens at virtual events, so sponsors and exhibitors should not underestimate them. The data reveals that anywhere between 30% and 45% of leads come directly from the virtual booth. This means that even if exhibitors have a physical booth, they should not miss out on the leads they can gain by also having a virtual booth.
Virtual booths need to be customized with care. On virtual platforms like Swapcard, organizers have the option to give exhibitors rights to upload photos, videos, live streams, branded backgrounds, logos, products, documents, marketing materials, prizes, vouchers, discounts, website links, social media accounts, and much more. Exhibitors can design their booths to evoke emotion and curiosity, draw attendees in, and follow through with responsive team members who interact through live chat or video calls.
Organizers should provide the option of a package deal - one where exhibitors have a physical booth on the show floor and a virtual booth on the platform. The platform you use should have the features exhibitors require to target whatever audience they're after, and to make the most of their booths, no matter the format.
Research-backed Report On Hybrid Event
5. Vary session format & length for engaging content
Be sure to include frequent breaks and shorter sessions for online attendees, as they tend to have a shorter attention span. Including virtual attendees from different time zones is also important, so consider having multiple live sessions for breakout topics.
Various session formats can be used to boost attendee engagement and improve your audience's attention span:
Online roundtables
Workshops
Live Q&A sessions
Sponsored sessions
Breakout sessions with limited capacity
Traditional speaker sessions
Panel discussions
Fireside chats
Or a mix of any of the above!
6. Robots!
Organizers shouldn't be afraid to take risks and try out new ideas when it comes to hybrid event engagement. What about robots rolling around at the venue with tablets showing the video feed of virtual attendees? It's fun for the online attendee to see the venue as if they were there, and it's entertaining for the on-site attendee to talk to a robot. There are plenty of creative ways to make the event lively and enjoyable for both audiences.
7. Individual meeting pods for networking in private
On-site attendees need easy ways to network with their online counterparts. Meeting rooms or individual pods should be made available with designated time slots for their use. They should also include screens stationed in each room and ready to log into the event platform. Geo Connect Asia, held in March 2021, featured Meeting Pods that allowed 2-to-2 meetings to take place with the safety of a plexiglass divider and hand sanitizers and cleaning supplies.
8. Small rooms equipped with screens for hybrid breakouts & workshops
When bringing the two groups of audiences together, you might decide to implement small meeting rooms dotted across the show floor. You can run breakout discussions, meetings and workshops with members of both attendee groups. Ensure that screens or tablets are available in each room, loaded on the event platform and open on the login page for on-site attendees to access their meetings. You could also go for screens on the backs of chairs at coffee bars and lounges.
9. Give your on-site attendees somewhere to charge their devices
With everyone on-site using their tablets, laptops and mobile phones to access the event app, you'll need an accessible array of charging stations for their devices. After all, you don't want them to have to go back to their hotel room every time their battery level hits 10%, right? These stations will undoubtedly turn into chance meeting spots where attendees can relax, have a coffee, and meet people while waiting for their devices to load.
10. Holograms add the "wow" factor
Holograms are another fun idea for hybrid events, and they're becoming less expensive the more technology advances. They're equally entertaining and original for in-person and virtual attendees. Don't hesitate to take risks - there is little chance that attendees won't be drawn in by the content with great speakers and relevant topics.
11. Structure your schedule to highlight networking and breaks
The tricky part of engaging both audience groups at hybrid events is getting the physical attendees to incorporate virtual meetings into their event schedules. Make time in the schedule dedicated to virtual networking, games, and engagement activities. Leave some space in your schedule for people to network. When virtual attendees click on the "Live" button during this time, redirect them to a screen that encourages them to go network, remind them of any engagement competitions you have going on, and give them tips on meeting people best. Leave an hour or two per day for dedicated networking, and you'll see the number of meetings and calls between attendees and exhibitors increase.
12. Virtual audience engagement features that both online and on-site attendees use
Invest in audience engagement features for an immersive experience. Live discussions, live questions, and polls allow both audiences to interact with speakers. Features like live discussions during sessions, Q&A, polls, video calling, online roundtables, and speed networking should be in every organizer's list of essential requirements, as well as an optimized mobile app. Getting the physical audience involved with using the technology for engagement during sessions is critical - that way, all the questions and poll results will be in the same place. This makes it easier for speakers to address both audiences at the same time!
13. Photo-booths bring the two audiences together in a fun way
Want your event to go viral? Partner with a virtual photo booth, where attendees can take a snapshot of themselves with their pets, kids, or event swag. They can then post it on social media with your event's hashtag. This creates a community in different social spheres and serves as free marketing for a wider audience. Go for a virtual and a physical option, with the photos all being uploaded into the same online gallery for all to see! Your on-site attendees can take group photos and use props, and those at home will feel like they're part of the fun as they browse the digital photo gallery.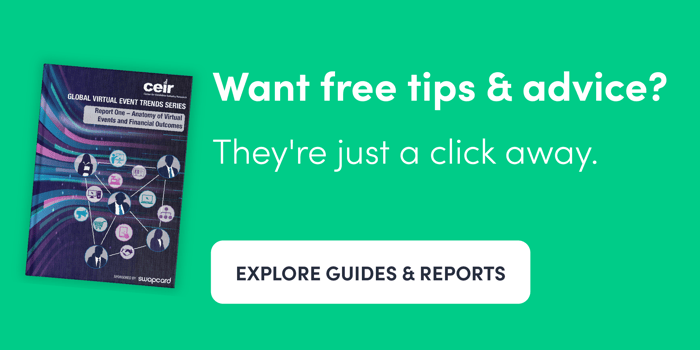 14. AI-powered matchmaking saves your attendees & exhibitors valuable time
Artificial intelligence saves both groups of attendees time. Some people believe that serendipity is impossible when attending a hybrid event from home, but that couldn't be farther from the truth. With artificial intelligence, these meetings can be engineered and are guaranteed to be even more likely to work. Platforms like Swapcard have smart AI algorithms that analyze attendee and exhibitor data, both demographic and behavioral, and pair people who are most likely to have business interests in common and become valuable connections. AI can save your attendees and exhibitors a lot of time as they no longer need to scroll through infinite lists of people to meet. The algorithms can also suggest the sessions, products, and booths that users would be most interested in based on their data, making for a customized event journey for each attendee.
15. Hub & spoke structure allows for smaller, regional events
Some hybrid event organizers will opt for a hub and spoke model that consists of one main in-person event with smaller satellite gatherings in different locations that participate digitally in the main event. This model can easily incorporate virtual attendees who are alone at home or at their offices too. People at the satellite events will network, eat together, and enjoy meeting face-to-face while leveraging technology to stream the main event's content and interact with the primary exhibitors.
This type of hybrid event allows people to grow their networks within their localized communities. It allows them to experience the magic of in-person events without having to travel too far or pay too much for attendance. It requires more organization for the planners but can be done by assigning key attendees and exhibitors in different regions to be on a planning committee for the local gatherings. This hybrid event model also requires an all-in-one, customizable online platform for all the attendees and exhibitors to be able to meet and interact seamlessly.
Monetization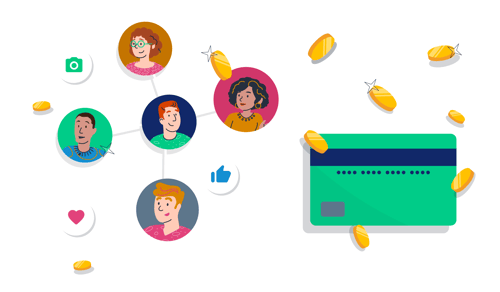 16. Making money from a 365-day community
The future of the event industry is moving towards a 365-day community model, with up to 80% of year-round interactions taking place online and the other 20% taking place in the annual hybrid event. Community is vital in building brand loyalty and trust, as well as growing sales figures for recurring exhibitors and partners. A virtual platform with opportunities for year-round engagement, networking, and content is proven to be most effective in closing business for exhibitors. Data shows that up to 90% of deals are closed in the days and weeks leading up to the actual event. A year-round community engagement approach maximizes business opportunities, and extending the business lifecycle means higher ROI.
17. Customizable exhibitor packages with levels of access
Each exhibitor might have different needs, so create customizable packages with add-ons and varying access, rights & visibility. You can sell different package levels offering anything from year-round subscriptions to email communications as add-ons to exhibitors. Allowing them to upgrade halfway through the event or during the year is another virtual event sponsorship idea that can show great returns.
Some features they could expect with a premier platform include a video or image banner, logo placement, available meeting slots, live-streamed demos, and Q&A sessions, as well as general information like websites, social media accounts, and contact details. On robust all-in-one platforms, sponsors also have the opportunity to upload products, services, vouchers, discount codes, and more.
18. Profitable ticketing levels for online & on-site attendees
Many event organizers are struggling to imagine what ticket prices could look like for hybrid events. The first step is researching what different attendee groups want. Is content, networking, or entertainment more critical for those at home and on-site? The on-site attendee will take on the role of a VIP with the whole premium experience - so their tickets can be as high as those at traditional in-person events have always been. For online attendees, it would be wise to sell different tickets with varying prices for levels of access to features and content. Content can be divided into live and on-demand content with varying prices for each; networking can be layered to access various levels of exhibitors and VIP attendees, and year-round membership to the platform constitutes yet another price range.
19. Data-centric packages highlight value for sponsors
Your hybrid event platform comes into play when your exhibitors aim to become data-driven. Your platform is the data tracking, collection, and analysis point for both on-site and online exhibitors and sponsors. Gathering analytics can be used for matchmaking campaigns and to inform sponsors on the reach and effect an event had on its audience. Those looking to support ongoing conferences, shows, and exhibitions can use the statistics included with a platform like Swapcard to get better with each installment.
Some of the detailed individual and program statistics available on platforms like Swapcard include:
An Overall Usage Summary
Networking Summary
Detailed Summary For Each User
Detailed Summary For Each Exhibitor
The Top Performing Session, Speaker, Exhibitor, Sponsor
Most contacted user
Best Networker
Engagement Percentage of Active Users
Total Contacts made
Total Messages Exchanged
Marketing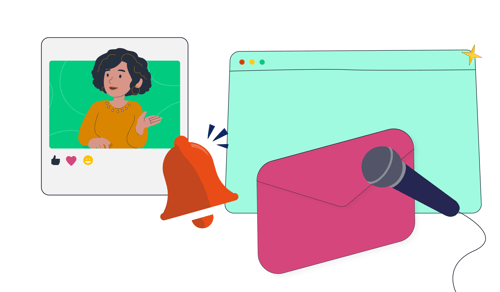 How to promote hybrid events? With two different groups of attendees, you'll need to have two different marketing strategies targeting on-site and online audiences.
20. Hybrid events have reduced carbon footprints. Use that to create brand loyalty
Of all of the world's industries, air travel is one of the most significant contributors to pollution and climate change. Going hybrid with a smaller in-person audience means you'll cut down on everything that produces waste and contributes to polluting the planet. This includes food and beverages, electricity, printouts, paper, plastic, booth structures, and more. By doing your part to cut down on these contributing factors by running a hybrid event, you also save the environment in the process.
Use a carbon footprint calculator, such as the one developed by MeetGreen, to measure your event's sustainability. It'll show your community that you're serious about doing good for the planet and will give them even more reason to be loyal to your event and brand.
21. Market virtual attendance until right before the event to increase numbers
When setting goals for your hybrid event attendance, it's important to be realistic, but also to be prepared for more virtual attendees than expected, just in case. This is because virtual attendees don't need to prepare for their event weeks in advance. The idea is that if there's no advance deadline for registration, attendees can register right up until the day before the event. Your marketing strategy should also aim to push registration until the last minute. With no physical borders or traveling to do, you should have a larger group of online rather than in-person attendees.
22. Big names will attract in-person attendees
A famous keynote speaker can launch a viral marketing campaign to attract attendees to your event. After comfortably working from home for so long, only big names can physically draw attendees to an event and make them sit through hours of talks in a venue packed with people. Celebrity speakers, Q&A opportunities, and workshops or brainstorming sessions at the venue are a great way to help attendees along their learning journey. Organizers should invest in bringing speakers to the venue to deliver physical talks because attendees risk being disappointed if speakers appear virtually.
Hybrid events provide attendees and organizers the best of both worlds. They bring together the virtual and in-person experiences under one online roof and allow organizers to run events without borders. A hybrid strategy is crucial to success in the foreseeable future, as our research shows that most event organizers are moving towards a hybrid model.
With the knowledge that, at this moment in time, hybrid events provide the best solution for running profitable events, make sure to choose an all-in-one technology platform. This platform is where your virtual and on-site attendees meet no less than 20 times before, during, and after the event. Having an end-to-end platform will save event planners a lot of time and stress. Choose a platform that has encountered the same growing pains you have over the past year and understands your needs. Their experience and knowledge will be reflected in the product you end up working with.