With 100 resources on hybrid events, this page has all you need to prepare for and execute a successful hybrid event.
Including tips and insight drawn from Swapcard's experience along the way, you'll have all the information and resources you need to go hybrid and never look back.
We've broken down the resources into different categories to make it easier for you to find what you need, no matter where you currently find yourself in the hybrid planning journey.
Table of Contents
What is a hybrid event?
Research on hybrid events
Hybrid event must-haves
How to pick a hybrid platform
How to pick a hybrid venue
Tips on running a hybrid event
30 creative ideas to make your hybrid event a success
Hybrid events & communities
A.
1.

There is no single, clear-cut definition of a hybrid event that encapsulates what it means to be a hybrid event.

The Events Industry Council

defines hybrid meetings as "a meeting that combines face-to-face and virtual aspects." While the hybrid model has many different types, one golden thread links them all together - the idea that there is

both a virtual and in-person aspect to a gathering of people and exchanging of ideas.

How and when this group of people meet, share, learn, exchange, network, buy and sell may vary. With that said, the hybrid model can even extend beyond a single event and run throughout the year, making it more of a community than a one-off occurrence.

You've probably heard of hybrid events being referred to as "the best of both worlds" or "the bridge between online and onsite" or even "the future of events." They create an opportunity for people at home and people who've traveled to experience the same content, to meet each other, and to become part of the same community.

Looking to learn more about what a hybrid event is? Here are some more articles to read:

2.

The Future of Events Is Definitely Hybrid: What Will They Look Like?


3.

What Will Hybrid Events Look Like?


4.

Hybrid events – what are they and what are their benefits?


5.

Hybrid Meetings: What's Now, What's Next


6.

What is a Hybrid Event and How Do You Organize One?


7.

Hybrid Events Are the Immediate Future of the Event Industry

B.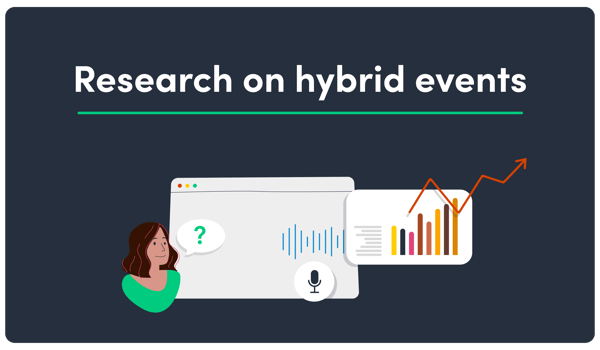 In order to get a better understanding of how important hybrid events are for the future of event planning, here are some stats to give you better insight:
Swapcard's Hybrid is Now published April 2021 found:
Close to 75% of event organizers are currently planning hybrid events for 2021 and 2022.
Only 5% are planning all in-person events, & 11.5% are sticking to virtual-only for 2021 and 2022.
8.

For more stats & research download Swapcard's Hybrid is Now.
According to a survey of organizers undertaken by The Global Business Travel Association (GBTA) in February 2021, they found that:
3/5 respondents said that they expect to hold at least one hybrid meeting in 2021,
65% said that they are interested in holding more hybrid meetings as a result of the pandemic.
71% percent of respondents said that, prior to the pandemic, hybrid meetings were not part of their programming at all.
A little more than 50% of respondents expect in-person company meetings with 50 or fewer attendees to return to the pre-pandemic level within a year.
9. Source: Hybrid Events Expected to Double in 2021
Markletics undertook a survey with over 3000 respondents worldwide which found:
86% of B2B organizations see a positive ROI of their hybrid events 7 months after the event date.
34% of event organizers expect to invest more in hybrid events in the next few years.
71.1% of event organizers say that connecting the in-person and virtual audience is their biggest challenge.
67% of event organizers state that technology to ensure a smooth experience is a challenge or concern.
34% of marketers say that they will add hybrid events to their event portfolio in the near future.
10. Source: 35 Remarkable Hybrid Event Statistics (2021 Research).
C.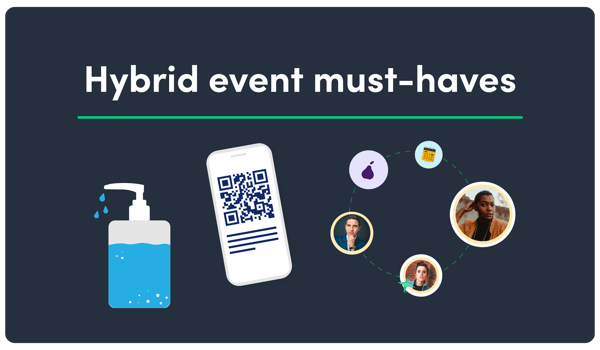 When it comes to organizing a hybrid event, you want to make sure that you have all the components you need to make sure it's a success. We've outlined the must-haves for your hybrid event, including resources with examples which are sure to inspire you.
11.
Marketing & communication Plan
Have two distinct marketing plans directed at online and onsite audiences respectively. This means making sure that you understand the needs of each audience and effectively communicating that during the planning and execution process.
Resources:
12. 22 Hybrid Event Ideas For Engagement, Monetization and Marketing (See Marketing section)
13. 6 Strategies to Market Hybrid Events to Virtual and Live Attendees
14. 4 Tips for Event Marketers Planning Hybrid Events in 2021 | SM.com
15. MPI - Hybrid Meeting How-to Guide (pg. 7)
16. Ticketing & sponsorship structure
Structure your tickets and sponsorship packages to cater to all levels of attendees and exhibitors.
Resources:
17. 22 Hybrid Event Ideas For Engagement, Monetization and Marketing (see Monetization section)
18. Hybrid is Now - Ticketing section
19. Venue considerations
Select a venue that can meet the requirements of an in-person experience while also having the capacity to support virtual attendees.
Resources:
20. How Hybrid Events are Changing the Production Landscape
21. 6 Things You Need to Know About Hybrid Event Design
22. How to choose the right venue for your hybrid event?
23. Hospitality Meets Event Tech: A New Model for Safer Hybrid Events
24. Hybrid Design: Streaming Content to Homes and Hotel Rooms

25. Platform considerations
Pick a platform that provides end-to-end support for running a hybrid event, which includes in-person and virtual components. The best platforms have mobile-apps that onsite attendees can also use to navigate a physical event. This includes finding booths, scanning QR codes, connecting people with AI-powered matchmaking, and so on. Using an all-in-one technology platform, like Swapcard, will allow for a seamless hybrid event experience that leaves no part of your event neglected.
Resources:
27. Advice From A 3,000-Person Hybrid Event
28. What to Look for in a Hybrid Event Platform
29.
Content & engagement

Strategically designed schedules and content so one audience isn't prioritized over another. Someone watching from home has very different needs and expectations than someone physically attending an event in-person. One size does not fit all, so be sure to understand each audience's needs when planning the content for your event.
Resources:
30. 22 Hybrid Event Ideas For Engagement, Monetization and Marketing (see Engagement section)
31. 50 Awesome Event Ideas for 2021
32. The Pressure Is On To Deliver Value At In-Person Events
33. 40 Inspiring Virtual Trade Show Ideas for 2021
35. Hybrid Design: All-Live Content but Two Timetables
36. Networking & booths
Maximize visibility and networking opportunities for both in-person and online exhibitors. The key to success here is to ensure that online and in-person audiences have easy access to tools that can have them interacting with one another as well as with exhibitors.
Resources:
37. 22 Hybrid Event Ideas For Engagement, Monetization and Marketing (see Engagement section)
38. Attracting Exhibitors To Hybrid Events
39. 8 Creative Ideas for Networking at Hybrid Events
40. Networking Between Virtual and In-Person Attendees at Hybrid Events
41. Networking For Virtual & Hybrid Events
42. How to Solve the Challenges of Networking in Virtual and Hybrid Events
43. 365 Community
Build up a 365-day community to extend the lifespan of your event. This means taking the excitement and enthusiasm that you've cultivated over the duration of your event and extending that year-round.
Resources:
44. From Virtual Events to Communities.
45. The Future of Tradeshows: IMEX on Community with Carina Bauer
46. What Is 365 Engagement and How Will It Impact Events?
To make your hybrid event planning even easier, we've created a step-by-step checklist to help you prepare for your hybrid event.
47. Download the Swapcard Hybrid Event Checklist
D.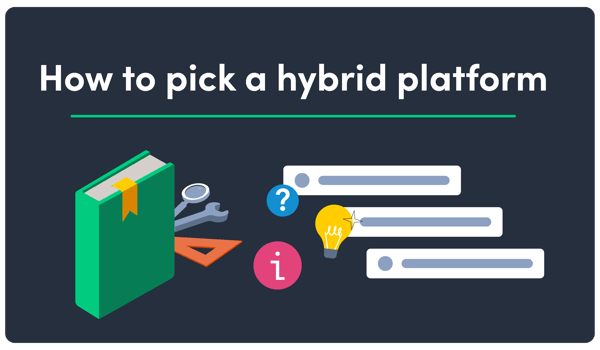 Choosing the right hybrid events platform can make or break your event, so be sure to choose one that has been optimized for going hybrid. Below we've listed the pain-points to keep in mind when picking a hybrid events platform.
Event mobile-app: Choosing a platform that offers both a web-based option and a mobile-app is integral for hybrid events. With audiences that are at-home and on-site, one platform that can serve the differing needs of both groups for the same event takes the stress off of the organizer and provides attendees a unified worry-free experience.
Registration: It's exhausting constantly importing registrations and not being able to compile useful registration data in the process. An events platform that includes in-app registration that is user-friendly and can manage thousands of registrants is ideal. If the platform can categorize attendee data and put it to work for the organizer, even better.

Check-in:

Using technology to make the event check-in process straightforward is a given, but not all platforms offer onsite check-in. Choose a platform that not only provides in-app registration, but that registration should correspond with an online or onsite check-in process. Providing attendees a seamless experience is key to a successful hybrid event, and your platform should have onsite check-in included to make this happen.
Engagement: Engaging audiences at home and onsite can feel like an impossible task. Making sure that one audience is not prioritized over the other means the platform needs to have tools to make even the least engaged attendee feel like they're part of something bigger. These tools can include smart lead captures, live Q&As for a hybrid audience, interactive roundtables and more.
Networking: Some say online networking is awkward. That's why your hybrid event platform needs to make it authentic, even virtually. Make sure your communities can connect through video, audio or chat, no matter where they are. Audio-only options are particularly useful in helping those attendees that would otherwise be too shy to participate feel more at ease.
Monetization: Boosting event ROI isn't always easy when going hybrid. Data tracking and measurement features, such as those offered by Swapcard, make it simpler. Don't lose money on a bad investment - let the data tell you what works.
Reliability: Although it may seem like an obvious point, you must make sure that the platform you choose is reliable and offers responsive technical support in the event that you need it. This means that the platform should be able to handle the volume of attendees and bandwidth required for your hybrid event to stream smoothly for both audiences, while also feeling immersive for your virtual audience. In the event of any problems, a support team that is readily available and trained to help you succeed are just as important as the platform itself.
Community: Engaging your audience 365 days a year is tough, but the right platform can make this much easier. Extending the lifespan of your event with community features that are built into your platform are a great way to maximize ROI and build brand loyalty. For example, using Swapcard as a social media platform with our new community features can keep the enthusiasm of an event going well past the event days.
Learn more: Swapcard Hybrid Events
In summary, a hybrid event platform needs to include the following, otherwise it is incomplete:
Web & mobile app
Indoor geolocation + tracking
Intelligent audience status
In-person + online registration
Onsite self-check-in
AI matchmaking
Interactive Q&A wall
Comprehensive organizer dashboard
Intuitive leads capture
Community building features & capacity
To learn more about platforms that are optimized for hybrid events, check out Swapcard's Hybrid Events page
E.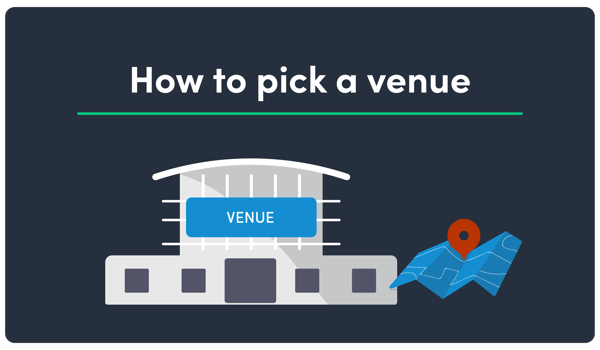 57. When picking a venue to host the in-person portion of your hybrid event, these are the key components to remember when choosing a venue:

A strong wifi connection
Ample space for social distancing
Breakout rooms
Meeting pods
Tools for production
Charging stations
Resources:
58.
Hybrid Meetings by Hyatt
59.
7 Steps to Going Hybrid: Your Free Handbook
(see Venue section)
60.
15 New Venues for Hosting Hybrid Events Throughout North America
61.
Hotel Chains Prep for Hybrid Events
F.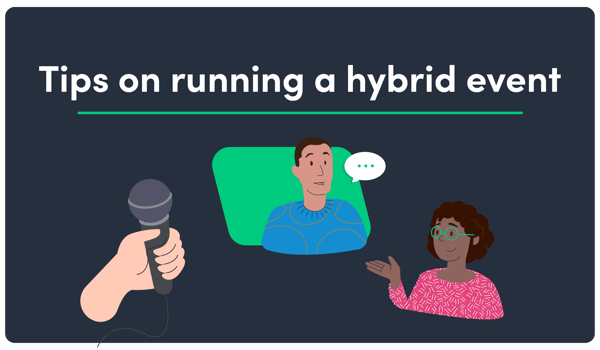 Every hybrid event will have different objectives and different priorities. With that said, we've included resources that will provide you with tons of tips and information on how to successfully run your hybrid event. Take these tips and the experiences of other event professionals to make your hybrid event your own.
Resources:
G.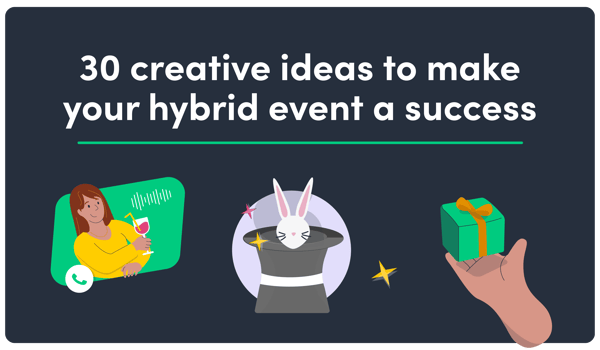 Get your community fired up before the event starts
The week before your event kicks off is a crucial marketing period.
Host a pre-event fireside chat on your platform, run Clubhouse rooms or LinkedIn live streams, schedule a webinar or a Q&A session - it doesn't matter the medium, as long as you gather your community in the lead up to the event. Use this opportunity to create buzz around the schedule, introduce your speakers or get your community acquainted with the hybrid platform by showing them how to use it.
Targeted hybrid teaser communications
Targeted teaser communications can work hand-in-hand with your community engagement strategy and serve as a great tool to create buzz around the upcoming schedule. You can use these teasers to introduce your event speakers and get attendees excited about topics that will be spoken about. Another idea is to get your community acquainted with the trade show platform by inviting them to check it out before the event starts. These teaser communications are also a great method of giving your priority sponsors and vendors first access to your attendees. Priority sponsors or vendors will appreciate being given the first opportunity to engage with attendees and begin the networking process early.
Priority access to schedule meetings between attendees and exhibitors and generate excitement
As part of these pre-show teasers and communications, priority sponsors and exhibitors can take this early opportunity to begin scheduling meetings. With hybrid platforms such as Swapcard, targeted AI can take attendee information gathered during the registration process and share these leads with exhibitors. This will help vendors and exhibitors capitalize on these early networking opportunities and begin filling their calendar with qualified leads.
Advanced filters help exhibitors quickly and easily find leads with a hybrid audience
One of the benefits of a hybrid platform is the ability to use technology to save time when participants are looking to make connections and network quickly and efficiently. When an exhibitor at a hybrid event is looking to make new connections, they will often head to the attendee list to scope out potential leads. With a hybrid event, that means two different sets of attendees that can be networked with. Create advanced filters for targeted reach for your exhibitors, allowing them to search by job position, sector, decision-making power and more.
Make your event accessible and inclusive
The beauty of the hybrid model is that there are no borders to attendance, the choice is up to the attendee. Your content and networking become automatically more accessible to a global audience and your chance of high return on investment increases as you welcome a larger audience than ever before. Making your tickets free does even more for accessibility and community-building. A hybrid platform can also offer real-time translation or subtitles for live sessions and the interface can be used in an array of languages. Now is the time to start building global communities and running events without borders.
Hybrid roundtables for an authentic networking experience
The opportunity to show their face and have their ideas heard is one most attendees jump at after a day of listening to experts speak. It's an even more lucrative opportunity if the expert speakers are in the meeting room! Online roundtables, a collaborative feature recently released by Swapcard, are video or audio-only meeting rooms with a limited number of participants where they can ask in-depth questions to experts, share their own experiences and meet new people. This session format breaks the schedule of staring at speakers and gives the audience a chance to connect in a more authentic, natural "face-to-face" environment. This is also a great way of having onsite and online audiences interact, as a breakout room can be designated specifically for roundtable sessions.
Use MCs to achieve high engagement levels between both audiences
People identify with other people, so hire a pair of MCs to be the face/s of your event. Not only do they create a sense of familiarity that makes your audience feel comfortable and engaged, but they react and discuss the event among themselves in a very relatable way. By the end of the event, your attendees will feel as if they've been on a journey with the MCs and will feel very close to them. Make sure your MCs are trained to think on their feet, react in real-time to what's happening in the schedule and reach out to your audience with all the engagement features you have available.
Invest in hybrid audience engagement features for an immersive experience
One of the most basic but crucial features any hybrid event platform needs is a tool for audience engagement. These features are still not being used to their full potential on many events, even after nearly a year of virtual-only content and webinars. This is particularly important when there are two different audiences participating in a single event. Live discussions are where many of the natural and authentic connections are made between audience members. Live questions allow attendees to use their voice and feel acknowledged when speakers answer their questions. Polls are one of the most helpful, yet underused features that allow speakers to test the waters with their audience and see what they're thinking before launching into their content.
Virtual and onsite photo booth
Want your event to go viral? Partner with a photo booth, where attendees can take a snapshot of themselves at the event, or at home with their pets, kids, or event swag. They can then post it on social media with your event's hashtag. This not only creates a community in different social spheres, but also serves as free marketing for a wider audience - the network of everyone posting photos will see how much fun the event seems to be! A photo booth is one of the best hybrid engagement ideas to make your audience feel like they're part of a community by giving them the opportunity to share a piece of themselves with their peers.
Customizable exhibitor packages boost ROI for everyone
Visibility is one of the most valuable aspects of a hybrid event for any exhibitor or sponsor. There's no better visibility than their booth, and making it customizable can be a very profitable tool for organizers. Allow exhibitors to add videos, branded backgrounds, logos, links to their website, upload products & services and stream live demo sessions. The plethora of customizable options available are easy to authorize and restrict depending on the level of sponsorship agreement on platforms like Swapcard. Ultimately, when attendees visit a fully branded booth, they should feel as if they're stepping into a different "room" or "lounge" and be immersed in the exhibitor's world. Even better? Give them the option of having booths both in-person and online! This guarantees more eyes on their booth and an ability to reach a wider audience.
Use sponsored registration to collect beneficial info with pre-show survey
Giving sponsors the opportunity to engage with attendees prior to the start of the event and having them fill out pre-show surveys will help set up your virtual trade show for success. When attendees are registering for an event, this provides an ideal opportunity for sponsors to gain visibility and begin the process of increasing brand awareness and getting attendees familiar with what they have to offer.
Capture attendee interest with a browsable digital catalogue
An accessible and captivating digital catalogue is a great way to reach both audiences at a hybrid event. Build a gallery with all the products, services, tools, demos, resources, books, slides, vouchers and every other document available on your event platform. In the organizers settings of a platform like Swapcard, you can create filters for users to search by category, type of product, price, and any other relevant information. Make sure to advertise this as a one-stop-shop for all your attendees' needs in your event platform. These digital catalogues are a great way to display exhibitor content and facilitate networking opportunities. Onsite attendees can scan a QR code and download your catalogue right to their phone, saving the excess cost of printing a catalogue and letting attendees browse through your products on their phone.
Create engaging live or prerecorded product demos to boost sales opportunities
Having live demos of up-and-coming products is a great way of showcasing a product in real-time. Make it interactive! One of the great opportunities that come with a hybrid event is the ability to interact with to audiences at one time. Instead of simply standing in front of the product, have presenters move around and interact with the product while also engaging with their viewing audience. Viewers want to feel as if they are there with you and see the product up-close and in action. Also consider having a portion of the product demo pre-recorded and then opening up the discussion to viewer questions. Either way, make sure both presenters and attendees have fun with it!
Keep hybrid sessions short to avoid screen fatigue
Studies show that human beings have an ever-shortening attention span, impacted drastically by this past year of digital overload. As we slowly go back to in-person events, this same attention span applies to live sessions as well. Don't make your hybrid audience concentrate on one topic for 45 or 60 minutes at a time. You wouldn't want to put all that effort into organizing a longer session and see empty seats at a venue. Shorter, more impactful sessions could help avoid both online and in-person fatigue and keep attendees engaged and energized.
Swag bags for everyone!
One of the easiest ways to get attendees excited about a virtual event is to provide them with sponsored swag ("Stuff We All Get") after they've registered, similar to what they would receive after registering for a traditional in-person event. This is also an ideal option to include in a sponsorship package. Having swag onsite and delivering swag to attendees' homes before the event starts is a fun way to get participants excited while also getting the word out about a brand. Sending practical items such as a notebook, a mug, or a t-shirt will allow sponsors to increase their brand recognition by reminding attendees about their company with each use.
Dedicated hybrid networking sessions
Make sure to remind attendees to leave space in their schedule for networking. When they click on the "Live" button during a session, let them be redirected to a screen that encourages them to network, reminding them of any engagement competitions you have going on, and giving them tips on how to best meet people. Try to incorporate an hour or two per day into the schedule for dedicated networking and you'll see the number of meetings and calls between attendees and exhibitors increase.
Incentivize hybrid networking with competitions & prizes
An easy and fun way to get participants engaged is by telling them they can win a prize during your virtual trade show! Have a sponsor pledge prizes and encourage attendees to schedule meetings with exhibitors, to connect with other attendees and to reach out to speakers. Winners can be called the "Top Hybrid Networker" or the "Most Active Attendee." Whether they're motivated by their competitive nature or a desire to win that coveted prize, participants are still opening themselves up to a whole group of people who could turn into fruitful business leads. Consider using this tactic to increase the responses to your post-event survey or the prompts for session feedback. A spirit of healthy competition will add an element of fun to your virtual trade show while also boosting engagement at your event.
AI-powered matchmaking matches hybrid attendees and exhibitors
Just because one audience is online, doesn't mean they should miss out on those spontaneous or serendipitous encounters that their in-person counterparts are enjoying. With artificial intelligence, these connections and meetings can be engineered to be even more meaningful. Platforms like Swapcard have smart AI algorithms that analyze attendee and exhibitor data, both demographic and behavioral, and pair people up who are most likely to have business interests in common and become valuable connections. AI can save your attendees and exhibitors a lot of time as they no longer need to scroll through infinite lists of people to meet. The algorithms can also suggest the sessions, products and booths that users would be most interested in based on their data, making for a customized event journey for each attendee.
Hybrid group chats provide opportunities for targeted networking
A group chat is a conversation with a specific topic where people can post messages, respond and meet like-minded people. Exhibitors can think of creative subject lines like "what's an unusual way you've used this product" to bring people together around a common theme. Using group chats as a gentle ice-breaker is an ideal way of beginning the networking process and cultivating a durable connection between participants and exhibitors.
Assign chat engagers to keep the conversation going
Assign a person from the organizing team to the live discussion of each of your sessions. This person is responsible for getting the chat going, answering any platform or tech questions and reminding the audience how to use the chat function. It's a small detail and it's free to implement, but it can make a big difference in the attendee experience - having someone with know-how in the chat is a great reassurance.
Provide special ecommerce offers for hybrid event attendees
One of the benefits of using an all-in-one hybrid event platform is the ability to offer a "show special" for event attendees. This encourages participants to not only visit a particular booth (whether in-person or virtually), but is also more likely to entice them to try a particular product out since they're getting a "special deal" that is unavailable to the general population.
Discount codes for attending sessions to be used for product purchases
This builds upon the previous idea, as codes can be used both during the event and as part of the follow-up with attendees. Providing discount codes that are tailored to reward attendees that have attended specific sessions can facilitate purchases and sales during the event, and also extends the connections made beyond the event as part of the post-event networking strategy.
Sponsored sessions that will increase business for vendors and exhibitors
According to data from over 460 virtual events, as much as 60% of leads generated come directly from the sponsored sessions on the event's schedule. This demonstrates that the most direct way for a sponsor to make an impact on an event is to host sessions with virtual exhibitors that are aimed at their target audience. Whether it be a roundtable, live stream, or pre-recorded on-demand presentation, sponsors can tailor and brand any given session to meet their every need.
Sponsored push notifications that gives increased visibility to exhibitors
Choose a platform that allows you to send customizable push notifications, giving you the ability to have sponsored push notifications. Personalizing push notifications using AI that has matched attendees with premium sponsors is an ideal way to capture the attention of qualified leads whose information had been captured during the registration process. This means that push notifications can: Target relevant groups when sending notifications to (e.g.: speakers, exhibitors, etc.) or redirect the participant to a specific page when clicking on the notification (pages such as Program, Partner, Session, Homepage or any external links). When discussing your event pricing, consider leveraging access to this targeted lead generation during talks with sponsors.
Small hybrid Q&A sessions with vendors and selected attendees
Encourage attendees to schedule a more detailed demo for their entire team, where you'll host the meeting during or after the show on your hybrid event platform. The AI used on the platform will help match sponsors with attendees, making this interaction more fruitful on both sides.
Hands-on & interactive learning during workshops
People learn in different ways - some by watching and listening, others by doing. Educational sessions with the opportunity to ask questions are great for the former learners. But for those who learn by doing, workshops are an effective alternative! Get some experts to run interactive workshops during your event and you'll see the engagement skyrocket. You can even offer certificates that participants can post on their social media after the workshop, another way to increase visibility of your event and brand.
Creative games engage your hybrid audience
An innovative and effective way to ensure people store the information they're learning is by incorporating games. There are many event platforms out there that have endless gamification opportunities, or you may choose to partner with a specialist tool. True/False games during sessions help the audience stay engaged and keep learning, while a musical quiz with the DJ during a cocktail party ensures everyone has fun and feels like they're part of the community! Get your sponsors in on the fun by asking them to donate prizes - this also helps them gain more visibility and gives your attendees an incentive to participate.
Fuel the spirit of competition with a leader scoreboard
Create a button on your event's homepage and have an onsite scoreboard showing the frontrunners of your challenges and competitions in real time. Participants can refer to the scoreboard when they want to check who's in the lead and motivate themselves to work even harder to win!
Work hard, play hard: leave space for fun & wellness
An educational schedule is a great motivator for people to attend virtual events. In this day & age, people want to learn and online learning is easy! But if you've ever sat through a full day of educational sessions, you'll know it's hard to stay focused and absorb all the content. So break up your schedule with short, fun pauses that have nothing to do with the content or theme of your event. At Evolve 2.0 the intermissions were surprisingly popular - so many people registered for yoga and mediation, that the team had to duplicate the sessions at the last minute to give the audience more opportunities to participate! You can get instructors to guide the audience in psychology, productivity or stress management, cooking, get an inspirational storyteller, a trainer to do a workout, or a magician to bring some fun to your schedule. People appreciate the opportunity to take a break and try something new.
Invest in a keynote speaker and watch your hybrid audience grow
One big name can create a viral marketing campaign to attract attendees to your event. Locking in a keynote speaker who's famous in your industry is worth the often large budget, but only if your marketing team builds a strategy around the session. Make sure you advertise on social media, in newsletters and in a blog post. Create visually appealing banners to promote the session on the platform during your event and make sure your MCs hype your audience up for it. Then, of course, ensure that the speaker's talk goes hand-in-hand with your event's storytelling and give it an inspirational, motivational spin.
H.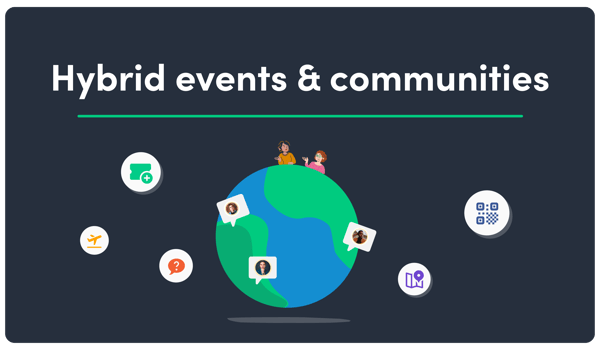 Community is very important in building brand loyalty and trust, as well as growing sales figures for recurring exhibitors and partners. This is particularly true for hybrid events, as your dual audience will be looking to be part of something that goes beyond the event days and serves as a bridge bringing both audiences together as one unified community.

Certain events have proven to be more effective and successful in a virtual format, and there are other types of events that will return to an in-person format when possible. However, one thing is sure: a hybrid platform will connect those communities all year long, offering regular virtual meetings and networking opportunities as well as touch-points for exhibitors to nurture their leads in the build-up to the less regular hybrid or in-person event.

Nurturing leads and fostering long-term connections are some of the top benefits of using a platform to build a community that is active and available all year round. Bite-sized clips showing the most insightful or funniest quotes from live sessions can be repurposed and used for promotion and marketing during the year. If content is available on-demand, it can be a tool to keep growing a community 365 days a year. Don't forget to get the speakers' consent first!
Interested in seeing a 365 Community in action?
Check out Evolve! This community of event professionals was started by Swapcard in May 2020 and has since skyrocketed to 13,000 members (and growing!). After free registration to join the community, members have access to tons of on-demand content and are given priority access to register for events tailored for the community throughout the year. With brand-new and relevant content being added regularly (including all things hybrid), it's a prime example of how to extend the lifespan of your event and be inspired by your community.