After 2 years of virtual, the draw of returning to in-person events is stronger than ever.
A recent survey by EventMB showed that in Q4 of 2021, 42% of respondents had already started planning for the return of in-person events in 2022. It's clear that the events industry wants to get back to onsite events, but it's important that we go back to a better in-person experience.
There are many lessons to be learned from going virtual, mainly the power of technology to bring people together and deliver quality experiences. Our industry should take this opportunity to learn from the past two years and incorporate all the success of going online into their new normal of events.
Incorporating event tech into your in-person event will enhance the attendee experience, making the return of on-site events even better than before. Not only does adding an online aspect to your in-person events make them more accessible and sustainable, but there's also far more potential for increased ROI for you, the organizers.
The biggest mistake an event organizer can make in 2022 is to go back to the way things always were instead of taking the best digital solutions and enhancements available to marry online and in-person.
We're sharing six examples of events that successfully incorporated technology into their in-person experiences to show you just how powerful a tool this can be.
1. A 100% increase in session participation
For the second year in a row, Swapcard helped this client achieve their goal of propelling innovation forward by connecting key players in the deep technology field over the course of its 3-day in-person event. They saw 9,413 new connections, with the event organizer also reporting a 100% increase in session participation.
All of this was possible through the use of Swapcard's event app.
An intuitive mobile app like Swapcard's delivers on that value. How? AI-powered matchmaking ensures that you're being matched with the right people and sessions so that you don't miss out on important connections. It also helps facilitate meetings, making it easier to schedule and meet up with connections you've made at the event.
Watch how Swapcard helped connect digital innovators with accelerators through the use of their event app at the conference.
2. Personalized attendee journeys so no connections are lost
Once a series of small gatherings and workshops, the Step organization is now the largest experiential tech festival in the Middle East: a collection of showcasing startups, digital enthusiasts, government entities and entrepreneurs.
To engage their tech-savvy and mobile-first audience, Step sought an event app that was intuitive, responsive and user-friendly. Having a single app that can be used across multiple events helps both streamline the planning process and make sure no connections are lost from one event to the next.
Step also used Swapcard's technology to offer a custom program for each attendee based on ticket type.

Depending on your ticket type, the app showed only the sessions relevant to the ticket holder in the event program. The organizer could set a quota of how many people could register for each session and update these parameters with ease. This becomes particularly helpful when returning to in-person sessions as organizers can easily follow social distancing or room capacity requirements for attendees.
Watch how Step Conference used a tech-centric approach to bring people closer together at their physical meet-ups.
3. How 93% of active users can create their own schedule
Swapcard supported the Organisation for Economic Co-operation and Development (OECD) Forum for the first time. As an international organization whose goal is to work "together with governments, policy makers and citizens," to "shape policies that foster prosperity, equality, opportunity and well-being for all," they needed a powerful tool to help facilitate both the exchange of information and high-level networking.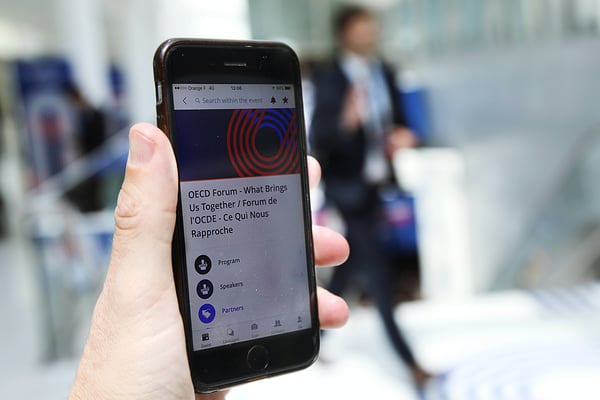 Through their mobile event app, 4,000 participants from 131 countries could highlight speakers and bookmark relevant sessions. The app played an integral role in making sure attendees had the ability to organize their event schedule and connect with key stakeholders. In fact, 93% of active users on the app created their own, personalized schedule. As large-scale in-person events begin to come back, an event app becomes indispensable for attendees looking to make the most of their time.
See how OECD delivered a personalized attendee journey for 4,000 participants using Swapcard.
4. Simplify a complex event and double engagement rates
Before Swapcard, the International Master Course on Aging Skin (IMCAS) was working with their own platform but not achieving the adoption or engagement rates they desired. IMCAS were searching for an event app that needed to adhere to specific requirements, including linking to speaker abstracts and API integration with IMCAS' e-learning platform.
The Swapcard event app allowed attendees to ask questions to speakers, review their abstracts and connect with other attendees who shared mutual interests. Not only did engagement rates jump dramatically, but IMCAS got a branded app that included the a three-storey interactive floor plan, links to abstracts, and an integrated API.
With over 1,000 presentations, keeping the event program organized and all the educational resources centralized within the event app was indispensable. The benefit of having all that information in the palm of one's hand helped IMCAS deliver an immersive experience that they wouldn't have been able to without the help of their event app.
See how IMCAS boosted their event engagement and internal e-learning with Swapcard.
5. Lead capture that improves ROI for attendees
For their 6th edition, Lengow chose to partner with Swapcard. With 400 international resellers and e-commerce experts, the conference needed a platform that could centralize both networking and logistics on the day of the event and also engage multiple e-commerce stakeholders.
Through their use of the Swapcard platform, Lengow organizers were able to target and engage prospects and clients including marketing and sales professionals, digital marketplace experts and high-level executives. By offering commercial partners the opportunity to find qualified leads before the event, meet them in-person at the venue and leverage these opportunities into long-term business relationships, event technology helped improve ROI for the companies that were present at the event.
Data collected from the event via the event platform also helped Lengow organizers measure their success and help chart their path for the following year's event. The ability to effortlessly collect such important data is invaluable in improving the event offering year on year. See what the event looked like.
6. 15.000 messages between attendees
The International Cybersecurity Forum (FIC) needed an app to help participants organize their time onsite and make sure attendees were meeting the right people. Through the Swapcard app, attendees at FIC discovered new prospects, connected with current clients, and booked meetings with ease.
In order to properly engage their technology and security focused community, FIC were able to work closely with Swapcard to ensure the platform was secure and that data privacy would be respected, two themes that suited their audience and also reflected their brand.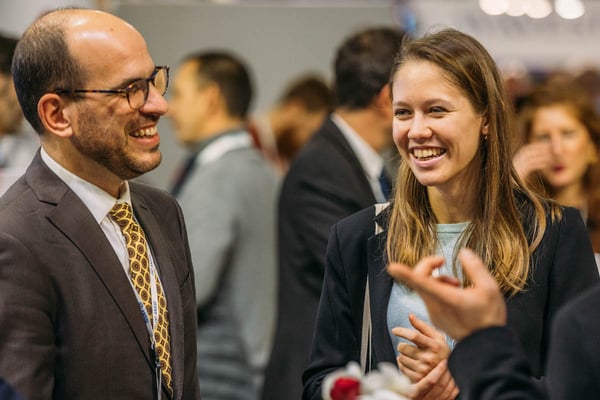 The high-level of data security and privacy meant that all the event's participants were able to enjoy the in-person event with a greater level of ease, especially knowing that FIC were delivering all the added benefits of having an event app. The ability to deliver an event experience in line with their brand helped FIC run a successful in-person event that saw attendees exchange 15,171 messages!
See more about how FIC delivered an engaging on site experience for their attendees.
The past two years have shown us just how important and powerful technology is in keeping everyone connected during a time where we had to physically stay apart. Take these success stories as inspiration and draw on their best practices to get inspired as you, too begin planning a return to in-person events.
If you've been thinking about returning to in-person events safely and successfully, having an experienced partner like Swapcard at your side is a gamechanger. We've been running successful in-person events since many years before the pandemic.
Get in touch and see how Swapcard can put their wide-ranging expertise to work for you right away.