Upcoming events need to go virtual or hybrid...
The events industry is going through a unique challenge right now, struggling to keep business afloat with the current COVID-19 travel restrictions, bans on group gathering and its consequential financial impacts. According to a survey conducted across 2,500 attendees from the event industry at EMB's Pivot to Virtual event recently, 47% of people have lost some of their business and 43% have lost most of their business. But things are looking up, because there is a way to save the industry.
Pivoting to virtual now will save businesses in the short-term and make them more sustainable and ready to face similar challenges in the long term. It's time to go 100% online, and any type of event can make the leap if they have the right tools.

...Even trade shows
While it might seem a difficult feat, trade shows can indeed be held online. During this time of lockdown and travel bans, the events industry is asking itself: what type of experience can I give my attendees and exhibitors online, and what kind of business model is best moving forward?
A 100% online trade show can be valuable and profitable for the planners, exhibitors and attendees with the right tools and the right scalable business model. With events going online, physical space no longer plays a role in sponsorship and exhibitor packages. The size of a booth and the location of a stand don't determine a virtual event exhibitor's return on investment (ROI), but the profit margin can remain stable in virtual trade shows. Here's how:
Exhibitors are charged less for a virtual trade show booth than a physical one because they're not outbidding each other for the biggest, most central spot in the exhibition hall. There are still different levels of sponsorship and booth packages, but they depend on the amount of visibility within the online event platform and are paid accordingly. Meanwhile, the event organizer has fewer fixed costs than they would for a physical event - there is no venue, insurance or catering to pay, so their costs are also lowered. That's how proportionately, planners can still pull off a highly profitable virtual trade show.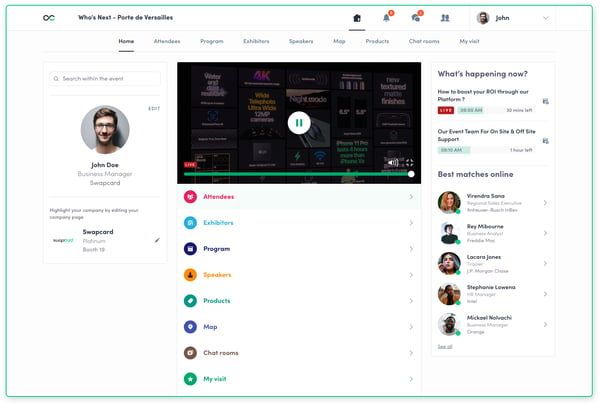 There are a few must-haves for a successful virtual trade show. Potential buyers need to have clear, detailed information about products & services on the event platform. The platform also needs to allow buyers to save purchases in an online cart or a wishlist, and to pay for them through online transactions should they choose to buy. Powerful chat & video call tools should be integrated into the platform to create an optimum networking experience and generate leads. The idea is to recreate a valuable experience such as the one attendees experience at a physical booth.
How do events go virtual when they rely on exhibitor fees?
It's important to remember the fundamental reasons companies choose to exhibit at events if event planners want to take it all online.
Networking & Lead Generation
Exhibitors are lead generation-oriented so a lot of their focus is on networking during an event, whether live or virtual. The goal is to gain as many potential business leads as possible by the end of the event. Exhibitors showcase their product at their online booth and with quality advertising, this turns into generating orders for their products or services. Attendees also focus on networking to meet existing clients or suppliers and catch up with old business contacts.
Visibility & Brand Awareness
Exhibitors gain great value from the visibility they're offered with a booth at physical events. Foot traffic brings many potential leads at physical events and logo placement in official event communications draws even more. Exhibitors also use the opportunity of a physical event to gain insider industry knowledge by scoping out the competition and finding ways to improve their own offers. By sponsoring sessions or running workshops at their booths, exhibitors have the opportunity to educate the market with industry knowledge. They can inform event attendees of their new products or services in a friendly, face-to-face setting. This is the perfect way for them to showcase innovations and get press around their business.
Very often, exhibitors pay for booths for a mix of all the aforementioned reasons. The important thing to reproduce from physical booths to virtual ones, is the custom visitor experience. No two virtual booths should be the same. But the objectives are the same - visibility, community exchanges and business leads.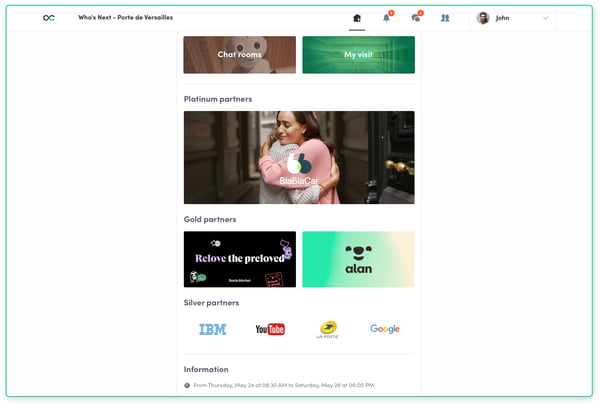 What should a virtual booth include?
Visibility
On the platform: names and logos of the sponsor/s of the event platform should be visible on the booth and the exhibitor marketplace, because sponsors that appear on top of exhibitors' list tend to have an average of 2,5 times more visibility than others. This leads to a win-win for both organizers and exhibitors.
On communication tools: exhibitors should have their logos displayed on various communication tools sent by the planners. Emails to attendees should show exhibitor logos, as it's a proven way to draw more virtual traffic to booths. Interstitial ads on the event home page are another great way to make sure attendees recognize booths and bookmark them for visits during the event. Bonus marketing content like short videos and brochures go a long way to adding visibility.
Via Push Notifications: exhibitors can target groups and send push notifications to remind them about products, services and sessions they're speaking in. With the right event platform, like Swapcard, this is easily manageable and can give exhibitors increased views and leads.
Community & Knowledge
Exhibitors want to display their products and services to their fullest potential on the marketplace, so that attendees can learn about the offers. Latest innovations, updates and improvements from previous years should be accompanied by detailed descriptions that attract potential buyers.
One effective way for exhibitors to inform attendees of what they're selling is to set up workshops or sponsor a session with live discussions within the event. A well-advertised workshop will attract many attendees and increase exhibitors' chances of making valuable connections. Sponsoring a session at the event and hosting a live discussion in parallel allows potential leads to have a transparent conversation with exhibitors, gain knowledge about their products and services and will bring more people to the booth after the session.
Exhibitors working within a niche field should consider sponsoring a technical session centered around their products and services and participate by speaking about their area of expertise.
Virtual booths with a 3D tour create the sensation of a physical trade show and exhibitors design their virtual space with logos, images and colours. Swapcard recently worked with Laval Virtual, a 100% online event with 10,000 attendees and a 3D user experience.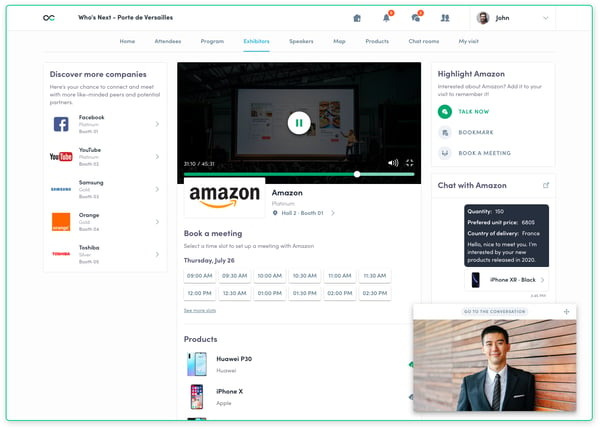 Networking
Artificial Intelligence: Smart networking is one of the most valuable parts of any physical event, but that doesn't mean it can't be reproduced in a virtual space. Inbound and outbound meetings can be maximized with the advanced filter search option and AI-powered matchmaking that Swapcard provides, attendees no longer have to spend hours searching for the right people to meet on the attendee list. The right people will come to them with suggestions based on their interests, personal profile and activity within the platform.
Video calls & meetings: Networking online requires some adaptations and that's where Swapcard's integrated video calling and meeting scheduling come in. A virtual booth will receive meeting requests from interested parties, and if the exhibitors agrees to chat with them, a video calling feature will be added into the in-app agenda.
Reminders & push notifications: Ahead of the meeting, a push notification will remind both parties of their commitment and they'll simply have to click a button to open the video chat and start networking "face-to-face" and the virtual booth. In addition to scheduled networking meetings with leads, exhibitors can also do instant video calls if they know the person is available. Exhibitors can also use this feature to do video demos of their products and services for potential buyers.
Showcase & marketplace: Registered companies can also create job offers within the platform - it's an original and effective way to connect with relevant people during a virtual event.
Stats & data: A final must-have for a virtual trade show is reliable, up-to-date data such as how much time each attendee spent on a virtual booth, how many people bookmarked a booth, how many presentations were downloaded and how many times an exhibitor's product was downloaded.
How to structure your exhibitor packages
Event planners can use their event platform to offer different categories, sizes and prices to accommodate all exhibitors and sponsors. The exhibitors then choose the amount of visibility they want and pay accordingly. Sponsors' visibility at virtual events is all online, unlike at live events, where there are posters and other physical displays of logos and company names. But these can be easy to miss when walking past too quickly, and one could argue that online visibility is even more valuable than physical visibility, because attendees can't miss interstitial ads, sponsor logos on the event platform's home page and sponsor logos during sessions.
Event organizers can also opt to sell a marketplace subscription as a type of 365-day platform - for example: for one month, one year or for a series of events. This type of subscription will allow exhibitors to sell products and meet with potential clients throughout the year as opposed to only during a short event.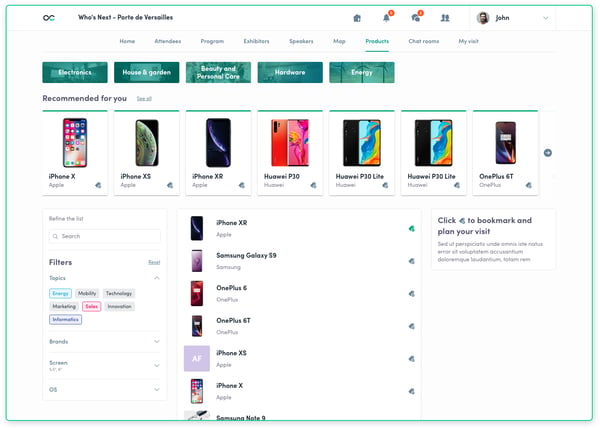 With Swapcard, planners can structure their exhibitor packages as different levels with access to all or a selection of the following features:
A sponsor of the event platform
Interstitial ads on the event platform
Sponsored grid banners
Sponsored sessions with or without speakers from the sponsoring exhibitor
Inbound meetings
Outbound meetings
Access to the exhibitor marketplace
Virtual booths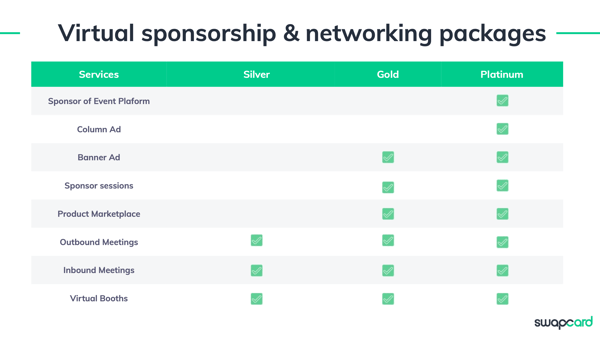 The ultimate goal, especially during the particularly trying time, is for a trade show to deliver an experience as authentic, personal and engaging as possible - 100% online. Building leads, interacting with contacts from the industry and increasing ROI is a top priority, and a virtual trade show with a scalable business model is a win for everyone involved.
Interested in going virtual?
Join Evolve: The Virtual Event for Planners, a virtual event for the event industry, for free.