From ticketing solutions to event apps—we've rounded up the best free event technology that will help you execute extraordinary events with ease.
As an event planner or conference organizer, you know what it's like to wear many hats. You're a master of crossing off items on a checklist: you work out your budget, land on the perfect venue and fill your program with engaging content.
And while you know what you need to do, there are many fantastic digital tools that can help you do it.

What's even better? When these tools not only streamline and simplify your tasks, but they don't blow your budget, either. See which one these free event technology solutions will save you time today!

Event Management: Eventbrite
First things first: how are you going to market your event? Don't mull over an answer too long; instead, turn to an event management platform like Eventbrite.
With Eventbrite, you can manage ticket sales, track your traffic sources and gather participant information. These valuable tools are free for any free event.
Once you begin to charge money for your event, Eventbrite collects a fee, which varies in cost depending on your package and features. Knowing this ahead of time, you can build the fee into the ticket price and pass it on to the buyers.
To get started, head over to their website and provide your event name, date, address and description. Once you've registered, you can share the event link with prospective attendees, publish it on social media and integrate it into your marketing plan.
For greater potential, combine Eventbrite with an event networking app like Swapcard. Thanks to Swapcard's partnership with Eventbrite (as well as with these great ticketing tools) you can easily import your guest list right into Swapcard's web platform and empower your attendees to make meaningful connections.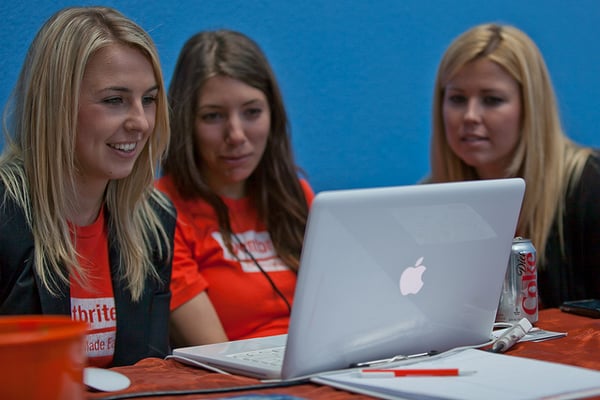 The team at Eventbrite onsite at an event.
© Jdlasica/
Flickr
Event App: Swapcard
A study by IAEE (International Association of Exhibitions and Events) showed that 76% of people come to your conference to network. By setting them up for success with an event app like Swapcard, you get to be the superhero that facilitated one of their top drivers for attending.
Connect your attendees with each other before, during and after your event using Swapcard's free version of their event networking app. By giving your attendees access to chat with other participants, they can exchange messages, set up meetings and get in touch with the people they really want (and need) to meet.
All you have to do is sign up and create your event through our website. Once that's done, you can import and instantly sync the attendee list from your event management platform (like Eventbrite).
Attendees will be notified by email to create their Swapcard account and complete their profile, either manually or connecting with LinkedIn. A web platform they can use at home or the office allows them to enter their information with ease, while the mobile app keeps the networking in the palm of their hands when on the go.
Once your attendees have started using Swapcard for your events, they won't need to download anything new or re-enter information. By offering a container app, attendees can keep your events—past, current and future—in one place.
Take the networking experience even further and join us for a free demo to learn about our customized solutions like smart matchmaking powered by Artificial Intelligence and a personalized meeting scheduler.
Event Engagement: Slido
Keeping attendees engaged is crucial, but it can be difficult to know who is sleeping on the content and who is longing for more. Slido eliminates the guesswork by giving presenters access to their audiences, allowing them to crowdsource questions and project live polls.

Slido's free plan offers one topic and three polls per event (for up to 1,000 attendees). It can be integrated into Powerpoint, Keynote and Prezi, allowing speakers to switch between their presentation and the platform with ease. Other integrations include collaboration software like Slack and event apps like Swapcard.
Event Budgeting: EventGeek
Sign up for EventGeek's free trial to learn how they can assist with your event planning logistics and budget management. We asked EventGeek's CEO and Founder Alex Patriquin how his time-saving project management platform can work for you:
"EventGeek empowers event managers to streamline logistics and drive higher ROI. It's a web platform used by event managers at companies like Salesforce and Google. You can use EventGeek to automate all kinds of data entry and eliminate duplicate workflows, including redundant emails.
You can set up a form to receive event requests, put them on your team's calendar, send reminders automatically, scan receipts and invoices, plan budgets, book meetings, distribute schedules, track event ROI and more. It also integrates with Salesforce CRM, HubSpot and a wide range of marketing tools so event and marketing teams can work better together. As an enterprise-grade solution, it's a great fit for event managers who juggle anywhere from 20 to 2,000 events a year."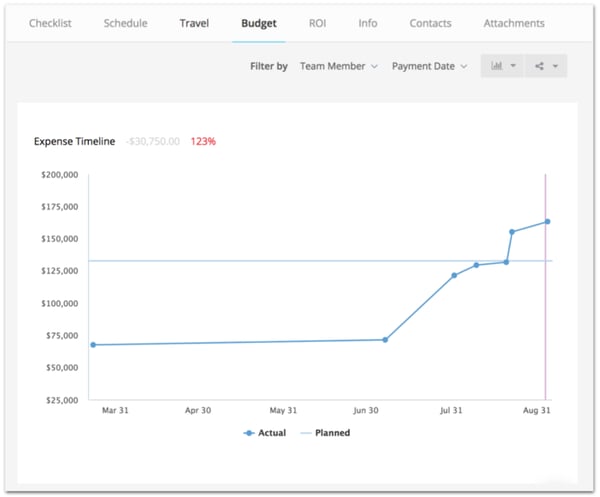 Painless budget tracking with EventGeek. © EventGeek
Event Content: Leade.rs
Deliver your attendees rich content and keep them engaged with keynotes, workshops and panels hosted by qualified speakers. Leade.rs was founded by veteran event organizers who wanted unique and diverse voices to speak at their events, without having to waste hours on cold calling to find them.
Using their curated list of professionals, Leade.rs will match you with speakers who are perfectly suited for your audience. Their expert service is entirely free until you book your speaker, after which a 10% fee applies. See how Swapcard collaborated with Leade.rs on their major industry event and improved the attendee experience by connecting them with the right people.
Event Mapping: Mapwize
With Mapwize, you can design a vibrant, interactive and comprehensive indoor plan for your event space. By providing attendees with a digital map on their smartphones, you spare them the frustration of losing their way and help them find the exhibitors they came to see.
With Mapwize's free trial, you can map up to 30 sites in a single venue. All you need to do is enter the address of your building, import your floor plan and build your points of interest. You can also draw directions between these points of interest to guide your guests, and a search function lets them pinpoint their desired location.
Event Staffing: When I Work
Facilitate employee management and reduce absenteeism with When I Work. This free event staffing solution features a schedule builder, time-off manager and shift trading—all in a user-friendly web platform and app.
Get started by signing up on their website and entering your details: name, email, workplace and the number of staff members (it's free for 75 employees or less). After you enter the names of your team and their email addresses, you can begin to build out a schedule and assign shifts. Your staff will be instantly notified, eliminating any confusion and strengthening employee accountability.
Finding a place to host your event is made easy using venuefinder. Register for free to gain access to a database of over 15,000 listings, ranging from intimate meeting rooms to spaces for conferences with thousands of participants.
Advanced search functions mean you can detail what you're looking for right down to the style, seating layout, catering and required equipment. You can bookmark your favourites, add notes and take advantage of special offers. Once you've landed on the ideal venue, the team at venuefinder manages the booking for you, free of charge.
No matter what your budget or needs, it's possible to find an affordable (or free!) solution that's right for your event. Event technology innovators understand the needs of today's organizers, which is why they offer free products and trials to show how their digital tools can help you succeed.

So go ahead, don't be apprehensive to try them out! There's nothing to lose and milestones to be gained!