Safer Events: Venue Protocol in a Post Pandemic World with Lenka Žlebková, CEO, Prague Congress Centre; Martin Fullard, Editorial Director, Mashmedia; Edward Poland, Co-Founder, Hire Space.
Venue protocol for physical events will look very different post-COVID. Experts Martin and Edward will show you how to adapt policies and ensure everyone's health and safety are a top priority. It's no surprise that this session was one of the top-rated during Evolve: The Virtual Event for Planners, because so many people in the industry remain nervous about what the future of physical gatherings will look like.
Martin kicks off with important questions about how organizers can make sure they trust venues to follow the safety and hygiene procedures. Lenka and Edward have interesting comments on the key issues to be addressed in a post-COVID world. The trio then touches on the very important point of communication between organizers and their attendees and exhibitors, and how to encourage those who might feel uncomfortable leaving their homes after so long.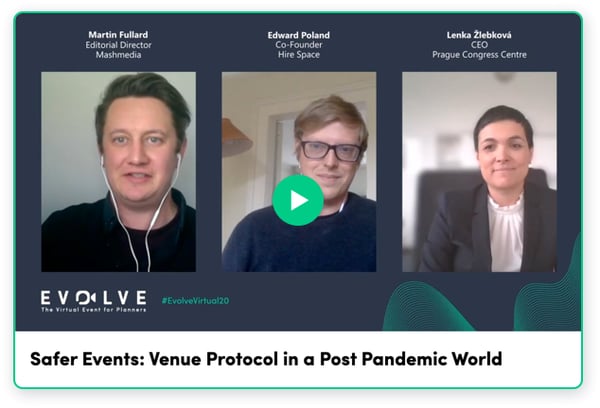 Lenka and Edward share their interesting thoughts on policy and standards for hygiene and safety for the whole industry - from a blanket framework to those in charge of creating and enforcing it. If you want to watch the whole interview and hear the experts' ideas on the above and more, sign up for the Evolve platform for free. Evolve is a year-round online community where you can network with event experts from all over the world and access exclusive content. You'll be able to watch all the sessions on-demand and also be the first to know about new content coming up in the Evolve Series. The first new session will take place at the end of July and you'll be able to attend live, ask questions to the speakers and interact online.