In-person events were back and on the rise in 2022. But make no mistake,
they are not what they used to be.
Technological capabilities, attendee expectations, and organizer resources have drastically changed, with demand shifting to easy-to-produce "hybrid" experiences. We prefer to call them smart events: technology-driven events with physical and online components - and unprecedented possibilities for data capture. In short, the best of online and in-person combined.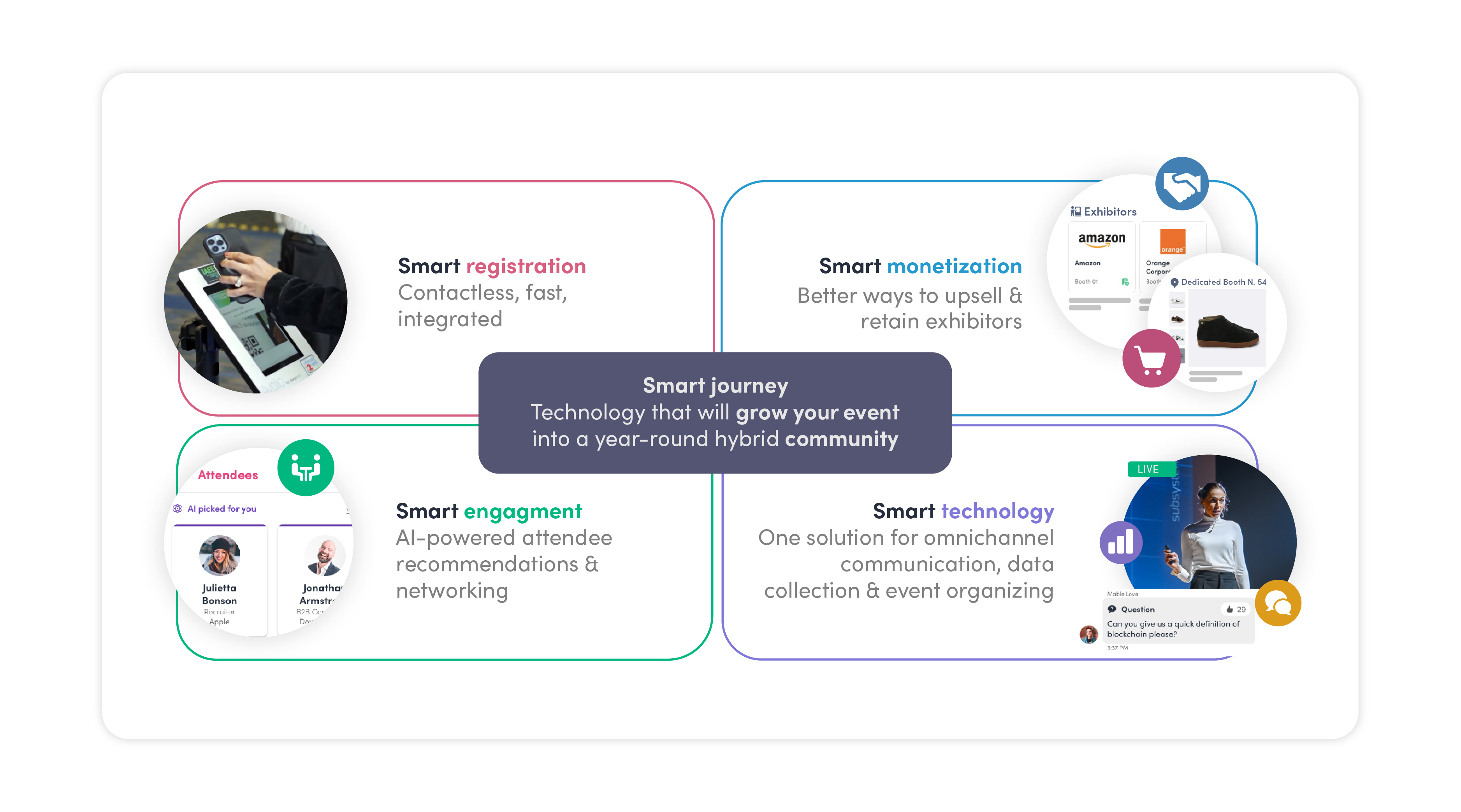 To show you just how easy it is to leverage the power of smart events, we've gathered three outstanding smart experiences from 2022 that saw growth in attendance rates, engagement, and meaningful connections - all without doubling production efforts.
An education-focused tradeshow with 91% of attendees actively using the event platform
Hosted in Austin for its 4th edition, the ​​Digital Learning Annual Conference (DLAC) invited educators, researchers, policymakers and companies to discuss trends in the education industry.
With 338 sessions and 420+ speakers in-person and online, organizers faced the challenge of clearly communicating this packed dual-format agenda and driving high attendance, especially onsite. Their extensive hybrid schedule required a smart event approach, where they could rely on a single-solution technology without doubling efforts.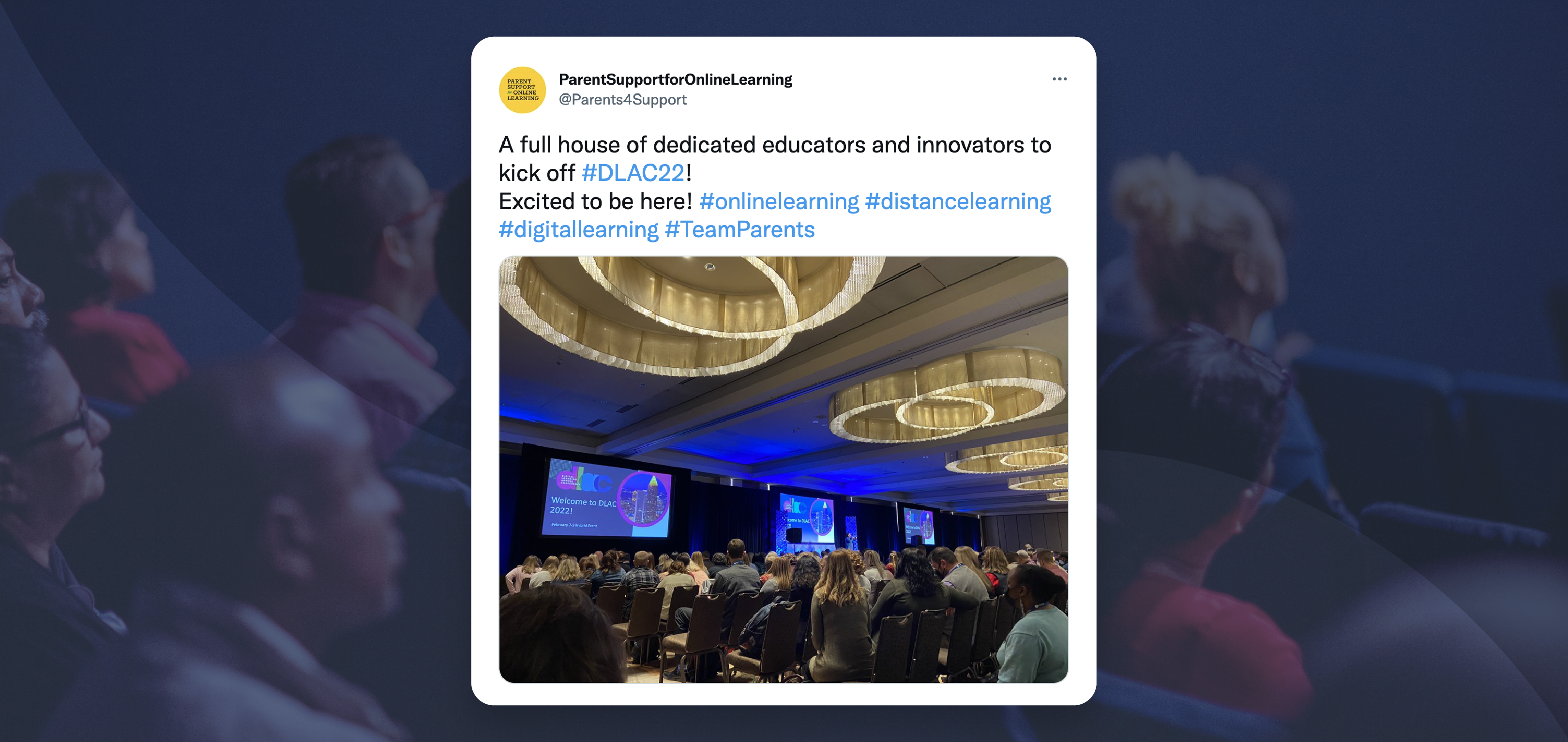 Partnering with Swapcard, DLAC 2022 surpassed the number of expected in-person attendees by 25% and had 91% of its 1600+ participants logged in or active in the platform. A huge leap from the 500 registered in 2019, with a far stronger engagement rate, well above the industry average of 35% absenteeism.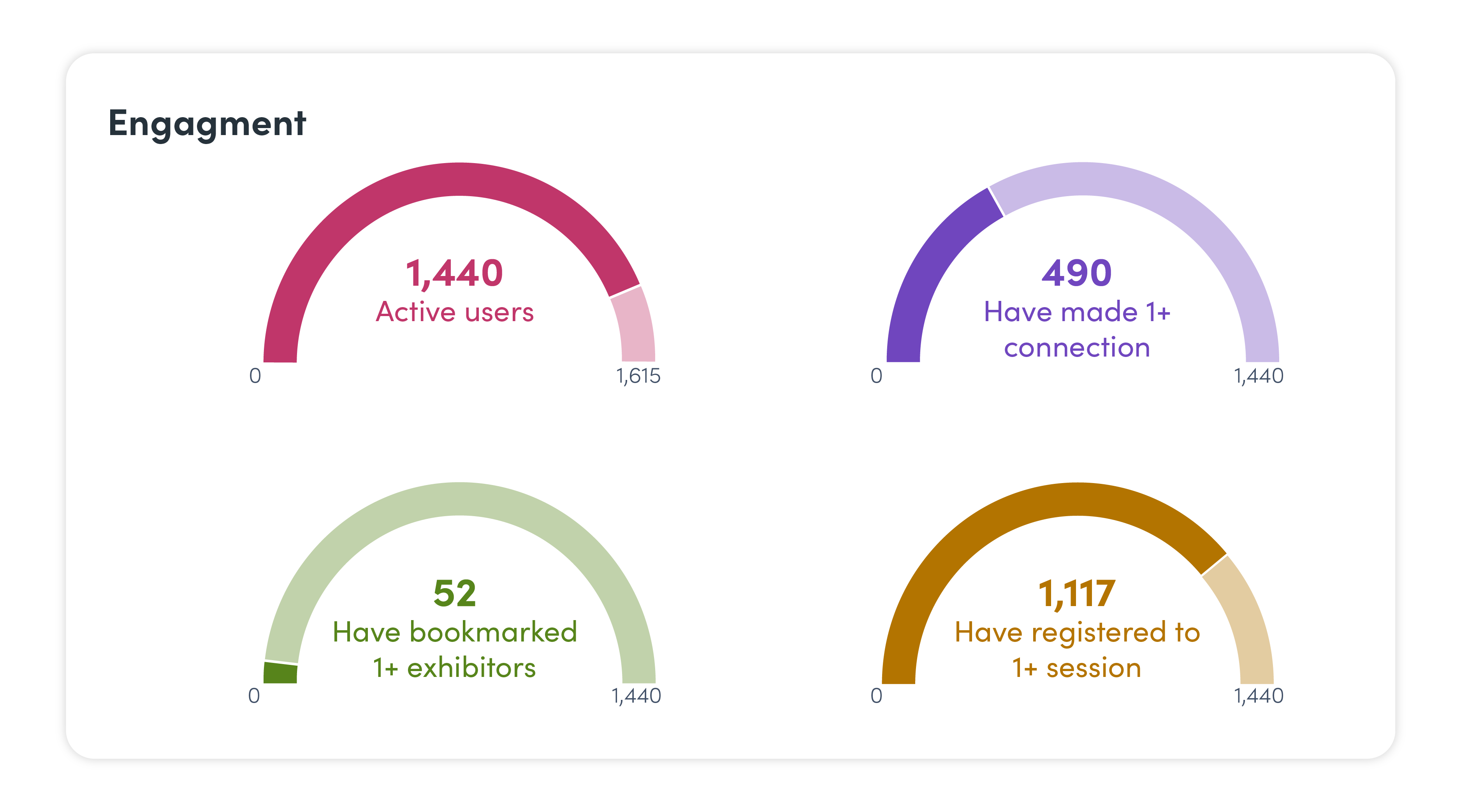 These successful outcomes were powered by one seamless registration process and smooth event navigation. With Swapcard's flexible registration, organizers were able to easily handle complex registration for virtual and in-person registrants, fully customizing it to both groups. Plus, embedding the agenda with widgets helped them market the event schedule online. Lastly, making sessions searchable with custom fields helped attendees find and save relevant sessions to join. Overall, organizers increased efficiency, reached a larger audience, and engaged participants with personalized schedules.
These impressive numbers and overwhelmingly positive audience feedback has helped organizers secure an even bigger 5th edition in 2023.
A healthcare tradeshow centered on networking enables over 1300 meetings and 9000+ new connections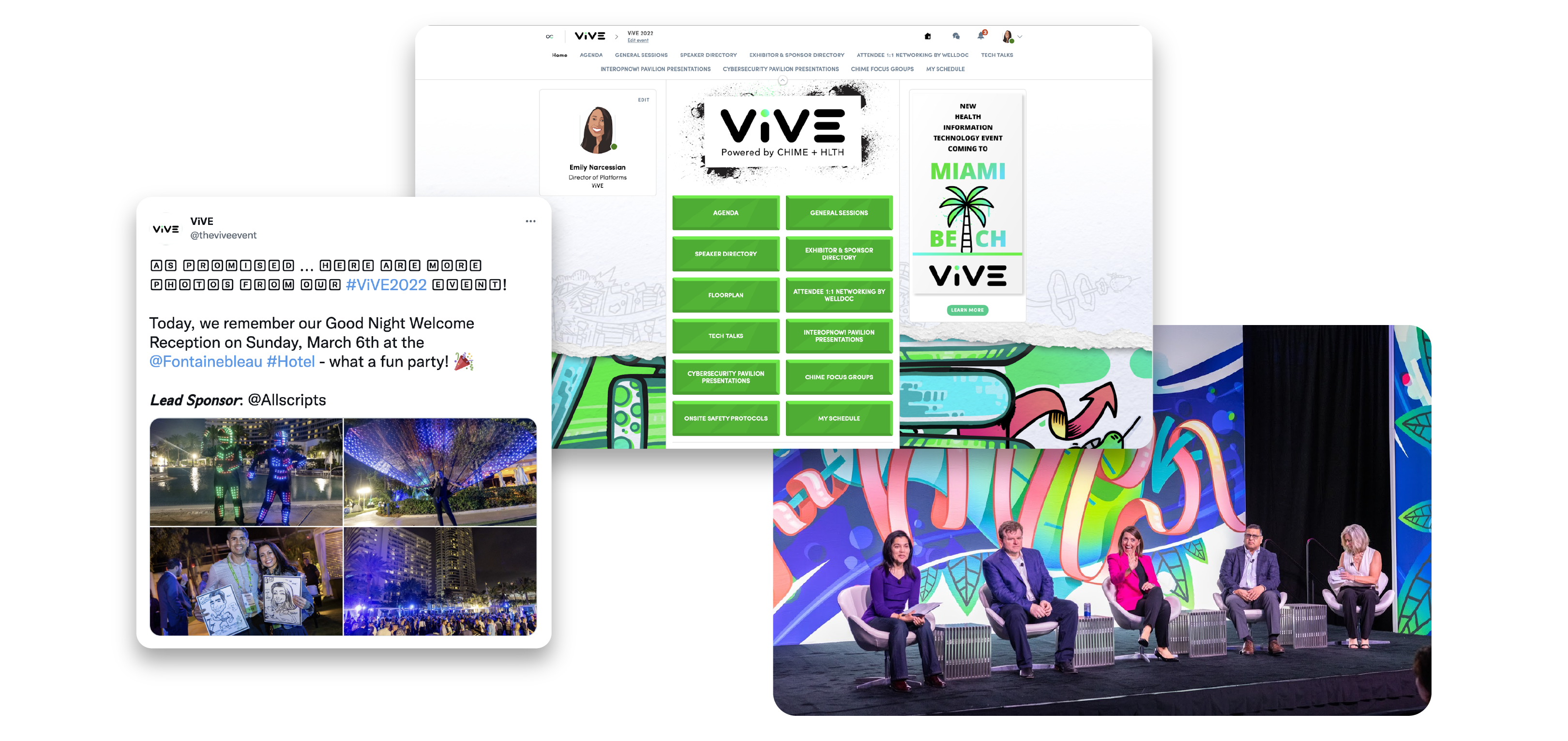 ViVE 2022 convened top healthcare leaders from around the world to address key issues in digital health innovation.
Sponsored by key global players, the Miami-based event was ultimately focused on impactful networking. Organizers needed an event tech partner to help the people easily connect, both in-person and online, using one centralized platform.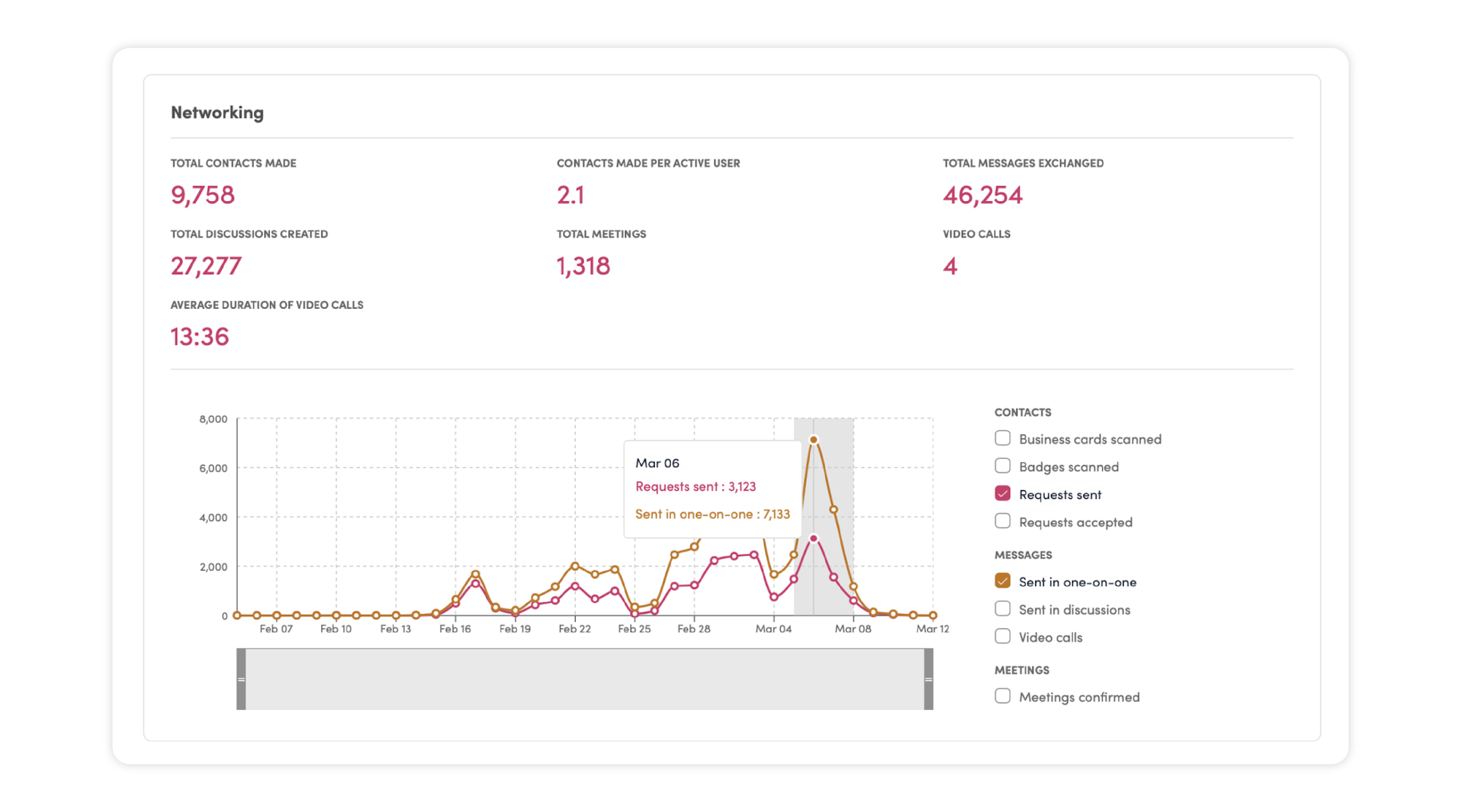 Leveraging Swapcard's smart networking features, the event enabled 9,758 connections, hosted over 1,300 meetings and a whooping 46,000+ messages were exchanged between attendees. 71% of event organizers find connecting both online and in-person attendees a challenge. Swapcard helped ViVE 2022 address this challenge and exceed its cross-networking expectations. This in addition to ViVE 2022 registering twice as many attendees as expected, which increased networking opportunities for attendees.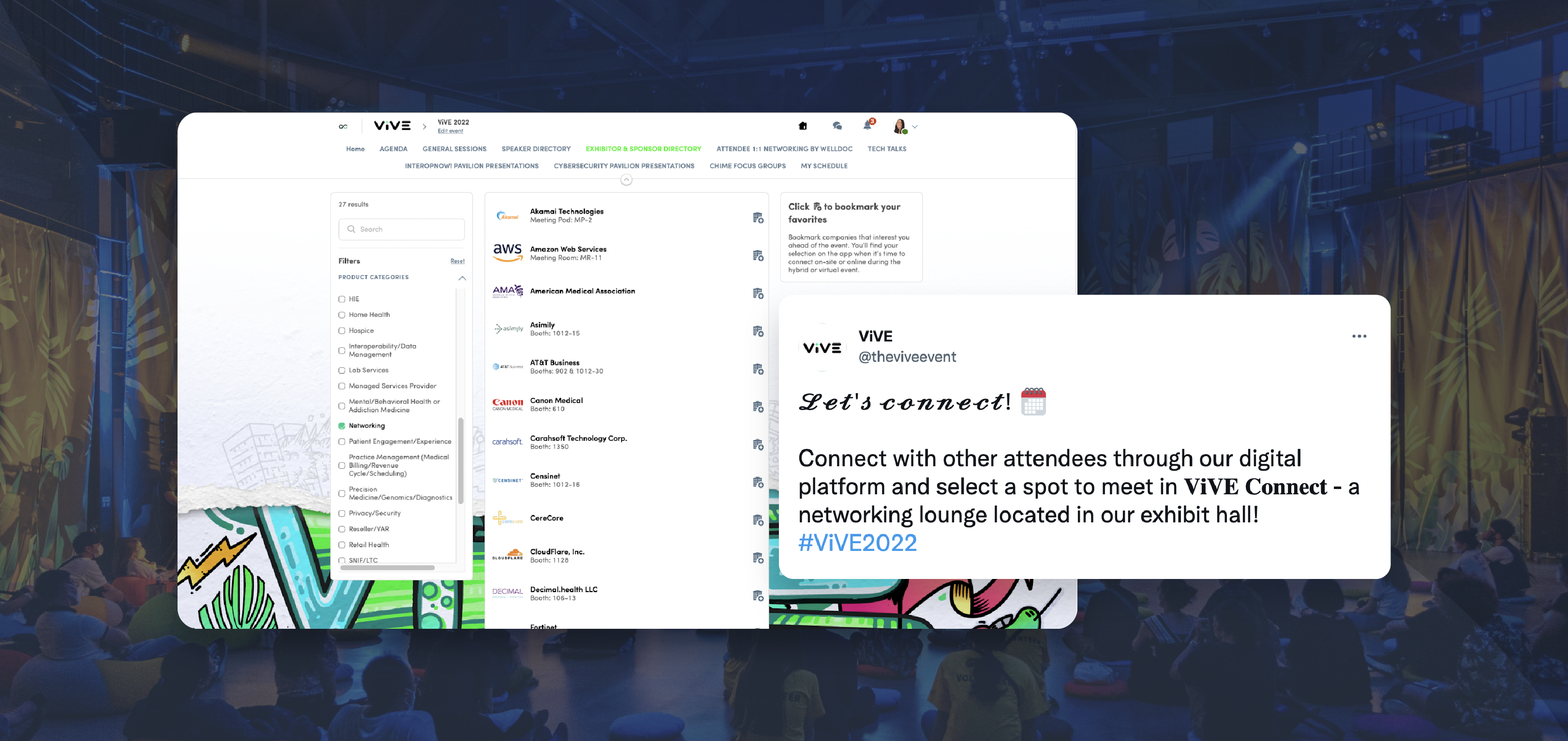 Powering the right connections while attendees are onsite and online can be challenging if you are not using the right platform. Swapcard's suite of networking features, such as AI-driven matchmaking, searchable attendee and exhibitor lists, chat, call and meeting scheduling capabilities (both on-line and in-person), make it possible for attendees to find the right people quickly, no matter where they are connecting from.
How a media summit went back to in-person the smart way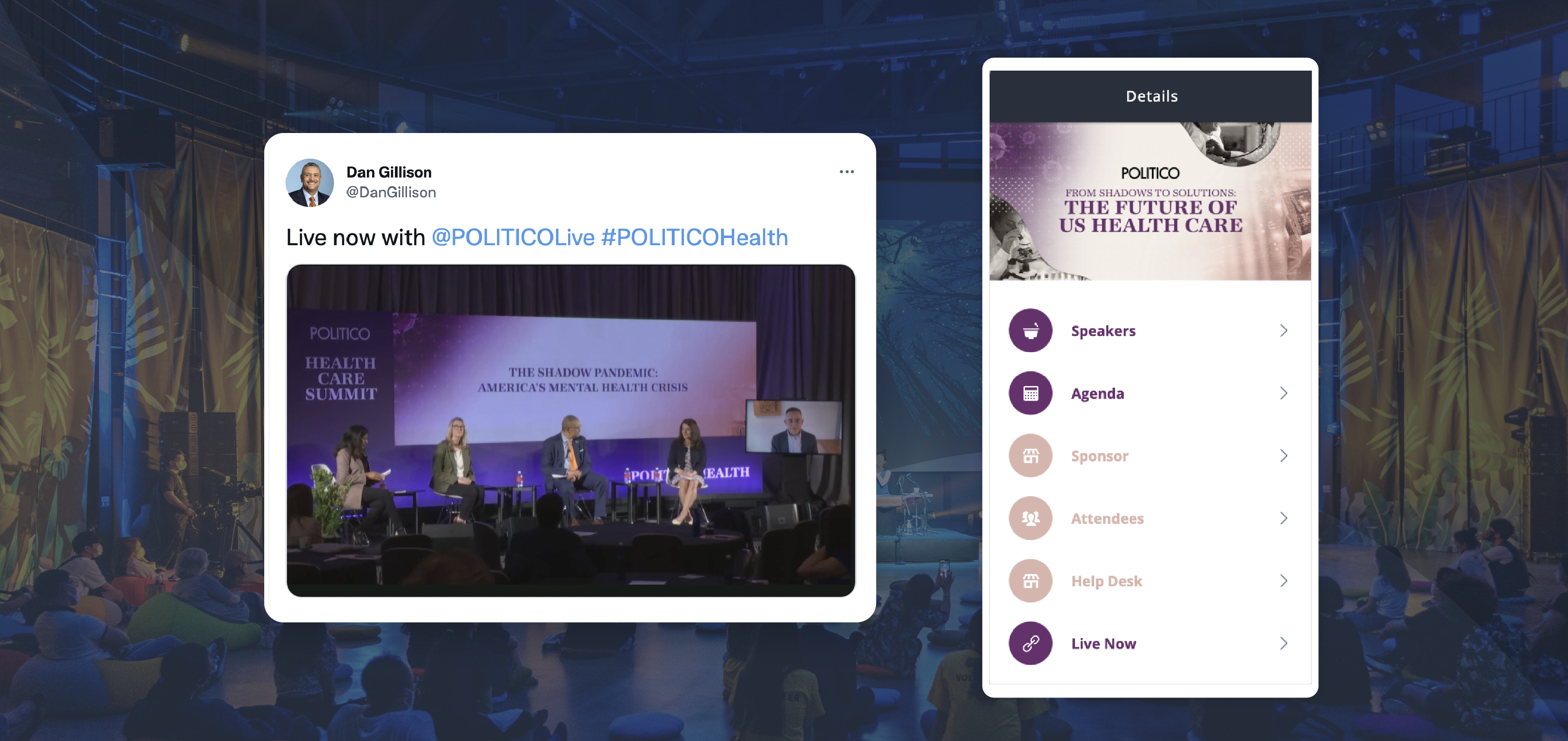 Hosting its first health care summit in the U.S., POLITICO brought together an elite group of health care providers, policymakers, federal regulators, and industry leaders to discuss policies and industry solutions.
This complex summit targeted both in-person and virtual attendees and needed an event tech partner that could help them host both. The challenge to manage simultaneous audiences was massive: engaging in-person participants, streaming TV-quality sessions and recording content for on-demand were all top priority.
As an event platform born from in-person events, Swapcard's production expertise was crucial to achieve all of the above. POLITICO relied on Swapcard's support team running multiple tests, pre-event training and preparation calls, as well as real-time online support. This high-level preparation empowered POLITICO to deliver a seamless and smooth onsite and online experience for high-profile leaders and federal regulators attending.
Organizers also made the most of Swapcard's all-in-one platform to centralize speakers, agenda, sponsors, and a help desk in one easy-to-use web app. Using flexible session modes POLITICO was able to provide multiple options for attendees to watch content live or on-demand, giving them the power to customize their own experience.
Smart events come in all shapes and sizes. At the end of the day, when done right, it will give you that extra edge to broaden your attendee reach, engage different audiences and track relevant results. All of this in addition to the exceptional support and technology used for virtual. Smart.