I've been working in the event tech industry for more than 7 years, most recently joining Swapcard as an Account Manager. Having traveled the world to support organizers from multiple industries and across event types, my firsthand experience with events is wide-ranging. From a medical congress in Europe to an annual Scout Summit in the United States, I've spent long hours onsite delivering amazing experiences.
As I wait for events to return I can't help but ask: what do I really miss about face-to-face events? If I had the choice, which event would I want to attend first? And why? I've asked this question to some of my clients or industry friends as well, and we always seem to have the same answer: any event where we can network, meet our peers and have a good drink!
Reasons we might not go back to in-person soon
With the rise of virtual events and platforms like Swapcard creating interactive and engaging virtual experiences, we saw how successful these online events could be. At the same time, we discovered that exhibitors usually close their business outside of event days. Let's not forget that I won't even be able to travel as easily as before until at least 2025.
The question remains: if a large portion of the content can be successfully virtualized and travel will be difficult for the next while, what will bring us back on-site?
The experience.
Ultimately, it is not about which platform we're using or how the arrival on-site is being handled. It's not about how quickly we can enter the event or how easily we can find our way around the show floor. It is not about the goodies or giveaways either. The Experience, with a capital "E."
Consider this: if attendees are going through the hassle of leaving their home for an uncomfortable travel experience and then staying in an impersonal hotel and all you are offering them is the simple experience of exchanging business contacts and having a drink, it is time to rethink your in-person attendee experience. If you want people to choose to come onsite instead of choosing the comfort of their home, you need to offer more value.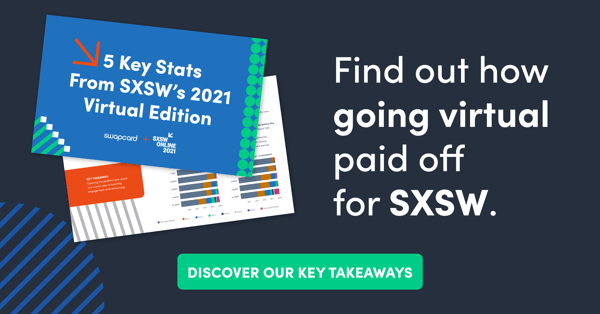 How to offer more value at live events
Make the most of your attendee's time and focus on key conference moments during the day featuring impressive AV Production. Another idea could be actively using VAR or holograms during your in-person event. Instead of a typical exhibition area with an endless amount of corporate booths filled with salespeople waiting for visitors to come to them, focus on the experience.
Have a feature area instead of an exhibition area. Organize a workshop or showroom to increase engagement between visitors and exhibitors by encouraging creative interaction and experiences instead of conventional small talk. Even better, consider making the entire event feel more like a festival with music, drinks, relaxation areas, meeting areas, or experiential areas.
Whatever you choose to do, make sure the attendee experience is your top priority and you'll see the original crowd and new faces flocking back to your show floor.