Events are all about finding and making connections, and that's especially important given the year and a half we've all just gone through. With most of the world having experienced some form of lockdown and kept one another safe through social distancing, many are craving authentic connections. That's where event tech comes into play.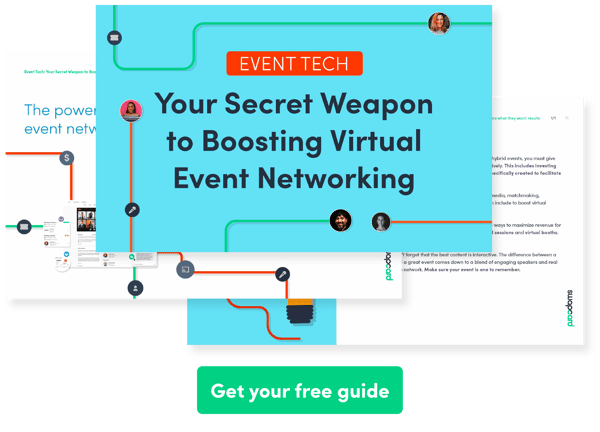 Whether you're running a virtual, in-person, or hybrid event, event organizers need tools that help participants form meaningful relationships and have real conversations with one another. Whether you're looking to make a connection with a person in the same room or across the ocean, the best events make sure that those important connections aren't missed.
One of the biggest complaints about virtual events is that networking doesn't happen naturally (if at all). We can happily say that event tech has come a long way and now brings networking opportunities to the table that didn't exist before. Gone are the days of simple chat rooms where sending messages back and forth was the only way to communicate at a virtual event. Now there's AI-powered matchmaking, online roundtables, engaging chats with emojis and GIFs enabled, 1:1 video calls, and more!
To better understand how event tech can bolster your next tradeshow or conference, we've put together a helpful downloadable guide that you can access for free! In it you'll find:
How you can use event tech to boost networking at any type of event
6 examples to kickstart networking at your virtual or hybrid event
What you can offer sponsors to attract them to your virtual event
Ways to maximize revenue and sponsorship opportunities using an event platform
The type of content you should offer to draw a larger audience & keep their interest