As event organizers, you put a lot of time and effort into planning and executing events. However, many of you may be missing out on opportunities to leverage the content generated from those events.

In the latest episode of Marketing Minutes, we explored different ways to repurpose event content to increase engagement and ROI. Sharing post-event content is crucial to keeping the momentum going and extending the reach of your event.

In the webinar, Megan Saad, Senior Account Executive at Sessionboard, spilled the tea on how you can ensure your audience doesn't forget the impact of your trade show through content repurposing.
Why you should promote post-event content
There are four main reasons to invest in event content promotion:
Year-round engagement with your audience
Meaningful ways to promote upcoming events
Thought leadership within your organization
Continued awareness that helps promote the next edition of your event
What content you should repurpose post-event
You can leverage different content produced throughout the event and use them as is or repackage as net new content.

The following types of content are great examples to extend the life of your post-event content:
Keynote presentations
Breakout sessions within your conference program
Interviews with speakers
Testimonials from key segments: attendees, exhibitors, and sponsors
Summaries of all that happened throughout the week
When repurposing content, evaluate what would make the most sense—short-form or long-form content type.

Let's discuss two event content examples below:
Presentations: Speakers at events often give presentations that are filled with valuable information and insights. These presentations can be turned into blog posts, whitepapers, or ebooks.
Panel discussions: Panels are a great way to gather experts in a particular field to discuss a topic. The insights shared during these discussions can be repurposed into blog posts, social media content, or even podcasts.
Speakers and panelists are critical to any event's success. These are experts presenting valuable information and insights. As a trade show organizer, you have a huge opportunity to repurpose post-event content and keep the conversation going.


8 How-to Tips for Event Content Repurposing
1. Identify the Most Valuable Event Content
Take a look at your data and pay attention to highly-attended sessions, speakers who rated high with attendees, and even the sessions that received engagement and buzz online. This will help you identify what topics were in high demand and which speakers resonated with your audience.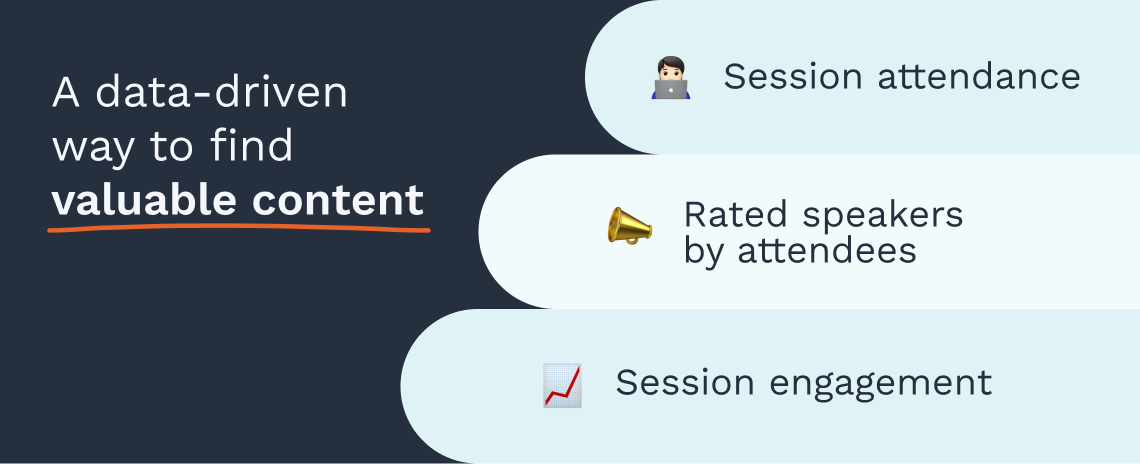 2. Determine the best format for your content
Short-form content is quickly consumed. Think punchy content such as social media carousels, quotes, 15-minute podcasts, or 10-minute video roundups with sound bites.

Long-form content takes a deeper dive into the subject matter and can include ebooks, articles, and whitepapers to inform readers about more complex topics.

Unlike short-form content, long-term content can be time-intensive. Using a mix of both can prove highly effective for your post-event strategy.
3. Write punchy headlines for your content
Don't pass up on the opportunity to drive continued brand awareness with your logo and event branding or theme applied. Especially for long-form content, your headline should grab your reader's attention and entice them to read the post. Consider using a question or a bold statement that highlights the key takeaways of the session or presentation.
4. Create content with your audience in mind
Start with a brief introduction that sets the stage for the topic and introduces the speaker (and acts as another plug for your event). Then, summarize the key points and insights covered in the session or presentation. Use quotes and examples from the speaker to illustrate your points and make the content more engaging.

Capturing a session can take up a lot of valuable time and resources.
Rather than trying to transcribe every word, focus on capturing the key points and ideas presented during the session.

You can upload your session recordings to transcription tools and input the transcript into ChatGPT to generate a summary of the session, highlighting the most important points and ideas.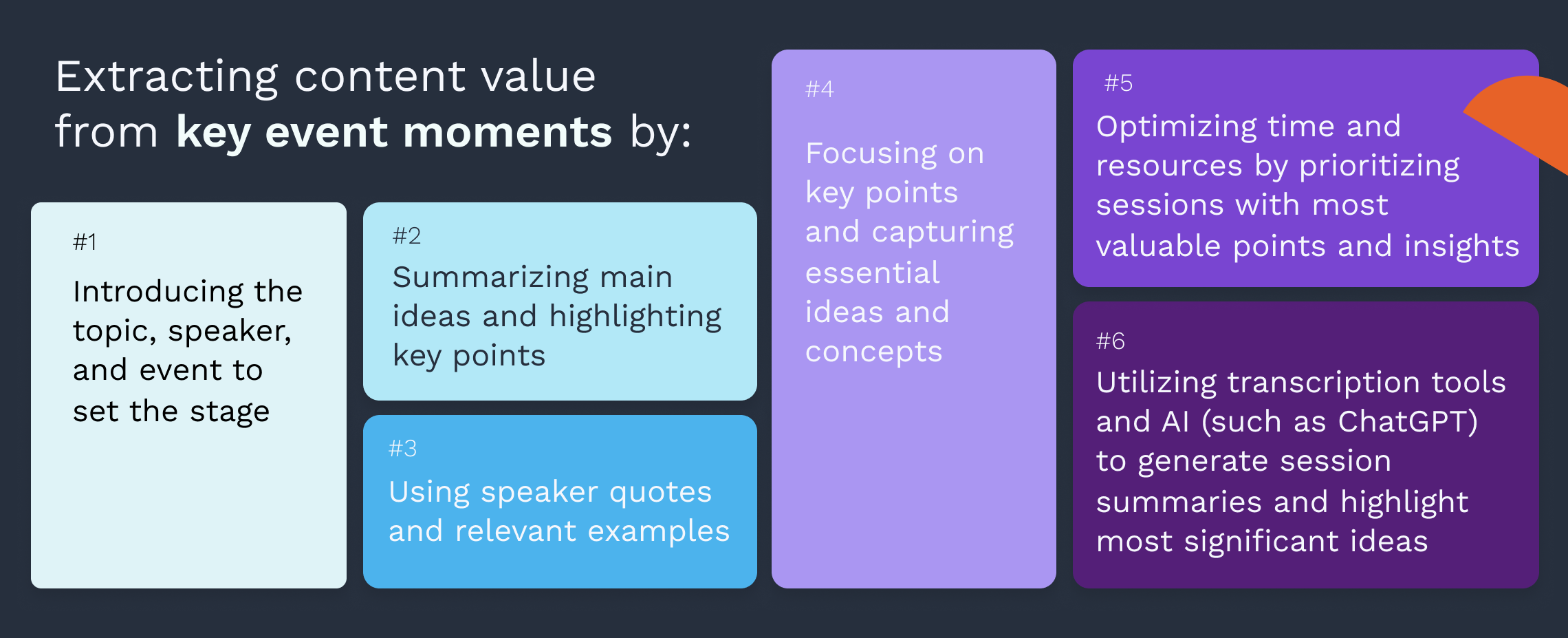 5. Add visuals to boost engagement
Including visuals is a necessity for engagement and to illustrate the key points. Consider including images from the live presentation (if available from an on-site photographer or even an event participant), infographics, or charts that visually represent the information covered in the session or presentation.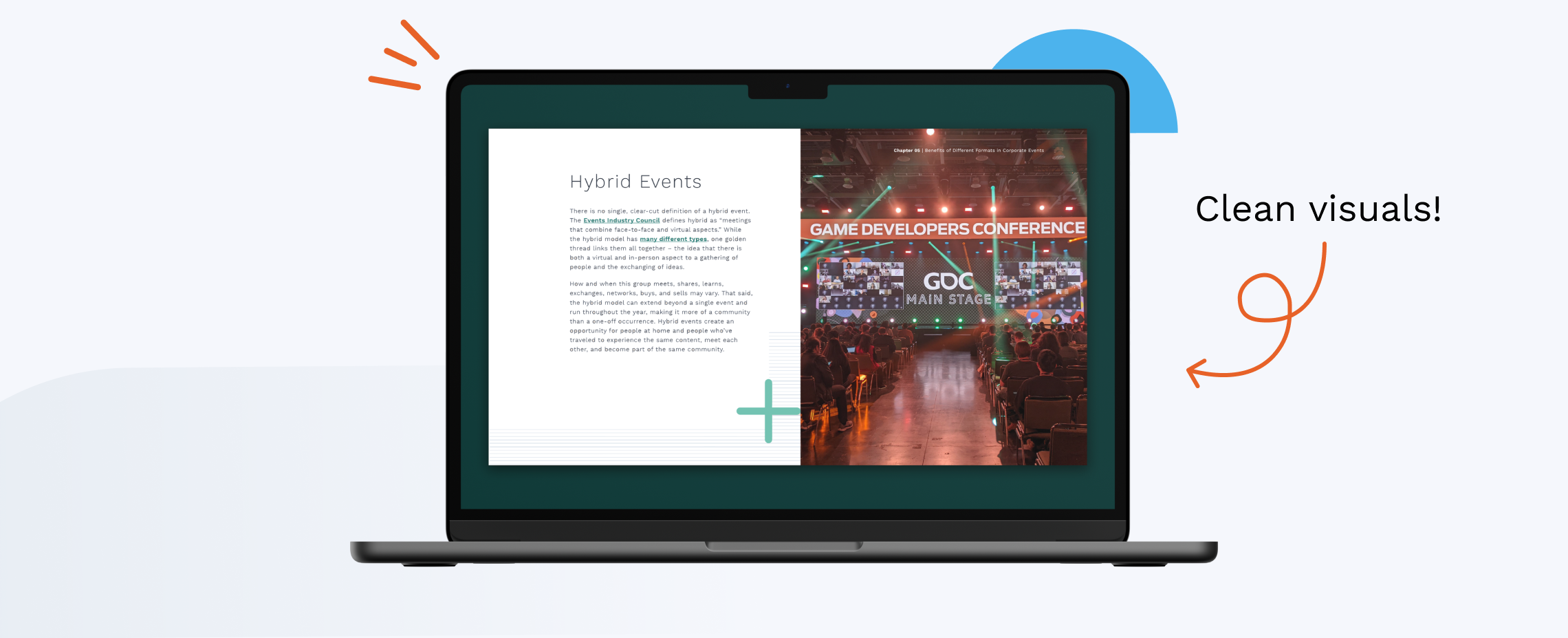 If you don't have an in-house graphic designer, there are tools you can leverage to create professional visuals to pair with your content. One of my favorites is Canva, where you can easily create professional-looking graphics on ready-made templates across multiple channels.
6. Promote and distribute your content
Once you've published the content, it's time to promote it including cross-channel promotion. If it's a blog article, then you'll want to make it known on your social media channels, within your email newsletters, and other marketing channels. This will help drive traffic to your blog and extend the reach of the content.

Other ideas for cross-channel promotion include LinkedIn's "write article" feature, assigning marketing dollars to your social media posts to expand your reach, and leveraging any partner organizations' marketing channels.
7. Make it a two-way conversation
One simple way to encourage engagement is to create interactive content such as quizzes, surveys, and polls that can engage the audience and encourage participation. This can also provide valuable insights and feedback on your event.

Encouraging attendees to share their content and experiences from the event can help to extend the reach of the event and increase engagement. This can be done by creating a branded hashtag or by running a social media contest.
8. Measure your success
Tracking post-event content is an essential part of determining what worked and what didn't so you'll know where to spend your energy in the future. By analyzing engagement and feedback on post-event content, organizations can gain valuable insights into the preferences and interests of their audience. These insights can then be used to inform planning for next year's event.

Some key metrics to track when analyzing post-event content include views, shares, likes, and comments. These metrics can help determine which types of content resonated with their audience and which fell flat.

Another important aspect of tracking post-event content is understanding the impact it has on an organization's overall goals and objectives. For example, if the event's goal was to increase brand awareness, tracking metrics such as website traffic and social media followers can help determine if this goal was achieved.

Using these metrics and insights, you and your team will be better prepared to make informed decisions about what to plan for during next year's event. You'll be able to identify areas of opportunity and focus on what worked well while making adjustments to improve the overall experience for attendees.

Ultimately, tracking post-event content is a valuable tool for brands to use in optimizing their events and ensuring their success year after year.
Join us on the next episode to learn about maximizing monetization and revenue generation opportunities at trade shows. Grab your front-row seat to actionable tips and insights by clicking the link below.