As an event organizer, you're probably looking for ways to simplify the conference planning process while still being able to reach your event objectives. One that helps save time and money, draws in a larger number of attendees year-over-year and minimizes the stress of running a memorable event. That's where event technology comes into play.
Event technology comes in many forms, but not all event technology software is the same. The best technology is easy to use, intuitive, and constantly evolving to match the needs of your audience. In this article, we'll help you better understand what event technology is and the benefits you can draw from incorporating it into your overall event experience.
Whether you're running an onsite, virtual, or hybrid event, you'll discover exactly how event technology can improve every aspect of the experience. From registration to post-event follow-up and everything in between, event technology is built to deliver results.
What is event technology exactly and why are we talking about it in 2023?
Event technology is any digital tool or software that simplifies processes and makes it easier to plan, run and deliver a successful event. This can be for any event format, including onsite, virtual, or hybrid events.
How does event technology work?
Event technology can come in the form of an online platform, mobile app, or hardware (or a combination). It serves as a centralized place to hold all your event's important information and simplify coordination, communication, data gathering, and potentially increase your revenue.
Why is it beneficial for event organizers?
Running an event using event technology can be a differentiator that will exceed your audience's expectations and create memorable event experiences. Let's take a look at the various ways it can improve the attendee experience and help you achieve better-than-expected outcomes.
Contactless check-in
Positive first impressions are essential, especially when it comes to audience satisfaction. 65% of all consumers find a positive experience with a brand to be more influential than great advertising, making the first impression of your event incredibly important.
Contactless check-in is one aspect of the onsite experience that event planners can capitalize on and immediately enjoy the benefits of thanks to event technology.
End-to-end technology providers such as Swapcard offer a broad range of critical onsite services and solutions, which removes the challenge of managing multiple vendors. This significantly reduces the stress for organizers, especially during event days. This advanced event technology helps manage onsite registration networks, check-in, badging, attendance tracking, session access control, and lead capture. Using an integrated solution with all the necessary hardware and expertise ensures your contactless check-in is seamless, giving organizers peace of mind on an otherwise hectic day.
Take a look and see how Informa successfully used Swapcard's registration technology for their 15,000+ attendees at GDC.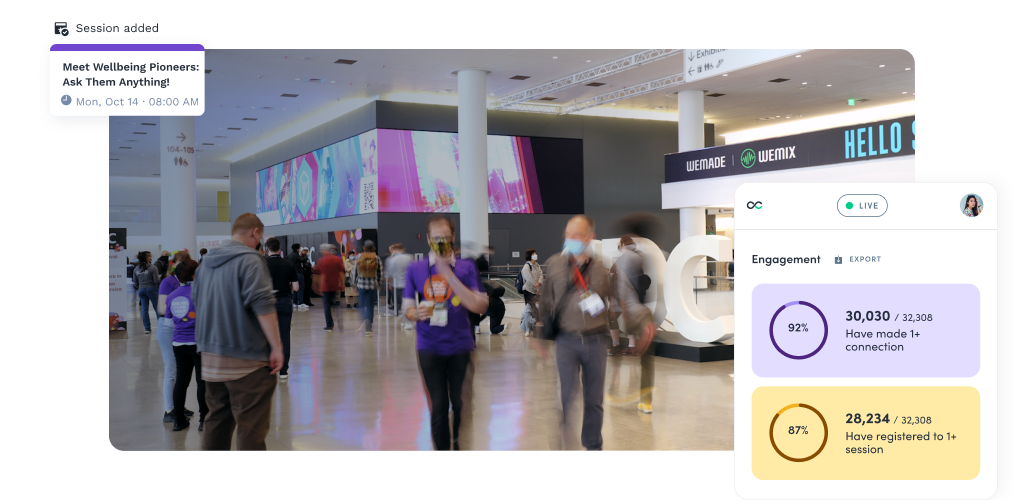 Data and analysis
The best event technology platforms give event organizers the ability to track attendee, exhibitor, and speaker data - from demographics to interests to behavior, and everything in between.
Organizers can gather the following data in real-time:
Favorited sessions
Connections made between participants
How long do meetings last between users
Which sessions are the most popular
Engagement rate of participants
How people engage with sessions
Real-time lead generation
How people prefer to network
And much more!
What makes event technology even more valuable for event planners is the ability to capture and present this data in an understandable way so organizers can see what's happening at their event in real time. Swapcard, for example, provides an analytics dashboard so organizers can understand and visualize their event data, removing the complexity of analyzing the vast amount of information on your own.

Lead Capture
On top of the benefits of automated lead generation that comes with virtual event sponsorship, a well-built platform also makes it easier to keep track of contacts and follow-up.
By scanning badges and business cards and collecting contact details in an app, an event sponsor can build a ready list of qualified leads. They can categorize these contacts by their qualifying information with notes and tags, and then share that information with their team. This sets the stage for a streamlined engagement campaign.
Taking advantage of automated follow-ups with a platform increases the speed of sales and ensures that no potential customers slip through the cracks. It also makes it easy for sponsors to automatically sync new contacts into their CRM for immediate follow-up, and use it for ongoing marketing campaigns.
Smart event platforms also show sponsors how their team is performing by racking contacts, meetings, and any deals. These systems are great tools for tracing and identifying the top-performing sales reps from a given event or across a series of events.
These automated, informative programs ensure all potential business is recognized, analyzed, and pursued. Events that use this form of advanced technology reach further and with far greater speed than any in-person or manual system could support.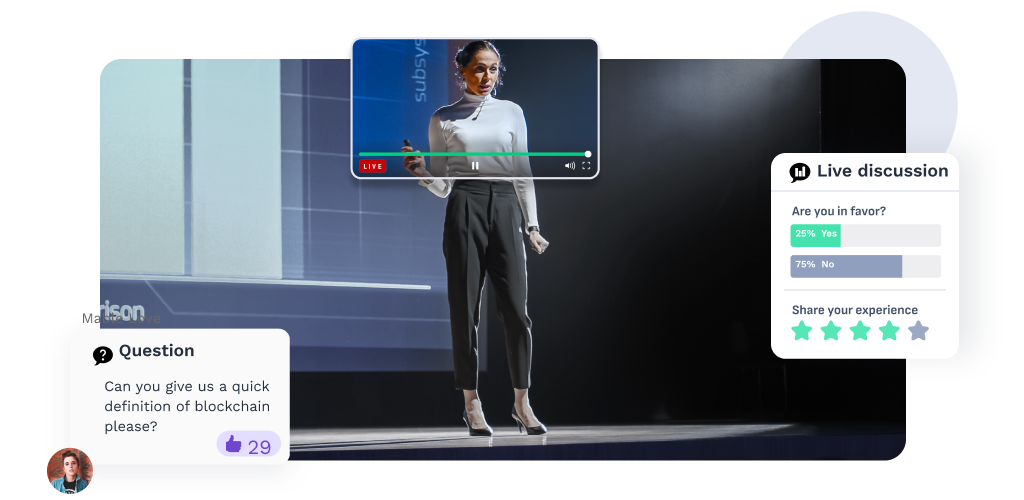 Live streaming and simu-live
A pixel-perfect livestream is the lifeblood of the hybrid or virtual experience. Live streaming and simulated live streams (simu-live) are two ways event organizers can take advantage of event technology software to deliver an immersive and visually engaging experience, especially for virtual audiences.
Making content available via live stream or on-demand is a great way to make your event more accessible to those who are unable to travel, and can even help you gain a global following.
It's important to choose an event platform that's reliable and flexible, able to live stream sessions with one or multiple speakers and record the sessions to make them available post-event in an on-demand format. The best event platforms like Swapcard also offer the added benefit of RTMP streaming.
RTMP stands for "Real-Time Messaging Protocol." It's part of the technology that makes live streaming possible and facilitates low-latency streaming, which is a major advantage for broadcasters and event organizers streaming big events in real time.
Simu-live streaming allows organizers to upload pre-recorded video sessions as if the sessions were actually live-streamed. This helps organizers increase their time management and efficiency while still producing engaging sessions.
Apple Events, for example, streams recorded videos live at a scheduled time, providing a high production value and immersive experience that makes viewers feel as if they're at an exclusive event experience. Event technology facilitates the use of such videos during your event days, giving you the tools to deliver similar high-level experiences to your attendees.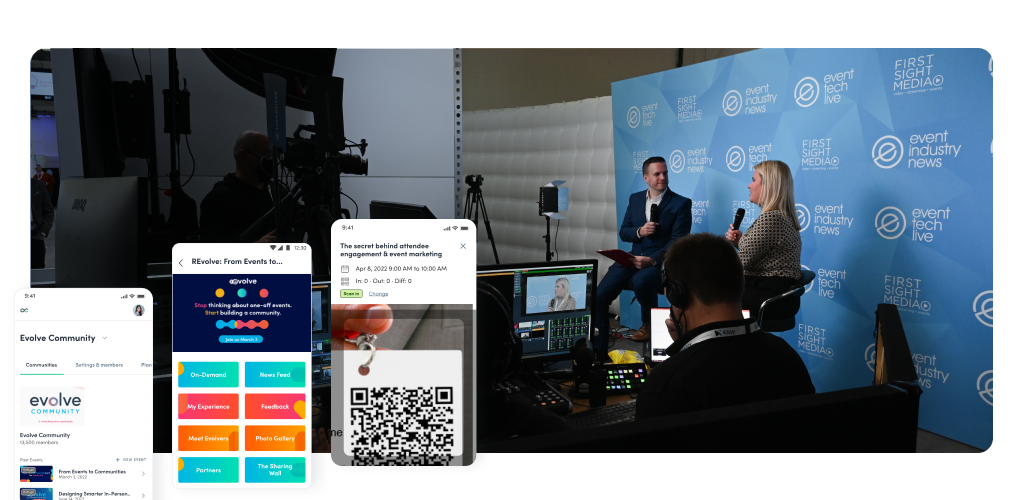 Increased sponsorship opportunities
Locking in sponsors is key to the success of any event. Event technology can help provide more sponsorship options for event organizers, allowing them to offer a more extensive variety of sponsorship packages. Consider sponsored sessions, for example.
Data from Swapcard events reveal that "the most profitable investment on a virtual platform for exhibitors is a sponsored session," and that's where they generate the most leads. During a 1-day, a 3-day, or a 5-day trade show, "40% of leads are generated during sponsored sessions. During a 1-day virtual conference, over 40% of leads come in through watching a sponsored session; a 2-day conference is 50% and a 4-day conference is as much as 60%."
This just takes into account the sponsored sessions you can have at your smart event. Consider these other ideas:
Sell exhibitors customizable virtual + onsite booths
Use the event app or web platform for strategic branding & visibility
Sell visibility on event communications
Promote sponsors in games & challenges
Offer sponsored happy hours & meetups
Sponsor-led event breakout rooms
Give exhibitors prime spots in a digital marketplace
Sponsored giveaways
These are just a few examples of how sponsors can increase their reach and brand visibility using event technology.
Alternative avenues of revenue
91% of consumers say they are more likely to shop with brands that provide offers and recommendations that are relevant to them. This is why an event technology platform powered by artificial intelligence (AI) can be a game changer.
AI-powered event platforms like Swapcard take into account users' behavior on the platform, as well as their preferences, in order to provide targeted recommendations. Recent updates, such as marking an AI recommendation as irrelevant, helps train the AI to become even better at providing customized recommendations to help users find the best matches and improve their overall event experience.
Community is another alternative avenue of revenue generation that lasts 365 days a year rather than one to three days of the actual event. The combination of event technology and event communities gives organizers the ability to create tailored sponsorship programs that are spread throughout the year, providing a continuous source of revenue and giving tangible value to sponsors.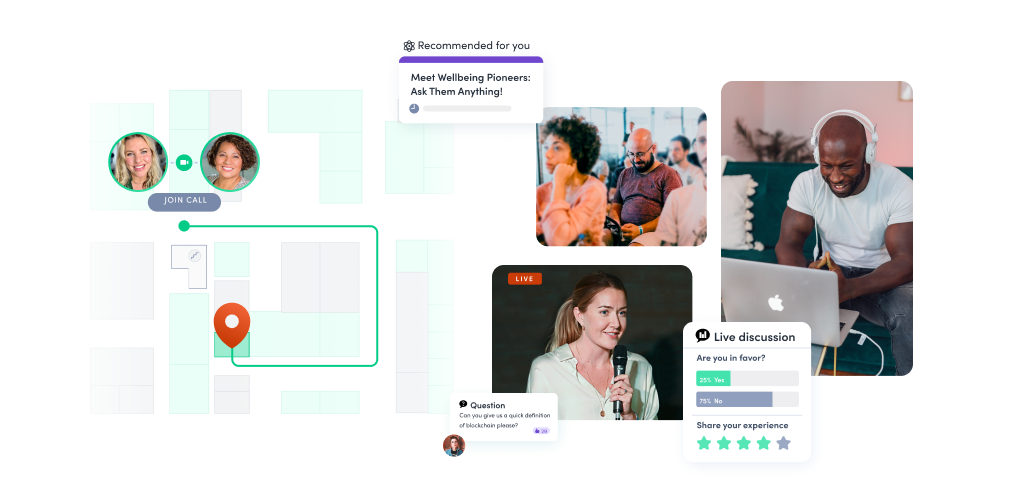 One centralized location for a better user experience
42% of consumers say a seamless experience across all devices and channels is a top expectation. This is why a smart event technology platform that is customizable and scalable to your needs is the best bet for event organizers. This is especially true for organizers seeking to provide better user experiences for attendees, exhibitors, and sponsors alike.
This also helps organizers simplify the planning and execution of a complex event. Take, for example, the recent healthcare summit hosted by POLITICO using Swapcard's event technology.
Organizers made the most of their smart event platform to centralize speakers, agendas, sponsors, and a help desk in one easy-to-use web app. Using flexible session modes, POLITICO provided multiple options for attendees to watch content live or on-demand, giving them the power to customize their own experience.
The ability to tailor the attendee experience using event technology is a benefit that cannot be understated. When users log into one platform or event app for the entire event journey, they're able to access registration, on-site support, communication with attendees, lead capture, QR code scanning, streaming, post-event communication, engagement with communities, and more. The in-person attendee experience can only benefit from a digital component.
Event technology also provides added value and engagement for attendees - helping them find relevant content, sessions, networking opportunities, and find exhibitors. The event app captures the attendees' digital footprint and adapts it in real-time to further optimize their experience.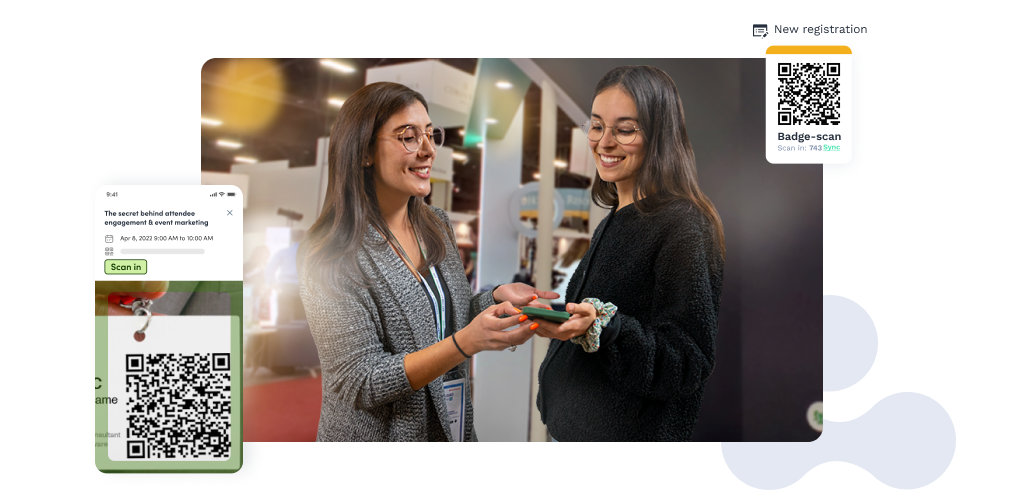 QR codes
Purchasing items, learning more about exhibitors, getting detailed product information, controlling session access, registration, you name it, QR codes can simplify the process.
Having the QR codes work in tandem with your event app can help your event's check-in process be seamless, allow prospective buyers to scan a product's QR code and purchase it immediately (or save it for later), and download brochures, e-books, or any other downloadable content.
Event apps can also improve the experience for exhibitors and their use of QR codes. For example, exhibitors can display a QR code at their onsite booth that attendees can scan. When scanned, this will automatically bookmark the exhibiting company in their event app so they can browse the exhibitor's offerings whenever they want.
During large in-person events, this will help ensure that attendees don't miss out on any exhibitors that spiked their interest but did not have enough time to learn more about. After scanning the code, users can chat or request meetings with exhibitors and download any relevant brochures or documents via the event app.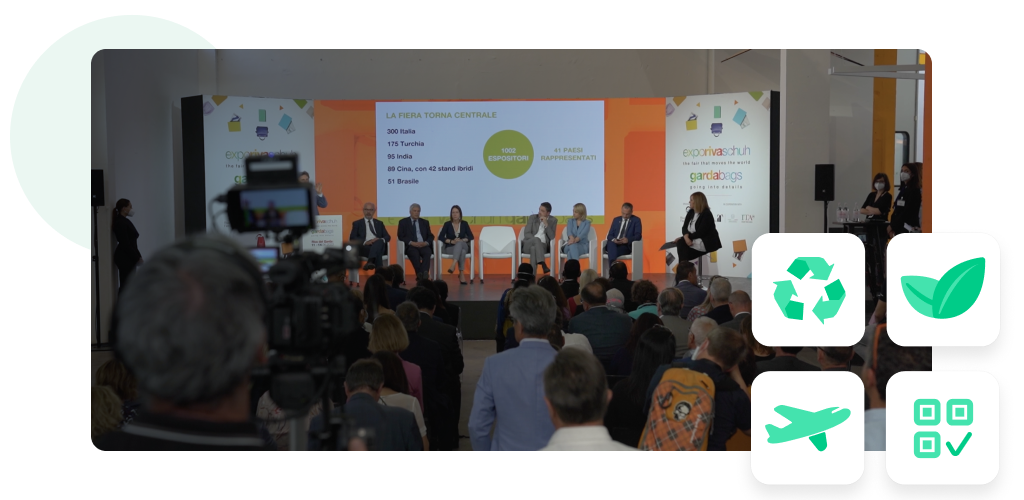 Sustainability
Event technology can still play a vital role in decreasing your carbon footprint. In-person events have traditionally relied on paper and disposable forms of communication, such as print banners & signs, paper brochures, business cards, and so on. Here is a small list of items you can switch from traditional print to in-app instead:
An interactive digital schedule and map
Digital brochures
Exhibitor documents
Online database for abstracts
E-books & guides
QR codes
In-app badging and registration
Virtual tickets
Similar to virtual events, the decreased carbon emissions from air & ground transportation, hotel & accommodations, food production, venue energy, and material waste make hybrid events an excellent choice for sustainability. Being creative with your event experience and incorporating a virtual element is clearly beneficial from an environmental standpoint.
The bottom line? When possible, every in-person event you organize should also have an online attendance option to allow people the option not to travel. This will drastically reduce your event's carbon footprint.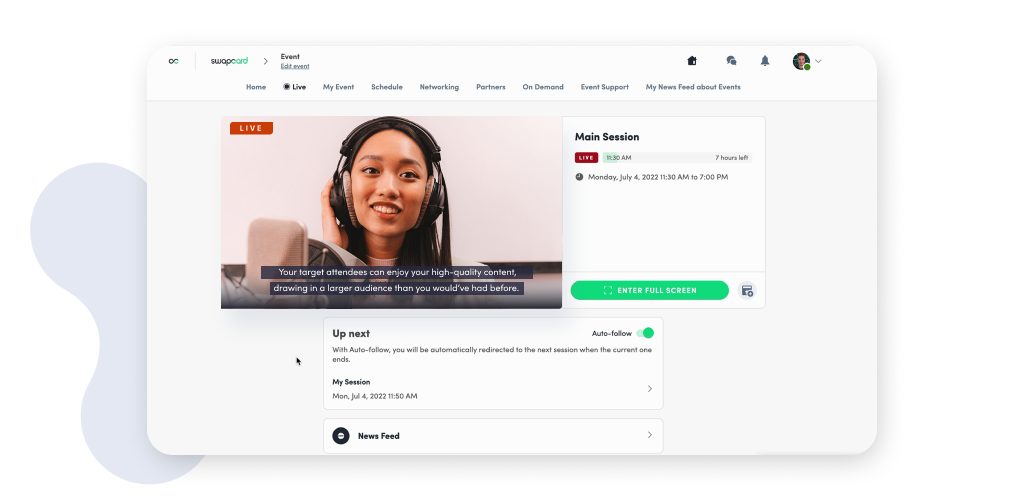 Accessibility
Today, events are opening up spaces and experiences that may have been closed or inaccessible to attendees simply by incorporating a digital element into their event.
Adding a well-planned virtual component will ensure that more of your target attendees can enjoy your high-quality content, drawing in a larger audience than you would've had before.
Although English is the common language of global business, the assumption that all of your guests have the same level of comprehension would be a disservice to your attendees. Consider the addition of closed captioning or multilingual support for your event. By doing so, you can broaden the reach of your event and also encourage higher levels of participation and engagement.
For example, consider having a virtual platform that can implement closed captioning for all live and pre-recorded sessions. Rather than closed captioning being a nice-to-have addition to your event, actively include this as a must-have option for all your attendees. It is vital that you are providing quality and accurate closed captioning.
The ability to support multiple languages and closed-captioning in real-time boosts the accessibility of your event and helps organizers effortlessly deliver more inclusive experiences.
Conclusion
You don't have to be tech-savvy to reap the benefits of event technology. It may seem daunting at first, especially for those who think technology is confusing or overwhelming, but the best technology is built so that it's easy to understand and accessible. However, if you decide to incorporate a digital element into your next event, know that doing so is the best decision for the longevity and scalability of your event.
Watch the video and learn how the right event technology can be a complete game-changer to your event. The Gathering chose to partner with Swapcard, knowing that our team had the technology and experience that they needed to successfully adopt a hybrid model.