Here's how using upgraded event technology, such as smart lead retrieval and badge scanners, will get great exhibitors coming to your shows and retain their loyalty.

We know that trade shows remain a crucial part of a business's marketing plan. However, proving the value of the trade show and acquiring great exhibitors who will invest in your brand requires more than the sale of booths and square meters on a venue floor.
Exhibitors need evidence of their event ROI. For this, they require a digital service that will provide them with qualified leads and measurable results. These leads are the trade show attendees, who also need to connect with exhibitors in an efficient and meaningful way.
Are you ready to upgrade your event tech and learn how to attract great exhibitors to your event?
Here, we'll show you how by reviewing five easy-to-implement actions using Swapcard, including:
Generating qualified leads for exhibitors
Increasing your exhibitors' visibility
Making it easy for exhibitors to follow up on their leads
Remembering the attendee experience
Taking time to review analytics and collect feedback
Let's get started!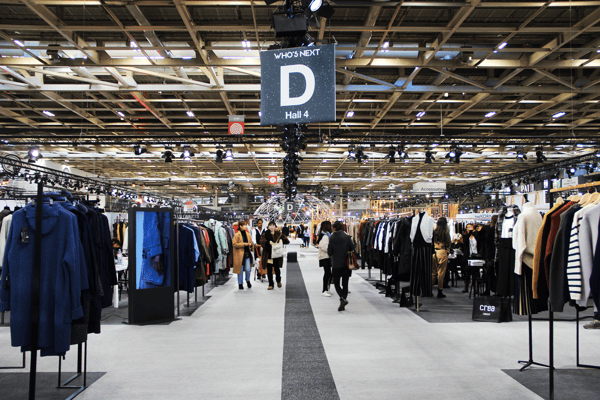 Who's Next in Paris 2019
Provide exhibitors with qualified leads
Exhibitors come to your show to grow their business, but they could be missing out on opportunities that will help them do this. We know that eight-hour days pass by in a flash and meeting the right people is often a challenging task.
To make networking work for your exhibitors, they need a tool that helps them achieve their goals and the opportunity to plan ahead of time.
Swapcard assures quality leads for exhibitors by expertly matching them with their ideal buyers (and matching buyers with the right exhibitors) using artificial intelligence.
QR code scanning at APIDays
Rather than forming connections between attendees and exhibitors based on a series of questions or mutual interests, Swapcard's smart algorithm goes deep using predefined keywords for intelligent lead generation. These matches appear at the top of their list of attendees, so they can't go unnoticed.
Matchmaking starts within the app before the event begins so that exhibitors can schedule meetings with their leads in advance. While on the go, the app's business card and QR code scanner allow attendees to gather information on prospects they meet at the event and keep it stored within the app.
By capturing contacts within the platform, exhibitors can review their data to evaluate their success at the show. Qualifying metrics would include the number of connections made and how many of these connections were converted.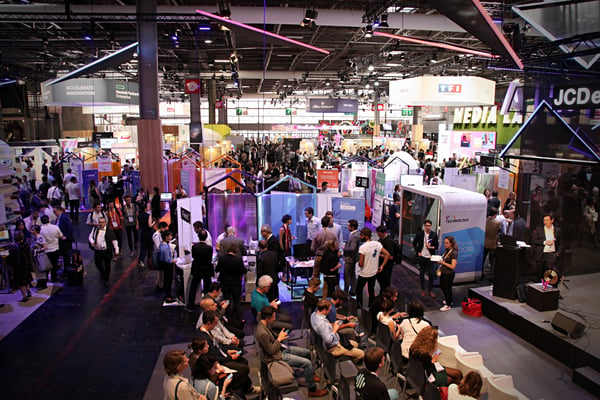 Viva Technology 2018 in Paris
Increase your exhibitors' visibility
In a sea of booths and stands, it's tough to give each exhibitor the exposure they deserve. We've already talked about how smart matchmaking guides exhibitors to the right leads, but let's look at other ways exhibitors can achieve digital visibility.
One solution is integrating a digital map (we've partnered with MapWize). An interactive map of the venue floor plan assures attendees will find their way to the exhibitor they came to see, saving them both time and possible frustration.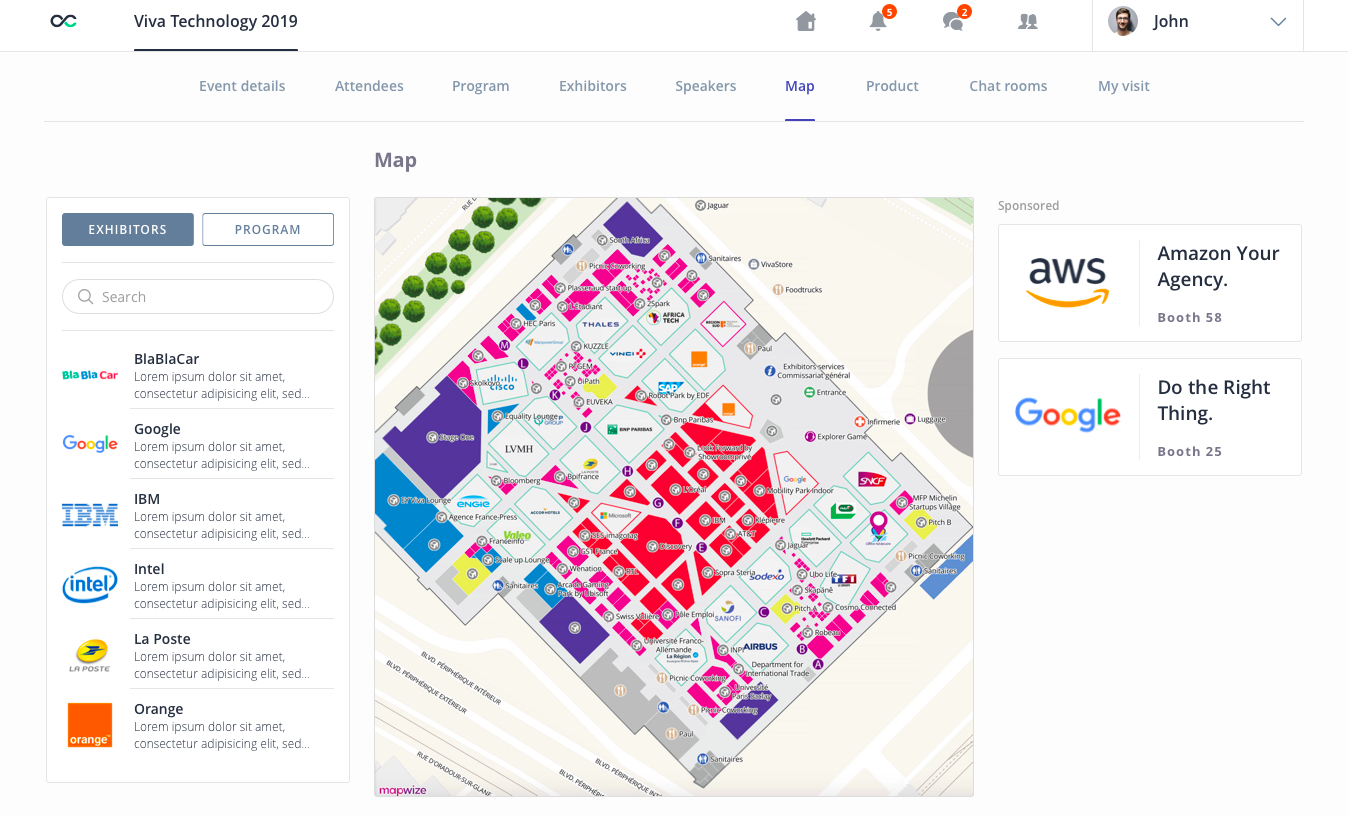 Wayfinding with Mapwize
With an event app, digital visibility can also come in the form of social media sharing—such as a Twitter feed where exhibitors can Tweet and get noticed by using the event hashtag—as well as highlighting sponsors and exhibitors using their logos on the app's landing page.
Remember the attendee experience
Without attendees, the trade show can't exist, so their experience needs to be just as efficient and valuable. One way Swapcard enhances the attendee experience (which is equally beneficial for exhibitors) is by offering both a web and mobile app to target different stages of the event experience.

The web app makes onboarding a breeze. Attendees will receive an email with a magic link, allowing them to access their pre-created Swapcard profile (which comes from the information collected via your ticketing tool) in one click. From here, they can update and detail their profile to add pertinent information. Meanwhile, the mobile app is essential to have everything handy on the day of the event.

Swapcard is also a container app, meaning attendees need to download it once. Within it, they'll be able to access all the events they've attended that used the Swapcard app. Plus, the more attendees use the app, the more the AI learns about them, which leads to better matches and better statistics — another reason for both you and them to get on board!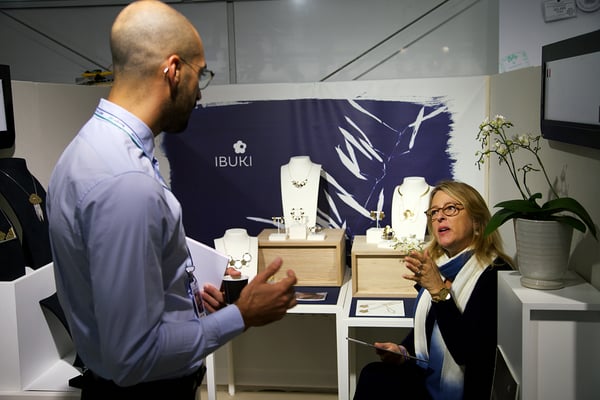 Making the right connections at Who's Next in Paris
Make it easy for exhibitors to follow up on their leads
Now that exhibitors have retrieved qualified leads, you want to make it easy for them to manage their new prospects.
Exhibitors can organize their connections by adding tags and notes to each contact. Doing this helps to qualify and contextualize the meeting that took place and use them as a reference for when following up later on. As for the post-event follow-up, this is made easy by exporting the connections via the web app to an Excel file that is then compatible with their CRM of choice.
Since each team member has his/her own profile (rather than using the same account), each member is empowered to collect leads that they can share with their colleagues. See what exhibitor Paul Logan had to say about lead sharing at a recent Swapcard-powered event, APIDays.
Take time to review stats and collect feedback
Implementing change requires continual analysis of the actions taken. An event app provides you with concrete information you can review and follow up on and make adjustments where necessary.
Essential insights include the number of active users, the exhibitors who are engaging with attendees the most on the app, and which sessions and exhibitors are garnering the most attention.
It's also important to have a human component to the feedback, which can you collect via surveys. To simplify how you gather feedback, Swapcard helps in a few ways.
You can use push notifications to target exhibitor members only and redirect them towards an external link (like Typeform), or in the post-event "thank you email", you can customize the content per your different audiences and redirect them to a relevant questionnaire.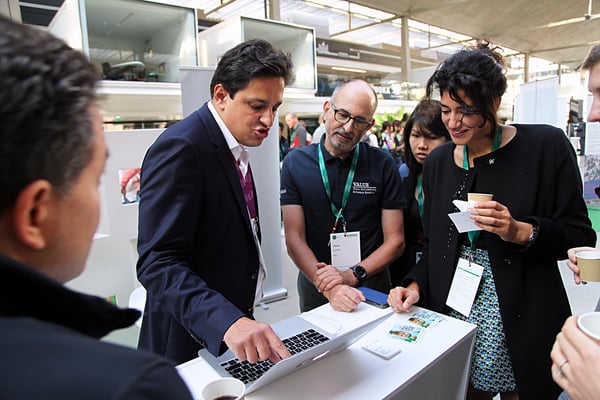 Tech brings people together at an INSEAD event on AI
Once you've taken into account these key points, you'll be assured an audience of happy exhibitors and attendees who see the worth in attending your trade show and returning year after year. If you want to learn more or need any guidance, be sure to register for one of our upcoming free webinars.