Talk about artificial intelligence is happening in every industry, including events — and with good reason. AI is not just a relevant topic; it's a crucial one.
From changing the way we do business to how we interact with others, artificial intelligence is giving us innovative solutions beyond what we ever thought possible.
With its ability to quickly make sense of data, AI lets us automate processes and save time, all while maintaining an element of the human touch; who better to take advantage of this than event organizers!
We still have a bit of a way to go before virtual concierges are at our beck and call and self-driving cars get us to the venue. Until then, some exciting innovations and advancements in artificial intelligence for events are underway.
Here at Swapcard, we're always interested in what's happening in the world of AI. In this article, we take a look at the ways AI is already making strides in the event industry and what we can expect on the horizon. 🙌
Sophisticated and Targeted Marketing 🎯
Getting the right people to come to your event is easier than ever thanks to marketing boosted by artificial intelligence. AI lets digital marketers leverage big data on their potential customers. They then use this data as the driving force behind their marketing campaigns and social media strategies.
A company like Monkeylearn is forging a path for AI marketing. Its integrative solution analyzes text from places like email, support tickets and social media, extracts and classifies it. It turns this extracted and classified information into tags (e.g. related to price, product, urgent issues, etc.), which marketing teams can then add to apps or workflows and collect new insights about their business. Another example is Phrasee, an AI marketing platform that generates copy for social media and email marketing.
AI makes sense of consumer data to improve the buyer's journey. Digital marketers can identify trends and make tweaks where necessary to optimize their efforts. Information on demographics lets them create more efficient ads and use customized messaging for different audiences. Event teams can apply AI marketing to promote their events and sell registration packages to exhibitors.
AI-Powered Event Apps for Personalized Attendee Experiences 🙋‍♀️
Another way AI is revolutionizing the event industry is through customized attendee experiences. Currently, events tend to take a one-size-fits-all approach. Your show could be brimming with incredible content and business opportunities. But your attendees and exhibitors don't know which sessions they should attend and who they should meet.
An AI-powered event app like Swapcard is changing how people experience events by looking at individual preferences. Swapcard guides your attendees in the right direction based on the information they've provided during ticketing and their behaviour in the app. The result is happier participants who will feel like the event has been curated just for them and a higher event ROI.
Here's what Swapcard's Data Scientist Vincent Kurta has to say about his objectives for attendees and exhibitors using AI, what Swapcard AI is currently accomplishing and our company's future aims:
"My main objective is to improve the attendee experience using our AI. Swapcard's AI currently provides recommendations on who to meet at events and improved search capabilities.
Our goal is to create the optimal event experience by suggesting sessions, exhibitors, people to meet and products to see before the event even starts."Chatbots for Event Support 🤖
Chatbots combine the human touch with the efficiency of a robot. Using artificial intelligence, they simulate conversation as though it were with a real person. Chatbots help buy you time so that you can focus on more pressing matters than answering questions like "What time is the session on networking?". Plus, they can do it around the clock and at a faster rate than you can.
Some event technologies come with a chatbot already built into their platform; Eventmaker is one example of a registration tool with a chatbot. Attendees can register for the event using the chatbot (who goes by Arsène) on Eventmaker's platform. Arsène can also be added to your event website or Facebook messenger to answer attendee questions about sessions, exhibitors and more.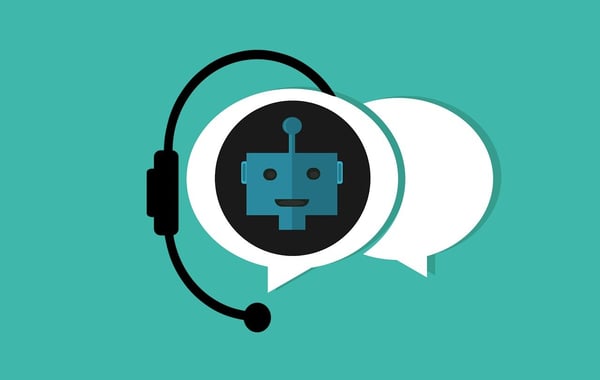 Chatbots are here to help answer your attendees' questions
😎 /
Pixabay
Facial Recognition 🤳
When it comes to large events with thousands of visitors, security is indispensable. We believe we'll start to see artificial intelligence play a bigger role in hosting a safe event. One example is during the check-in process. You want your participants to be able to zip through the line, but you need to ensure the people passing through entry are who they say they are. For this, a tool like facial recognition will be beneficial.
Facial recognition is already being used as a means to access smartphones or board a plane. Concerning events, we'll notice more self-check-in booths that can scan and recognize an attendee's face and print their badge in a few seconds. Facial recognition will save you from sorting through a list of registered visitors while still accounting for who is at your event.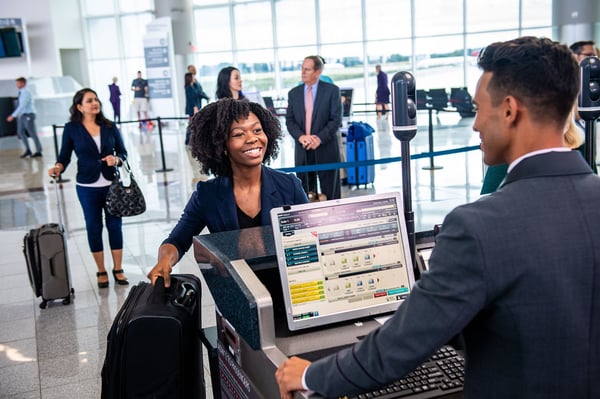 Facial recognition is already being used for baggage drop off at the airport ✈️ / Flickr
Cost Savings and Money-Making Opportunities 💸
Artificial intelligence will create opportunities to save on costs and possibly even earn you extra profit.
One area where costs will be reduced is staffing. While we don't want to remove human interactions (after all, that's what makes events so special!), AI will be a relief on costs associated with temporary employment in areas like check-in and support staff, where AI innovations can pick up some of the responsibilities.
At Swapcard, we're also looking at how we can take AI innovations to new, profitable heights. Check out this article to learn more about how you can monetize AI technology with the Swapcard event app.
We anticipate that smart event apps are going to continue to be at the forefront of event technology. Why? Because with every event under an event app's belt is the chance to learn and evolve.
Machine learning and artificial intelligence will ensure our attendees are taken care of as though they have a personal butler, where they're shown curated content just for them. Much like how services such as Netflix and Spotify are continuously improving how we're offered suggestions perfectly suited to our tastes, event apps will do the same.
Now's the time to get on board and begin integrating the benefits of artificial intelligence into your event planning. The Swapcard event app is an easy way to start.
Once you've synced your attendee list from your ticketing tool of choice, the app will analyze the participants' information and offer personalized suggestions on who to meet and interesting content, based on the person's profile and behaviour in the app. The more your attendees use the app, the smarter the algorithms become, and the more customized the attendee experiences.
Sign up for one of our webinars and learn how we can help you host an unforgettable AI-powered event.