Let's start with a question. Imagine you knew about this global pandemic and its consequences 3 years ago. What would you have done differently in your business? The COVID-19 crisis came unexpectedly and the events industry has taken a hit. It's going to take a long time for the industry to fully recover and it may never be the same again. Organizers have no choice but to adapt and embrace technology. There has never been a better time for the event industry's digital transformation.
Events, up till now, have taken place mostly in a physical space over a few hours or days, and all the activity was concentrated in that period. Once the event is over, people say "Goodbye!" and have to wait a whole year before seeing each other again. But today's exhibitors are pushing for the old business model to change. They are not seeing a valuable enough ROI to continue the way the industry has for many years. And the reason why is simple!
The Problem With Today's Business Model
The cost of lead acquisition is high and not always worth it for exhibitors. They pay for their booth, travel, accommodation, salaries of their team and the time they invest in an event, but there's always a risk that they walk away with only a few leads at the end of the week. A bigger booth doesn't necessarily mean more leads and a bigger ROI. The price exhibitors are charged for their attendance at the event is therefore not linked to their performance, and is not always linked to the value proposition.
Today's organizers focus mainly on the physical event, and while this face-to-face meeting remains the most valuable moment in the calendar, the industry still needs to shift to a more online-centric world for the rest of the year.
Tomorrow's Business Model - The 24/7 Platform
So where can the events industry go from here? Only towards the 365-day online experience: an event platform, accessible by mobile and web, that is not only used during the few days of a live event but serves attendees all year long. Users of the platform will find old and new content in the form of sessions and roundtable discussions, media, exhibitors' marketplace, networking opportunities, chat forums, marketing material, industry trends and news, learning opportunities and the possibility to exchange with a global community of peers.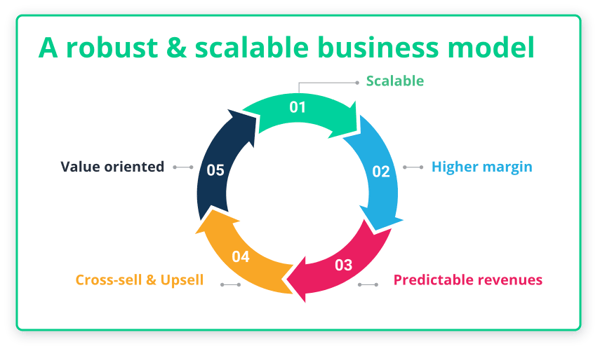 The online platform takes on various roles:
The media: Sharing news and trends in the industry
A community: Bringing people together and creating space for them to meet, network and exchange
A marketplace: Facilitating transactions between exhibitors and buyers all year long
However, the idea of an online platform does not replace the value or importance of the physical event.
The physical event will still occur annually in this new business model. It will bring together the whole online community and remains the highlight of the year, the moment where people meet F2F, and where exhibitors make the most meaningful connections.
Your Annual Event Needs to go Hybrid: The Event Format of the Future
A hybrid event incorporates components of virtual events with a physical event. Some of the many advantages include:
Reaching a larger, more global audience - in general, 3 times more than at an in-person event. You'll have attendees on-site as well as digitally connected from all over the world. The beauty of a hybrid event is that it removes physical barriers and financial investment to attending, so more people will R.S.V.P. "Yes"!
The mix of on-site and online attendees creates a larger pool of potential leads for exhibitors, meaning potentially greater revenue for you, the organizer
Amplifying your speakers, sessions, and event content through your virtual platform, ensuring greater visibility for all your stakeholders
Giving attendees and exhibitors the best of both worlds: in-person and virtual experiences
Repurposing existing event content for future marketing and knowledge sharing material
Lowering the costs of event production because you no longer have to cater to everyone on-site
Adapting to changing circumstances will ensure your business model is durable and stable, no matter what the future brings!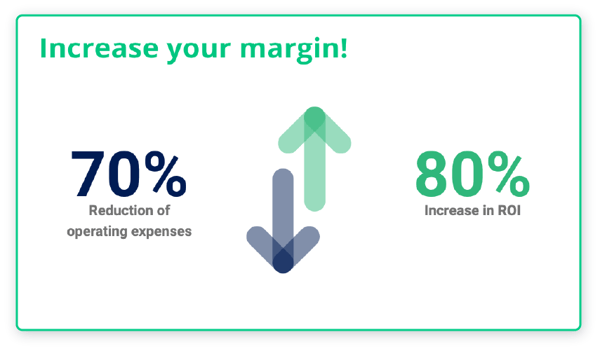 The Steps to Implementing The New Business Model
Decision-makers in companies need to embrace a change in attitude. CEOs, Boards of Directors and managers have no choice but to adapt and evolve while embracing technology. Instead of aiming for their events to be no better than the best versions of the previous year's event, they need to look ahead and see opportunities for growth and change. They can start setting trends in the events industry.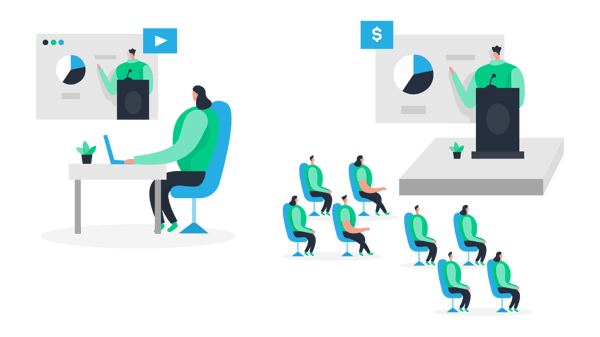 Organizers need to realize that their roles are changing. They are no longer logistics specialists. They are becoming data owners, matchmakers, year-round community builders, knowledge curators and media publications. With the help of Artificial Intelligence (AI), they can now analyze attendee and exhibitor data, create customized journeys and offer accurate, personalized and valuable suggestions for people to meet.
The role of event platforms is also changing. Instead of simple, on-site information apps used to facilitate an attendee's experience during a 3-day physical event, platforms are going omnichannel. They are becoming year-round knowledge and content providers, media publications, news broadcasters, exhibitor marketplaces, matchmakers and exchange enablers.
Finally, the definition of value is also changing in the industry. Value is no longer defined by volume, but by exhibitors' ROI, and no longer by square meters and attendee volume, but by the number of qualified leads that exhibitors gain. In short, the value proposition is moving from quantity to quality and the industry is ready for it.
A new business model means a brighter future. A more sustainable one that's better for the planet and more profitable for everyone involved. New revenue streams, more opportunities for attendees and exhibitors and a true feeling of community is what makes this new business model work.
This article was an extract of our full guide to monetizing a 365 platform. You can access the full Ebook for free.
If you're interested in watching live sessions with event experts on the future of hybrid and virtual events, register for free for our online community platform, Evolve. You'll get exclusive access to new content and networking opportunities all year long.