G2 labels event apps as "top drivers for event attendance and satisfaction." That means attendees who use an event app during in-person and virtual events have a better overall experience than those who don't. It comes as no surprise that event apps have become essential in today's landscape and upward-trending adoption metrics continue to confirm this. In fact, 75% of event app developers report adoption rates of 60% or more.
While event app adoption is pretty solid overall, you'd want that number to be as close to a hundred percent as possible. After all, your event app's usage determines data collection and analysis of Net Promoter Score (NPS), which in turn helps you gauge attendee satisfaction and identify areas for improvement.

In this article, we recommend tried-and-tested strategies and best practices to promote your event app to encourage adoption and usage.
What is an Event App?
Before we get into the thick of things, what is an event app? event app is a mobile application that provides attendees with essential information about the event they are attending.

This includes the event agenda, an interactive floor map of the venue, speaker bios, the event's news feed, and more!
Event apps are designed to enhance the attendee experience by providing real-time updates, personalized recommendations, and the ability to interact with other attendees.

What's more, apps help organizers like you collect invaluable data on attendee behavior and preferences in order to continually improve their event experiences.
How to Promote an Event App—A Checklist for Event Organizers
Promoting an event app can be challenging, but it doesn't have to be. Our team of in-house event experts put together this neat checklist that event organizers like you can use to encourage event app adoption.
To help streamline your efforts, we've broken this down into three phases of event promotion—pre-event, event day, and post-event.
Phase 1: Pre-event
Event promotion timelines vary—sometimes you have months to drive registrations, other times only a few weeks. Either way, we recommend starting the event app promotion at least seven days prior to the event.
Promote your app on the following channels:
1. Website or event microsite

Design a website banner that reads: "Download the App Now", and add it to your company and event registration page.

Create an app promo page on your website or event microsite with instructions to download the app, frequently asked questions (FAQs), and contact information for your support channels.

Include a brief event app description or introductory video to generate curiosity.

Display a QR code to download the app immediately after registration.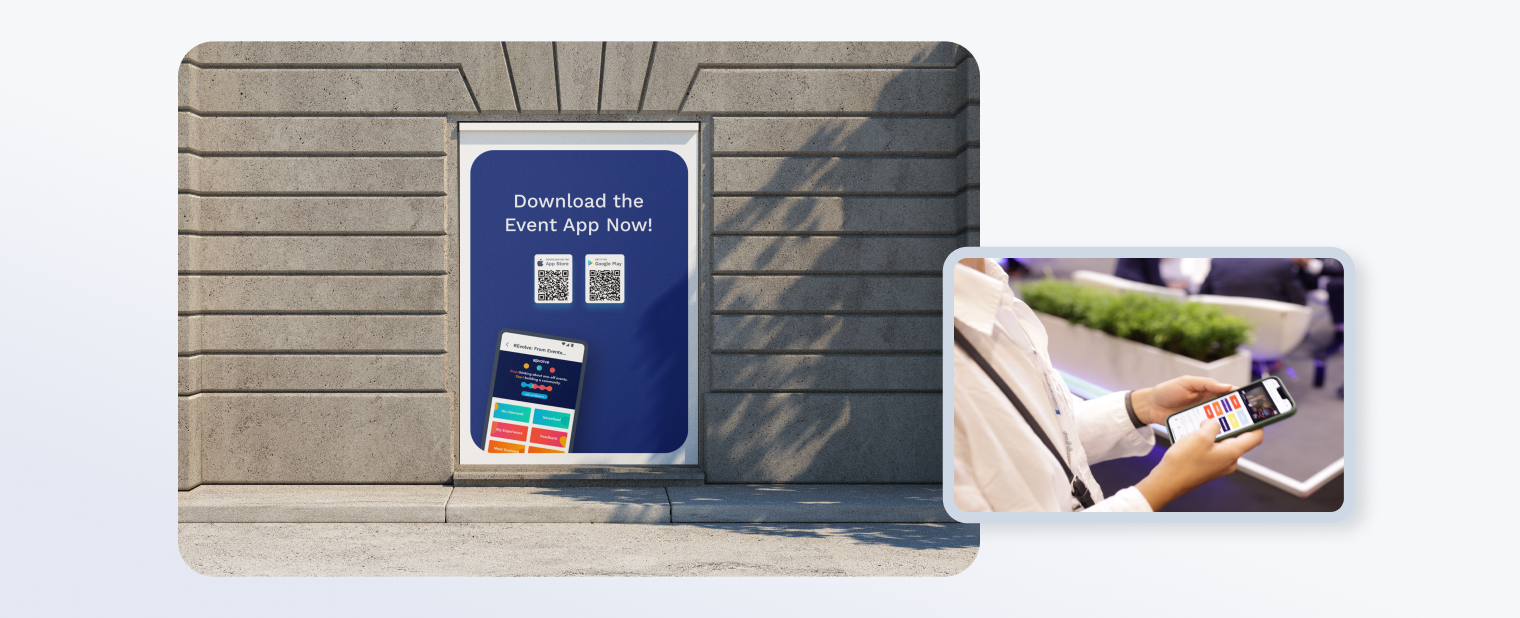 2. Email marketing

Send an event app teaser email before the app launch date to get people interested.

Share event app details like a QR code in the event promotion email.

Send an "App is now live" email to all registered attendees with a QR code/link to the app download.

Include a link to download the app in the event confirmation email.

Promote your app in your company or event newsletter.

Embed the QR code in all email marketing communication planned for event promotion.
3. Social media
Tease app launch with social media videos.

Collaborate with vendors to promote app on social channels.

Announce app launch and link to promo page.

Feature app updates, highlights, and screenshots on social media.

Share a template with your colleagues and collaborators to encourage app promotion on their social channels.
4. Speakers, vendors, and exhibitors

Enlist event partners such as speakers, vendors, and exhibitors to leverage their owned channels such as websites, email campaigns, and social media to spread the word about the event app and promote app downloads.

Initiate co-marketing campaigns with app partners, if any, and double down on event app downloads as the primary call to action.
5. Industry influencers
Have an industry influencer attending or speaking at your event? Reach out to ask if they'd be willing to promote the app to their followers.

Phase 2: Event day
Event day is the most important phase to push for app adoption and usage. Encourage your attendees to download the app and ensure that you provide on-site support during the event to quickly resolve any technical issues.
Display instructions to download your event app at:
1. Event check-in

Display the QR code to download the app at the registration desk. You can also include the code on the back of the attendee badges.

Provide attendees the option to digitally check in via the app, accelerating app adoption while keeping that line moving. Win-win!

Place big posters and monitor displays with QR codes and steps to download the app at registration desks.

Train your registration staff on how to download and use the event app.

Give your registration staff the FAQ sheet for simple troubleshooting issues.

Put out pop-up table tops near registration desks and have staff point them out to each attendee after check-in.
2. Event kick-off

Include the "How to Download the App" as part of housekeeping notes at the event kick-off.

Promote your event app on social media once the event is underway.

Include the app download link in session or event reminder emails.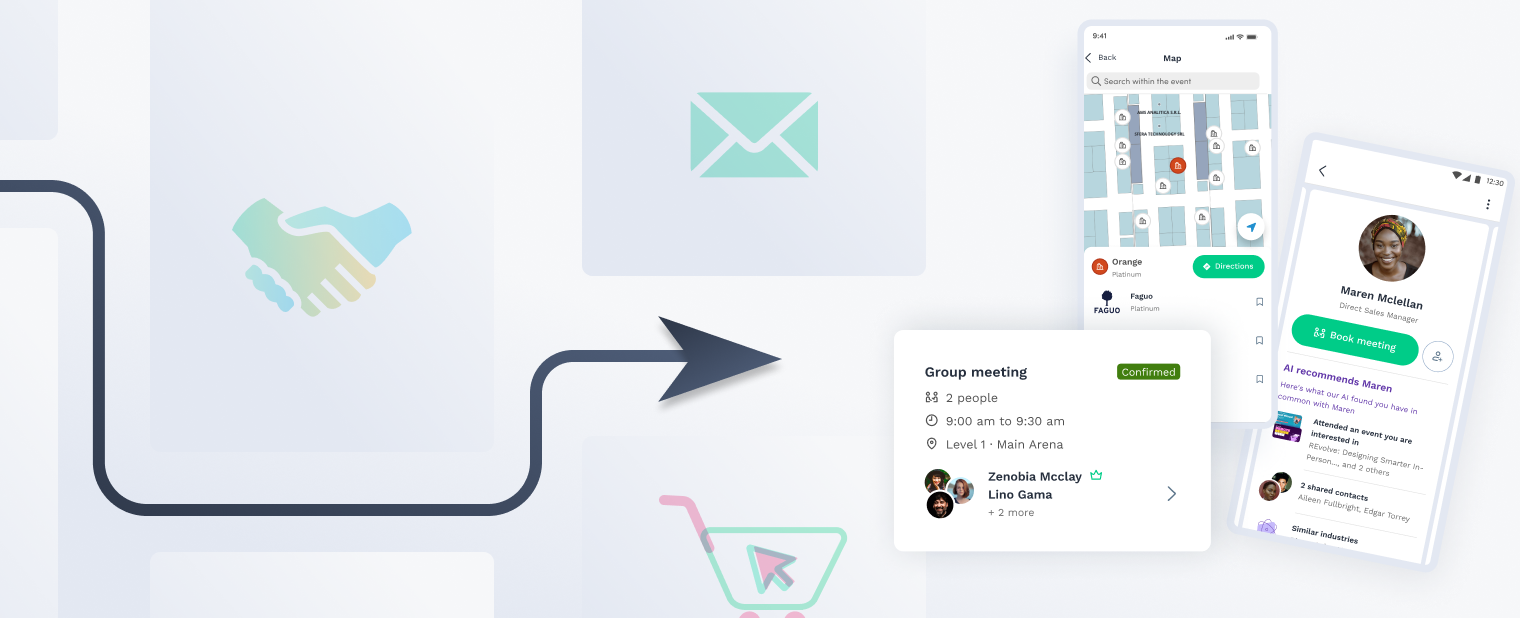 3. High-traffic areas at the venue

Place signage at coffee kiosks, registration desks, water coolers, and restrooms to let attendees know that maps, the event agenda, session details, and more are right at their fingertips.
Phase 3: Post-event
The event is over but the job isn't yet. In this phase, the core idea is to create a sense of community among attendees. The event app is not just an app—it's a place for them to check their event notes, set up meetings with other attendees, replay their favorite sessions on demand, continue to make connections and access sessions they might have missed on the event day.

Here's how you can promote your event app after the event and turn it into a community for your attendees
Include the app link in your "Thank you" email to attendees.

Add the app download link in email communication to event no-shows, directing them to the on-demand library.

Collect event feedback by floating a survey on the app.

Keep the content on the app current and relevant, and use it to promote upcoming events, exclusive tickets, or gift offers.

Moderate discussions, answer questions, and actively participate in conversations with your app audience.
Grab your own template by clicking on the banner below!
Best Practices for Event App Promotion
Now that we've discussed some strategies for promoting an event app, let's take a closer look at the best practices to follow.
1. Make the app easy to download
First and foremost, the app should be easy to download. Provide clear instructions on how to download the app and ensure that it is available for both iOS and Android devices.
2. Highlight the app benefits
You should clearly communicate the benefits of the app to attendees. This could include features such as digital check-ins, real-time updates, personalized recommendations, and the ability to connect and network with other attendees.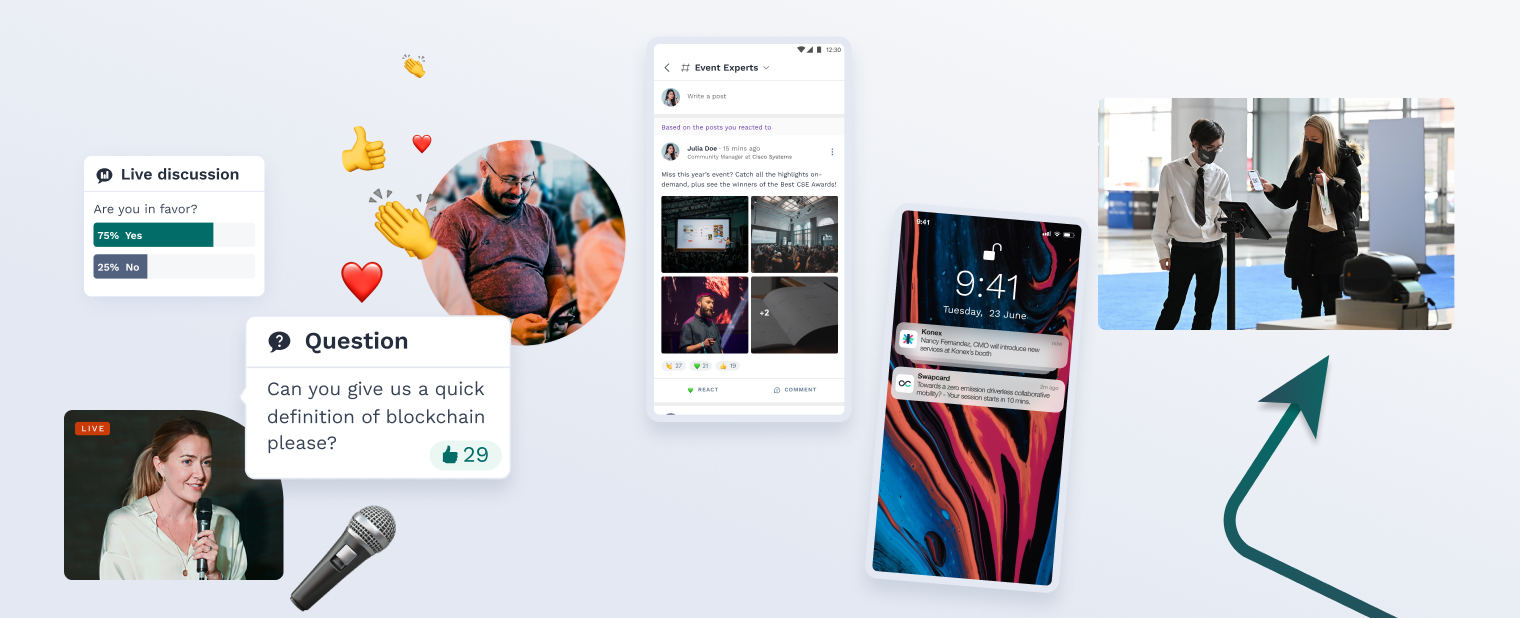 3. Add app milestones to your promotion timelines
Factor in-app milestones in your promotion plans. You want to create a buzz before the app launch date, once again when the app is live, and especially on the day of the event.
4. Encourage attendees to use the app
It's not enough to simply promote the app; you must also encourage attendees to use it. This can be done by reminding attendees of the app's features during the event and incentivizing them to use it.
5. Provide support for the app
Provide support for the app throughout the event to tackle any technical issues or snags. Train your on-site staff on how to use the app, answer FAQs, and resolve minor issues.


Whether your event is onsite or hybrid, be sure to choose a user-friendly mobile event app that simplifies the entire event management process, is easy to promote, and most obvious of all—is seamless to adopt and use.