This week the International Association of Exhibitions and Events® (IAEE) revealed the IAEE MarketHub, the online marketplace that connects buyers and sellers 365 days a year, powered by Swapcard.
MarketHub provides IAEE supplier members the opportunity to increase visibility, add content such as white papers and research about their products and services, and engage with buyers worldwide.
Given the realities of COVID-19 and changing business models, IAEE felt it important to create a platform that gives instant access to buyers and sellers to create and strengthen connections year-round.
"We are very pleased with the opportunities that the IAEE MarketHub brings to our community. The platform is robust enough to allow suppliers to showcase their products and services in a wide variety of channels while maintaining a personalized connection with their customers. Buyers are able to conduct their research thoroughly and conveniently from a single, reliable source of information. IAEE MarketHub will be an outstanding tool for conducting business."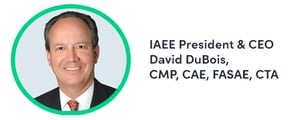 Working in collaboration with Swapcard to customize the online platform, MarketHub features include:
Branded virtual placement showcasing organizations to buyers
Chat function with IAEE buyer members

AI-driven platform to connect buyers and sellers



"In such a difficult period for our industry, we believe that it's important to unlock business opportunities for suppliers and help organizers source new providers. Together with IAEE, Swapcard aims to help accelerate the industry's digital transformation and be hybrid-ready when we open up again. We are thrilled to support this initiative by IAEE."
Click here to see more on the IAEE MarketHub.
About IAEE
Trusted since 1928, IAEE provides quality and value to its members through leadership, service, education and strong relationships. IAEE is the largest association of the exhibitions and events industry in the world, with a membership of show organizers, exhibitors and exhibition suppliers. Organizers of more than 20,000 exhibitions and buyer-seller events around the world are members of IAEE, and the organization advocates and promotes the awareness of face-to-face exhibitions and events as the primary medium for business development and growth. IAEE provides relevant, timely, and innovative education to its members and the industry. IAEE recognizes its strategic partners: 4imprint, Buttine Exhibition Insurance, Convention News Television (CNTV), New Orleans & Company, New Orleans Ernest N. Morial Convention Center, Personify – A2Z Events, and Synchronicities (Visit Anaheim, Visit Baltimore and Visit San Antonio). Visit www.iaee.com for more information.