REvolve: From Events to Communities is a free digital event taking place on March 3rd, 2022, from 11AM - 3PM EST.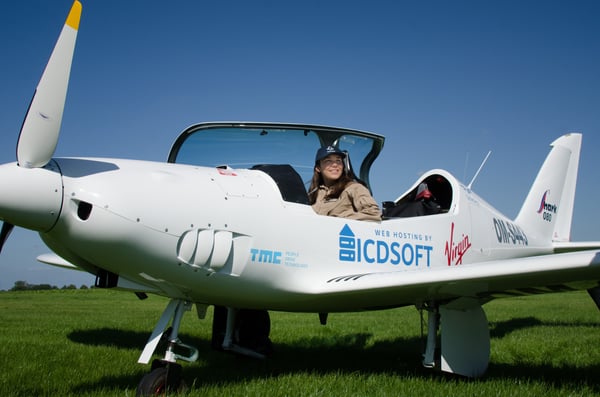 Opening Keynote: Zara Rutherford
Zara Rutherford, as seen on CNN, The New York Times, and BBC, is a world-record-breaking pilot and women empowerment activist. She will be delivering the opening keynote during REvolve to inspire audiences.
In 2022, Zara Rutherford circumnavigated the globe in a small aircraft and became the youngest woman to fly solo around the world. Zara aims to encourage young women to pursue their dreams and reduce the gender gap in aviation as well as in science, technology, engineering and mathematics (STEM).
The event organizers aim to strike a balance between inviting industry experts to deliver insights and getting their own community members onto stage. Much of this event will be crowdsourced: ambassadors helping with promotion, survey results impacting the subject of the sessions, and during the event, attendees will be workshopping the values of the community in small groups.
Other speakers include Keneisha Williams, Scott Gould, Jack Owens, and Andrew Roby. Sabrina Meyers will be returning to emcee this event, as she did for Evolve 2.0 back in February 2021, alongside Swapcard's new Director of Community, Matt Snodgrass, previously from MarketingProfs.
"As we head into the third year of this remote way of working and living, people are craving connection like never before. With the launch of REvolve: from Events to Communities, we're excited to not only share our vision of what a virtual event can be, but to help eventprofs around the world recognize the power of moving from a one-off event-based mentality, to one that embraces year-round engagement and interaction with the community.
- Matt Snodgrass, Director of Community

What you can expect at REvolve
A fun schedule packed with insightful talks on embracing new business models for your events and engaging your audience year-round
An honest discussion about mental health and wellbeing, in particular how it affects the events industry
A fresh perspective from the future generation of eventprofs
Games and challenges with prizes to be won
Incredible networking opportunities with like-minded eventprofs


"REvolve is the opportunity for our Evolvers to reunite, make new connections and kick off the year with a shot of inspiration. They will immerse themselves in an interactive community of like-minded eventprofs. Our main focus right now is to hear from our members, and let them shape the community of their dreams. That's the spirit of the Evolve Community - innovating, experimenting, creating together in order to launch the trends of tomorrow. You clearly don't want to miss this."
- Julien Bouvier, REvolve Event Director, and Giulia Ferrero, REvolve Project Manager


It started out as a once-off virtual event inMay 2020. Now Evolve is a community of 13,500 eventprofs with a passion for innovation and supporting each other. Evolve is the go-to resource for eventprofs. From making connections and sharing best practices to accessing exclusive content and downloading helpful tools and tips, this is a safe place for all eventprofs!
Swapcard is an all-in-one platform that powers physical, virtual, and hybrid events and communities without borders. With onsite event experience starting in 2013 and experience as one of the first platforms to pivot to virtual in 2020, Swapcard has the perfect combination of human expertise and technology to be a trusted, end-to-end partner for event organizers of all shapes and sizes.