Swapcard has announced the launch of upcoming virtual event, Evolve Homecoming: The Big Industry Comeback.
Taking place on July 7th & 8th, Evolve Homecoming is the third flagship digital edition of Swapcard's long-running virtual event series.
The event features keynote speaker Arianna Huffington, founder and CEO of Thrive Global and the founder of The Huffington Post. She has graced Time Magazine's list of world's 100 most influential people and Forbes' Most Powerful Women list.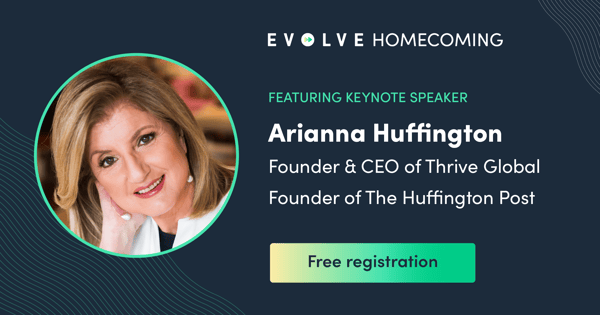 Other featured speakers include:
AJ Williams, Founder & Creative Director, AJ Events
Marisa Brown, CEO at Venus Promotions
Hugh Forrest, Chief Programming Officer, SXSW
Shakira Johnson, Founder & Creative Director, Johnson PR & Events
Andrew Roby, Event Storyteller, Andrew Roby Events
Sophie Ahmed, CEO & Co-Founder of the Virtual Events Institute (VEI)
Yinka Freeman, Owner, Triple Pocket Events
Narisa Wild, SVP Event & Media Solutions, Informa Markets
These industry experts will be covering topics related to the lessons we've learned from going virtual, how to design and execute successful hybrid events, how to go back to in-person events in a safe way, and why everyone is turning to communities.
Day one, July 7th, will be dedicated to educational content, and there will also be an exciting new experimental session: Swapcard and IMEX have partnered to do a crossover session and provide the same content and networking opportunities to both the Evolve community and IMEX's BuzzHub community, as both Homecoming and Buzz Day are taking place on the same day.
For the first time since the beginning of Evolve, Swapcard is also running a dedicated Asia Pacific Evolve Breakfast Fest, a special event for partners and stakeholders in the APAC region on the morning of July 8th.
Day two will be all about interactive networking, workshops and attendee participation. Attendees can expect to acquire new skills in educational workshops, become Swapcard platform experts, and meet new business contacts in casual video or audio-only rooms.
The Evolve community, started in May 2020, has grown to 13,000 global event professionals and is active on the Swapcard platform every month. The organizing team has been consistently delivering new content in the form of webinars, roundtables and networking opportunities, as well as engaging the community every month through crowdsourcing content and feedback for the platform. Evolve recently partnered with EventProfsBreakShit, a group of independent industry professionals who flooded the platform with the aim of exposing any bugs or errors. The Evolve team is always looking for feedback from the community.
Registration for Evolve Homecoming: The Big Industry Comeback is free; if you'd like to attend, visit https://evolve.swapcard.com/
About Swapcard
Founded in 2013, Swapcard is the leading AI-powered all-in-one technology platform that runs successful in-person, virtual and hybrid events without borders. Swapcard powers events as well as year-round communities. AI is used to boost matchmaking, connecting users with the most relevant people and content based on their profiles, creating highly personalized community experiences. To learn more, visit swapcard.com.