In the events industry, changing plans and learning to problem solve on the fly are skills you need to have to run a successful event. As the pandemic unfolded, the problems facing organizers became bigger than anything that had been faced before. The industry had to adapt as a result.
As parts of the world are starting to see a "return to normal" on the horizon, the time has come to start thinking about event planning in a post-pandemic world. The question is, what exactly does this "new normal" look like?
Here at Swapcard, we understand how uncertain the times are. We've been exactly where you've been, learning how to navigate our way through this difficult period. That's why we've done the research and want to share everything we've learned about the post-pandemic events world so that we can get through this transition period together.
We recently spoke to Chad Brincheski, the Principal of ESP Inc., to learn how he strategically included safety measures for the highly successful hybrid event he organized for CANFAR in September 2020.
The truth of the post-pandemic event world
In-person and hybrid events are starting to pop-up on calendars in 2021. Rather than make assumptions about how event insurance will work in a post-pandemic world, we spoke to Steven Adelman, Vice President of Event Safety Alliance, to get an expert's perspective. He helped clarify many of the questions we had about event insurance in an easy to understand way, which we've included below:
Quite a few event planners we've spoken to or heard from on social media are facing concerns going hybrid or back to in-person events. They say that their insurance providers are not covering COVID-19 or any other communicable diseases or any shutdown of venues and/or gatherings due to these perils. Have you been seeing the same trend?
There is no question that the event insurance field has not been covering COVID-19 or other communicable diseases and as far as experts in the insurance business are concerned, there will not be COVID-related insurance available for the foreseeable future. As Steve puts its best,
"However far into the horizon you can see, there won't be COVID related insurance. And, you know, that makes sense, because the insurance industry is a business...if they start covering COVID -related cancellations, then they're going to wind up paying on a lot of claims, whether meritorious or not."
According to Steve,
that's just how insurance forms are written.
Since insurance forms are more or less written in the same standard way
, these provisions appear in the same coverages all the time.
What makes pandemic-related claims largely ineligible is that they are all covered under property damage.
Steve explains this best when he points out,
"...here's the important part: in order to invoke a property damage insurance provision, there needs to be physical damage to premises. And what does COVID-19 not do? It does not physically damage anything."
Where does this leave event planners when it comes to preparing for the return of in-person or hybrid events?
It's all about mitigating risk.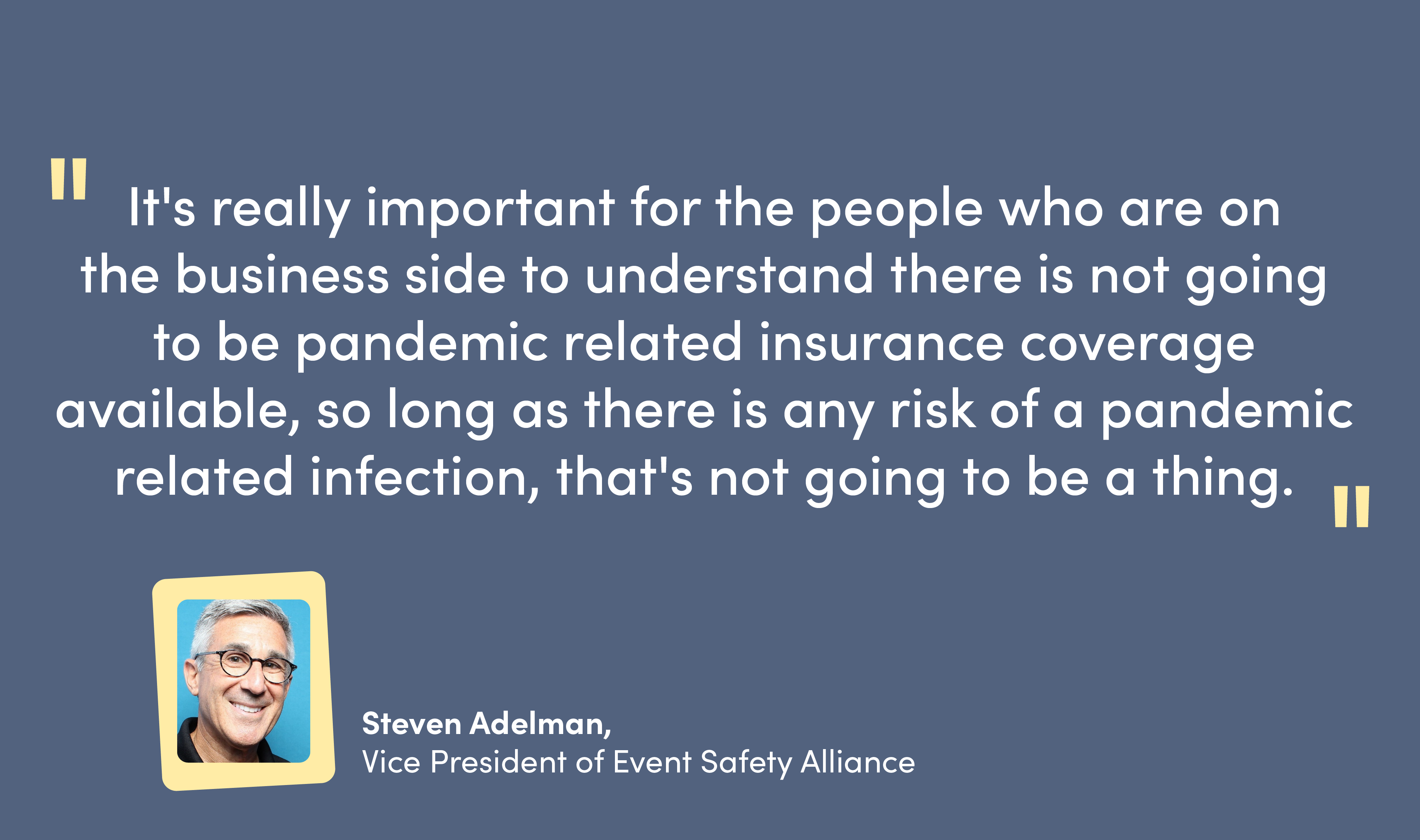 This means being prepared with a backup plan or incorporating a digital aspect into your event. A hybrid model will give you something to fall back on should COVID-related issues arise.
How can event planners ensure that they keep everyone safe? What are the top tips to avoid spreading the virus or infecting more people?
Easy: Vaccinations are key. Event planners are well within their rights to ask attendees if they're vaccinated against COVID-19 (or other infectious viruses), or provide proof of vaccination as part of their entrance requirements to an in-person event.
This goes back to mitigating risk. If an attendee is unable or unwilling to provide proof of vaccination, they're better off attending your event virtually. This serves the dual purpose of keeping your other in-person attendees safe, as well as "doing your part to mitigate the risk of significant financial losses since event insurance will not cover it," says Steve.
Do you have any advice for event planners when negotiating insurance, venue, or other supplier contracts to make sure they're covered?
"You don't want to host an event unless you can be very confident that it won't become a super spreader."
5 tips to mitigate risk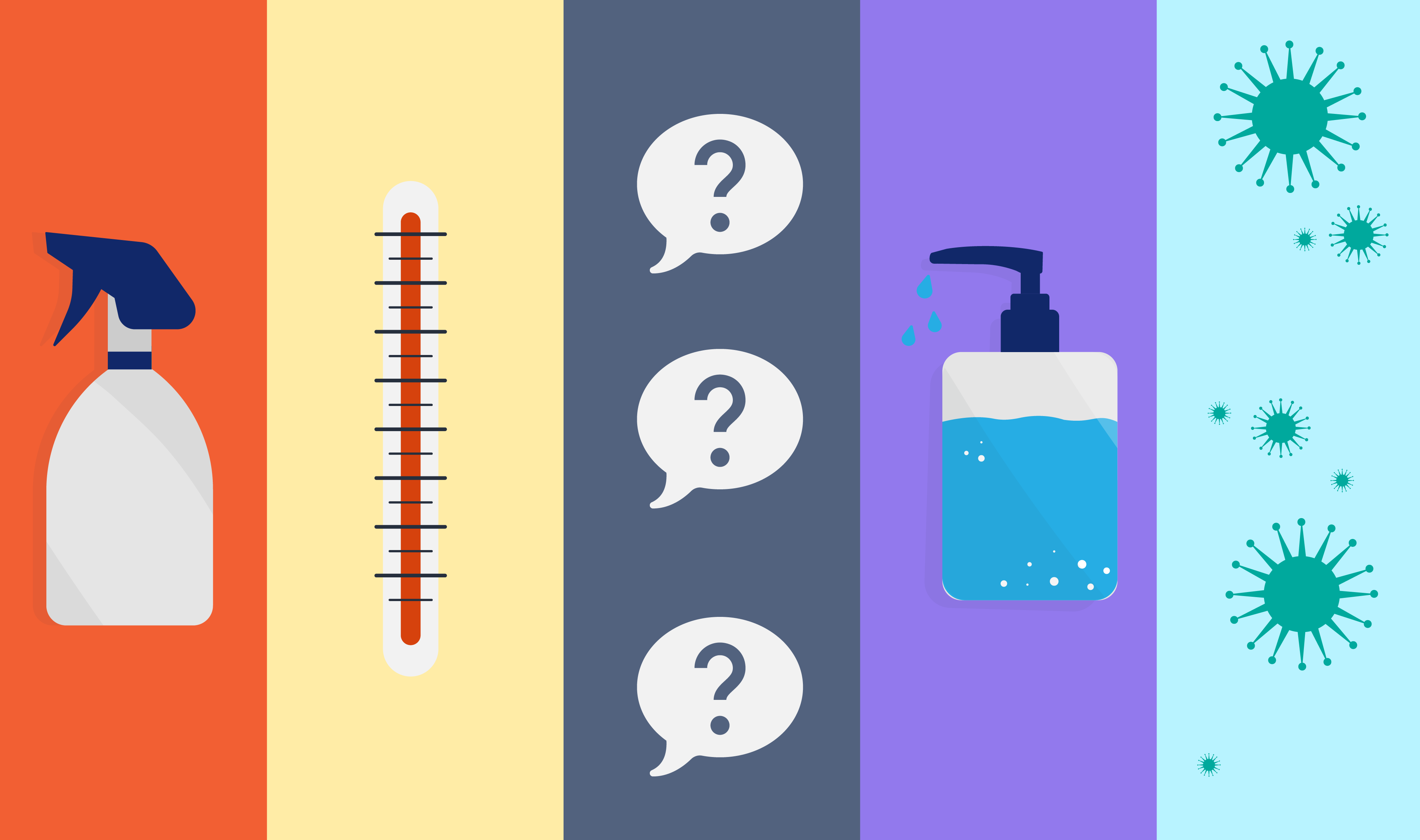 Aside from proof of a vaccine, what other options are there to mitigate risk and keep your event safe? Together with Steve, we've put together a list of 5 tips to help with your planning:
Cleaning and disinfecting high-touch surfaces
This tip is pretty straightforward: Keeping high-touch surfaces regularly cleaned and disinfected keeps the likelihood of spreading germs down to a minimum. This helps decrease the chance of having any sort of outbreaks associated with your event, and it also keeps your attendees safe in the event of any future flare-ups.
Provide more sanitation stations, either for hand-washing or with hand sanitizer
Sanitation stations also play a role in keeping attendees healthy and safe. It's been so long since we've shaken hands or given one another hugs that we should do everything we can so that attendees can comfortably return to these greetings if they choose. By giving attendees access to sanitation stations so that they can regularly keep their hands clean, the chances of germ transmission through touch are significantly reduced.
Taking attendee's temperature during pre-event registration
A high-temperature is often an indicator that one's body is fighting some type of infection. Although this is not the case for everyone (as each person's resting temperature can differ and some people carrying germs are asymptomatic), checking attendee's temperature is a good first step when screening onsite attendees.
Health questionnaire screening for symptoms
Although some may find health questionnaire screenings not that useful when it comes to limiting outbreaks, it does serve a purpose for mitigating risk. When an attendee is being asked these questions, the event planners are doing their part to both demonstrate that they are aware of the severity of a situation and are doing their best to keep their attendees safe. Can people lie so that they can get into the event? Sure. However, by asking these questions, the responsibility has been taken off the planner and put onto the attendee. The planner has done their part to mitigate risk, the rest is beyond their control.
Access to rapid testing for everyone involved in the event
Rapid testing is a quick and easy way to screen attendees, exhibitors, speakers, and basically everyone that will be involved onsite before they arrive at your event. As with health screening questionnaires, this method isn't perfect, but it does make the screening process more thorough. Should one of these individuals test positive, it qualifies them for more thorough follow-up testing (such as a PCR test) where it can then be determined whether or not they are actually contagious.
Although these tips can help, ultimately Steve calls these "health theatre." The reason is that aside from vaccines, these actions can only go so far in protecting attendees from getting sick.
Does this mean they don't serve a purpose? Not at all. In fact, they establish a culture of trust and let your attendees know that their health and safety are a top priorities. He goes on to explain that,
"Even something which has very marginal epidemiological value can still help establish a culture in which everyone understands that you're taking health and safety seriously. And establishing a culture of safety is really important."

Why hybrid events make the most sense in a post-pandemic world
Understanding that event insurance will not be covering cancellations for pandemic-related causes, it becomes clear that choosing to run an in-person-only event is an inherently risky endeavor. Rather than risk losing out on the time and money invested into an in-person-only event, a hybrid event is a much more lucrative option.
Hybrid events in general are a great way to reach a wider audience and maximize ROI. With a single event, you can reach double the audience since you'll have one group onsite and one group at home. Not only that, but running a hybrid event is a great option for those in parts of the world where the rules around reopening are still unclear or slower to fully reopen. By running a hybrid event, you've got a virtual option with an itinerary ready to go should there be a venue cancellation or any other unforeseen circumstances beyond your control.
This is also why choosing a platform that can support hybrid events should be at the forefront of your mind rather than an afterthought. If you end up choosing a platform that isn't calibrated for a hybrid event, you're risking losing out on the returns that come with going hybrid.
This includes reaching a larger audience, increased networking opportunities, AI-powered matchmaking, building a 365-day community, and more. By choosing a platform that provides end-to-end event services such as Swapcard, you'll also have peace of mind knowing that whatever happens, your event will run smoothly because your platform is optimized for it.
Still worried about the possibility of your venue canceling on you or your event participants being unable to make it? Virtual events remain a great option! With all the advances in technology and the amazing features available on full-service event platforms such as Swapcard, you can't go wrong with running a virtual event. If you're short on ideas, check out our post where we share [50 virtual event ideas] that will get you inspired and motivated!
Out with the old and in with the new
A year where it initially looked like the events industry was going to be crushed turned into an opportunity for innovation. Keeping onsite participants safe and mitigating risks are some of the most important considerations when planning onsite events. This new world means new opportunities to get creative, think outside of the box and not settle for the same old events experience.
Times have changed, which means that the business model needs to adapt as well. We should continue to hope for the best, but experience has shown us that we should still be prepared for the worst.
Mitigate risks, be smart, and continue to innovate.