Today, I want to share something personal and talk about my hopes and tips for the future of the industry.
Stay positive & be resilient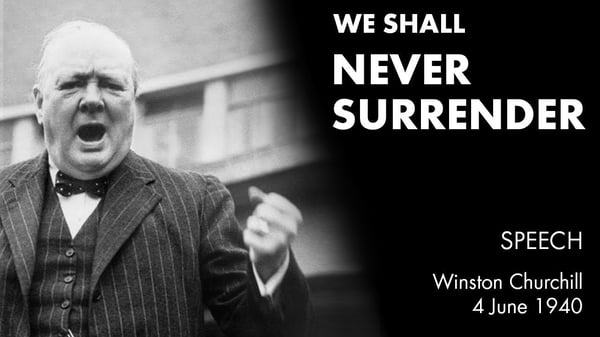 It's difficult for anyone to run an event company in the current situation, for us too. Especially when all your events are postponed or cancelled, when all your employees are on partial unemployment because your sector is on hold and when you still have to keep paying the salaries even though money is harder to come by… When your investors are also short in cash, when the great senior hires you've been hunting for 9 months are put on hold … When, most importantly, you see your expected revenues cut in half within 2 weeks.
But
I remain

positive

because our fundamental core is

resilience.

Swapcard was started by two childhood friends and myself. We all left our jobs and went out on a limb to build a company together, giving up everything for a dream. We pulled ourselves up by our bootstraps and were very frugal in the beginning. My co-founders had to give up their social lives and work in a bar every Friday and Saturday until 3 am, for two years. Things weren't easy.
You're on a rollercoaster right now, but it's the journey that counts.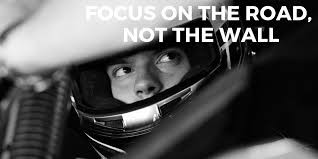 I've learned more skills and created better memories than I could ever have done as an employee. The best thing about being an entrepreneur is the journey - with every new challenge comes to a learning curve. Even during this particularly difficult time, I still see it as a moment to learn, adapt and grow. I am always and will always be optimistic.
The second lesson I've learnt is
to

focus on the road.
When someone learns to drive a race car, one of the first rules they're taught is that when going around a curve at 200 mph, do not focus on the wall; focus on the road. If you focus on the wall, you'll drive right into it. If you focus on the road, you follow the road. Running a company is sort of like that.
I remember telling my parents I was going to quit being a lawyer after 7 years of studies and launch a company. I had to live in my small student apartment and wait 2 years before my first paycheck, which was only slightly higher than that of an intern. By the time we had raised 2 rounds of investment and signed all the papers, we had less than one month's funds in the bank. These were stressful times, but we kept focusing on the road.
Be a driver of the market, don't be market-driven
To be a good leader, improve your event and have an impact in your community, you need to innovate and take bold steps. I think it's time to consider changing the way you run your events.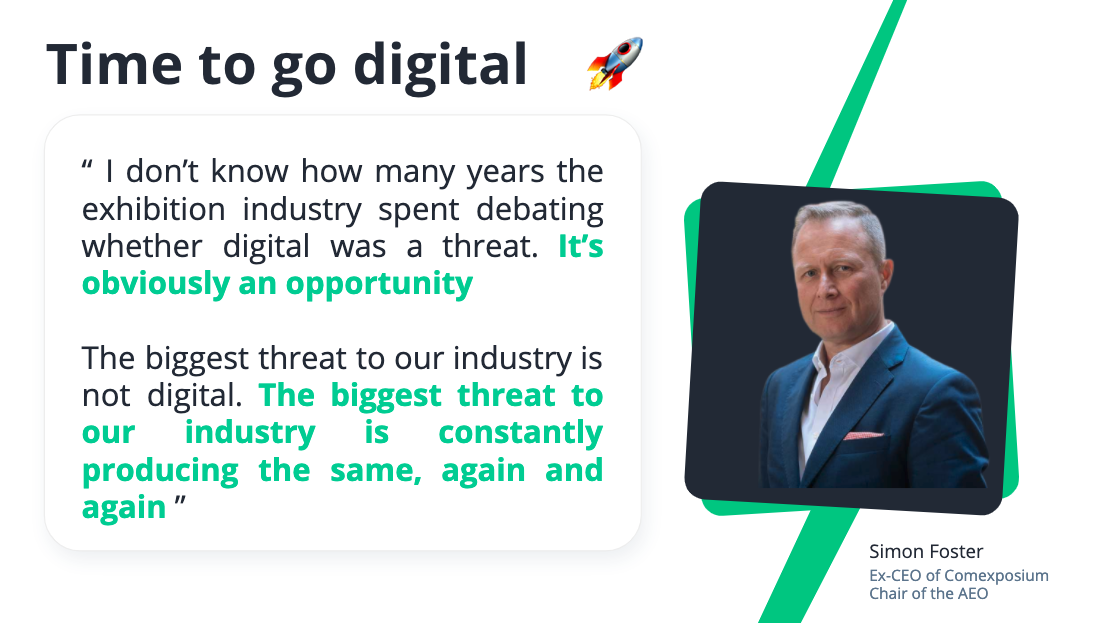 In this great article, Simon Foster, ex-CEO of Comexposium said:
"Many years the exhibition industry spent debating whether digital was a threat. It's obviously an opportunity. The biggest threat to our industry is not going digital. The biggest threat to our industry is constantly producing the same, again and again. One of the challenges of our business is that it's very deadline-driven and it tends to make us repeat things."
When I was still a lawyer, I used to work until midnight every evening. It was exhausting. I shared my dream of becoming an entrepreneur with my roommate, who told me, "It's when you are miserable that you reflect and act". So I quit to follow my dream and it was the best decision I've made in my life. His wise words always stayed with me.
At Swapcard, we've always been a driver of change. I remember when we launched Swapcard, there was no networking app available and attendee lists were never shared. We've been changing things to help organizers create meaningful, valuable events. Now attendees can be sure they'll meet the most relevant people, buy the most relevant products and attend the most relevant sessions. I'm excited to play my role in making this industry more open, more transparent and more techno-savvy. It is in our DNA.
It's your responsibility to overcome obstacles and continue to lead the market into the future.
I have always seen event planners as community builders. This is why I believe event planners have a responsibility to engage their communities during this crisis. Of course, you can wait, reschedule your event - but you might lose market share.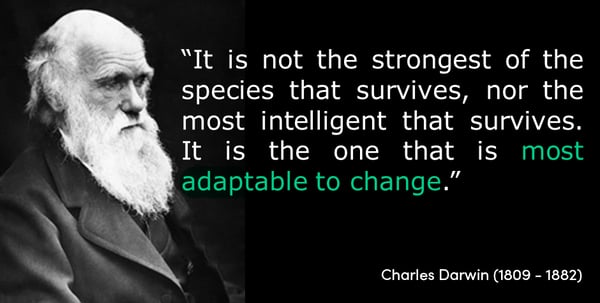 Today, it's time for the global event industry to anticipate the future and adapt!
I've been in discussion with clients since the beginning of the crisis; many feel lost and don't know which road to take.
In his masterpiece book "The Hard Thing about Hard Things", Ben Horowitz wrote that the secret to being a successful CEO doesn't exist, but if there is one skill that stands out,
"It's the ability to focus and make the best move when there are no good moves."
Event organizers must opt for difficult answers vs easy ones, and adapt quickly to this crisis for financial turnaround. Why?
Because the Center for Exhibition Industry Research's latest article estimates that current tradeshow cancelations due to the coronavirus will amount to a $14 to $22 billion hit to the 2020 economy. Many companies will be cutting marketing and even eliminating travel expenses. And that's only the tip of the iceberg.
As Darwin said, "It's not the strongest species that survives, nor the most intelligent that survives. It's the one that is most adaptable to change."
Events in Q2 and Q3 2020 must

go virtual.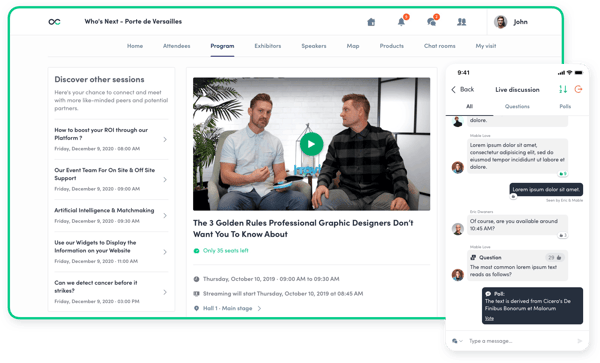 We have seen urgent pressure from our clients to help them organize virtual events. So we rescheduled all our roadmaps and have been able to launch a bunch of new features for our 1st virtual event, which launched at the beginning of April:
Live streaming

- plug-ins with any video tools, such as Zoom Youtube Live, Twitch, etc.
Live discussions

during sessions and attendees Q&A
Set up

video call meetings

with exhibitors to talk with them "face to face", but remotely
Launch our

exhibitors' products marketplace

with virtual demo
Virtual networking

before, during and after events
Even more new features, including audience response tools like polls, surveys, etc. will be available later this month.
Half of our clients have already switched to digital (trade shows, conferences, conventions, congresses). We're so proud of their resilience! 💪
Events in Q4 2020 and 2021 should go hybrid!
📱 🤝

The industry can go back to organizing events as per usual once everyone is safe and restrictions have been lifted. But your community will experience lasting changes in their habits after weeks of efficient remote work.

Business travel will come to be seen as expensive, time-consuming, exhausting and, most of all, leaving a big carbon footprint with all the CO2 emissions, so it's likely that companies will cut down on their travel budgets.

We believe that the 2021 events industry will move towards a hybrid model: onsite & digital.

Hybrid events can help you reach a larger, more globally connected audience. You'll be able to involve any members of the community, whether they can attend the event physically or not.

I believe that the leaders of this revolution and those who invent a new event experience will be very successful in the near future.
So, what's next? What can we do together?
I have always trusted in exchanging with my peers and clients. It's actually one of the reasons I love the event industry. In this situation, we need to come together to discuss how to reach new heights, how to create new experiences and new business models and how we can learn from each other.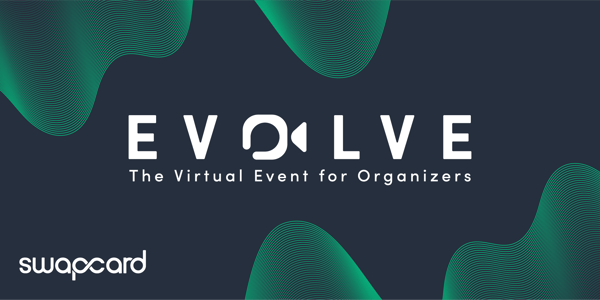 A call to speakers to Evolve: The Virtual Event For Organizers
If you're ready to act, ready to adapt and change, let's talk! You're invited to our first virtual event for organizers: Evolve.
It's a free event where our industry expert speakers will show you how to run a successful virtual event, which tools to use, how to handle crisis communication, how you can use our platform for virtual and hybrid events, and much more. You'll also have access to a community of event organizers who are all in the same boat facing the COVID-19 crisis, and you'll be able to interact with them and share best practices.
We'd also love to have you as a speaker if you have experience in virtual or hybrid events and speaking. Contact me if you'd like to speak at Evolve: The Virtual Event for Organizers.
So let's come together as an industry and embrace the inevitable changes to come. Let's keep finding ways during this time to help people meet, because it's what makes us human.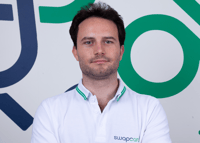 Baptiste - CEO & Co-founder of Swapcard
*****
Swapcard is a Virtual and Physical Event App & Matchmaking Platform powered by artificial intelligence (AI). We can help you create meaningful virtual trade shows, even if you're forced to cancel the physical portion of your event.