Darwin said, "It's not the strongest of species that survives, but the one most adaptable to change."
They say that nothing changes if nothing changes.

2020 was the year of lasting change in the events industry. According to the study, The Impact Of COVID-19 On Event Management Industry, published in the International Journal of Engineering Applied Sciences and Technology (2020, Vol. 5, Issue 3), the impact on the events industry was devastating:
90% of the business was cancelled for around 52.91% of companies between March-July 2020
Of those surveyed, 7 companies envisage a 50%-80% retrenchment of their current workforce and 35 between 25%-50%
In the face of the global COVID-19 pandemic, we saw the lightning-speed acceleration of event tech - a long-overdue revolution.
A total overhaul of our product
We had to adapt.
Facing travel bans, cancelled events and restrictions on physical gatherings, Swapcard was one of many companies that underwent a total reinvention of the business model. Swapcard's product - built initially to serve physical events - was transformed into a platform for virtual and hybrid events in early 2020, with brand new, state-of-the-art networking, live streaming, exhibiting, video calling, and AI-powered matchmaking features.
One thing that didn't change was Swapcard's mission: helping event organizers create meaningful connections between people at their events.
The only difference was that this year, it was nearly all 100% virtual. This vision became arguably more critical in 2020 than any other year, because people were stuck at home in lockdown, unable to travel or attend events, and were longing for human connection. We made that happen 🤝
How Swapcard became an industry frontrunner
"The best way to predict the future is to create it." - Alan Kay
Led by an ambitious strategic vision from our leadership, the Swapcard team built an entirely new platform, accompanied thousands of clients in their transition to virtual, and recorded compelling data from successful events.
The new, state-of-the-art virtual events platform included:
Live streaming

Live discussion, Q&A and polls during sessions

1-on-1 video calls

Group video calls

Online roundtables

Speed networking via video call

Fully branded and customizable virtual booths for exhibitors

and much more!
Our transition to virtual attracted top clients such as Informa, Clarion, SXSW, NAMM, Dubai Expo 2020, Emerald, GL events, to name a few.
We launched our first virtual event, Evolve, where 4.000 event professionals from around the globe joined us to network and learn. We later turned it into Evolve Community Series and delivered new content every month while continuing to reach into the community and give people opportunities to chat, learn and share.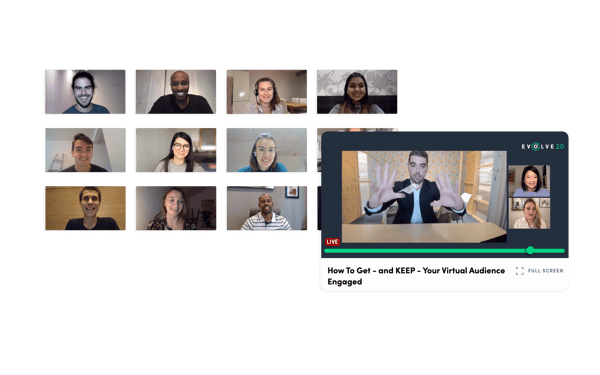 Even though many people experienced burnout and "Zoom fatigue", Swapcard offered more than webinars - our technology offered people a community and opportunities for honest conversation 🗣
The best words to describe the Swapcard team's experience in 2020 would be resilience and evolution. Working hard, never giving up on our dreams & vision, and making sure we evolve with external changes was the game everyone played. We're proud of our resilience and ability to adapt; it taught us life lessons in the process!
We expanded our team & timezones

The Swapcard team grew from 45 to over 100 (and still growing! See our vacancies) between June 2020 and January 2021. We now have offices worldwide: Seattle, London, Paris, Dubai, Montreal, Singapore, and New Delhi. We're turning into a truly global family, and we're all learning about new cultures, diverse colleagues and living by our company values: curiosity, open-mindedness, resilience and humanity 💚
With the expansion in our teams, we've been able to support clients in all timezones and deliver more personalized, efficient customer support. Our clients have been happy with the response and felt well cared for, which led to word-of-mouth marketing and organic growth with new clients.
An end-to-end platform: from registration to analytics
We are also very proud to announce that Swapcard acquired Avolio, Inc., a registration platform headquartered in Atlanta, GA, and its event management software, IPReg. This move is the first step in Swapcard's answer to the most prominent challenge organizers face: finding one technology partner that can run all their virtual, hybrid, and face-to-face events throughout the year. With the audience engagement, attendee networking, virtual marketplace, event app, and live streaming services already covered, the next natural step was to integrate registration into the platform.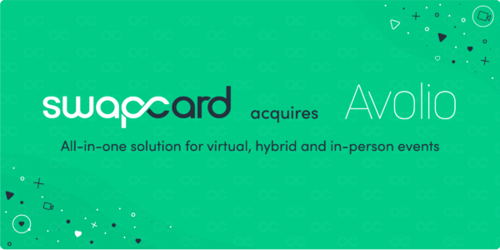 "We are entering a new area where data will power experience. Clients want to control the entire data journey and provide attendees & exhibitors with one single login step, as well as create a custom experience for each user."
- Baptiste Boulard, CEO and Co-Founder, Swapcard
2020 in Numbers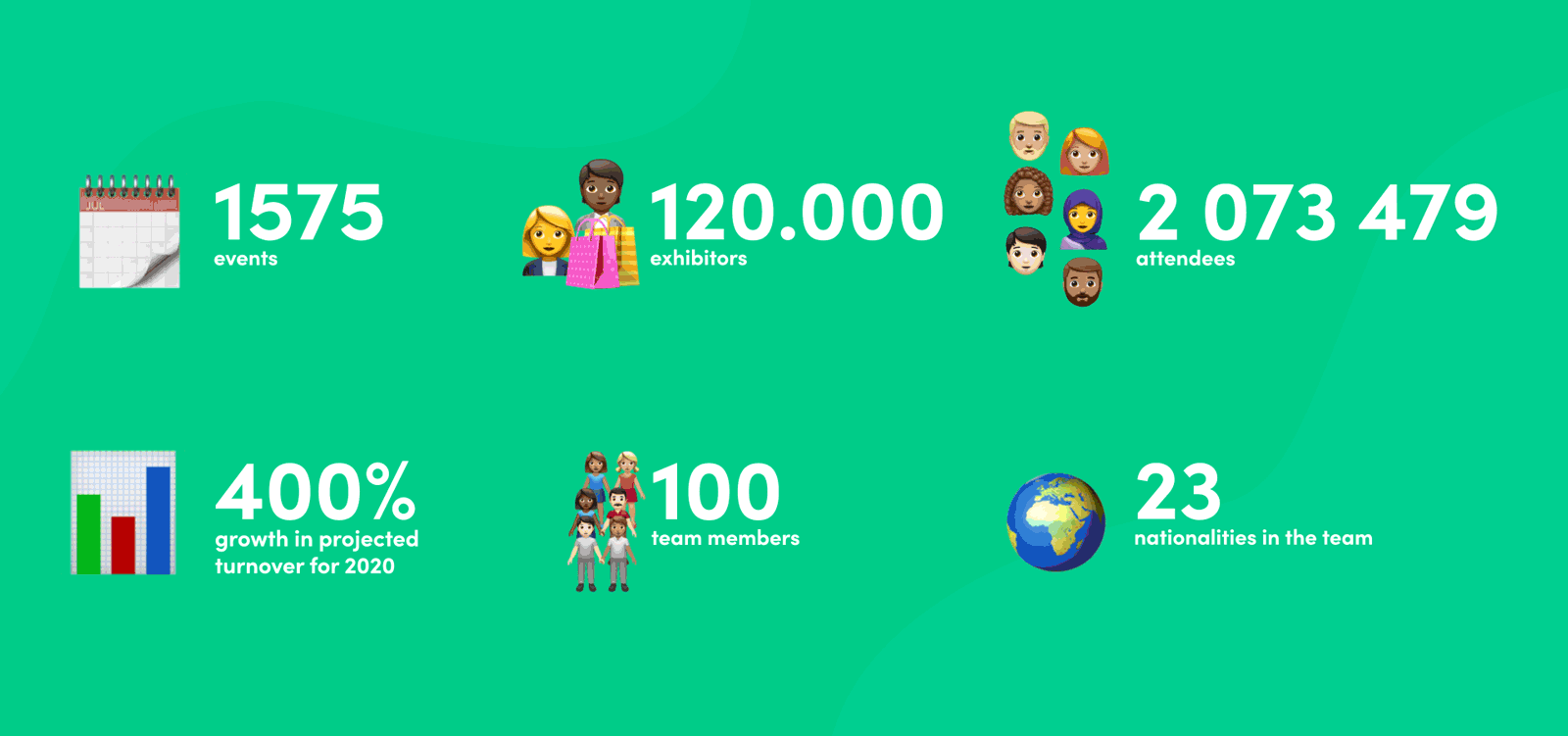 In total, over 1.570 events were run virtually on our platform from June - December 2020. We hosted and accompanied 2.073.479 attendees on the platform, and 120.000 exhibitors made Swapcard their booth's virtual home for the year.
Attendees on our platform were longing for authentic connection, even while stuck at home. They networked like crazy! A little over 1 million new connections were made between attendees on the platform. Among them, they exchanged over 7 million messages! And more than 320.000 one-on-one video calls took place.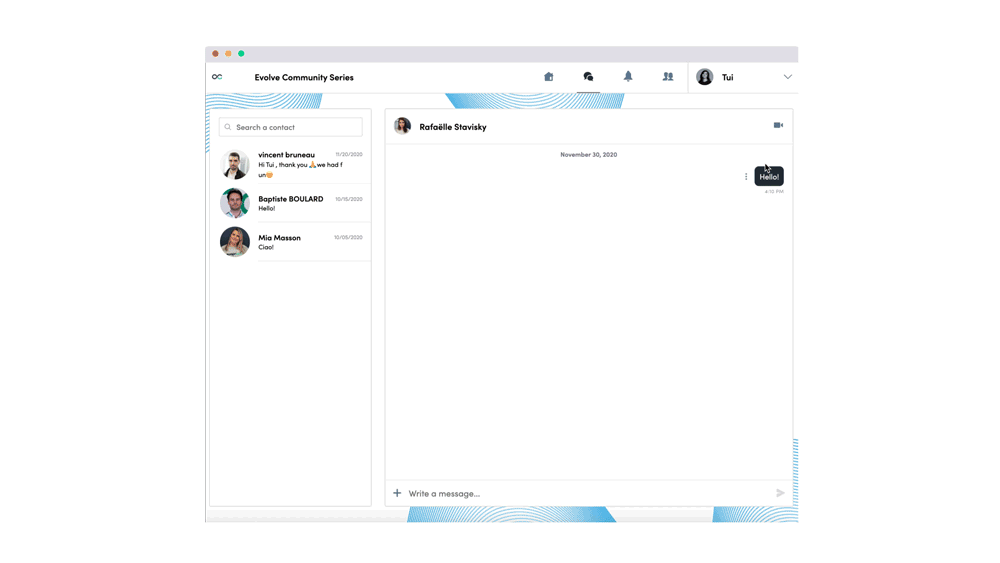 2.4 million users were created on the Swapcard platform in 2020. Talk about a virtual community! 💚 We feel honored and privileged to host such a vast, global community on our platform. It gives us hope that while 2020 was a "stay at home" year, we haven't lost touch with what's important, and that is that no human is an island. We need each other.
Thanks to our fantastic clients who trusted our team and our technology last year, we were blown away by a 400% growth in projected turnover for 2020 - ending the year in a much more optimistic place than we started it 🙌
Looking Forward
2021 will be the year of the hybrid event and the 365 platform.
There has never been a better time for the event industry's digital transformation. With all we learned in 2020, we know that events are becoming more and more tech-centric and that we can't continue without the impressive data collection, accessibility and global audience reach that technology brings to the table.
Swapcard will incorporate all aspects of the event management journey into the platform, from registration to abstract & exhibitor management, to API and lead capture 📈
We also learned that nothing compares to in-person. So a mix of the two, in the form of hybrid events, is the best of both worlds, opening up great content and networking opportunities to global audiences and blurring the lines between virtual and on-site.
The events industry is moving towards a year-round online experience: Users of the platform will find old and new content in the form of sessions and roundtable discussions, media, exhibitors' marketplace, networking opportunities, chat forums, marketing material, industry trends and news, learning opportunities and the possibility to exchange with a global community of peers 🌍
The online platform takes on more than one role:
The media: Sharing news and trends in the industry
A community: Bringing people together and creating space for them to meet, network and exchange
A marketplace: Facilitating transactions between exhibitors and buyers all year long
Swapcard's commitment in 2021 is to clients and the industry as a whole: we commit to lead the transition to hybrid and 365 platforms by offering our product as an example for organizers to look to. We commit to continuously improve and upgrade our product, as we have been doing, to ensure the platform provides industry-leading features and opportunities for organizers, attendees, exhibitors, sponsors, and speakers alike.
Swapcard will continue to evolve and serve the industry as a platform for people to meet, really meet, in a meaningful way.
Join us at Evolve 2.0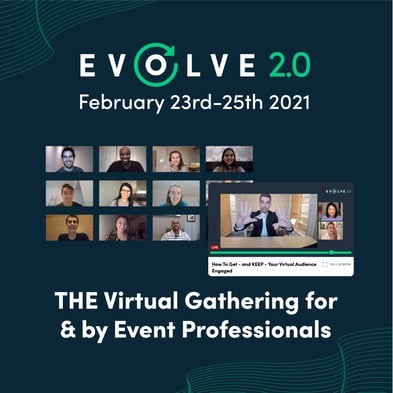 The second version of Swapcard's highly anticipated virtual event will take place from February 23rd-25th, 2021. A community of over 7.000 global event professionals are already registered, waiting to network with you. Join us and see Swapcard in action for yourself!