Swapcard announced today the launch of a brand new app, SwapAccess, that is breaking the traditional hardware-based registration mold by modernizing session attendance and access control.
Instead of relying on multiple platforms to organize and track session attendance, which often leads to confusion and data mismanagement, SwapAccess provides event organizers with a session access and control solution for your hybrid, virtual, or in-person event.
A fully integrated, hybrid experience
SwapAccess is integrated with Swapcard's backend databases, meaning that session attendance tracking and/or access control are all connected to one central, secure database. This is incredibly important for hybrid events, as SwapAccess, when paired with the Swapcard hybrid event platform, can show organizers which attendees attended a session both in-person as well as virtually.
Unlike any other tool on the market
SwapAccess is revolutionizing education and data capture. Not only is it unique in being able to track both physical and online audience attendance alongside the Swapcard platform, but the tool also facilitates education and sponsor ROI at events.
Education: Organizers can easily allocate educational diplomas and training certificates by taking attendance
Access control: Organizers can be confident that only the attendees that paid for a training are in attendance
Improve sponsor ROI: Organizers can pass interested audience members to partners who sponsor program sessions
Attendee experience: Organizers can separate attendees into different breakout groups
Audience behavior: Organizers have insight into how long people attend a session
Facilitating audience journeys:

Attendees are signed up automatically for sessions when they sign in
Swapcard's API allows alerts and notifications to be triggered in the event app directly from SwapAccess, so organizers can notify partners when a lead they've requested a meeting with has arrived at their session. The tool also allows organizers to keep track of their speakers and other VIP delegates and welcome them to their sessions on time.
Simplifying event management
SwapAccess takes the guesswork out of session access and attendance by streamlining this information through use of the app. It also has the ability to scan without a network connection, an important option given potential wifi bandwidth issues and other technical issues event planners are so used to facing.
This simplified, unified solution will help organizers easily run their access control on event days and also collect important session attendance information that can't be found anywhere else.
"At Swapcard, we're on a mission to make our industry more data-driven. We believe data can deliver valuable insight and improve the global event experience. Clients already value the fact we use artificial intelligence to boost engagement. They now understand why it's crucial to capture participant behaviour. With hybrid events the challenge of the industry is to capture data, no matter if their events are online, onsite or both. By tracking more participant data, event organizers can better measure the value they provide to delegates and continually improve. SwapAccess has been built for the modern event planner in every possible setting."
How SwapAccess works: Each device can be set to scan as people enter the session (scan in) or as they exit the session (scan out). The event organizer may set the device to one of two scanning settings:
Attended - When the device is going to be held by person, such as a host or organizer team member
Unattended - Organizers can leave the device on a stand or tabletop
Swapcard deploys this solution on-site under one of the two following scenarios:
iPad on a floor or desk stand: Can be run in either attended or unattended mode. Attendees may scan either their Avolio, Swapcard, or badge QR code to scan into a session.
Handheld iPad or iOS Device: May be used by a temp or event staff to manually scan attendees via either their Avolio, Swapcard, or badge QR code.
Organizers can choose to scan using one of three modes:
Attendee Tracking: Simply scan the confirmation number and syncs who was scanned to the Swapcard platform.
Access Control, Registered Only: SwapAccess verifies each scan against a record of those registrants signed up for the session.
Access Control, Can Register: This mode will check anyone who can register based on their group(s) and the specific sessions' permission settings.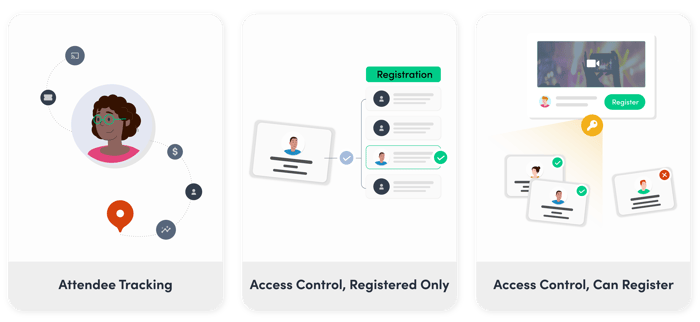 Want to learn how SwapAccess can elevate your event experience?
Looking to the future
Having acquired registration platform Avolio in 2021, SwapAccess is an integral part of the ongoing integration of Swapcard & Avolio's registration ecosystem. As part of Swapcard's commitment to improving the client and user experience, we will continue to innovate and bring new technological advancements to the forefront of the events industry.
See how Swapcard can work for you
Swapcard is the leading all-in-one events & community platform. Learn more about our end-to-end solution for virtual, hybrid and in-person events and see how we can transform your events into a community.