techsytalk GLOBAL is taking its 2020 event virtual and has chosen Swapcard, the leading AI-powered engagement and matchmaking platform for premium events, as the official event platform.
Seattle, WA (Nov. 5, 2020) – techsytalk GLOBAL, one of 2020's highly anticipated tech events, has chosen to host an online event in the face of the ongoing pandemic. Their event platform of choice, Swapcard, will facilitate AI-powered attendee networking and content production.
"While we have had virtual components of our conference for years and have done fully virtual conferences, COVID has completely changed the landscape of technology available for virtual events. In March, I started doing a ton of research on various platforms & capabilities, and was very disappointed with what I saw in terms of options. Thankfully - I was able to connect with Swapcard and really see the value in what they are offering for conferences and events. I love that the platform works so well for fully virtual, but will seamlessly transition as we go towards hybrid."
- Liz King Caruso, CEO of Liz King Events and techsytalk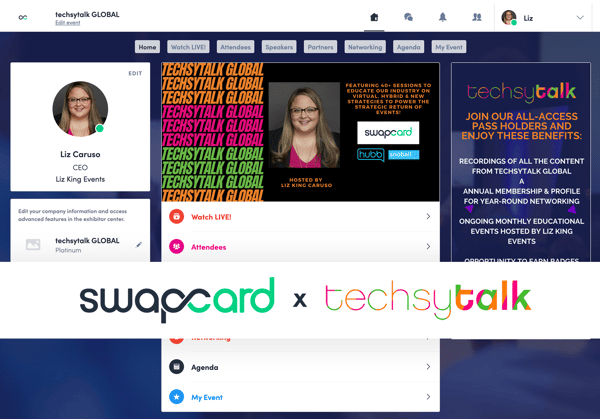 The conference, which is for event planners and by event planners, is expecting over 2.000 corporate, association and independent event planners to join virtually from around the world for the event, taking place on November 17th and 18th, 2020. The organizing team spends every day planning events for clients, so they understand the challenges that event planners have with technology. The type of technology that will be showcased at the event is hand-picked by an experienced team in touch with the everyday needs of event organizers, and is what makes techsytalk unique in the industry.
"I strongly believe that we will have a digital-first component to our events in the future and I think companies like Swapcard are leading the way in a great attendee experience which is so vital to our industry, especially during these times!"
- Liz King Caruso, CEO of Liz King Events and techsytalk
techsytalk GLOBAL's team believes that one of the biggest challenges of organizing a virtual event in 2020 is cutting through the noise. That's why they've lined up interesting, educational, interactive and relevant content, to ensure attendees are getting something of value. Attendees can buy 48-hour access tickets for as little as $0 on a pay-what-you-can basis, which the organizing team instated to help those in the industry who are suffering financially due to COVID layoffs.
Swapcard's AI-powered matchmaking and networking features will be front and center at techsytalk GLOBAL. In a COVID world, people are craving meaningful connections, and the platform's virtual video calling, messaging, live discussion and group video features make people feel closer together, even when they're timezones apart. Instead of simply offering a directory of attendee names, Swapcard's intuitive platform uses artificial intelligence to boost matchmaking, connecting users with the most relevant people based on their profiles, and create a custom event journey for every attendee. To find out more about the platform, visit https://www.swapcard.com/.
To find out more about techsytalk GLOBAL and to buy tickets for the event, visit https://www.techsytalkglobal.com/.