Suppose you asked a room full of event directors and event organizers what a successful on-site trade show event looked like. You'd likely see a similar picture of smooth logistics, attractive booth designs, meaningful connections, and abundant revenue for organizers, exhibitors, and sponsors.
However, bringing these idyllic scenes to life is not with its challenges. Chaotic check-ins, dwindling budgets, data-capture difficulties, and the ever-increasing demand for seamless experiences are some of the hurdles that event professionals regularly encounter.
The solution? Event tech tailored to address the unique needs of trade shows and exhibitions.
In this guide, we will talk you through the top trade show platforms of 2024 to help you find the right solution for your on-site event.
Top On-Site Trade Show Solutions 2024
From a long list of reputable platforms, we have selected seven standout solutions.
As we delve into the pros and cons of these solutions, rest assured that our analysis is grounded in user reviews from reputable sources. The goal is to provide the information you need to choose the best platform for your on-site trade show event.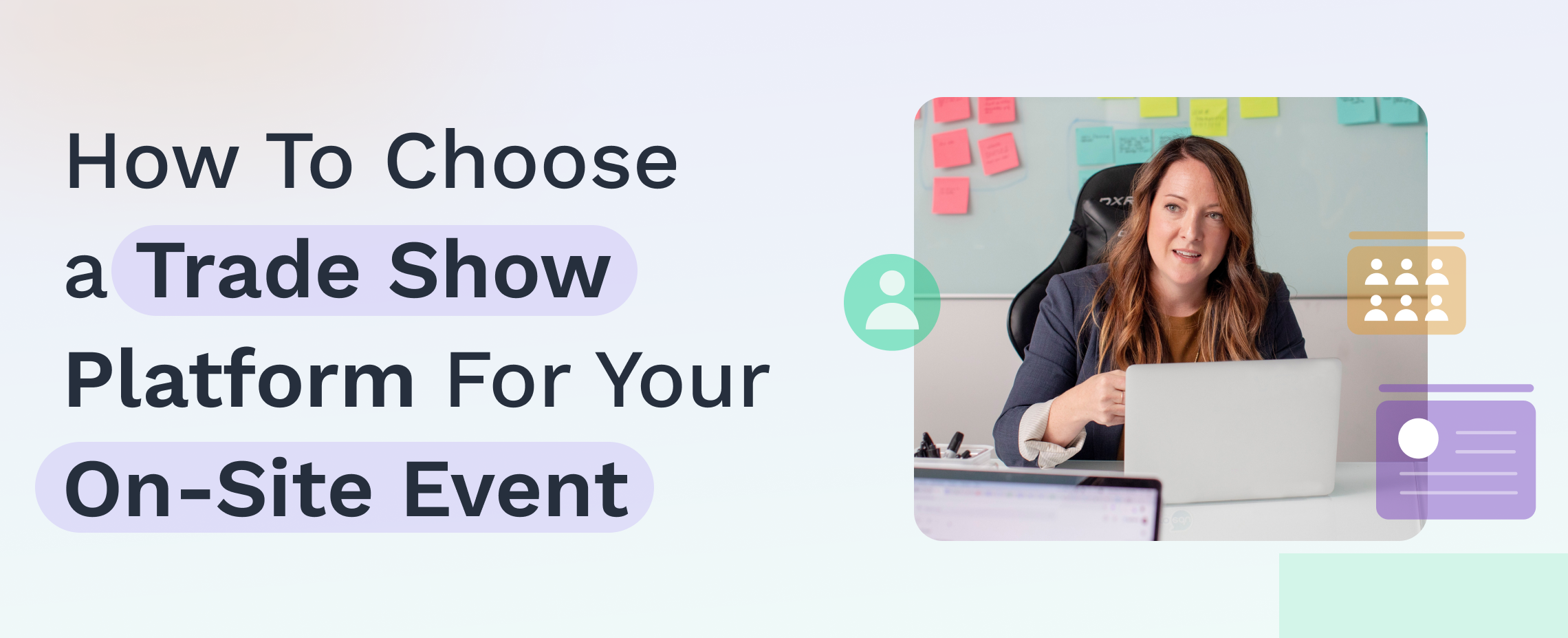 Let's get started!
vFairs
vFairs is a comprehensive event management platform focusing on seamless integrations and a top-notch customer service experience. From trade shows and job fairs to conferences and expos, vFairs caters to various event types with its versatile capabilities.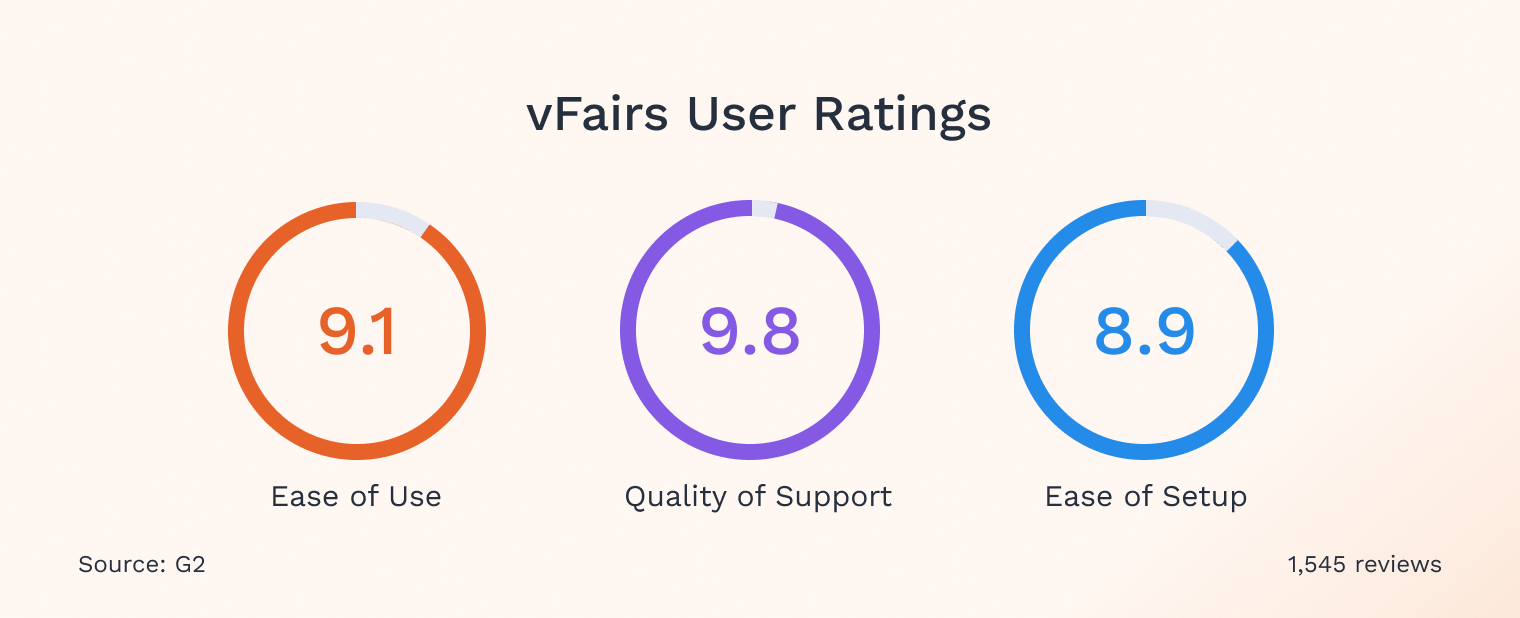 Pros
Highly professional and knowledgeable representatives offer consistently high customer service.

vFairs is a user-friendly platform for attendees, organizers, and sponsors alike. Users rave about how easy it is to set up on vFairs.

vFairs provides detailed post-show reports that are very insightful to marketing directors and other key shareholders.
Cons
Several users have encountered bugs in vFairs, which require heavy reliance on project managers and service staff to address and resolve issues. This dependency on support can potentially disrupt event planning and execution.

Navigating vFairs can be challenging for some users, as available features are not easily accessible from a single page. This can lead to a less intuitive user experience, making it more difficult to leverage the platform's capabilities.

Some users have expressed feeling restricted by the available event design offerings in vFairs. This limitation can impact the overall aesthetics and branding of events.
Whova
Whova is an all-in-one event management platform designed to save event organizers time by streamlining event logistics. While it offers additional features to support hybrid and virtual events, it's particularly effective at simplifying on-site trade show events.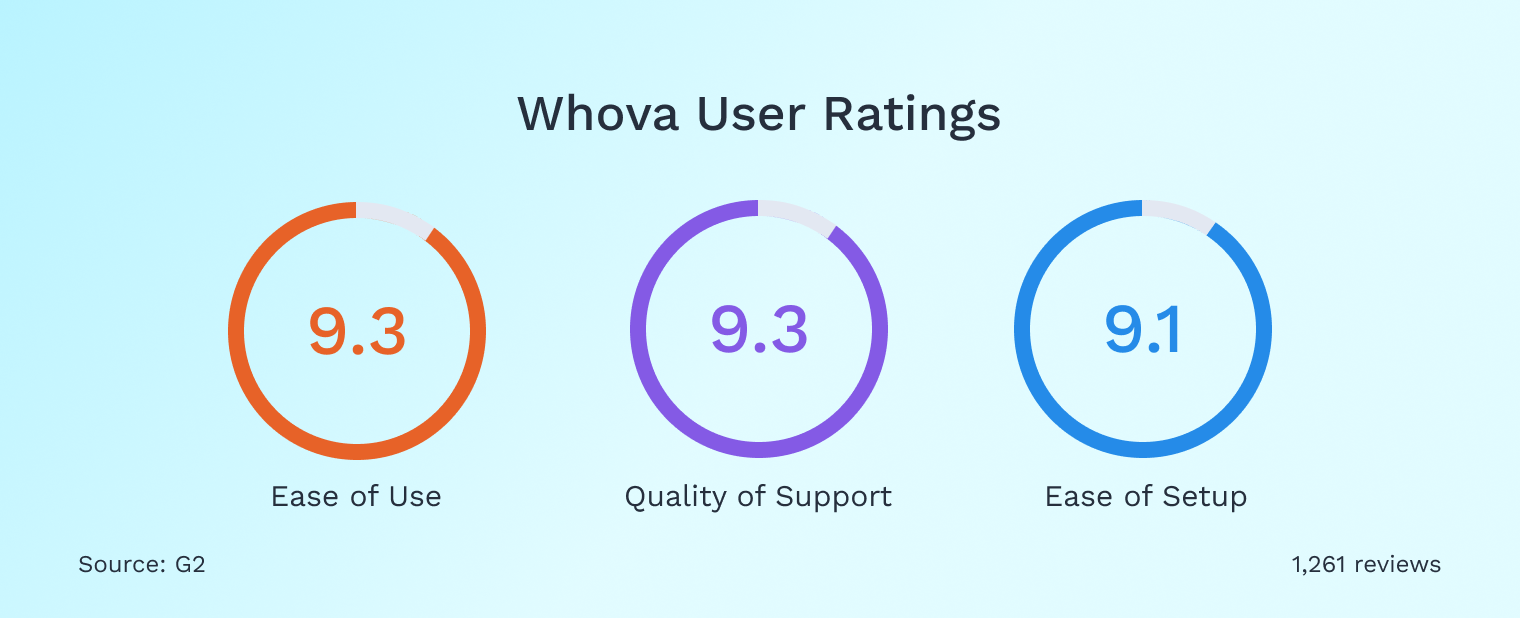 Pros
Whova's platform is easy to navigate and user-friendly.

Community Board on Whova's app allows users to connect with others before event day for enhanced networking opportunities.

Exhibitors can scan the contact info of leads and add relevant notes.
Cons
Whova's platform provides less customization compared to some of its competitors. Users seeking extensive personalization may find their options somewhat restricted.

Some users expressed disappointment in Whova's customer support, especially when it comes to addressing technical issues.

Whova's pricing structure lacks transparency. Users may find themselves surprised by higher costs when essential add-ons are factored in, necessitating clearer pricing information to avoid unexpected expenses.
Cvent
Cvent is a cloud-based platform that offers comprehensive solutions for planning, promoting, and executing all types of events, including exhibitions, conferences, meetings, and training events.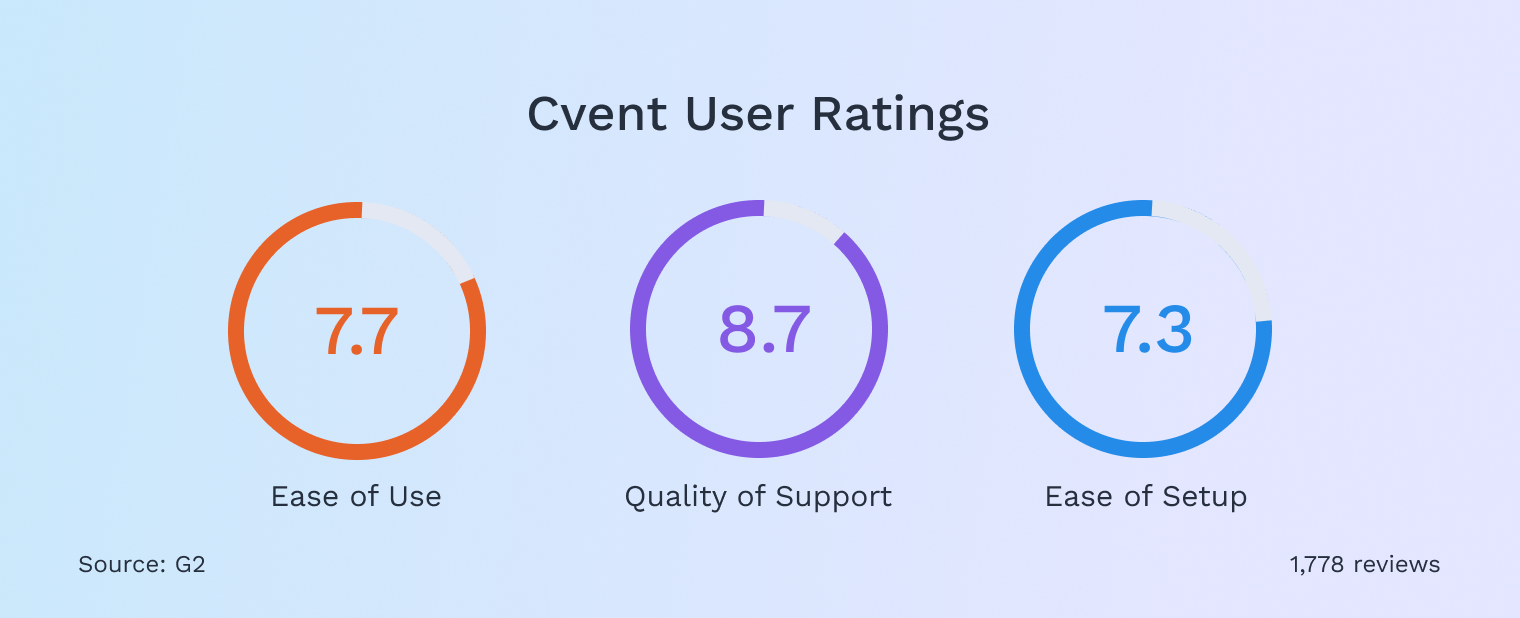 Pros
Can write rich emails using a Word-style editor.

Cvent allows extensive customization, ensuring a tailored experience that aligns with your event's unique requirements.

Extensive branding options on the app and registration software.
Cons
S

ome of the tools available with Cvent have a higher price tag. This can result in a higher overall cost for event organizers.

Cvent offers segmented support, meaning users may experience variations in customer support responsiveness depending on their subscription plan.

Several user reviews have indicated a discrepancy between the representations made during the sales process and the actual performance delivered by Cvent in practical operational situations.
Bizzabo
Bizzabo is an event management software that enhances event ROI and builds engaged communities. Bizzabo markets itself as a tool for "every event size, format, and type."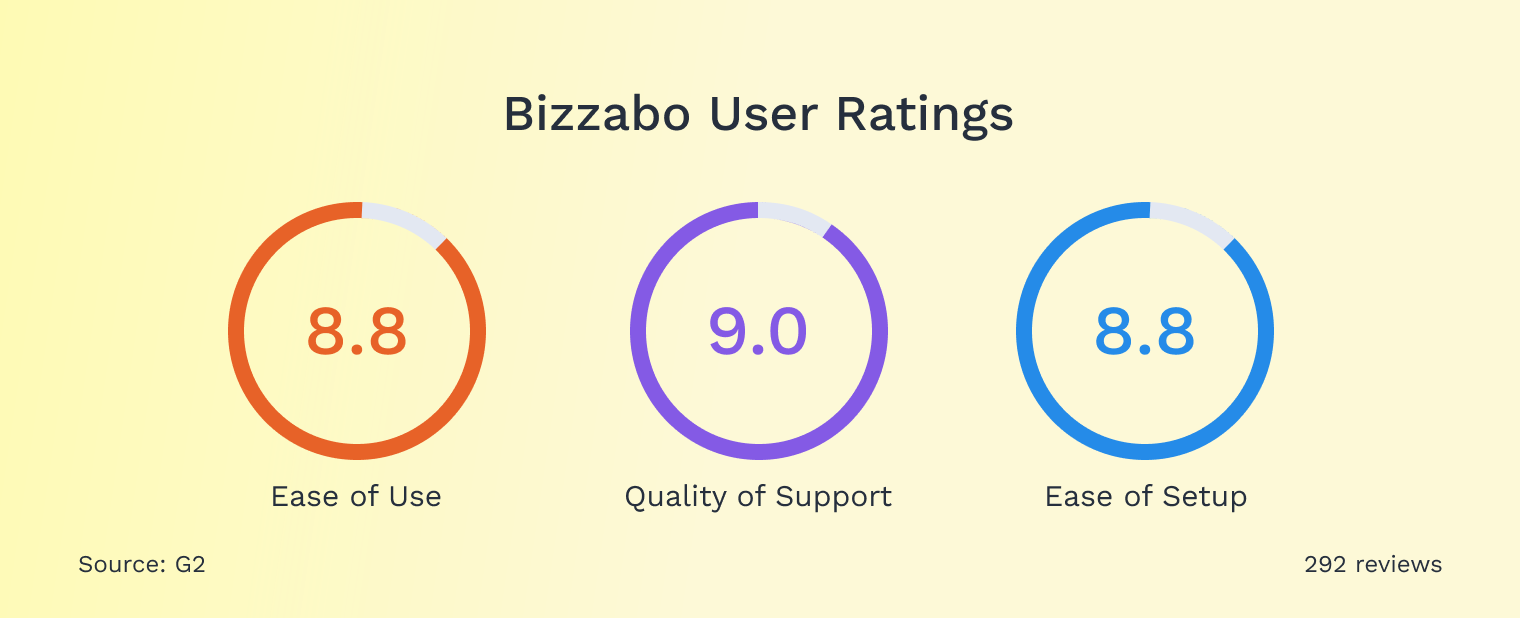 Pros
Bizzabo provides an exceptional registration solution with a high-performance web platform and a seamlessly integrated mobile app.

Bizzabo's engagement app stands out for its user-friendly setup and ability to deliver tangible, measurable results.

Enthusiastic user reviews highlight Bizzabo's remarkable user interface. Whether on the ticketing front for attendees or the back office for administrators, the interface delivers a polished and professional appearance.
Cons
Bizzabo is less flexible than some competitors because it offers fewer branding and customization options (e.g., no custom agendas for attendees and no image sizing).

Some customization options are very technical and require the enrolment of a web developer, which may not be ideal for those looking for a self-serve solution.

Bizzabo does not offer 24/7 support, and organizers in different time zones have reported particularly slow response times and a lack of follow-up on bugs they've reported.
Swapcard
Swapcard is an all-in-one tool built for B2B exhibition & trade show organizers. Swapcard also offers a community builder module that enables trade shows to transform one-time interactions into immersive experiences with multiple touchpoints throughout the year for higher revenue and engagement.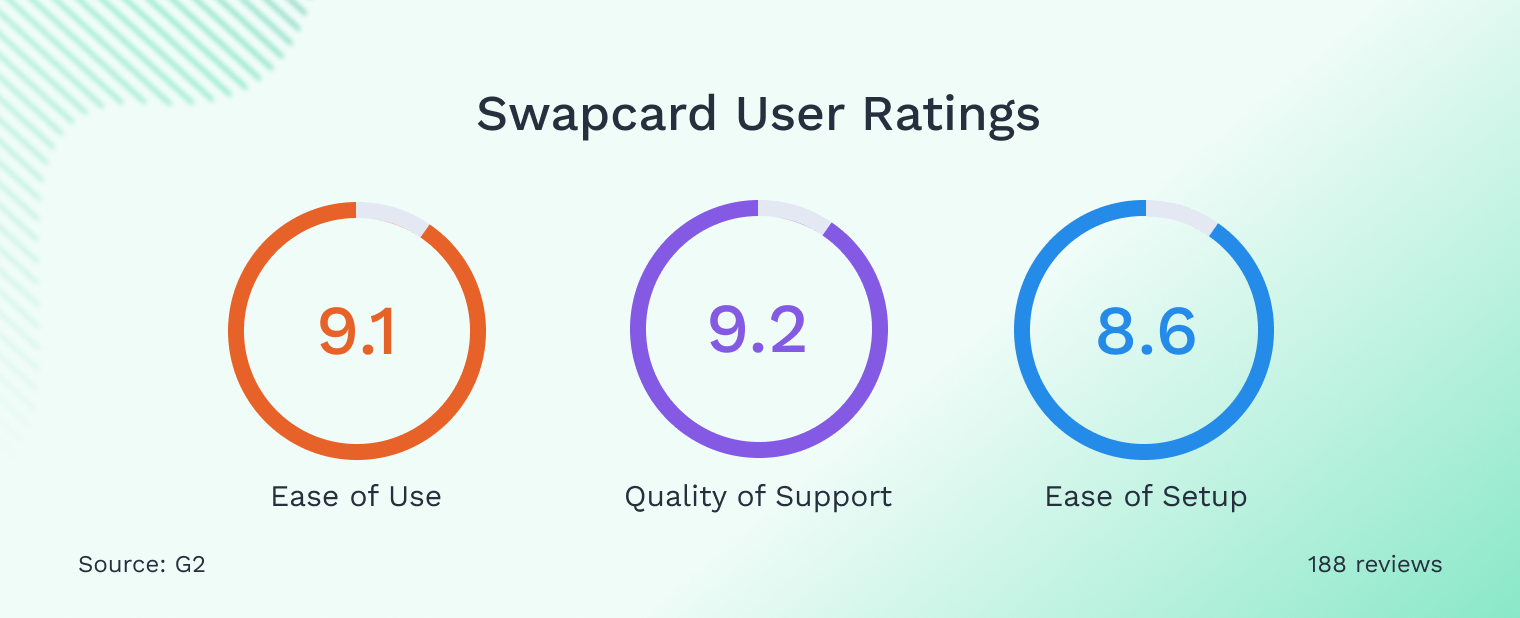 Pros
Swapcard is known for its

user-friendly interface and intuitive features

, making it popular among busy event organizers who favor a self-serve solution. Swapcard benefits from a strong net promoter score (NPS) of 60.

Swapcard's platform offers high levels of customization, allowing event organizers to tailor the platform to their specific event needs, branding, and design. Swapcard also offers an advanced

custom built registration module

mostly used for its largest exhibition clients like BlackHat.

Users rave about the

AI-powered networking opportunities

available with Swapcard, from personalized content recommendations to professional matchmaking. Currently, 22% of all interactions are generated by Swapcard's powerful AI.
Cons
Swapcard offers a premium price for larger events to offset the low cost of its free and affordable starter plans.

There are some limitations with Swapcard's email marketing module, e.g., the customization of layout, colors, and design.

Swapcard does not offer a native gamification feature. Although integration via tools such as Zapier or Captello is easy to use, some users may prefer these features within the Swapcard platform.
Grip
Grip is an AI-powered event platform and mobile app for turning event meetings into business opportunities. Grip's key objective is to support event organizers in increasing attendee engagement and generating leads and revenue.
*Rating unavailable due to a limited number of reviews.
Pros
Grip is trusted by 55% of the world's largest event organizers and has been used by Clarion Events, Reed Exhibitions, and Messe Frankfurt, among many others.

Grip has earned numerous awards from reputable event tech organizations such as UFI (the Global Association of the Exhibition Industry) and Eventex.
Cons
Grip's main drawback is the scarcity of user reviews on reputable platforms. While industry leaders trust it, a more extensive range of user feedback could provide a more comprehensive understanding of its performance.

Grip's app on the Google App Store currently holds a rating of 2.6 out of 5 stars. While this suggests room for improvement, it's worth considering additional factors that might influence this rating.
Brella
Brella is a versatile event management platform designed for in-person, hybrid, and virtual events. Its standout features include AI-driven networking capabilities and a comprehensive event app, all working together to create engaging conference and exhibition experiences.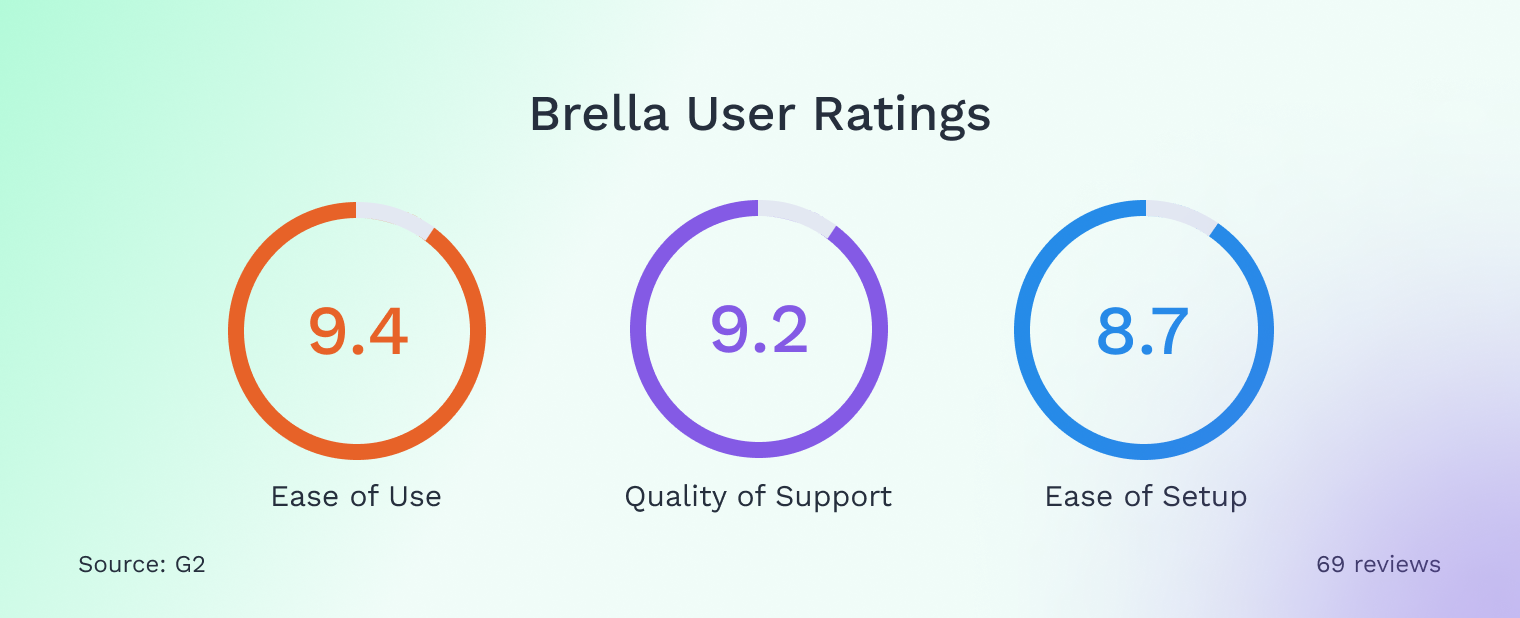 Pros
Event organizers and attendees alike appreciate how user-friendly and intuitive Brella's platform is as it allows them to navigate effortlessly and make the most of its features.
Brella's standout feature is its networking and matchmaking module. Its AI-driven recommendation system helps participants connect with the right people, fostering meaningful interactions and collaborations that might otherwise be missed.
Users rave about Brella's chat and messaging tools that facilitate seamless communication between attendees, speakers, and exhibitors.
Cons
Brella is somewhat restrictive when it comes to customization compared to some other popular platforms. Users seeking extensive personalization may find it falls short of their customization expectations.
Brella's data collection methods have raised concerns among some users regarding the accuracy of the data it provides. This could affect the reliability of insights and analytics derived from the platform.

Some users have reported recurrent system lags and bugs. As the mobile app is essential for Brella-serviced events, any disruptions in its functionality can be a significant obstacle, potentially affecting the overall event experience.
Summary
As you weigh your options and assess trade show platforms, remember that the best solution transforms hurdles into stepping stones and contributes to the cohesive success of your on-site event.