After years of "Can you see my screen?" and "Nice to e-meet you," in-person events have made a triumphant return. Attendees and exhibitors are eager for genuine, face-to-face interactions, and event organizers have taken note. Yet, in this era of changing attendee expectations, the same-old approaches simply won't cut it.
With their fingers on the pulse of industry evolution, event organizers understand the need for innovative ways to enhance the on-site attendee experience.
However, in a market flooded with event tech solutions, choosing the perfect fit for your event may appear overwhelming. Each platform has advantages and disadvantages, and the specific features and functionalities you'll require will hinge upon your event's unique goals and objectives.
Fear not, for we're here to be your compass on this journey toward event success!
In this guide, we'll present the 15 factors you should consider when choosing the ideal platform for your in-person trade show.
Let's jump right into it! 🦘
15 Factors To Consider For Your In-Person Trade Show Platform
1. Lead Capture and Management
At the heart of every successful trade show lies a common goal: generating leads. These leads are the lifeblood of your event, representing potential customers, collaborators, and opportunities.
Efficient lead retrieval attendee is a fundamental requirement.
You need an exhibition platform that makes it effortless, ensuring no valuable connection slips through the cracks.
Other useful features to look for in your on-site trade show solution include:
Badge and business card scanners simplify the data collection process, eliminating the need for manual entry and reducing errors.
Lead scoring so sales and marketing teams know where to focus their efforts.
Automated messages for timely follow-ups.
Integration with CRM systems to centralize lead data, facilitating post-event follow-ups and personalized communication.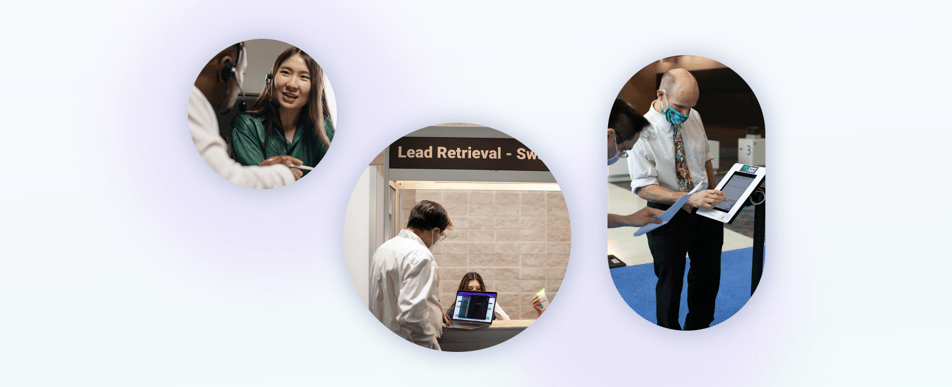 2. On-site Registration and Check-in
First impressions matter. An efficient on-site registration and check-in process creates a positive first impression and sets the tone for your event attendees' experience.
Some key features that will enhance the registration and check-in processes at your events include QR code scanning, self-check-in kiosks, badge printing automation, and the ability to customize and print badges at home easily.
Having these features in your trade show registration platform will help to reduce long lines and increase attendee satisfaction.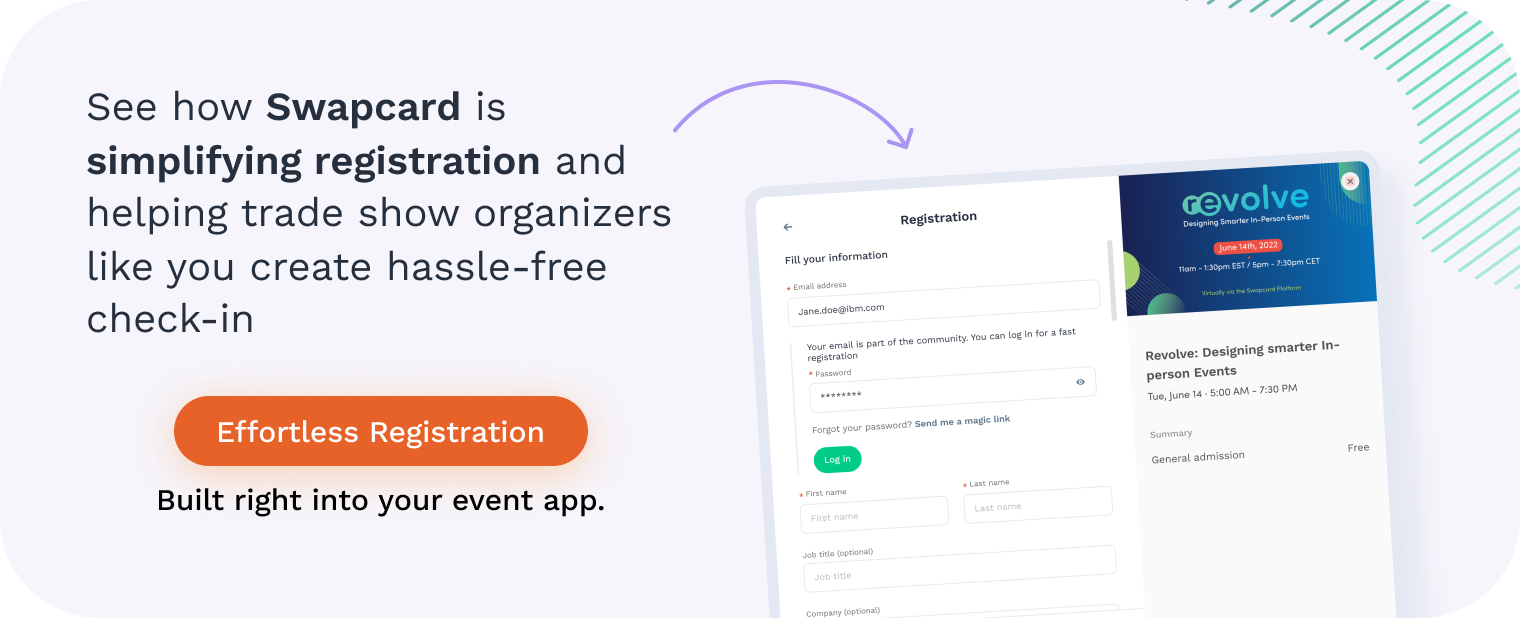 3. User Experience
An easy-to-use trade show platform that addresses key concerns will beat a comprehensive but complex solution any day.
Exhibitors and event organizers don't have time to go through training manuals the size of Canada, and they most certainly won't be sitting through a 20-step onboarding process.
When evaluating exhibition platforms, put yourself in the place of your attendees and exhibitors. Ask yourself, is the solution I'm looking at intuitive?
If users have a general question or experience a bug mid-event, will they get a timely response from the platform's on-site support team)?
If the answer to both these questions is no, your event platform is bound to have a low adoption rate.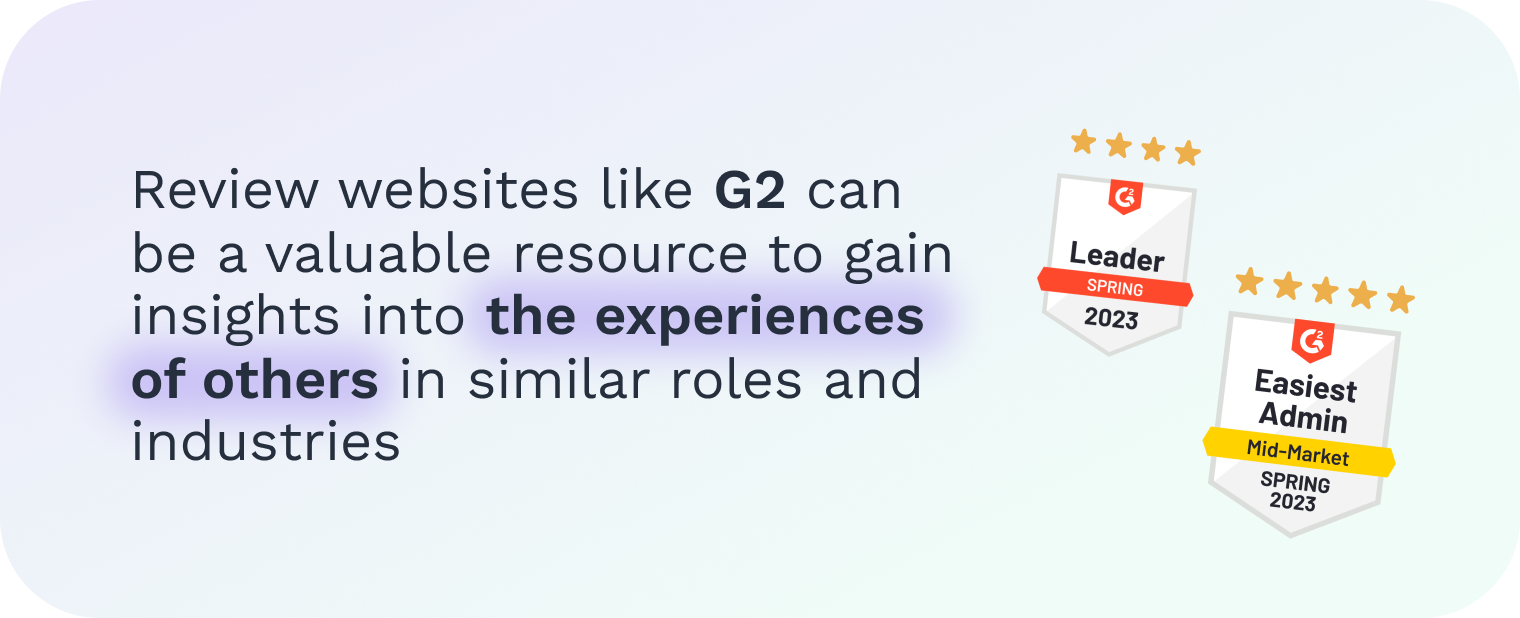 4. Mobile App Integration
A beautiful platform without an equally impressive app is like a burger without the fries. You need both for the full experience.
In today's digital age, where attendees rely heavily on their smartphones, a solution seamlessly integrating with a mobile app is a necessity.
Your trade show event mobile app should give attendees and exhibitors access to event schedules, interactive maps, real-time updates, networking opportunities, and personalized agendas – all at their fingertips.
Some solutions allow attendees to scan QR codes using their smartphone's camera or any QR code scanner. This action allows them to 'favorite' an exhibitor and access additional information about their services or products. In turn, exhibitors gain access to a list of hot leads.
Most mobile apps have offline capabilities, so a spotty internet connection during the event (which almost never happens😉 ) won't put a damper on things.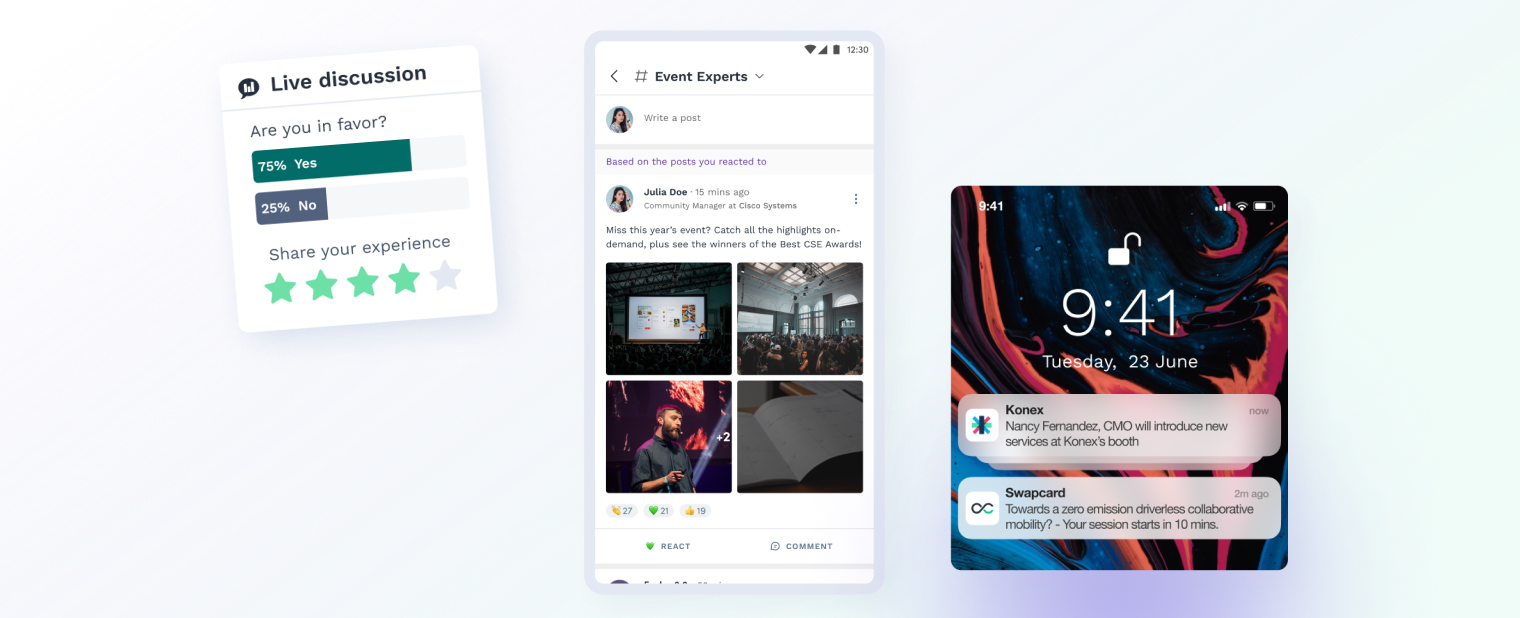 5. Real-time Analytics
Once again, data has emerged as a fundamental cornerstone that will shape the future of the trade show industry.
A trade show event platform with robust analytics and reporting features and real-time capabilities offers a significant competitive edge. Think enhanced decision-making for organizers and personalized interactions for attendees.
Valuable data points include attendance patterns, booth traffic, session popularity, and engagement levels. The best trade show platforms will transform raw data into actionable insights for immediate and future optimization, allowing organizers to control which data points and reports are available to exhibitors.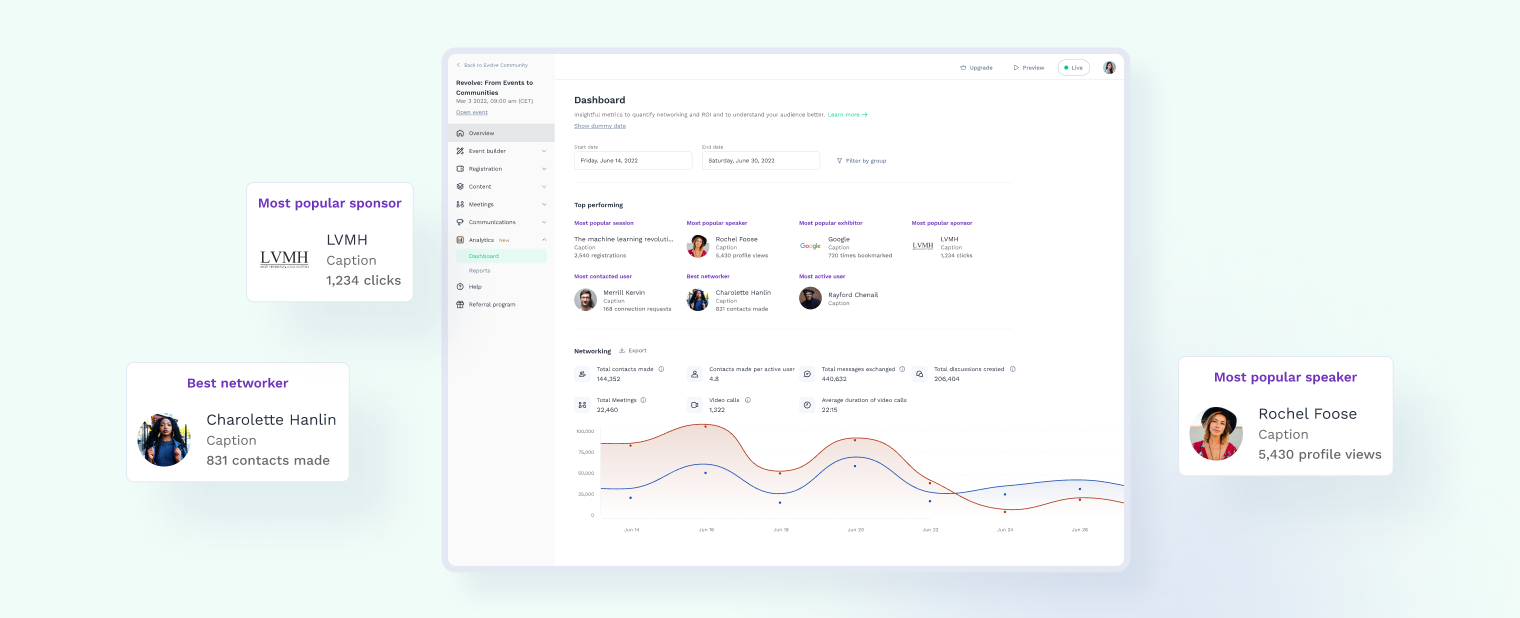 6. Networking and Meeting Scheduling
A good trade show solution must provide enhanced networking opportunities - even at on-site events. AI-powered matchmaking, badge scanning, and meeting scheduling can significantly elevate attendee engagement and generate meaningful connections.
AI-powered matchmaking algorithms suggest connections to attendees and exhibitors well before the event begins.
Badge scanning tools allow the easy swapping of contact details, including social media profiles, facilitating swift post-event follow-ups.
Meeting scheduling tools streamline the arrangement of one-on-one interactions, making it effortless for attendees to connect with the right people at the right time.
7. Engagement and Gamification
Creating an immersive experience is the key to highly engaged attendees.
Tradeshow platforms and apps allow attendees to go beyond passive participation by offering additional gamification opportunities.
Live polls, contests, quizzes, and scavenger hunts incentivize attendees to explore booths, attend sessions, and interact with exhibitors while having fun.
When selecting a platform, look for one that seamlessly incorporates these features or, at the very least, offers straightforward integration options.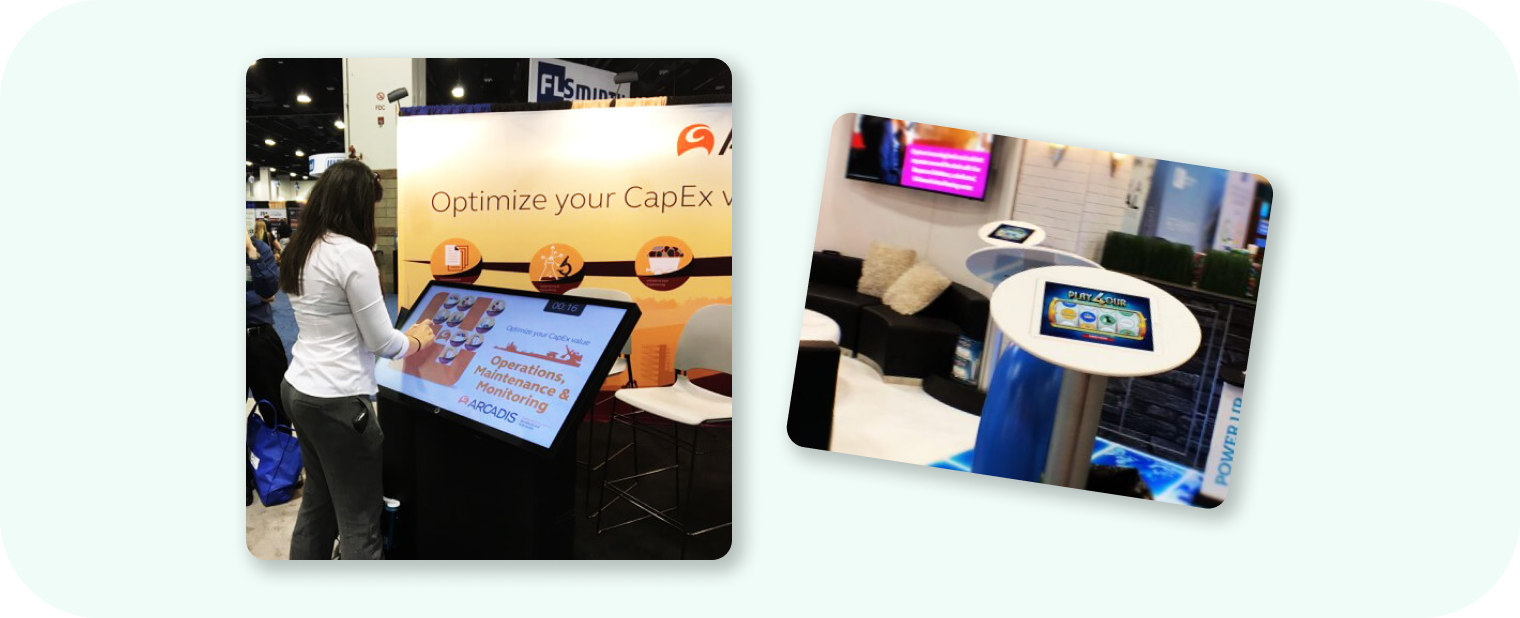 8. Pricing
While assessing the initial cost of a trade show event platform is natural, it's crucial to recognize that the cheapest solution can often result in higher expenses in the long run.
Some solutions may require additional costs for essential features or services tailored to your specific event requirements. We recommend that you opt for trade show solutions with a transparent pricing model to avoid any unpleasant surprises.
Beyond financial considerations, don't underestimate the emotional cost of dealing with a buggy tool and the time you will lose trying to figure out a complex platform.
9. Customization and Branding
A cohesive and branded environment is an excellent way to create an immersive and memorable event experience.
Your platform should replicate your physical event so attendees can easily recognize your event's identity as they navigate virtual spaces, attend sessions, or network with peers.
Some platforms offer extensive customization options, from color schemes to logo integration to font choices and layout configurations.
Some allow you to personalize the platform for different demographics or types of attendees (speakers, exhibitors, attendees, etc.) to ensure your event resonates with diverse audience segments.
10. Integration with Other Systems
If you want to optimize the planning and execution phases of your event, choose an on-site event trade show platform that seamlessly integrates with other systems.
The ability of the platform to harmoniously connect with your CRM, marketing automation, and other tools streamlines workflows, enhances communication and ensures consistent and accurate information flow across your entire event ecosystem.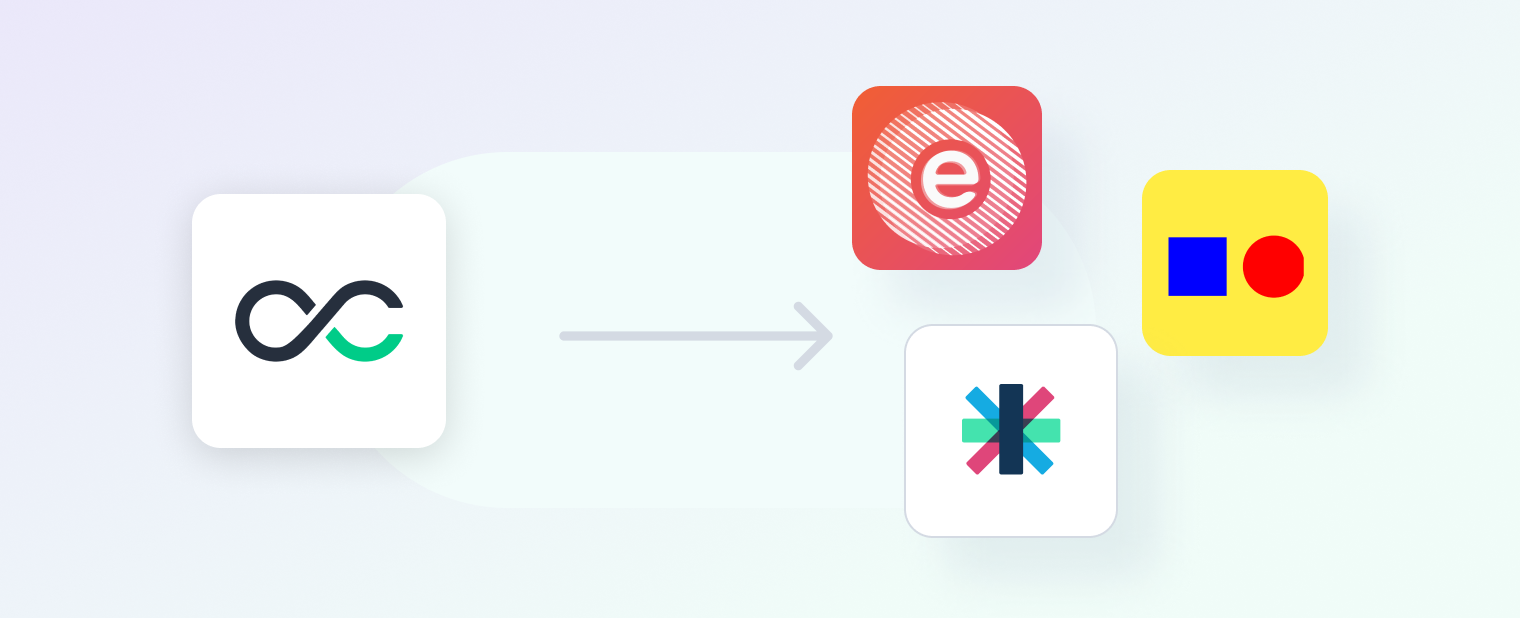 11. Security and Data Privacy
When choosing the ideal platform for your in-person trade show, look for solutions that transparently communicate their security measures, including robust data encryption, secure payment processing, and strict access controls.

Ensure compliance with data protection regulations like the General Data Protection Regulation (GDPR) or the California Consumer Privacy Act (CCPA) to avoid legal and reputational risks.
System and Organization Controls (SOC) and International Organization for Standardization (ISO) compliance certifications help demonstrate an organization's commitment to data security, instilling confidence among attendees, exhibitors, and stakeholders.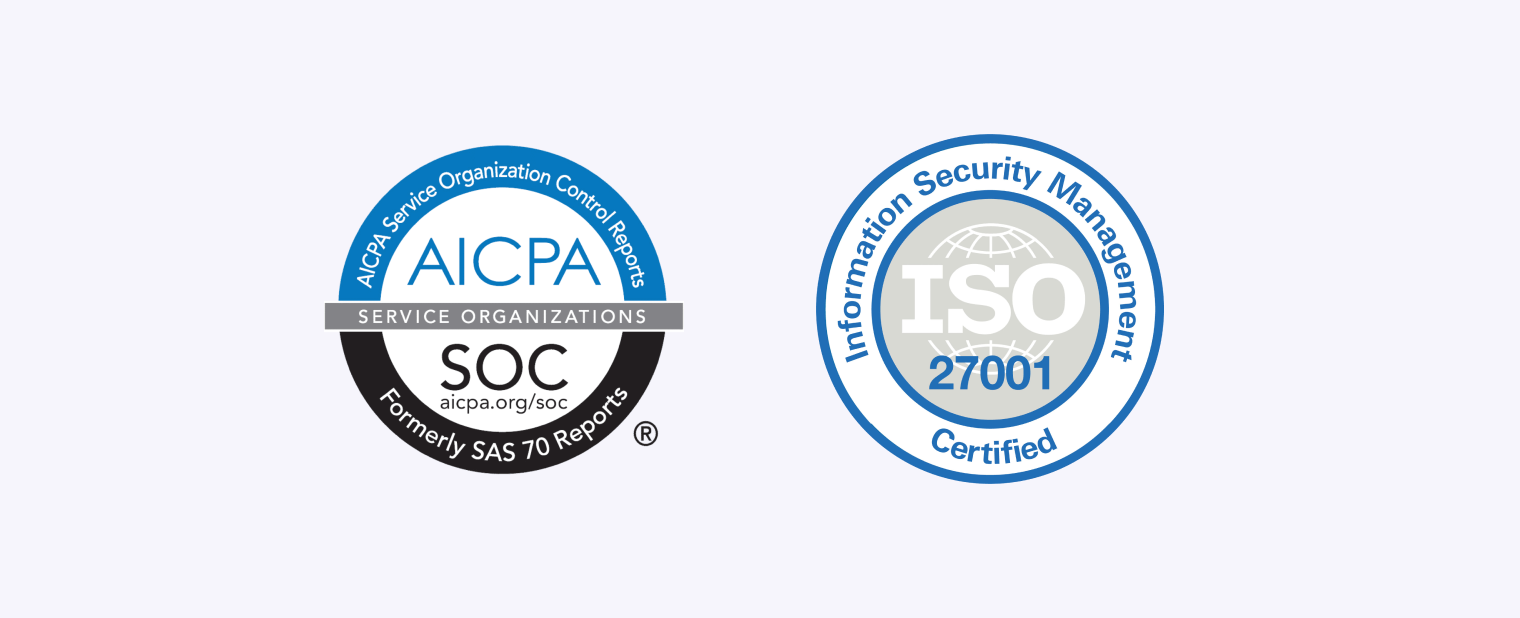 12. Additional Monetization Opportunities
Generating enough revenue to see a strong ROI is a core objective for all trade show professionals, and trade show event platforms can provide revenue opportunities beyond traditional avenues.
E-commerce integration is essential, allowing exhibitors to seamlessly showcase and sell their products or services during the event.
Organizers can offer premium exhibitor packages, sponsored content opportunities, virtual booth upgrades, targeted advertising placements, and exclusive access tiers.
These avenues diversify revenue streams and enhance the overall event experience, creating a win-win scenario for organizers, exhibitors, and attendees.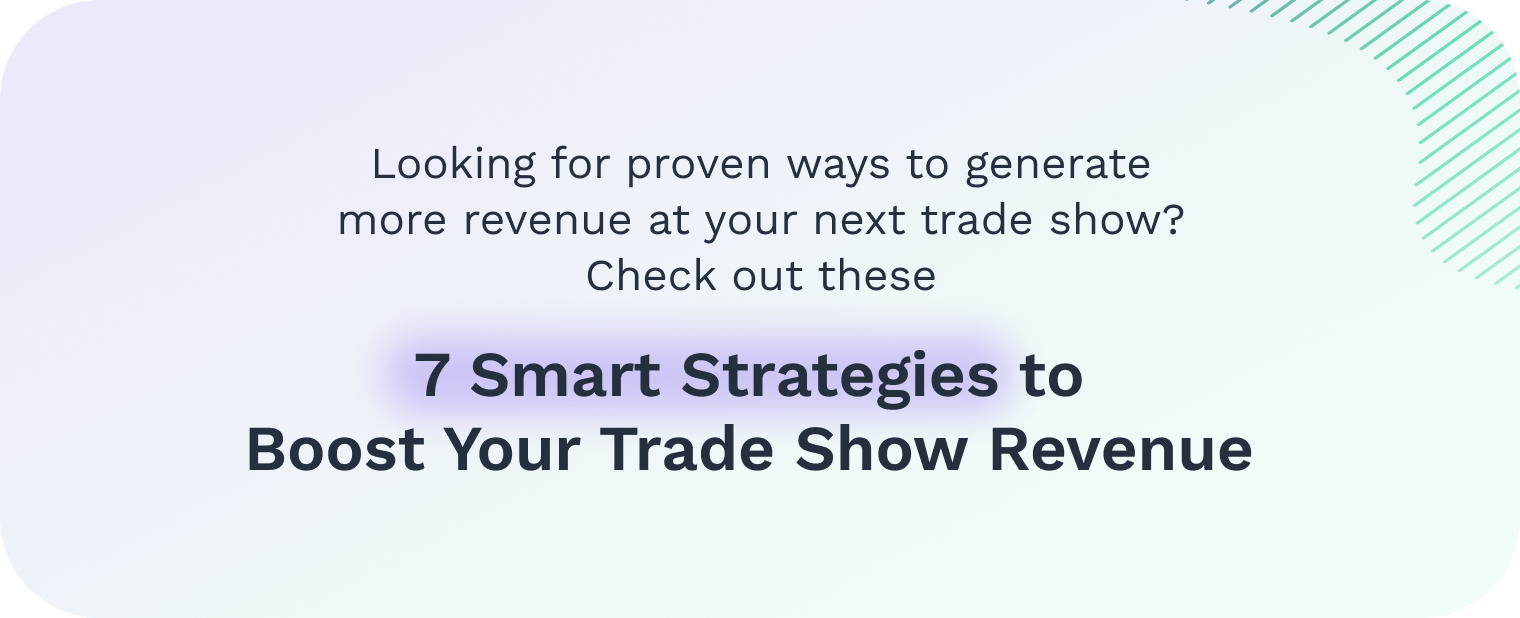 13. Content Management System
An exceptional content management system (CMS) is designed to simplify the management and delivery of content, elevating the overall event experience.
It should require no technical expertise or extensive onboarding but rather provide a smooth and user-friendly experience for event organizers.
To create captivating content for your attendees, look for a solution with a CMS that supports various content formats, including text, images, videos, and interactive elements, among others.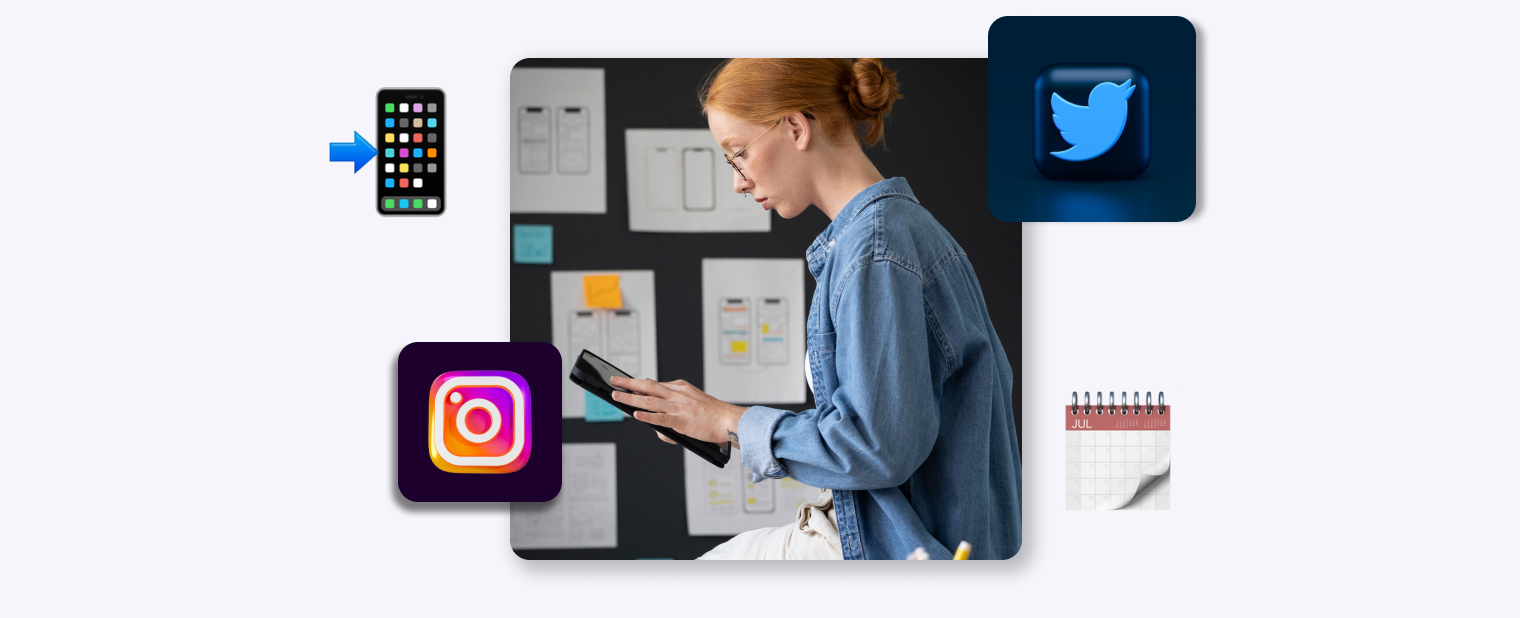 14. Speaker Management
Speakers are essential at on-site trade shows as they bring industry expertise, educational content, and engagement opportunities to attendees.
However, traditional approaches to speaker management often involve manual and time-consuming processes, such as paper-based registrations and fragmented communication, which can lead to slow and inefficient communication.

Selecting a platform with an efficient speaker management system will simplify every stage of the speaker management process, from the submission and review of abstracts to speaker logistics to the seamless flow of session content.
15. Venue sourcing
Event organizers recognize the importance of selecting a venue that aligns with their trade show vision and objectives, but relatively few use technology for this purpose.
For your in-person trade show, check for tools for venue sourcing, floor planning, seating arrangements, and budget management.
A well-selected venue not only creates a positive first impression for attendees but also increases exhibitor satisfaction.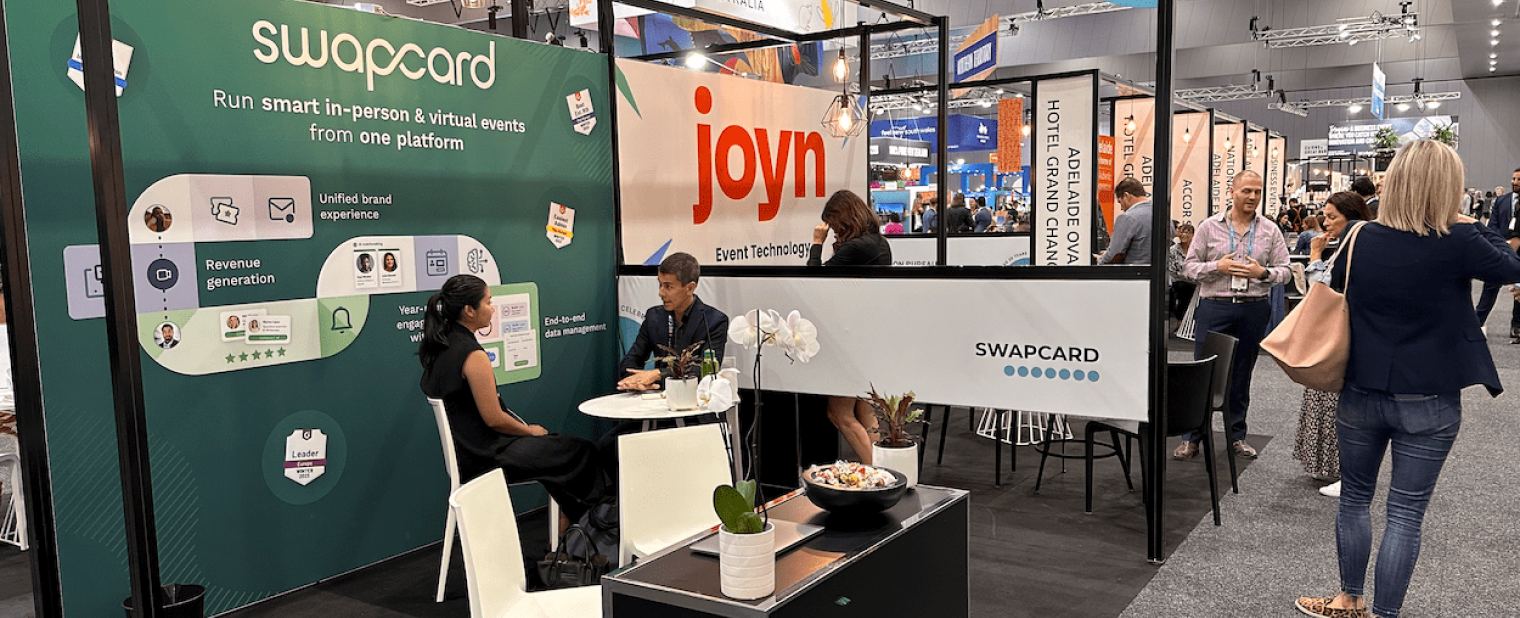 Summary
While these features and capabilities support the growth of trade shows, it's important to note that your event may not require all of them.
Ultimately, the most important features, integrations, and capabilities for you will be the ones that directly tackle your challenges and help you reach your event objectives.
Looking for an easy-to-use platform that increases attendee satisfaction and generates more revenue for your sponsors and you?