The eagerness to return to in-person events after almost two years apart is palpable. 80% of event organizers plan to produce their next in-person meeting in the first half of 2022.
This return to physical meetings comes after two years of virtual events, during which time event organizers learned that taking their business online delivers many advantages. One such benefit is the increase in accessibility and sustainability.
When we talk about accessibility, we're referring to the ability to reach and engage far-reaching and diverse audiences, as well as the access that is given to people who may have difficulty attending an in-person event. This includes people with various disabilities, financial constraints, family constraints, visa restrictions, and more.
Virtual events opened up experiences that were closed or inaccessible to attendees before - when everything took place onsite.
It's imperative that event organizers plan for returning to in-person events this year with a focus on offering a digital element in the form of online access to content and networking for at-home audiences.
Business travel has forever changed
The pandemic had a profound impact on attendees' willingness or ability to travel for events. Now that travel restrictions are easing in certain parts of the world, attendees are reluctant to jump back to in-person events. 30% of eventprofs said they wouldn't attend in-person meetings under any circumstances, and an additional 32.7% would attend only if the meetings were both small and local.
Event planners should count on seeing lower attendance rates than before the pandemic, at least for the foreseeable future.
One of the highly positive outcomes our industry saw from shifting to online events during the pandemic was that an increasing number of global attendees were able to participate. The reasons for this include:
Lower cost to attend

Time saved by eliminating the need to travel

Improved mental health by removing the stress of travel

Eliminating the need for visas

Events were open to attendees in more than one timezone
How a Virtual Element Boosts Event Accessibility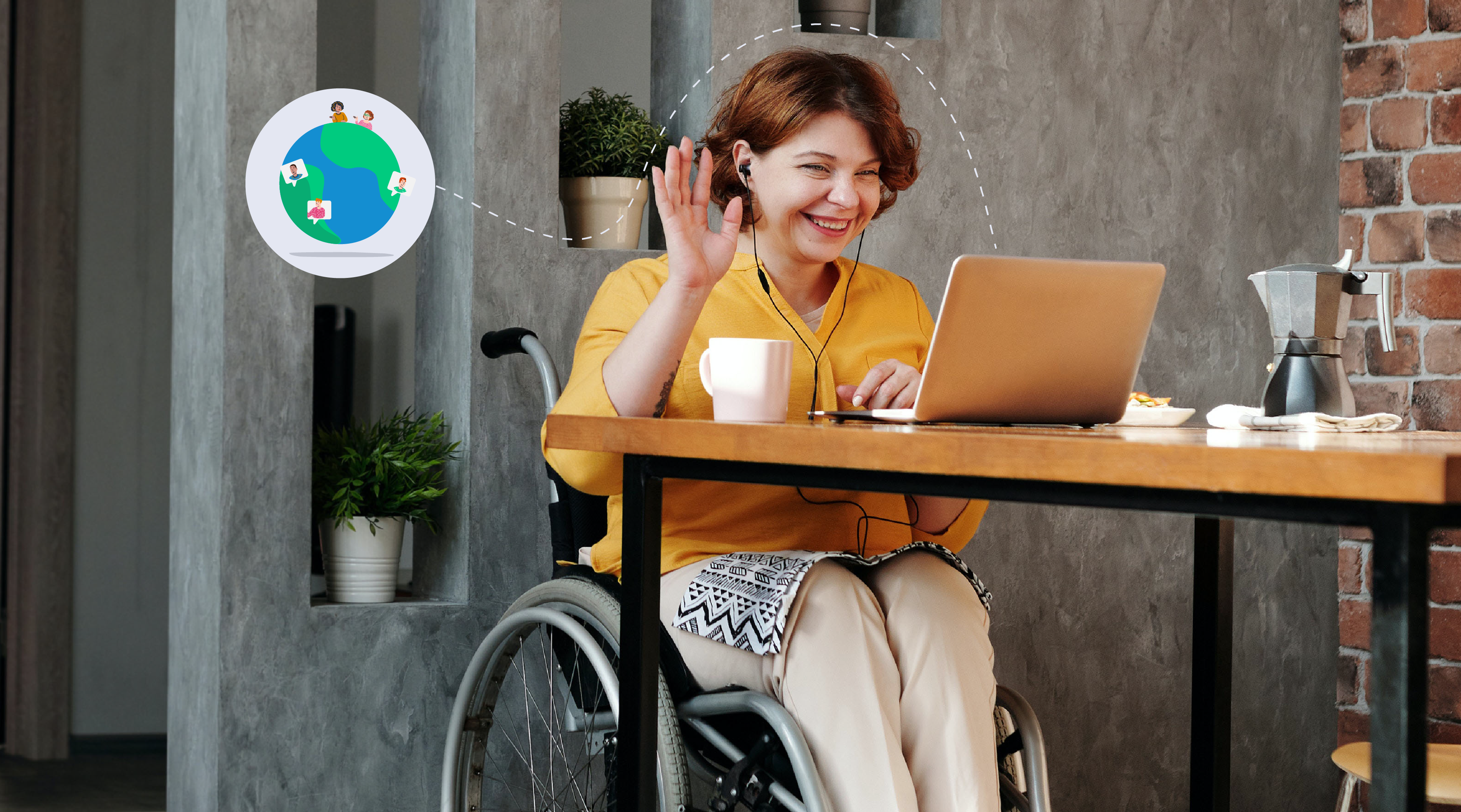 Real-life success stories
These events increased attendance by 344% and gained more female, gender-queer, and low-income attendees when held virtually.
The high costs associated with in-person scientific conferences can be prohibitive for some sociodemographic groups that may have a more difficult time obtaining funding for travel, like students and postdoctoral scientists.
Historically, the average cost of attending the North American Membrane Society (NAMS) in-person meetings was more than $1600 for students and $2100 for postdoctoral researchers. Virtual registration for the upcoming NAMS meeting this May is $300. Therefore, it is unsurprising that the shift to a virtual environment resulted in substantial growth in this population of attendees at such meetings.
The University of Southern California, the University of Texas at Austin, and Arizona State University also shared how attendees from lower-income countries were finally able to attend events when they were held online:
As expected, scientists from different areas of the world do not share the same cost burden when it comes to these in-person conferences. For example, for African researchers, the cost of attending recent events was on average between 80% and 250% of their country's annual per-person gross domestic product (GDP), compared with about 3% per capita GDP for US participants.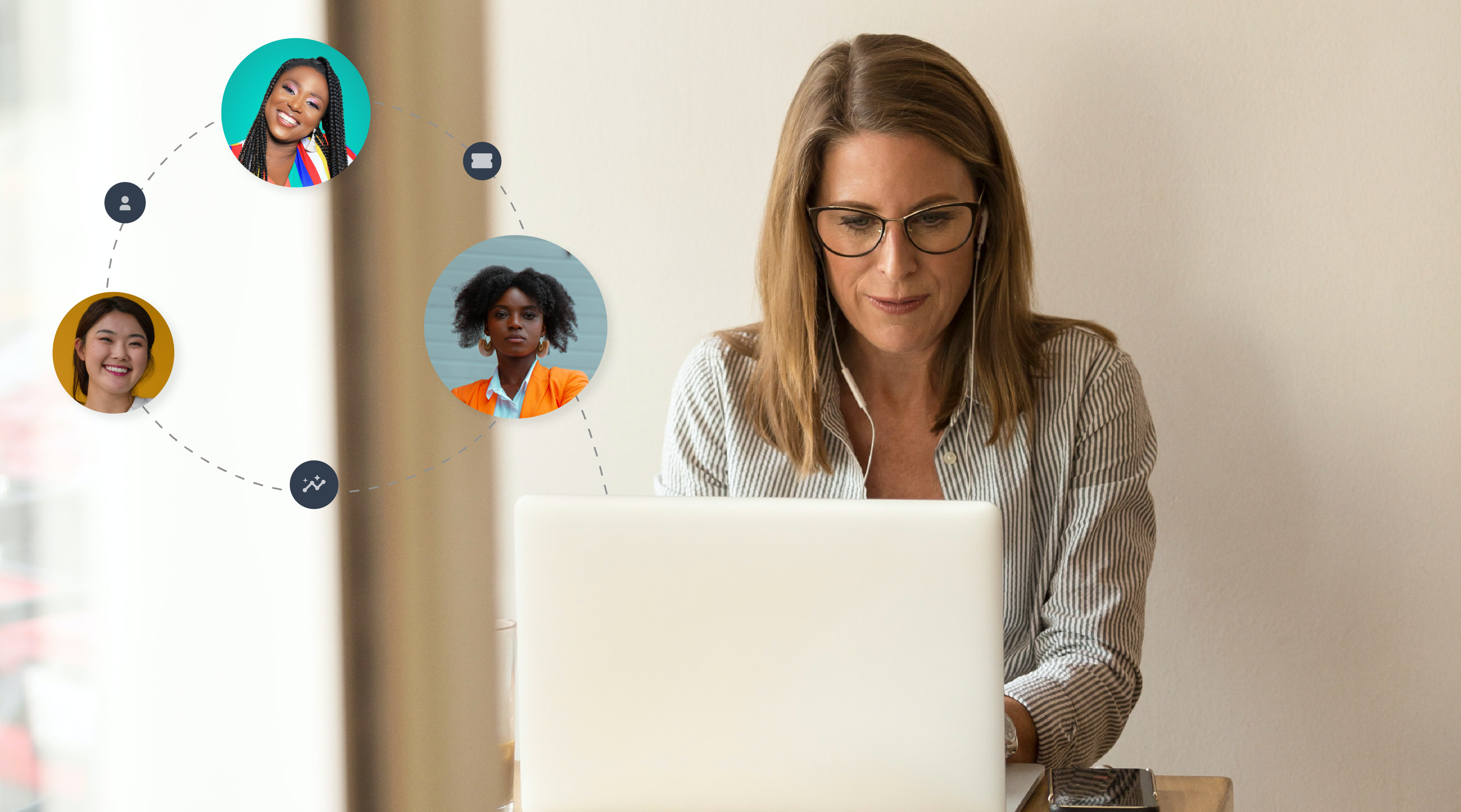 Attendance by students and postdoctoral researchers skyrocketed by as much as 344% when the events became virtual. In addition, participation by women in the scientific community in the virtual conferences increased as much as 253% compared with previous, in-person meetings, and attendance jumped by as much as 700% for gender-queer scientists.
Online conferences have allowed much higher levels of participation of researchers from all scientific sectors internationally – and, in particular, researchers from underrepresented groups, researchers from countries with low-to-middle income economies, and early-career researchers.
The biggest benefit of a more varied, international audience at your event? A higher number of attendees from different areas and backgrounds leads to more diverse research, viewpoints, discussions, and ideas, which will benefit all participants, since diversity brings excellence to professional exchanges.
Here's another example of increased accessibility from Gys at MyPlanner in South Africa:
Events have become more accessible and affordable. In South Africa we have vast open spaces between metropoles and virtual events have made it easy for widely dispersed delegates to attend remotely. Our Association clients have seen attendee growth from Australia, Europe, Americas, and the African continent year-on-year. Borders are diminishing and data analytics on our events attest to a 1 - 10 engagement rate (every attendee makes 10 new connections at every event).

Attendees have also become more time-conscious. The focus has shifted from attending full days to specific sessions of interest. MyPlanner works with our clients to develop compelling programs that engage delegates and promote discussion. We have also seen increased demand in gamification to promote networking amongst attendees.

MyPlanner attributes a large part of our success in virtual and hybrid events to Swapcard, which promotes engagement through intelligent matchmaking and allows us to track sponsor ROI, key factors in the success of any conference.
- Gys Smalberger, Sales Director, MyPlanner

Go back to in-person, sure, but don't leave behind attendees who cannot or will not travel
In-person experiences still provide intangible value when it comes to face-to-face interactions, spontaneous networking, and quality in-person experiences. But in 2022 we have the tools to give more people access to enjoy an event by incorporating a virtual element. This can be facilitated through a virtual event platform that can include a collaborative virtual workspace, online networking, or streaming sessions on-demand.
Offering online access through an all-in-one platform, like Swapcard, will increase the size of your audience and make it more global and diverse.
Forbes calls this "Upsizing an event - adding virtual components to in-person gatherings as a powerful way to extend a local event and target more people to make it a potentially global affair.
Event planners appear to have identified the potential that a virtual audience can have on the success of their in-person experience, with three-quarters of planners (71%) planning to continue to employ a digital strategy to maintain their virtual audience once they return to physical events.
Boost access for attendees with disabilities
For attendees who are in wheelchairs or have other physical mobility needs, it's as simple as giving them online access to make sure they can easily attend the event. However, make sure that the virtual content and networking options are high-quality and form an immersive experience so that you can provide real value to at-home audiences. The online event shouldn't be an afterthought, but a carefully designed experience.
As for deaf attendees, an online element also benefits them. Event technology available in 2022 can boost accessibility with closed captioning for all live and pre-recorded sessions. An all-in-one platform like Swapcard can make the online experience more friendly for at-home deaf audiences.
Rather than closed captioning being a nice-to-have addition to your event, actively include this as a must-have option for all your attendees. It is vital that you are providing quality and accurate closed captioning.
Give your audience options and they'll thank you for it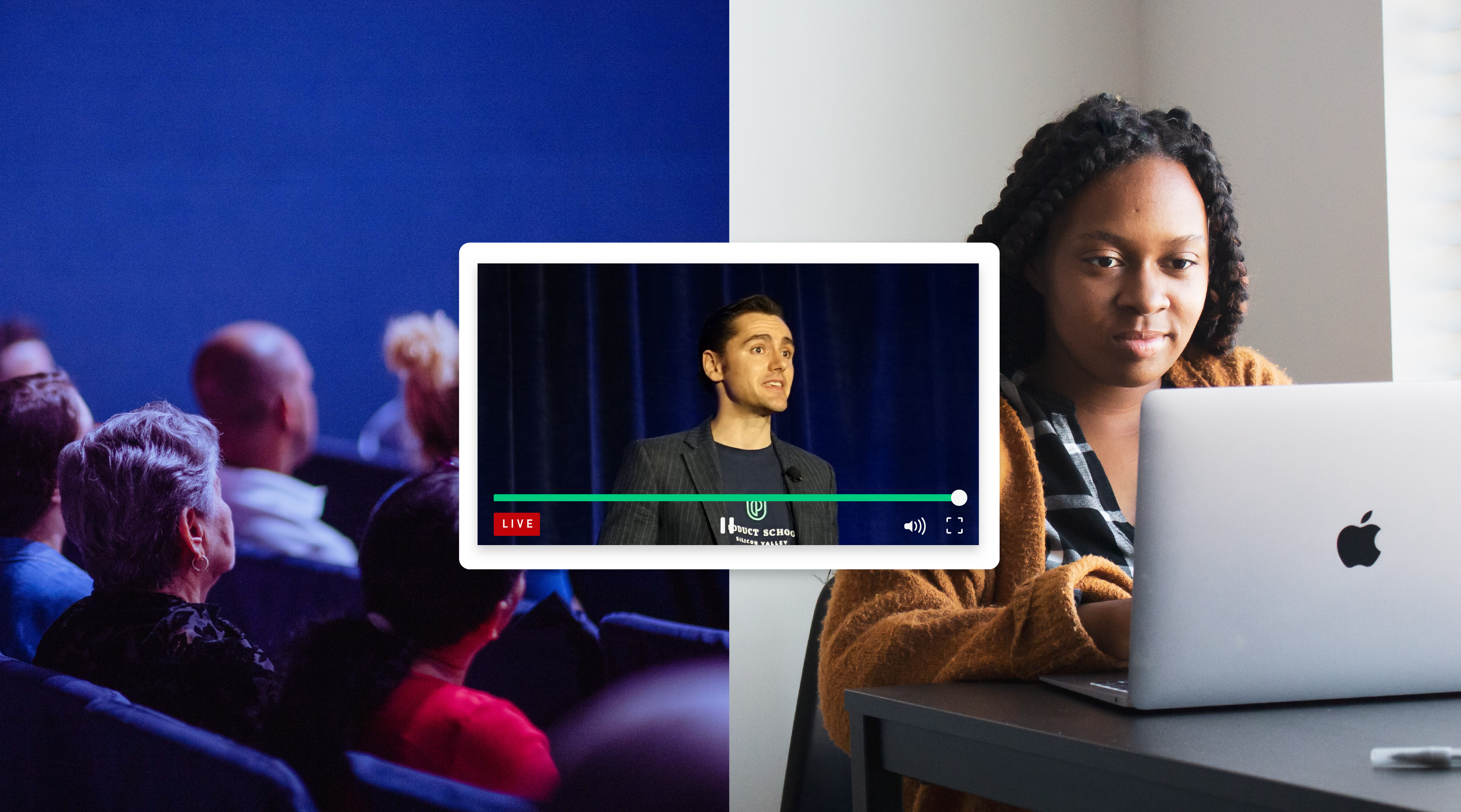 The virtual element doesn't have to be perfect, simultaneous, or free, but it should allow for attendees to enjoy your content and experience many of your events through the use of event technology.
You can use an event platform to facilitate networking between in-person and at-home attendees or stream live sessions and give virtual participants the ability to ask questions directly to presenters via the platform, and those are just two examples.
Gabrielle Austen-Browne, the Co-Founder of Diversity Ally sums up the power of having a virtual component best:
"I think that virtual events have increased inclusivity and accessibility for sure, particularly for those people who live far away or don't have the economic means to attend in person. But, there are still some areas we can address to increase DEI in online, hybrid and in person events, including diversity of content and in the people designing and delivering the content. We should also be advancing our knowledge around the different technology tools available to make online (and in person) events more accessible. Much of this knowledge can and should be brought to the in-person space too, let's ensure we continue to place equal importance on making sure both the online and in person space is truly accessible to all."
How a Virtual Element Boosts Event Sustainability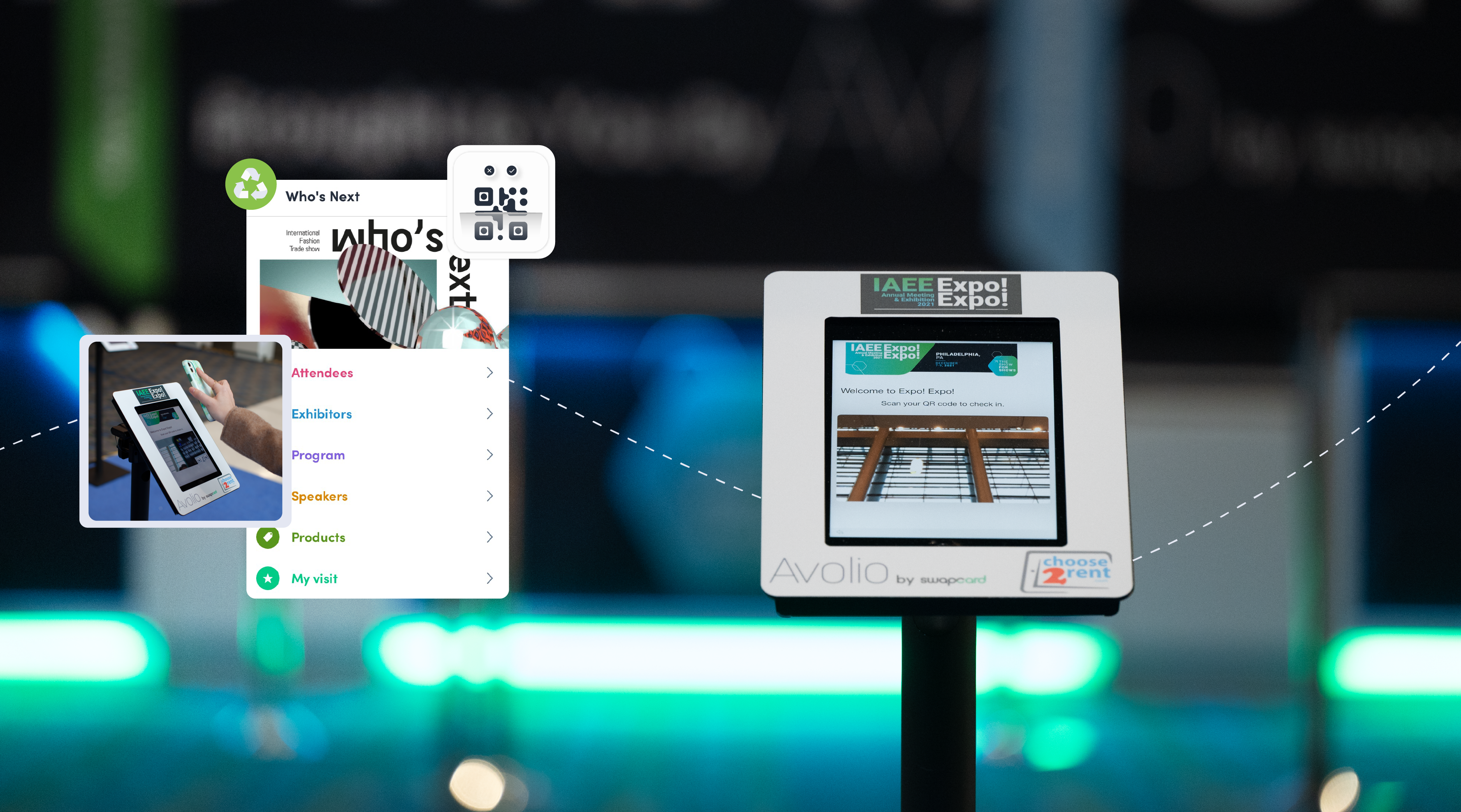 The events industry is grappling with its carbon footprint, being one of the most pollutive industries in the world. With all of the waste that's been accumulated over the past two years as a result of the pandemic, many organizers have become highly conscious of their carbon footprint.
What the research says about virtual events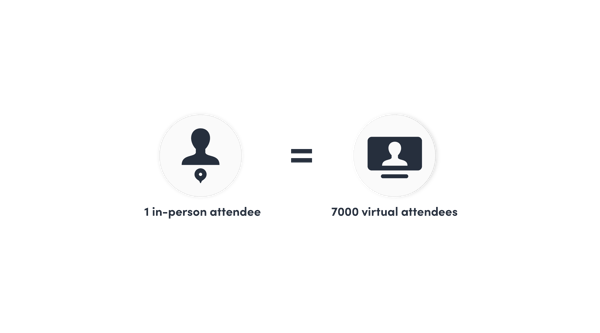 The carbon footprint of 7,000 virtual attendees was estimated to be equal to one in-person attendee of an international conference in 2019. One virtual conference produced 66 times less greenhouse gas emissions that an in-person gathering in San Francisco would have.
Hybrid conferences, particularly if those participants from far away join the event online, could be a feasible compromise to reduce emissions by almost 90%.
Putting the commitment into practice
Shawna McKinley, Principal at Clear Current Consulting, notes in a recent podcast that "we all want to meet, connect, and exchange knowledge, but how do I do that in a way that aligns with that carbon reality? It might mean that I do travel to events less frequently. It might mean that as an event organizer, maybe I'm shifting a quarter of my events to an online in a hybrid format."
Similar to virtual events, the decreased carbon emissions from air & ground transportation, hotel & accommodations, food production, venue energy, and material waste make hybrid events an excellent choice for sustainability.
The bottom line? As far as possible, every in-person event you organize should also have an online attendance option to allow people the option not to travel.
Event technology impacts sustainability in more ways than one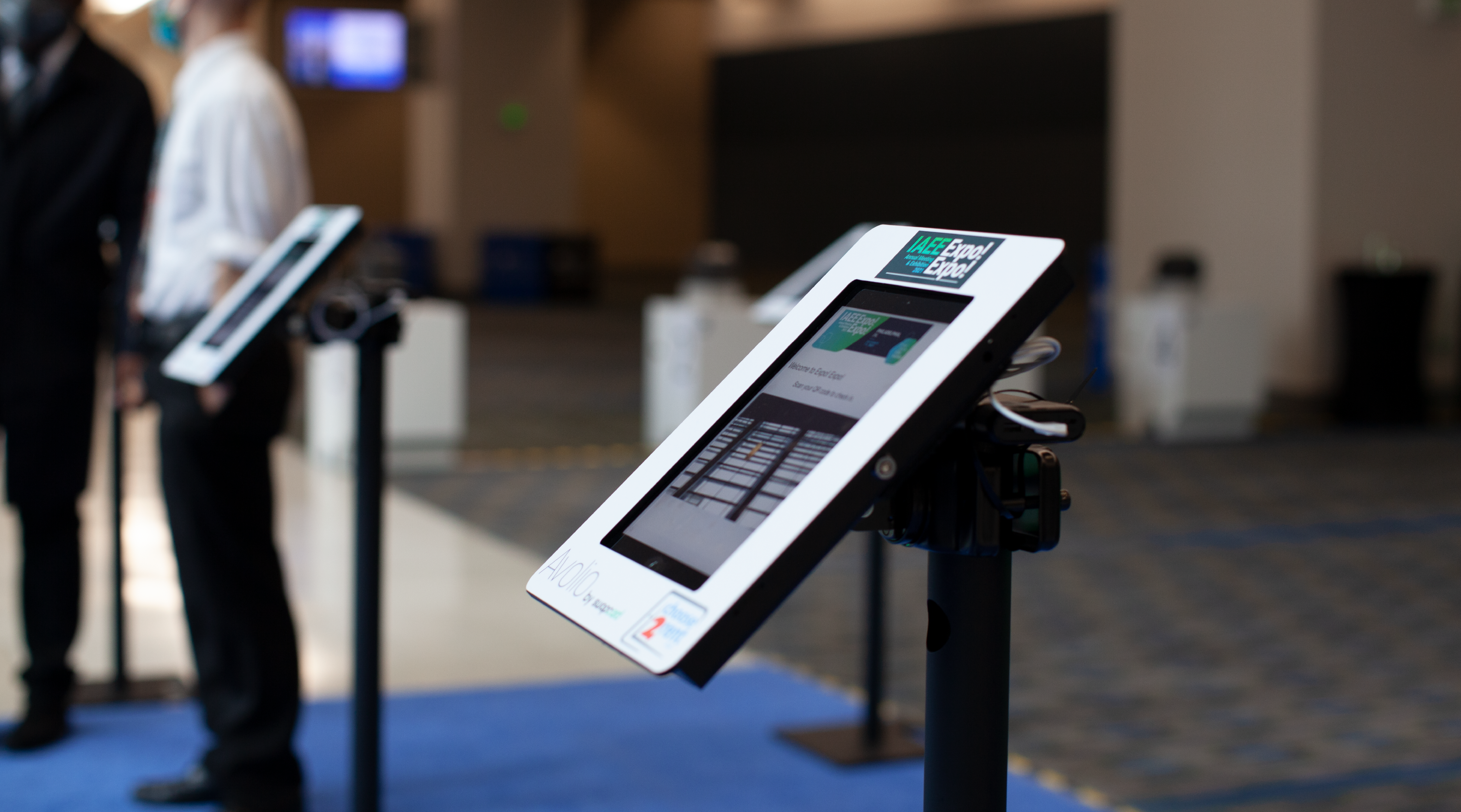 But what if running a hybrid event isn't an option for you? Event technology can still play a vital role in decreasing your carbon footprint.
In-person events have traditionally relied on paper and disposable forms of communication, such as print banners & signs, paper brochures, business cards, and so on. Here is a small list of items you can switch from traditional print to digital instead when you use a mobile event app such as Swapcard:
An interactive digital schedule and map: instead of making attendees use paper maps or wade through endless email attachments to find where to go next, they can find what they're looking for easily in-app.

Digital brochures: Instead of printing wasteful print brochures in bulk, focus on digital brochures and have them include embedded links so that potential buyers can be immediately directed to products they wish to purchase. Instead of having to throw out old brochures, a digital brochure can be regularly updated keeping your information up to date and relevant for potential buyers.

Exhibitor documents: Have everything centralized and available in one place for your exhibitors so that they are not reliant on paper documentation that can be easily lost or discarded.

Scan QR codes: QR codes can help with simplifying your event's check-in process, allow prospective buyers to scan a product's QR code and purchase it immediately (or save it for later), download brochures, ebooks, or any other downloadable content.

In-app badging and registration: Instead of wasting time and money on disposable badging and registration systems, have everything in one place. This both streamlines your registration and check-in process, as well as decreases the waste that can be produced at your event with plastic badge covers or throwaway badge stickers.

Digital tickets and programming: Having access to session tickets and programming in the palm of your hand is not only convenient, but it's better for the environment.
Guy Bigwood, Sustainability Consultant, summed it up best during a recent podcast when he said,
"As event organizers, we bring people together, whether it's virtual or offline, we bring people together and we can orchestrate [event] design to inspire, motivate, empower, and catalyze. And we can catalyze them to regenerate nature, to drive forward, to transition, to lower carbon energy, to move towards a better food system, whatever! We can design our infrastructure, our system of services to model what we want in the world."
The mission is yours, eventprofs!
Rather than rush back into the old ways of running in-person events, let's take the best learnings from the last couple of years and run events better than before.
Take the time to change your business model to cater equally to in-person and at-home audiences.
In 2022, technology has advanced and provided organizers with the tools to properly increase accessibility, deliver inclusive and creative experiences, and decrease their carbon footprint. There is no reason anyone should be excluded from attending or participating in your event. Inclusion and accessibility benefit everyone involved. So does decreasing your carbon footprint.
We can help you make your events more accessible and more sustainable.