From the need to deliver a fully-mobile UX for people on the go, through super-easy navigation around and in the venue, to informing attendees in real time, event apps and engagement platforms revolutionize event management.
Guest blogger Mark McCloskey of HRG Consulting shares tips on how to best use technology to leverage the tidal wave of digital change and create memorable experiences. Plus, a bonus insight for planners and event pros that obsess about the impact of lighting (as you should): is pink the new blue? Find out all the answers in the text below.
The world of meetings and events is changing at a breathtaking pace (let's not call it yet breakneck speed). Planners are no longer responsible for the coordination of sourcing venues and planning the logistics.
Now, as an organizer, your role has stepped up a gear.
For any trade show, conference or exhibition, the predominant focus is on ensuring attendees and delegates' experience is top-notch.
Budget constraints are still a focus. Yet leveraging technology is a straightforward way of ensuring you can engage the attendee or participant from the get-go.
There has been no shortage of technological advances over the years when it comes to events. What's better is that some of the technology available doesn't have to cost the earth.
So here are some actionable steps you can take to step up your event planning game and make sure your attendees experience more "wow" and "hurrah" than "ouch" and "oh no."
Make sure it's mobile
When you're inviting delegates to register their attendance, you must make sure your event website can be easily viewed on a tablet or mobile. Offering a responsive design might sound like a no-brainer for some event planners. For others, it's time they caught up.
While many organizations out there may have a platform for building attendee registration sites, perhaps older technology may not be as mobile responsive. If that's the case look at alternatives who have low costs associated to registration and event app building and can make a huge impact.
Map it all out so your crowd can find its way
An event that has a wayfinding app just wow's me every time. It can be costly to achieve, but there are options out there. Delegates can use an interactive map or GPS navigation to maneuver around your venue with ease.
SMS is dead, long live the push notification
SMS messaging for events is quite outdated and probably not going to give your delegates a dynamic experience.
On the other hand, push notifications before, during and after the event are proven to have a hugely positive effect on attendee engagement. Recent research by Localytics shows that when delegates enable push notifications, app engagement increases by a staggering 88% than when using static methods.
They also estimate that during an event 90% of participants are only an arm's length from their smartphone at any time.
To make things even more interesting, notifications can be personalized to fit users' needs and preferences.
"In 2015, 65% percent of all push notifications were segmented. This reached 75% in 2016, and hit a high of 85% in 2017. Meanwhile, the percentage of broadcast push notifications being sent has come crashing down to a diminutive 15%. Gone are the days when marketers sent out ineffective blast campaigns to their entire user base." Thomas Rodde, Loclytics, The State of Push Notifications in 2018: Broadcasting No More
Let people interact
Polling, question and answer sessions and debates are ascending in popularity, and for a good reason. So many apps now exist that can provide these solutions to the delegate. Slido is probably my all-time favorite tool for questions and polling.
Smiling is allowed
If you're looking for something quirky such as quizzing or for a smaller meeting just a bit of interactive fun, I highly recommend Kahoot as something that will get everyone involved. Gamification is, after all, a great way to help people learn and have fun at the same time.
Fully immersive
I recently attended a trade launch where I could place myself into a newly refurbished event space, without visiting it. This is such a clever way to demonstrate non-tangible products like a hotel room or event space during a trade event.
While such a kit can be on the expensive side no doubt pricing will reduce in the coming years as emerging technologies such as AI or VR will become the norm.
Light it up
While it may seem quite abstract, lighting can hugely increase attendees, delegates and visitors' mood, endurance, and emotion during an event.
During the design phases of Boeing 787 Dreamliner aircraft, extensive research into the effects of lighting was undertaken. The goal was to enable a solution that reduced jet lag and fatigue, thus creating an environment that altered with the time of day as well as a quirky light show on arrival to adjust traveler's eyes and refresh them before landing.
Colour therapy tells us that for hard-hitting, factual or influential events blue lighting is best utilized.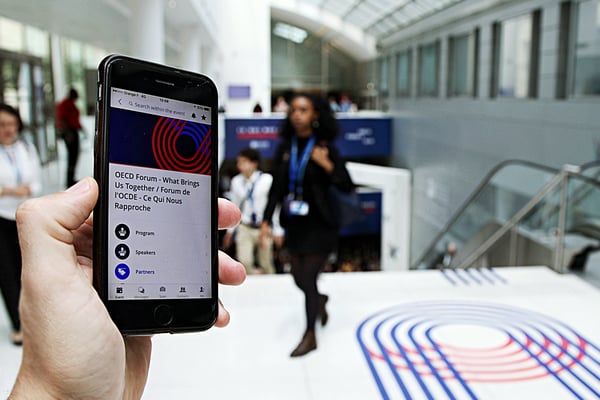 The OECD Forum used Swapcard's branded event app with a lot of blue (and some red) to engage delegates and attendees
When the mood's a little lighter, and you want to inject fun or energy, it's oranges, pinks, and purples that'll do the trick.
And, before I forget: avoid at all costs red lighting for any event other than a gala dinner.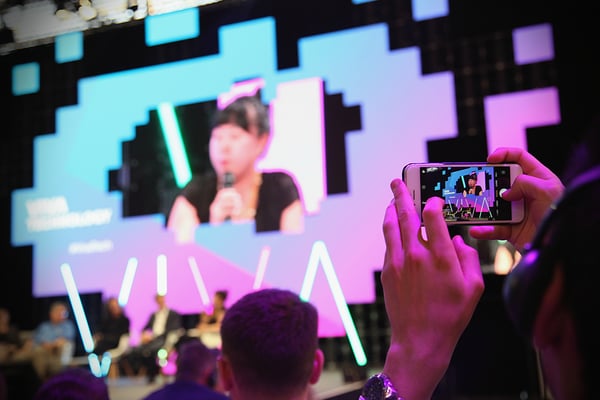 Viva Tech's organizers opted for pink, purple and light blue to design their event experience. This was also reflected in the branded app and engagement platform provided by Swapcard for this trade show and expo
Conclusion
Creating stimulating experiences that support and facilitate face-to-face connections cannot be understated.
Technology plays a crucial role in enhancing that experience. It is fair to say that more and more events will embrace new and exciting concepts.
Adding a few of these ideas into the mix may just do that. After all, any event aims to ensure that delegates leave with a positive memory (so take it easy on the red lights!).
Mark McCloskey is an Inter IKEA Global Category Lead and a Meetings Management Consultant at HRG Consulting