In the fast-paced world of event marketing, where time and resources are often limited, you must go the extra mile with your content. The digital era has increased content production, especially in virtual and hybrid events, but most event marketers aren't making the most out of the content they're producing.

Repurposing and leveraging existing content across multiple channels is an excellent way to extend your reach and engagement, capture new leads, and build a strong online presence.

Whether you're new to the trade show game or you've been here since Apple was just a fruit, we've got a range of actionable strategies and insights that will take your content strategy to new heights.
What is content repurposing?
Content repurposing is the process of altering existing content to extend its reach and boost its value. Typically the content will be transformed into a new format and then shared on different channels. Examples include using quotes from a blog article for a social media post or publishing ebook chapters as stand-alone articles on your blog.
What's the difference between content repurposing, recycling, and distribution?
Well, the first two are synonyms to describe the transformation of existing content. Content distribution, on the other hand, refers to the strategic sharing of content across different platforms and channels to maximize its visibility and reach. Think of distribution as copy + paste (minor edits welcome!) and repurposing as repackaging.
Why repurpose content?
According to findings from a 2022 report, approximately 73% of B2B buyers reported engaging with more than three pieces of content before contacting a salesperson. Of that 73%, some consumed over seven pieces of content before even reaching out.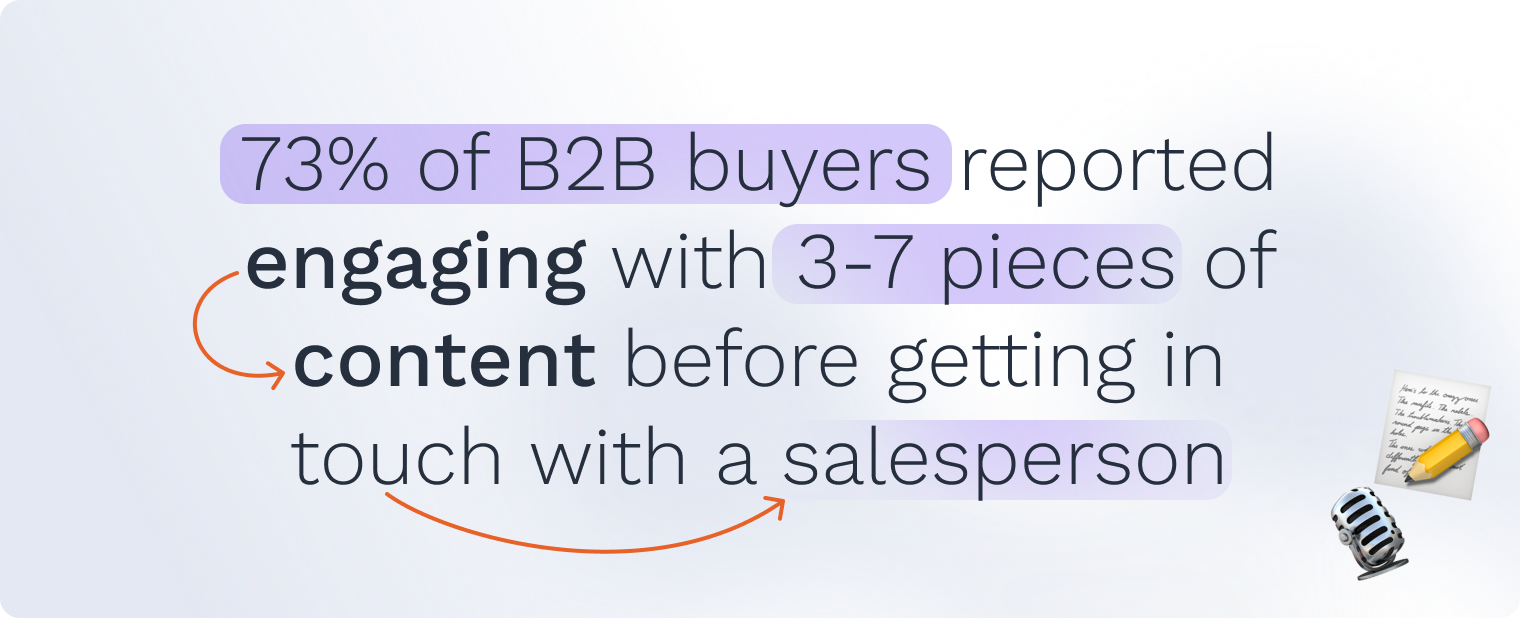 These findings reinforce the growing appetite for content, and to capture more leads, event organizers and content marketers must keep their content pantry well stocked.
But how do you do that when content teams and budgets are shrinking in size due to economic crises? Publishing poor-quality content quickly isn't an option. Like it or not, your audience is picky, and if you're unable to serve them high-quality meals, they'll turn to your competitors.
So, what's the solution? Content repurposing ✨
Content repurposing allows you to leverage your existing content assets to satisfy your audience's hunger. Rather than starting from scratch every time, you can revamp existing content. It's the equivalent of using the leftover rice from yesterday's meal to make some egg-fried rice today. And who doesn't like egg-fried rice? 🍳
What type of content should you repurpose?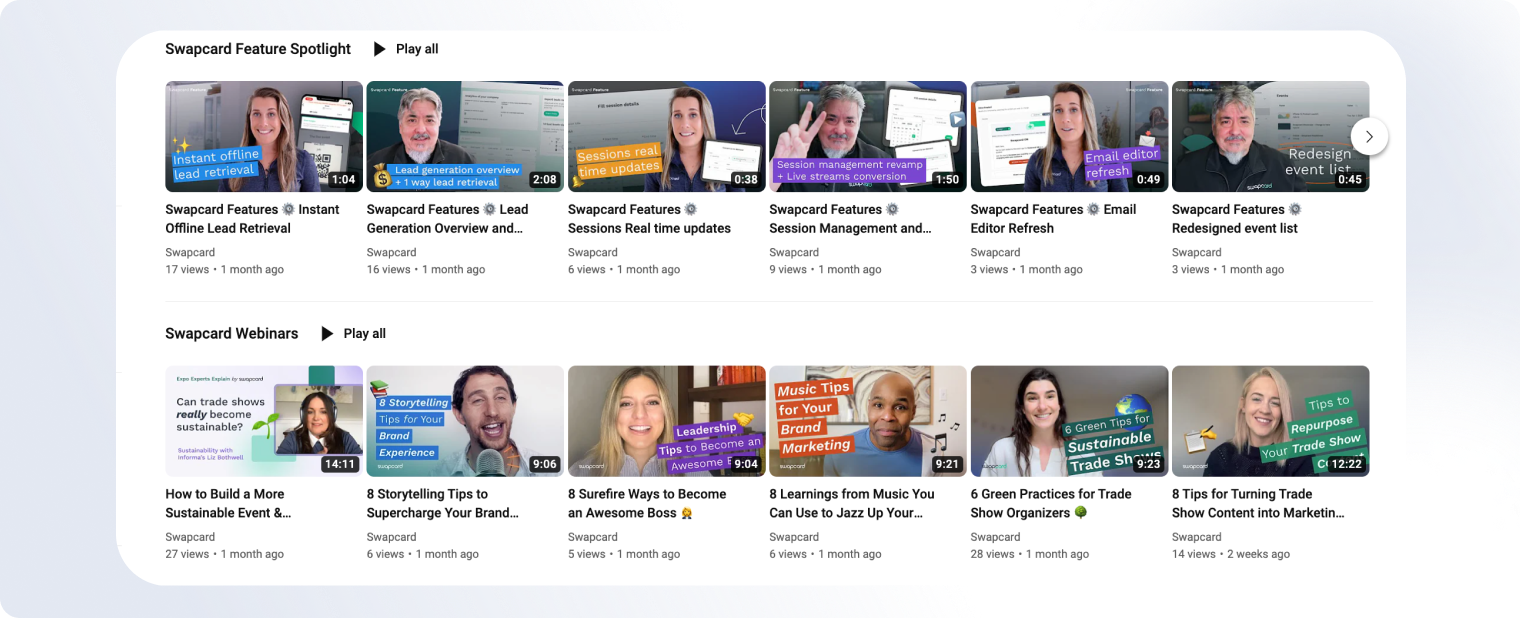 It's possible to repurpose any content, from marketing to sales enablement and event content.
Here are five content types you should consider repurposing as an event organizer.


Marketing Content
Any content created to promote your event, products, services, or brand can be classified as marketing content. The most effective forms of marketing content focus on the readers' needs and pain points and seek to educate, entertain, inspire, or inform their audience.

Infotainment and on-demand content are popular trends in the digital landscape and can help you build a media-like experience that resonates with your audience and establishes your brand as a go-to source for engaging industry news. Some examples can include interactive virtual tours, on-demand webinars, engaging videos, podcast series, and visual summaries.


Sales Enablement Content
At trade shows, sales enablement content becomes vital to empower sales teams with the tools and resources they need to communicate their offerings' value effectively. This includes compelling product collateral, engaging sales presentations tailored to the event audience, impactful case studies showcasing success stories, persuasive testimonials from satisfied customers, and well-crafted sales scripts to guide conversations and close deals.


Product-Related Content
Product-related content effectively showcases your product or service's features, benefits, and value. Here are some examples of product-related content you can use at your next trade show: interactive product demos, live product presentations, hands-on workshops, product launch announcements, in-booth product displays, product catalogs, and samples for attendees to experience firsthand.

The aim is to educate and inform event attendees about what you offer and generate potential leads.


Social Content
Social content is an excellent way to capture the attention of your target audience, build brand awareness, and engage with your followers. Examples of engaging social content include live event updates, exclusive sneak peeks, influencer takeovers, customer testimonials, event contests, and polls/surveys. The ultimate aim is to convert followers into leads. Popular social media platforms for B2B businesses include LinkedIn, Twitter, and Facebook.
Content Generated at Events
From engaging video highlights and session recordings to insightful interviews and user-generated content, events generate a wealth of valuable assets. These assets serve multiple purposes, extending the event's reach beyond its duration, facilitating knowledge sharing, and fostering a sense of community among attendees and exhibitors. By effectively leveraging and sharing this content, event organizers can amplify their impact and create a lasting connection with their audience, ensuring that the event's influence continues long after the doors have closed.

Want more tips on how to repurpose content generated at trade show events? Check out this article!
Repurposing made easy: Ten ways to repurpose your content
Now for the good stuff. Use this list to help you transform your existing content and to make sure your content well never runs dry.
Create e-mail newsletters by compiling content from various sources

There are 4 billion daily email users worldwide, and revenue generated by email marketing is projected to approach an impressive $11 billion by the end of 2023, so it's fair to say that email marketing is far from dead.



Take advantage of email newsletters' significant reach and conversion power by curating one for your audience.

You can gather your best pieces and deliver them in an informative newsletter. Whether it's your top-performing blog posts, highlights from recent events shared on social media, or captivating webinars, these links will serve as gateways to enriching experiences for your subscribers.

Ensure you're not simply redistributing existing content but extracting key insights or highlights from different pieces. So add a summary, snippet, or excerpt from the content alongside the link for readers to access the full content.



Create a Podcast or Webinar Series from Blog Posts

Podcasts and webinars have been all the rage for quite some time now, and for good reason - they allow you to expand your reach, tapping into a demographic of people who prefer audio content.

A study has even found that branded podcasts can lead to an 89% increase in brand awareness and a 14% increase in purchase intent.



If you don't already offer a podcast or webinar series, here's an easy way to get started:

Compile a list of blog posts that cover a particular topic

Extract the key points of the blog post and turn them into talking points

Invite subject matter experts as guests on a panel discussion

Answer questions that will offer additional insights

Turn webinars and podcasts into blog posts

Maybe you're already a webinar or podcast pro, but you're not doing much with all that audio/video gold. And the easiest way to repurpose your webinar? Turn it into a blog post. You can use automated tools like Descript to get an automated transcription of your webinar content, summarize the key takeaways in a blog post, and then turn those into a LinkedIn carousel.

When converting interviews into blog posts, you may have to play with formatting to maximize the readability and engagement of your blog post by adding subheadings, bullet points, and blocks of quotes to break up the text. Add images, graphs, or infographics to make your content more visually appealing and digestible.






Turn data from your surveys into infographics

Infographics are a great way to simplify complex information for your audience. They are more visually appealing than survey summaries and easier to share in blog posts, email newsletters, and social platforms.

To create your infographic, select the key takeaway you want to communicate and the data that demonstrates it. Surveys provide valuable insights into your target audience's preferences, opinions, and demographics.

Transform Product Demos into Video Tutorials

Next time your product team is giving a demo of the latest feature, screen record it, then cut the recording into bite-sized clips highlighting key functionalities, problem-solving tips, and use cases. Add a voice-over narration and on-screen annotations, providing users with clear instructions on leveraging your tool effectively. These concise, informative video tutorials empower users to learn at their own pace.

Review and refresh evergreen content

One common mistake content teams make is neglecting to review and refresh their evergreen content. Evergreen content refers to pieces that provide value and remain relevant to your target audience over an extended period. Regularly reviewing your evergreen content is crucial for engagement and search engine visibility, as your content will be accurate, up-to-date, and aligned with current industry trends.

To update your evergreen content, use recent stats or case studies. Feel free to ask your design team to tweak some of the visual assets so they stay fresh and appealing (visual trends change as quickly as a chameleon at a disco party). Then click the republish button on your website or send it as a guest post in a top industry publication.





Turn your case studies and success stories into video testimonials

Social proof is a powerful phenomenon that helps build trust in your brand. Turning your case studies and success stories into video testimonials brings these narratives to life, creating a more engaging and persuasive experience. Seeing and hearing the authentic excitement in the voices and expressions of your satisfied customers will help your audience connect better with the success stories you share.

Create social media teaser videos from webinars

Don't let valuable footage from your webinars go to waste. Instead, repurpose it into engaging social media teaser videos. Teaser videos generate excitement and curiosity among your audience, enticing them to watch the entire webinar or visit your event's website.

To create a teaser video, select the key takeaways from your webinar, then chop and edit them into bitesize clips. Add some crisp copy, visuals, and catchy background music, and you're ready to click the publish button.





Translate blog posts and sales collateral for international markets

Let's start with an easy one. This repurposing hack is a must for businesses with an international audience. This can help you reach customers in new markets and boost engagement with members of your audience that prefer to access content in their native language. So consider translating popular blog posts or sales collateral into different languages. You can use automated translation tools or send your pieces to a translation agency.



Turn Webinars into Ebooks or Guides

Despite the rising popularity of webinars, ebooks remain the most consumed B2B content format online. Capitalize on this by turning your most successful webinar content into comprehensive e-books or guides.

Start by transcribing your webinar using a transcription tool, then create sections that will represent chapters in your ebook. You may need to perform additional research to expand on the most relevant points or remove sections you feel have little impact. As always, you'll need to add eye-catching visuals and play with the formatting of the text to provide the best reading experience for users.



Bonus tip:

The value of your content doesn't end when the event does. Repurpose top-performing content from your event and create an on-demand library to provide ongoing value to your attendees.
Do's for repurposing event content
Focus on evergreen, trendy, and top-performing content
When repurposing content, prioritize evergreen pieces, trendy content, and top-performing pieces to engage your audience and maximize impact.
Identify your target channels
When determining which content to repurpose, it's crucial to identify your target channels. Unless you have a team the size of a small country, you won't have the time or resources to create tailored content for every channel. Instead of trying to do it all, focus on the channels where your audience is most active and receptive, and tailor your repurposed content to suit those.
Repurpose with purpose
The first step in the repurposing strategy is to set a clear goal. What should the repurposed content do for your brand AND your audience? How does it align with your overarching content and business goals? You can set primary and secondary goals, but refrain from setting too many to avoid overwhelming yourself or diluting your efforts.
Here are some examples of "good goals" for your repurposed content:
Increase brand visibility, reach, and recognition
Foster audience interaction, comments, and shares
Generate leads and capture valuable contact information
Showcase expertise and position as a thought leader
Provide educational value and solve audience problems
Drive website traffic with relevant links and CTAs
Encourage social media engagement, likes, and shares
Improve SEO and organic reach for better visibility
Customize as you repurpose: Tailor content for each platform and format
Tailoring your repurposed content for each platform and format is a must. Each piece of repurposed content should be adapted to suit the preferences and behaviors of your target audience on the chosen channel. Key areas to optimize include content length, visuals, and messaging.
If you want to boost your brand awareness and increase engagement with your brand, consider a funny meme on social media. However, if your repurposed content aims to generate highly qualified leads, a case study on your blog showing how your product or service addresses your target audience's pain points would be more effective.

Optimize for SEO
SEO optimization of content is not for the faint-hearted. Staying on top of SEO can be challenging with constant algorithm changes, evolving search trends, and fierce competition. However, it's a crucial aspect of your digital strategy that can significantly impact your online visibility and organic traffic.
If you're short on time, you can focus on keyword research on SEMrush, Ahrefs, or a similar tool. Look for relevant, high-ranking keywords and phrases that align with your target audience. Incorporate these keywords strategically throughout your repurposed content (titles, meta descriptions, headers, and URLs).
Tap into the power of data
Tap into the power of data to fuel your content strategy. Data insights enable you to understand your target audience (demographics, behaviors, and preferences) and segment them accordingly. This allows you to tailor your content to each audience segment. By leveraging data to understand your audience better, you can create content that resonates, builds trust, and drives desired actions.
Leverage user-generated content
Repurposing user-generated content is a hack that will save you time and resources and amplify your brand's reach. Any content voluntarily shared by people who have had experiences with your brand can be worked into other pieces of content you're creating.

According to 40% of event marketers, the best way to encourage user-generated content creation is to establish a unique event hashtag and promote it among attendees. Running hashtag campaigns as part of the event promotion facilitates content discovery, engages virtual and on-site attendees alike, and creates a sense of community.
Use AI to speed things up
There's a lot of hype around AI today… and for good reason. AI can help small content teams make a big impact by helping them streamline and automate every stage of the content creation process (repurposing included).
Here are 5 AI tools that can help you streamline your content creation and content repurposing strategies:
ChatGPT: This one needs no introduction. Arguably the most popular AI tool now, ChatGPT generates high-quality content based on given prompts, saving time and effort in content creation.
Canva: Canva AI technology can help design the visual elements of your content. Get beautiful templates, stock images, graphics, infographics, and even automated design suggestions in seconds.
Grammarly: Grammarly is an AI-powered writing assistant that helps you create error-free text. It not only corrects grammar and spelling in a text but also provides suggestions based on the tone of voice selected and your content objectives.
BuzzSumo: BuzzSumo is a content marketing tool that uses AI algorithms to analyze content performance and identify trending topics across an industry or niche. Analyzing high-performing content allows marketers to identify successful content formats (e.g., infographics, videos, listicles) to repurpose their existing content. Instead of guessing which formats work best, marketers can capitalize on proven formats, increasing the chances of their repurposed content resonating with the target audience.
Vidnami: And what about repurposing your written content in a video format? Well, there's a tool for that too! Vidnami (now integrated into GoDaddy studio) uses AI to transform text-based content into eye-catching videos. What's more, it automates the process of video editing, adding visuals, images, and voiceovers!


Don'ts for repurposing event content
Conflate reposting with repurposing
Reposting is when you copy existing content and paste it on a different channel to maximize its reach. Repurposing is about transforming your content to provide additional value to your audience.
Reposting is an essential part of a distribution strategy, and you should be reposting all your content (repurposed content included), but repurposing is what will take your content strategy up a notch.
Underestimate the time it takes to repurpose content
We've said it before, and we'll say it again: repurposing content involves more than just copying and pasting. Repurposing content is less time-intensive than creating content from scratch, but you still need time to plan, adapt, and optimize your content to be effective across different formats and platforms.
Be boring
Test, test, test! Experiment with different formats, channels, and styles to find what captures your audience's attention best. Try posting selfies of colleagues on LinkedIn, posting polls on YouTube, or alternating between long articles and short posts on your blog. You may be surprised as to what content your audience engages with!
When experimenting, monitor relevant KPIs for each channel and adapt your content strategy accordingly.
Jump on every trend
Before testing something new (a new format, channel, or style), consider whether or not it aligns with your target audience and if you can effectively leverage it. Just because everyone is using TikTok does not automatically mean you should. Ask yourself, "Is my audience on this channel, and do I have the means to master this channel?" Quality and targeted engagement are more valuable than simply following the latest fad.
Disregard your tone of voice or target audience
While it's important to adapt your format and style of writing for each channel, your tone of voice must remain consistent. You're probably getting the gist now that it all has to tie back to your objectives and audience. A consistent tone of voice builds familiarity and trust, aids with brand recognition, and helps you stand out in a crowded marketplace.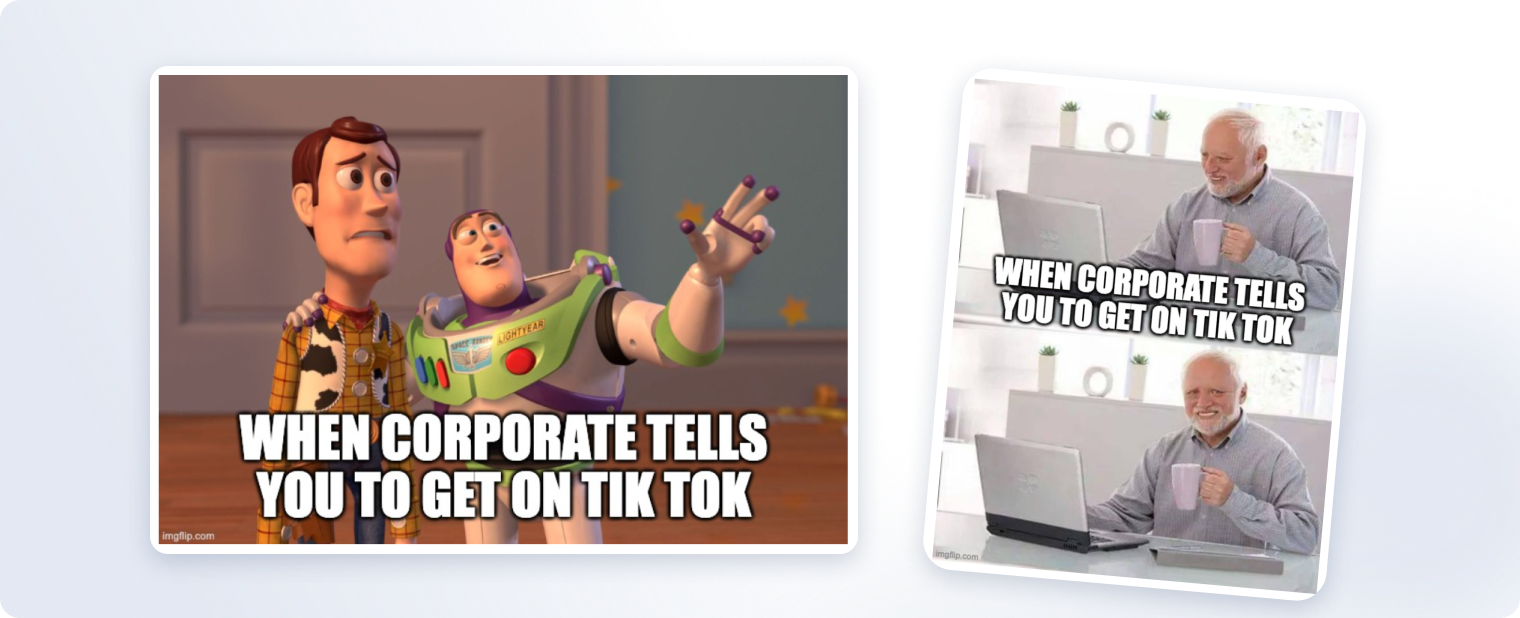 Repurpose content without proper permission or rights
When modifying existing content, it's highly recommended you check in with the owners and contributors of the original content. This includes webinar speakers, guest contributors, or anyone else creating the content. It's as simple as a quick email asking if they approve of repurposing the piece they were featured in. Although not a legal requirement, it's crucial for maintaining good working relationships and a positive reputation.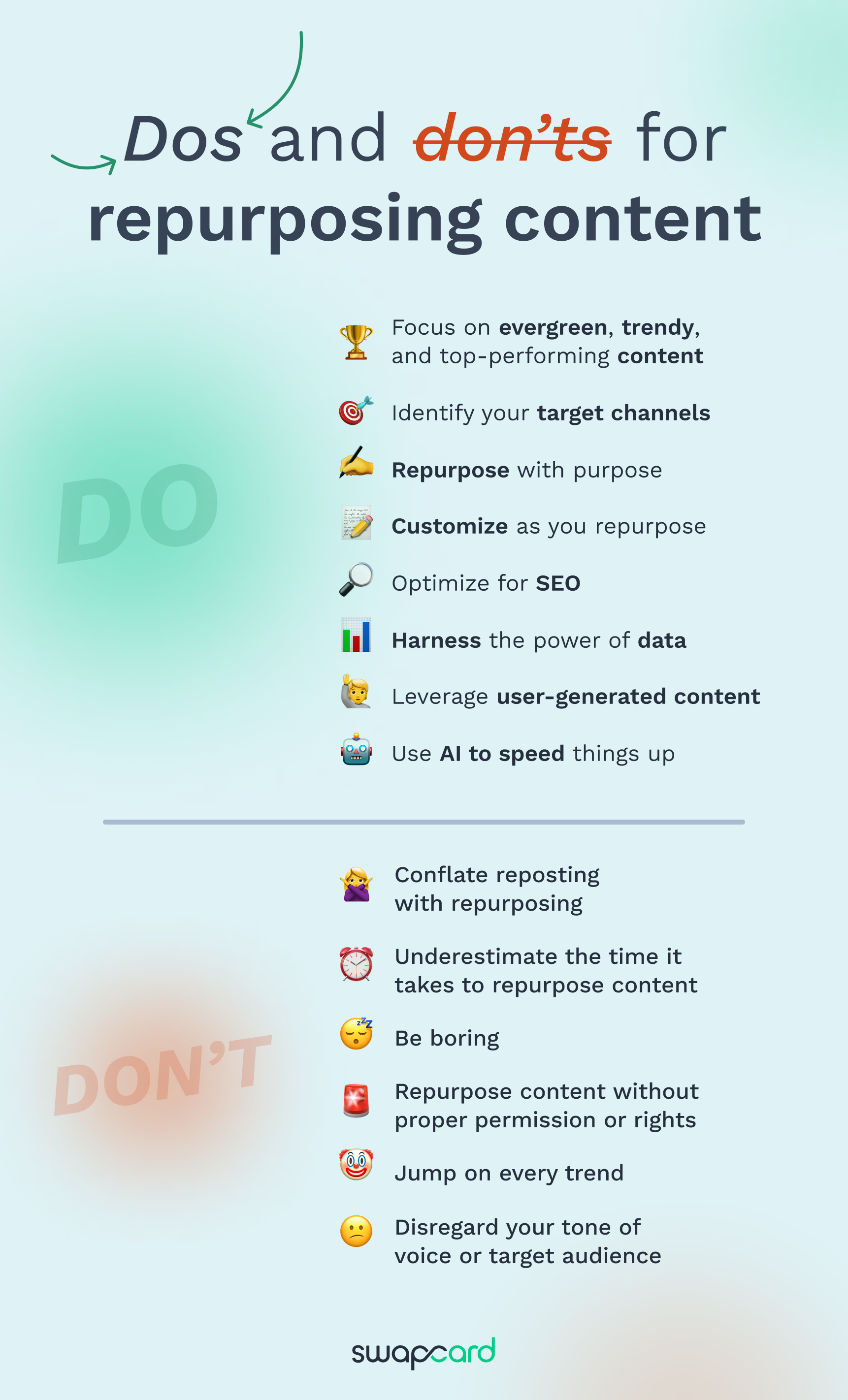 Summary
In conclusion, repurposing your content is a powerful way to enhance engagement, extend reach, and optimize resources. Remember to clearly define your objectives when repurposing content and tap into the power of data and AI tools to maximize your impact and streamline processes. Event attendees are eager to consume content long after your trade show ends. One of the easiest ways to do this is to compile the best-performing content from your event and offer them an on-demand library.
Looking to create a dynamic space where your audience can easily access your content and engage with your brand throughout the year?
Consider building a community!
By transforming your event into a thriving community, you unlock a multitude of benefits:
1️⃣ Create and manage your event communities seamlessly in one centralized platform, simplifying community management and fostering a sense of belonging.
2️⃣ Transform your content into an on-demand educational portal, providing valuable resources and empowering your community members to learn and grow at their own pace.
3️⃣ Gather insightful analytics year-round, enabling you to track engagement, measure impact, and make data-driven decisions for continuous improvement.
Ready to harness the power of community? Contact Swapcard today and discover how we can support you in building an engaging and thriving event community.