A discussion on hybrid events with Jacquelyn Wells, Vice President of MDG and Walid Bengeloune, Regional Manager, Swapcard Canada.
Events are evolving to take on a new form. A hybrid event model combines the best of technology with the magic of live interaction. During Swapcard's 3-day online event, Evolve: The Virtual Event for Planners, we had some experts discuss in detail the future of the hybrid event model. Walid Bengeloune of Swapcard Canada interviews Jacquelyn Wells of MDG Marketing to help explain the essence of hybrid events.
They discussed questions like why hybrid events are growing in popularity and which changes can be expected when planners decide on a switch to hybrid. Jacquelyn talks about the budget strategy and how to break down costs so that organizers can maintain a profit margin while transitioning to a whole new event format. Walid and Jacquelyn discuss all the advantages of hybrid events and how your audience and exhibitors benefit from the mix of live and virtual. They also break down a timeline and all the steps to follow in planning a successful hybrid event.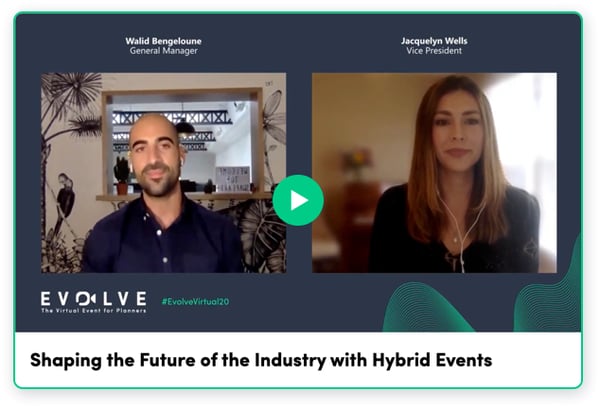 If you're interested in learning more about hybrid events and watching their expert interview, including the impact of hybrid events on the environment or new sponsorship opportunities, sign up for the Evolve platform for free. Evolve is a year-round online community where you can network with event experts from all over the world and access exclusive content. You'll be able to watch all the sessions on-demand and also be the first to know about new content coming up in the Evolve Series. The first new session will take place at the end of July and you'll be able to attend live, ask questions to the speakers and interact online.