Swapcard has earned another round of awards from the world's largest software marketplace and review platform—G2. Each quarter, G2 compiles reviews from users, along with data from online sources and social networks to score and spotlight the best software businesses.

Since listing on G2 in Winter 2021/22, Swapcard has earned multiple badges for being an easy-to-use solution for in-person and hybrid events.

This quarter is no different, and we're honored to announce we took home 26 badges - a new personal record!

Let's take a closer look at the five awards that we're particularly excited about:
G2's Easiest Admin Badge in the

Event Networking and Matchmaking category

G2's Leader Badge in the Lead Retrieval category
Best Estimated ROI Badge in the Mobile App category
G2's Leader Badge in the

Event Networking and Matchmaking

category
G2's Momentum Leader Badge in the Mobile App category

Easiest Admin Badge Winner for Event Networking
One of Swapcard's standout features is the smart matchmaking functionality which analyzes profiles of attendees and exhibitors to match participants with recommended sessions, exhibitors, products, and attendees.
Attendees, exhibitors, and sponsors alike love Swapcard's user-friendly interface that allows them to make new connections and build meaningful relationships at in-person and virtual events.
Our users really can't stop raving about it!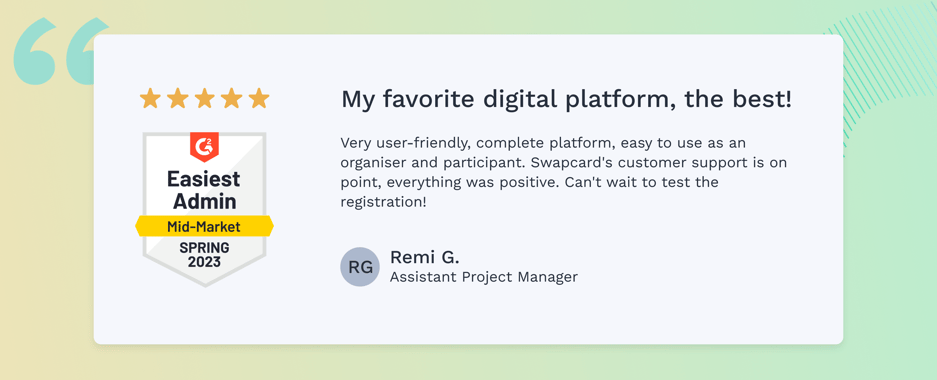 Leader in Lead Retrieval
Lead retrieval software or mobile lead capture software, is a must-have among sponsors and exhibitors, as it allows them to capture and process lead contact information at trade shows and other events.
Swapcard maximizes lead generation for sponsors and exhibitors with:
A badge scanner (available on both iOS and Android devices) speeds up the data collection process. After scanning a lead's badge or business card, you can add tags and notes to best define and segment leads.
An AI-powered algorithm that helps sponsors and exhibitors find qualified customers prior to event days.
Advanced filters to search and group attendees by interest, ticket type, and behavior.
Swapcard's lead retrieval capability ensures that you never miss a sales opportunity due to lost or misplaced information again!


Best Estimated ROI for Mobile Event Apps
Swapcard prides itself on being the event and community management platform that drives revenue. This is why we're particularly excited to be awarded the badge for "Best Est. ROI" with the shortest amount of months needed to see a tangible return on investment (ROI).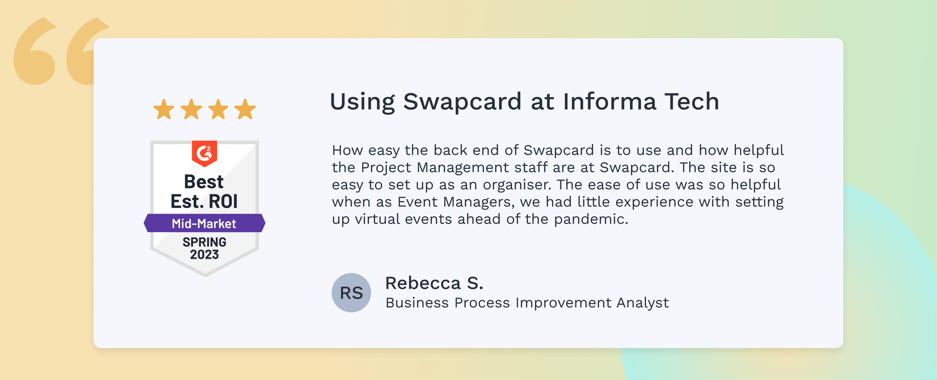 Looking for more ways to achieve higher ROI with your events? Check out these success stories!
Leader in Event Networking and Matchmaking
As the leading all-in-one event technology and community platform, it's no wonder Swapcard has been awarded this coveted badge.
Swapcard provides endless opportunities so attendees, speakers, and exhibitors can interact before, during, and after event days. In addition to an AI-powered algorithm that empowers meaningful connections, Swapcard also offers:
A social media-style newsfeed for community members to share updates.
Customizable forum and chat options for larger group discussions.
Roundtables for small group conversations.


Momentum Leader for Mobile Apps
G2 awards a Momentum Leader badge to software companies that have positive peer-to-peer reviews, and a positive presence on social media, web pages, and employee review websites.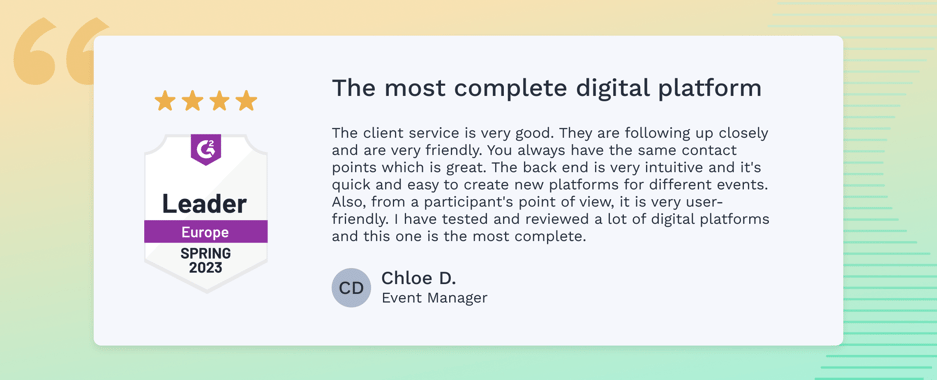 In addition to these five badges, Swapcard was also featured in the G2 Top 100 list, ranking as one of the best Marketing and Digital Advertising Products this year.
"These awards are a testament to our dedication to offering an easy-to-use platform for in-person and hybrid events. Our solutions are here to support our clients in their event goals and reduce their operation stress and work. We want to say a big thank you to our community for all your reviews. Your feedback drives everything we do and your success is our success!"
- Baptise Boulard, CEO @Swapcard