In this guide, we'll explain how prioritizing an all-in-one virtual event platform allows planners more creative freedom than webinar and video conferencing tools. Then, for those interested in a more comprehensive virtual event provider, we'll highlight features and capabilities that are proven to generate the most engagement amongst virtual event attendees.
Before jumping online — why should an event planner use virtual event software at all?
Video-conferencing tools, especially free ones, such as Google Hangouts, and Zoom were massive for businesses and families throughout this whole pandemic. Countless meetings among teams, between businesses and prospective clients, and important presentations took place in these digital spaces.
Universal and affordable access to these impressive video-conferencing and webinar tools might have some virtual event planners wondering, "Why can't I host my event there?"
Virtual Event Platforms vs. Video-Conference Tools & Webinar Platforms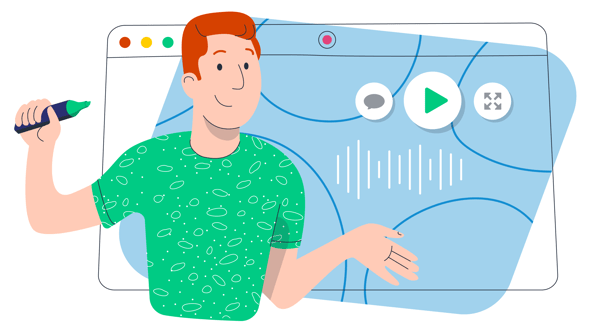 Simple gatherings, chats, and presentations can run pretty well on Zoom, Microsoft Teams, Hangouts, and many similar platforms.
The main difference is, if you choose to go the video-conference route, you'll be restrained in terms of the type of sessions you'd like to hold, how dynamic those sessions are, the level of quality in a user's experience, and the amount of data you walk away with. The differences, in those areas, between a webinar service and a virtual event platform are staggering.
For example, an event using video-conferencing software could hold some group-meeting conference calls, but it would need to then find a different platform if it wanted to add a live stream to the day's agenda. The hosts would also need to find new platforms for all other types of sessions — i.e. webinars, video calls, roundtables, and speed chats.
That is all in addition to using more platforms for producing and distributing engagement content such as onboarding emails, live discussions in sessions, group chats, polls, and surveys. And then a host also needs to take into account modern standards like live analytics, networking features, and exhibitor services.
Video conferencing tools and webinar platforms are effective for a more simple, or casual meeting. However, for a virtual event that makes an impression on its users, runs smoothly, and lets its exhibitors present their products how they see fit — planners need to utilize proven virtual event software.
Couldn't I just wait until COVID-19 is over and go back to doing physical events?
We are all excited and very much looking forward to the return of in-person events.
The virtual event space doubled in size over the course of 2020, and with that came an abundance of astonishing innovations. However, the chance to return to the same conference rooms, arenas, and exposition centers is sure to inspire a major boost in morale throughout the world.
Knowing that in-person events will return, it's also important to remember that the virtual space has opened up so many new doors in terms of how inclusive and attentive a host can be to their attendees and exhibitors.
Personalized agendas, remote attendance, and intuitive matchmaking technologies aren't there to replace physical gatherings, but rather to complement and enhance them.
Physical events can always benefit from a hybridized approach, embedding the advantages of digital programming into their itineraries in an ongoing capacity.

Virtual event features are here to stay, as they transcend time and space to bring industries together while expanding reach, productivity, and business for those who use them wisely.
The world of connectivity and hospitality embedded in the digital space is far too meaningful and valuable for any industry to ignore. That includes yours. So, not only should you open up your event-planning standards to the virtual space, but you should do so with thought, organization, and style.
Establish High Standards For Your Virtual Event Platform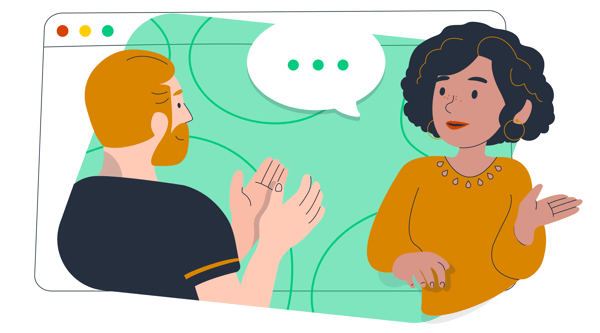 To know what you need in a virtual event platform, you'll have to consider what the event itself will call for. If you're looking to run more than one type of gathering, presentation, or conference — the more versatile and capable software will suit you best.
Based on what's available amongst the best all-in-one virtual event platforms in 2021 —those that achieve above-average usage and attendance rates—here are some standards to consider when seeking a platform.
When determining the level of care your event deserves, remember that customization, advanced networking tools, high-end exhibitor services, and technologically-advanced matchmaking services are readily available in today's market.
So, to curate a world-class virtual event, aim high.
You might be asking yourself the question, "How much does a virtual events platform cost?" Well, it depends. Platforms like Swapcard have the pricing clearly set out on the website, and range from free for small events to paying per attendee, per exhibitor, or per year. Running recurring events with a year-round community platform can work out cheaper than going once-off. Other platforms can range from $10,000 to $100,000. It all depends on the level of customization you want, how big your event and audience is, what extra features you want in-house, and how much support from the tech company you need.
Use Technology To Produce Your Vision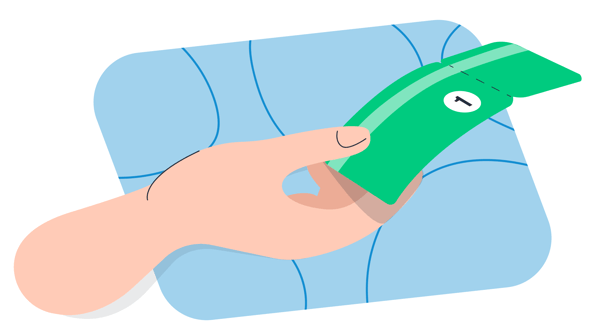 The mere existence of an interactive virtual events platform like Swapcard means that you never need to limit the number of sessions, or variety of presentations your given event features.
Imagine if South By Southwest (SXSW) was limited to simple live streams or only group-chat style webinars.
Be sure to hold out for a virtual event platform that's capable of accommodating a range of presentation methods, and offers cutting-edge tech to ensure your event can grow and evolve however it needs to.
As an example of what an effective platform can offer — Swapcard's program builder allows hosts to create as many sessions for an event as they want.
Across that built itinerary, you can present any variety of webinars, conferences, round tables, speed chats, and live streams imaginable. Diversifying the presentation types across a given event is an easy way to make it stand out online. Only 20% of marketers live-stream their events to social media — a clear, popular differentiator available on the best virtual event platforms.
Freedom in presentation type might feel like a meaningful level of customizability to those just getting introduced to the virtual event space, but modern hosts using our platform and those similar can make their events far more personalized.
Here are some examples of features our event program builder offers, which you can use as a reference for what to expect or seek out in choosing a platform.
The attached speaker lists make attending and navigating sessions easier for users.
Personalized programs for different ticket types and admission levels help those with tiered virtual event platform pricing keep their presentations organized.
Automatic language adaptation
makes each event available according to each audience member's individual language preference.
Live Q&As, polls, and online chats promote engagement, make attending more fun, and generate valuable analytics.
Seeking out a virtual event platform with a

versatile program builder

goes a long way toward planning an organized, interactive, and dynamic gathering. It's important to consider features and systems that will support your itinerary as you see it.
When shopping platforms, ask yourself specific questions, such as:
Can I upload a speakers' documents to each session, and track who can access them?
Can this platform filter days, topics, and session types to make searching for sessions in the program easy?
If I want to have a main conference with different sub-sessions, can this platform link them together?
Will my events be automatically entered into an attendee's calendar to correspond with their given time zone and language preference?
Discovering a capable and nuanced platform — which features components to meet these needs and wealth more — helps ensure a professional, enjoyable, valuable event for users. It also sets the host up with an abundance of valuable content to inform follow-up events.
Customizable, Real-Time Analytics For Your Event
Featured services — like a virtual event platform for conferences automatically attaching pre-recorded and live-streamed videos to a host's YouTube or Vimeo account — go a long way towards maximizing the experience of an online event.
Additional popular features a platform can offer, like collecting attendee feedback and comments, help inform meaningful analytics, which also supports hosts' needs to improve their approach from one event to the next.
A Platform That's Customizable Still Needs To Deliver
So, to summarize what we've covered so far — the most usable and valuable virtual event hosting platforms set users up with a seamless and dynamic experience. They streamline the creation of virtual event content, as well as the sharing and study of it after. And this is all made possible with a program builder that's customizable to any number and type of sessions a host desires.
We will go deeper into the specific features premier virtual event platforms offer in regard to gathering analytics and promoting networking. What's available today is mind-blowing — ranging from in-depth data collection tools to cutting-edge artificial-intelligence-driven services.
For now, we're going to transition into how using a virtual event platform can attract users in the first place, and then keep them active and engaged throughout any given series of talks, presentations, meetings, and more.
By understanding your prospective virtual event software's approach to engagement, you can discern whether or not it can generate a quality experience that's beneficial to both the host and your attendees.
Choose A Virtual Event Platform That Engages Attendees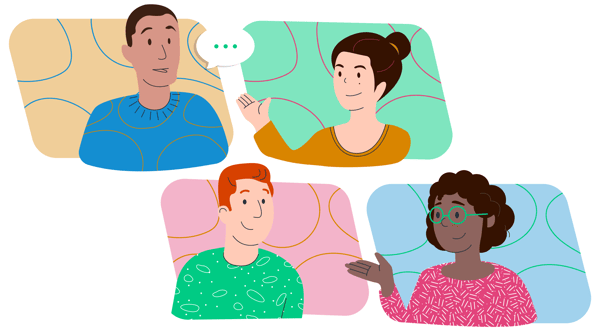 When users are only engaged for 53% of virtual sessions, how do you organize an event with a higher usage range?
A virtual event planner's greatest challenge is finding a way to seize the time and attention of an audience — especially those who are at home with an endless ocean of digital media, streaming movies, and social media apps a click away.
Overcoming those challenging distractions begins withdrawing an audience and roster of presenters to an online event in the first place. It continues throughout every one of those event's conferences, video calls, roundtables, and presentations.
When choosing a virtual event platform, be sure to make sure it has features built to keep users engaged throughout every step of their journey.
Seamless Onboarding Systems
Do yourself a favor, and seek out a platform that will ensure your attendees, exhibitors, and speakers are never left wondering where they should be, and what they could be seeing.
Over three-quarters of marketers say that email is the most effective way to drive registrations for a virtual event. So, at the very least, a sound platform should automatically send invitation emails, as well as reminders and follow-ups to everyone who needs them.
After directing a user to their desired destination with the proper links and language, a seamless onboarding system can offer a number of features to make navigating an event easier, and to provide hosts with telling analytics. To use Swapcard as an example, let's look at some of the features our system includes:
Hosts can edit and track email campaigns with included statistics, such as: the number of emails sent, and the number of emails opened.
Every email is customizable by text, color, content, and links.
Advanced content management systems let planners and hosts add images, links, boxes, and videos to brand messaging in line with the event.
Beyond seeking out specific features like the examples above, there are also some intuitive elements one must consider when choosing their ideal virtual event platform.
What kind of interface does the platform you're choosing have? Is it nice to look at, and easy to navigate?
Customizability is only really valuable to you if it's accessible. How simple is the process of crafting and generating your own email campaign with the system?
Does the virtual platform's system know how to target specific groups, and help your messaging find the inboxes most relevant to your event?
To get started on the journey, we invite you to check out our approach to onboarding emails.

From there, you can then branch out and compare how other virtual event platforms approach this essential area of bringing audiences to an event and keeping them engaged and informed throughout.

Once you've designated some platforms with quality email systems, then it's time to start thinking about the rest of the attendee experience.
Custom Attendee Journeys
Personalization is one of the most exciting elements of running an event online, or in a physical space with the addition of a virtual event platform to elevate its user experience. An ideal platform in today's day and age should be ready and equipped to get to know its users, and then provide them with an experience that speaks to what they as an individual needs.
For so long, events have been viewed as a single audience sharing the same experience. As technology makes gatherings more comprehensive, diverse, and vast — personalization is becoming ever more important.
There are several simple capabilities that our team has prioritized in terms of guiding an attendee through their bespoke journey. The first is offering bookmarked sessions for individualized schedules based on what a guest has registered for. It's also important for users to be able to schedule their meetings, bookmark exhibitors and keep track of the connections they made throughout a given event.
Beyond these standards, it can be fun for a platform to have an added feature like Swapcard's Wishlist, which allows guests to keep a running tab of products and services they choose to bookmark.
Live Discussions in Sessions
The user engagement path leads to the sessions.
Emails, custom schedules, finding a system that runs smoothly — this is all to get people together. It's imperative to find a platform that's equipped to offer a variety of features to keep attendees interested and active once they're logged in.
Live group discussions are effective in providing a space for participants to express their reactions to an event in real-time. With Swapcard, for example, these spaces could be linked to a session itself, or with an event's home page. Aside from the venue, live discussions encourage audiences to engage with speakers and engage with content.
Check out some features offered on our platform, and then use that as a basis to begin imagining which live-group capabilities your event would benefit from.
Chats make it easy for attendees to engage and interact with each other and the speakers of a particular session.
Q&A features let audiences ask questions, and vote on the questions they collectively deem of highest priority for the speaker to answer.
Organizers and speakers can launch live polls during a session to keep viewers involved and engaged.

81.8% of virtual event organizers

use event polling to improve interaction, making that capability somewhat of a staple.
Emoji reactions are a beloved feature that allows audiences to react to messages in the chat — a digitized recreation of the collective sighs, hums, and cheers of an in-person audience.

Prompting your users to interact with features such as live chat is not only helpful in keeping them present, interested, and engaged — it's also a catalyst for networking. Once an attendee is pulled into an event, how do they stand to benefit? What can like-minded conferences or show attendees offer one another?


Networking is one of the most valuable elements of attending an event in person and online. And in addition to live chats — today's most successful virtual event platforms come equipped with a wealth of cutting-edge networking features.

Ensuring the platform you choose is perfect for a given event means considering how it will promote interaction that's of real value to its audience members.
Your Platform Should Provide All The Perks of Modern Connectivity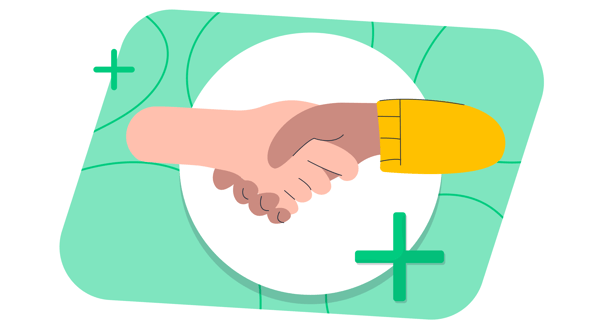 Comprehensive virtual event platforms connect hosts, guests, and presenters in advanced, unprecedented ways. They also provide industry-standard features to integrate a guest experience and streamline return visits.
Look at every aspect of an attendee's journey from arriving at an event, to meeting and connecting with a valuable contact. Then, as a host or planner, you can seek out features that should be included in the platform you choose.
Start at the beginning. How will your guests make their first impression?
An extension of the classic laminated badge with an attendee's name and photograph at a solely physical event — attendee profiles on digital platforms provide a necessary space for self-expression.
Invite Attendees To Make Themselves At Home
When your guests interact, how will they perceive one another? It's up to your event platform to provide them with the necessary tools to distinguish themselves. Some platforms, like Swapcard, invite hosts to import attendee lists using Excel, a ticketing tool, or manually.
Following the import of a guest list, the platform then pre-creates profiles on the platform for everyone included. Once an attendee receives their invite email, they're invited to complete and edit their profile with custom settings.
Being able to personalize a profile with a picture, job title, company, social media account, skills, biography, and contact details — users can take their first step toward networking at a virtual event. An attractive, telling profile with a smooth interface can serve guests in a much more detailed and intimate fashion than a badge ever could.
When browsing virtual event platforms, you can also seek out unique capabilities like linking attendees to exhibitor profiles and sessions.
Make It Simple For People To Connect With One Another
Once you've found a platform that can set the stage for a community-building event, it's important that it's simple and easy for users to actually network. Here are some features we recommend making sure are included in any virtual event hosting system:
Connection requests are vital to generating conversations amongst users. This simple tool can be used as a filter for people to control who can message them, or access all of the details in their profile.
Meeting requests offer a different option for those who have a direct reason to propose a one-on-one video call, or a physical meeting during any given event. A platform with this feature helps attendees differentiate who they're networking with, and the type of conversations being proposed.
Filtered search is an element that users greatly benefit from when attending a virtual event. Often, the people we hope to network with are only identifiable by keywords, job titles, and the companies where they work until we actually meet them. So, ensuring your platform has a tool to accommodate this will be massive.
Consider The Advanced Technology Of Modern Matchmaking
Beyond giving people the tools to make connections themselves, virtual event planners have exceptional opportunities to prompt networking in new, innovative ways.
The emergence of artificial intelligence (AI) is the new frontier for event matchmaking and is likely to become a necessity for those who want to inspire connections with the best of them.
Swapcard's matchmaking services are powered by artificial intelligence, which analyzes attendee data and search history within the platform. It then uses that information to suggest specific people users should meet. Including this tech in an event provides attendees with something to sell an incomparable tool for generating qualified leads.
Actively learning, the system can provide more accurate recommendations the more an individual uses the platform. With profiles carrying over from one event to the next — virtual event attendees could expose themselves to endless meaningful contacts.
By encouraging attendees to create detailed profiles, and be active on an AI-boosted virtual event platform — you can put them in touch with the people they need to meet better than they ever could on their own.
Don't Forget To Take Care Of Sponsors & Presenters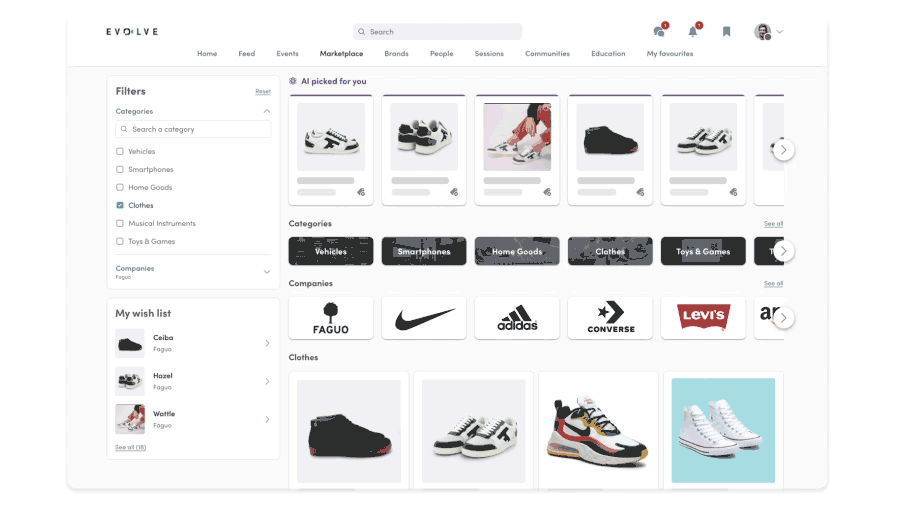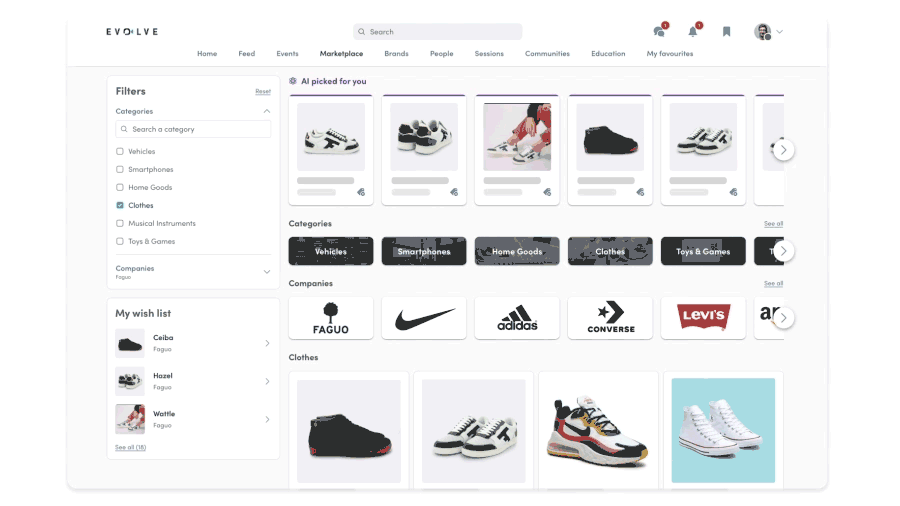 Your exhibitors are as important as your guests, and providing them with the tools they need to present determines the success of your event. An effective virtual event platform must be capable of supporting these individuals and their brands.
Curating an ideal presenter experience also begins with their profile, extends to an error-free user experience, and then should branch out into sponsored content.
Here are some examples of valuable sponsor services. Ensuring your virtual event platform features similar capabilities would be of value to your exhibitors, and therefore a logical step in choosing the ideal one.
Sponsor Profiles

provide a space for exhibitors and sponsors to post pictures, products, links, and more. Prioritizing a platform with attractive sponsor profile templates — featuring banners, social media links, and an attractive design — will help elevate your virtual event.
Sponsored Ads sold by you, the event organizer, offer exhibitors interstitial ad space within a platform like Swapcard. This can give exhibitors' ads visibility in places like the event home page, or at specific times like when users switch to full screen.
Virtual event hosts can also offer guests sponsored notifications with an all-in-one virtual event platform. These allow sponsors to prompt users with an external link, or a redirect link to the company's profile. Services like Swapcard also offer statistics on clicks so sponsors can track their ROI.
These valuable tools are major differentiators in the field of digital events.
Hosts who want to work with high-level brands, executing diverse conferences and shows for audiences around the globe should seriously consider catering to their hosts' business and user-experience needs. How well they're taken care of all comes down to the capabilities of the virtual event software.
Examine The Data & Analytics You'll Walk Away With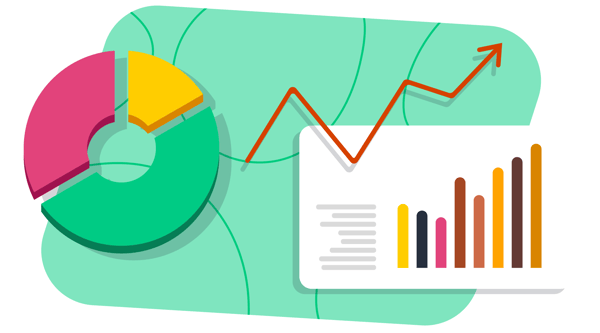 One of the main reasons why virtual events are here to stay — user analytics are a modern business' most valuable asset when figuring out how to grow and adapt to a marketplace. Ensuring you land on a virtual event platform that's built to collect and distribute meaningful data is another challenge today's high-level event planner faces.
Choose a platform that will provide access to live analytics with individual statistics for every participant in your program. The more detailed those statistics are, the more helpful they'll be when planning a follow-up event.
Here are some examples of such metrics, which our system keeps track of for its hosts:
Networking figures including the total number of contacts made, contacts made per active user, and total messages exchanged show how well an event generated business for its attendees.
Engagement Data such as the percentages of active users, users with more than one connection, and users who registered for more than one session show the level of interest and interaction an event inspired.
Top Performing rankings of best sessions, speakers, exhibitors, and most contacted users also go a long way in telling a host what elements of their gathering were most effective and helpful to attendees.
Make Sure You Can Brand The Event Properly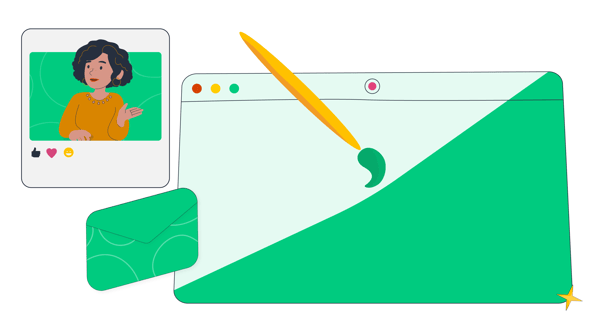 Once you've taken the steps to make sure the platform you choose for your virtual event is ideal for the experience of the guests, the sponsors, and exhibitors — it's time to consider the host.
Are you putting on this event with the intention of hosting more in the future?

Are you promoting a specific brand or product?

What is your brand? And how can this digital gathering amplify its reach?
Choosing a virtual event platform is a serious commitment because you're likely to rely on its capabilities to answer all of the above questions, and any of your brand needs moving forward.

Find a multi-event platform that allows you to create as many events as you like, curate and build a profile, and build a brand in a globally recognized virtual event space.

In addition to an attractive profile interface, the ability to customize your event with branded graphics, colors, icons, and menus makes all the difference in making the screen as hospitable as possible.


Host With An All-Inclusive Platform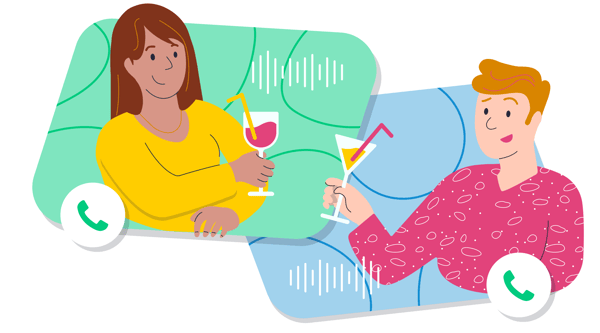 This might seem like a lot to consider when choosing a platform for hosting, and that's because today, you can do so much with a virtual event!
We are constantly working with boundary-pushing brands, conferences, and large-scale events that utilize virtual-event technology to facilitate their remote gatherings and amplify the physical ones. Tracking seemingly endless metrics on user engagement, attendance, and interaction, we see the standards constantly evolving.
As you take this guide into consideration when choosing the right virtual event platform for you, consider which, if not all of the suggestions, feel in line with your standards.
Built with all of the suggested features here, Swapcard stands as a strong example of how a comprehensive and intuitive platform can host widely attended, highly engaging events around the globe — in-person and remote.