The opportunity to learn anytime & anywhere, network with peers and having fun wherever we are is now a standard in the events industry. That's why, when it comes to selling an exceptional event experience, you have to ensure that it is engaging and authentic, regardless of the event format.
According to research found in the State of the Event Industry report published by the Event Manager Blog, the opportunity to increase attendance and audience reach is the most positive result of events pivoting to virtual. This is an essential point to keep in mind when planning for a successful hybrid event.
As an event organizer, when it's time to set attendance goals, it's important to distinguish between virtual and in-person attendance, preparing for a larger chunk of the audience to be digital. What happens if the virtual audience is smaller than the in-person one? Consider building and investing in a community.
Creating an engaged community without borders is becoming a huge opportunity for eventprofs. Research from Swapcard's Community Report explains how communities are the ideal place from which to inspire and recruit brand ambassadors, get ideas on how to shape your future events, foster a sense of connectedness that goes beyond your event days, and get excitement going for your upcoming events.
Missing out on the momentum of your event by limiting the virtual audience could be a strategic mistake. However, one of the beauties of having a virtual portion in a hybrid event is that there is no limit to your audience size.
With that in mind, let's dive into the 7 ways to monetize the hybrid model.
1. Put your website to work for you
Having a clear understanding of the benefits associated with attending an event in-person vs virtually is the first major step towards increasing your audience size. By taking the time to design different experience levels (freemium to premium), organizers are able to customize the journey and level of access for each persona (attendees, speakers, sponsors, media, and so on). This is where your website plays a strategic role in appealing to your two different audiences.
Having an intuitive and responsive event website is a must have when appealing to your potential audience. The website should instil FOMO (fear of missing out) whereby each participant will quickly understand why they don't want to miss out on the opportunity to be part of an amazing event experience.
It's also important to use your website as an opportunity to educate potential attendees about the benefits of participating in-person vs virtually. Make it clear what they will gain from each type of attendance, give them talking points to convince their boss that they should join, and also bring in quotes on what the previous year's attendees have to say.
2. Capitalize on sponsored sessions
Content is king and it can include: pay to play or click to play for live, simulive, pre-recorded, on-demand. According to Swapcard's latest research in the Business of Virtual Events, sponsored content is the most important element for a partner's ROI.
Sponsored keynotes, workshops/roundtables, leadership sessions, masterclasses, certification programs, training and/or product launches will place sponsors directly in front of the audience they are vying for. Allowing sponsors to speak in-person or virtually is also an interesting and flexible way to expand a sponsor's reach and visibility.
3. Find ways to network strategically
A meeting's objective can be completely different depending on the event type, but the main objective remains the same: connecting the right people at the right time. A hosted buyers program, collaborative meetings between employees, expert meetings or interviews between talent and recruiters (talent connect) are some examples of the different meeting formats for various persona.
More and more organizers are also starting to build a concierge team to ensure each attendee & partner of the event gets the most out of their experience (I'll discuss more on that in the following section). Keep these options in mind when it comes to creating a customized networking experience.
There are three key timeframes to consider when networking:
Before the event
The goal before an event is to accelerate the interactions between the proactive audience (you can think of them as power users). This is the ideal opportunity to put your concierge experience into action! The first meeting could be managed by a facilitator/matchmaker/super concierge to optimize the experience of each VIP attendee and make sure that they will meet the right people in-person and/or virtually.
Alternatively, consider having a platform such as Swapcard that offers AI powered matchmaking. This makes pre-event networking effortless for your proactive audience. Instead of wasting time manually going through participant lists and guessing who would be the best match, the AI will do the work for them. All they have to do is log-in, fill out some information, and the AI will suggest customized matches for the best networking experience.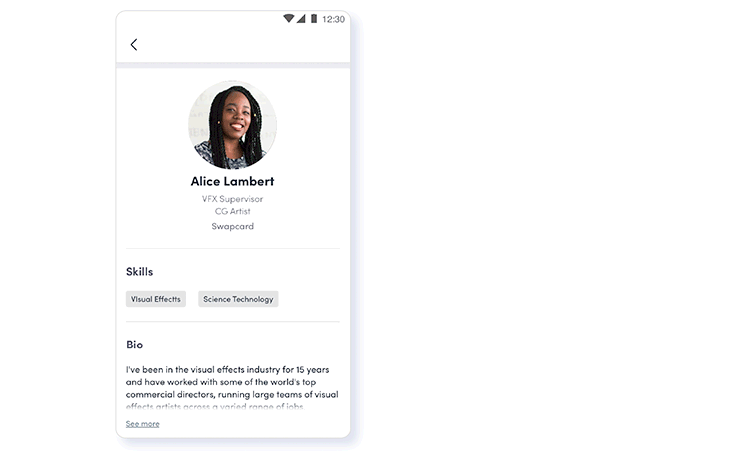 During the event
The event is your time to shine, so be sure to design diversified networking spaces that will enhance your audience's matchmaking opportunities. Some ideas you should consider having include: individual and group workshops with speakers, outbound/inbound meetings with peers, pro-finder (smart filters based on job title, industries, region, and so on), a knowledge hub (smart filters based on topics and participation interests), or a group chat room. These are just some ideas that you can put into practice to help the attendees build their own networking journey.
Post-event
Now that the event has ended, you shouldn't let that energy or momentum go to waste. Give all of your participants the opportunity to connect and/or make up for lost networking opportunities during the event days. Lost opportunities include cancelled, no show, or rescheduled connections. Making sure that you have a dedicated space for attendees to connect once the event is over ensures that no networking opportunity is missed out on.
This is also the ideal time to put your post-event marketing plan into action and also for event follow-up to occur with the super concierge (should you have one). You can also consider having a spontaneous and supervised networking experience for the VIPs as a way to keep them engaged and give them maximum returns after event days.
4. Use your online marketplace to increase visibility
This one is pretty straightforward: drive attendees to the booth and drive them to purchase. This is where an online marketplace can help. A marketplace offers something really specific to your audience - it helps attendees to easily find the right products or services, prices and giveaways or any special offers. A dedicated exhibitor marketplace amplifies a sponsor's ROI and provides a dedicated space for attendees that are interested in making a purchase.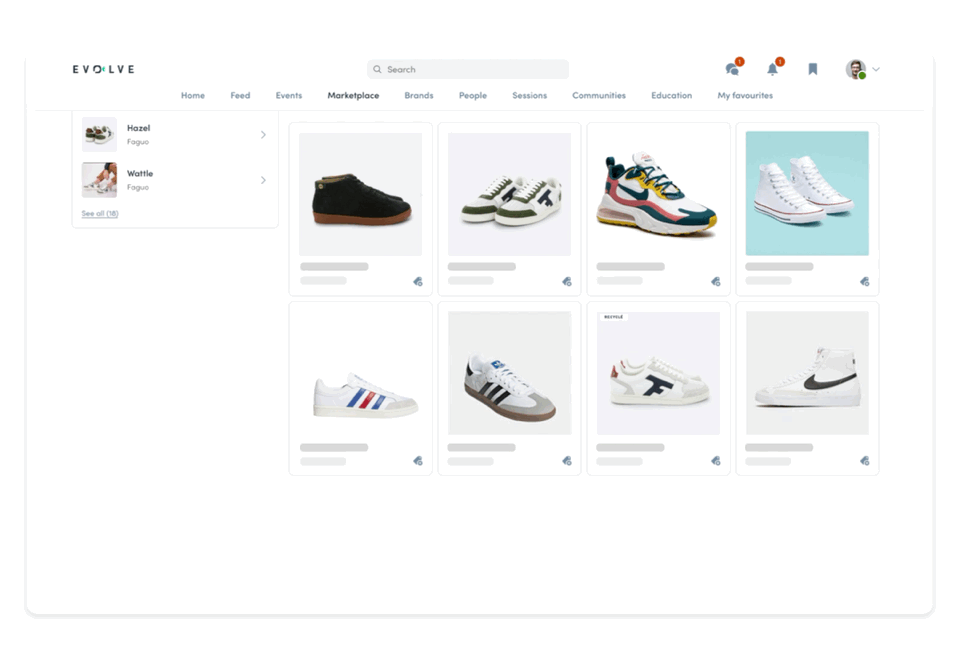 5. Generate brand activation with ads
Onsite advertising is here to stay. A sponsored networking lounge (and all the brand activations that come along with it - more on that later) is the most common experiential marketing strategy that will create an immersive and vibrant in-person experience. That's in addition to the traditional banners, strategically placed logos and other marketing materials that draws eyes to your brand during an event.
Even though onsite advertising is highly successful, that doesn't mean that you should ignore online advertising. Online advertising will also allow sponsors to get more exposure before, during and after an event. Some ideas to integrate sponsors into online advertising include: logos on invitations & reminder emails, sponsored push notifications, logos and banners in all the sections of the event platform.
When speaking about brand activation, I'm speaking about increasing brand awareness and engagement through a targeted brand experience. For example, having a virtual booth is now a standard for brand activation because of key features such as: promo videos, custom backgrounds, video & product galleries, ads, live chat and instant video call, integrated meeting scheduler, tracking booth visitors, and so on. All of these contribute to an immersive experience that will draw people to your brand and keep them coming back.
6. Use data and reporting to your advantage
Be sure to track the results of your investment with data and reporting. Companies have always invested a significant part of their marketing budget in events. They need a strong and measurable ROI to justify their participation every year. The statistics behind participant behaviour will help sponsors to better understand the interests of their audience, which in turn will make for smarter investments so they can maximize their ROI at future events.
Some matchmaking event platforms, such as Swapcard, allow exhibitors to get access to a robust and customized exhibitor's portal. This portal gives them the tools to manage and follow in real-time all their team members' activities that are associated with a booth.
Key reporting indicators that you should look for in order to maximize your prospects include: virtual booth visits, in-person lead vs virtual leads, meeting notes, gamification results, inbound lead boards, and event followup (Export, CRM, Linkedin Sales Nav, etc.)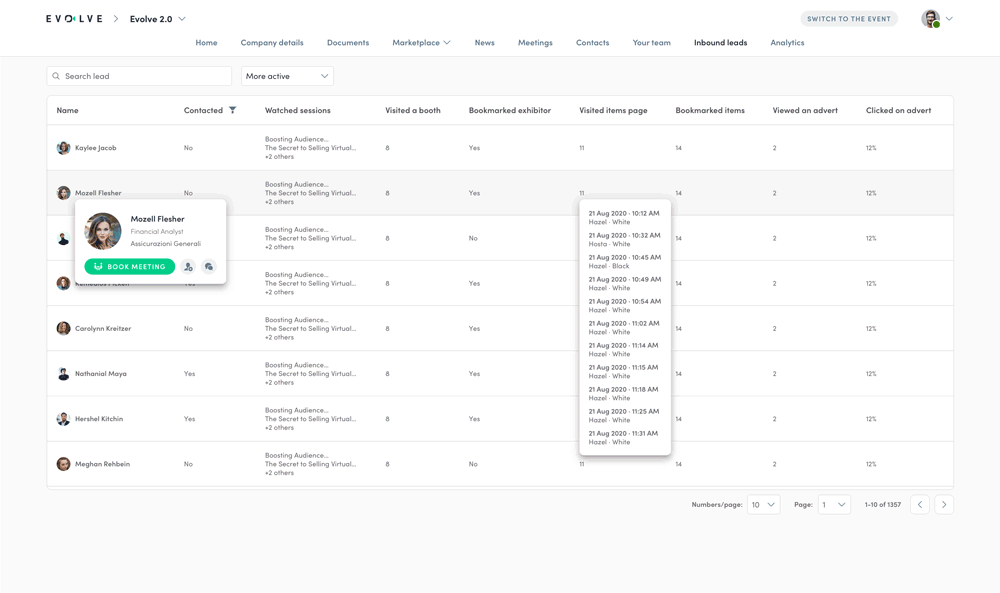 Note: Sample image of Swapcard feature in production. Coming soon!
7. Build on event momentum with a 365-day community
Turning an event audience into an engaged community by offering a year-round experience to members is becoming an attractive new revenue stream strategy for event professionals.
Extending the visibility of sponsors through their content, products and services also allows them to connect with members all year round, not only at an event. It also gives organizers the ability to implement and automate a subscription model (monthly fee or yearly fee) for access to this worthwhile content, a monetization opportunity that didn't exist before.
Being part of a community where you can learn, share your knowledge, grow your business, find support and become impactful are key success factors that social networks use to amplify the connectivity between power users. It's also something that event organizers are learning to channel when building their own communities. This can easily be implemented in the event industry. Learn, share, connect and have fun!
Remember: When it's time to build a monetization strategy, it's important to ensure that all the monetization features used at an event are also available on your 365-community platform. Otherwise you are losing out on the opportunity to truly capitalize on your newly built community to its full potential.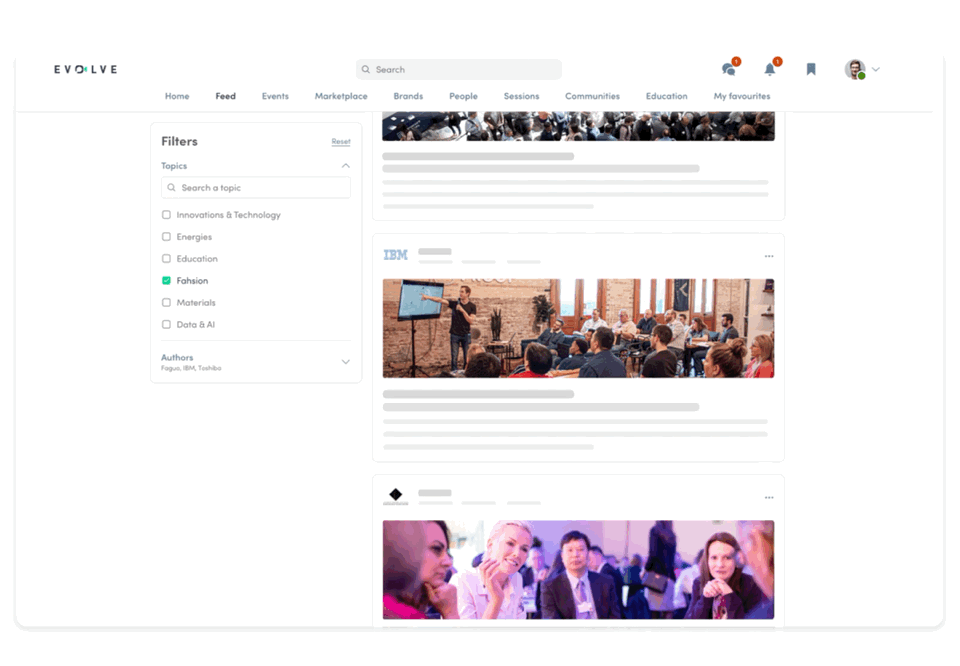 What to remember
Best-in-class organizers have been able to generate margins and deliver high ROI to their sponsors when they understand how best to appeal to each different audience, get creative with sponsored sessions, customize networking experiences, boost sponsor visibility with an online marketplace, strategically execute ad campaigns, use data and analytics to their advantage, and invest in building a community.
When planning for your hybrid event, these 7 ideas together can help take your monetization strategy to the next level. All you have to do is put them into action and watch the returns roll in!