Time and time again, the registration process emerges as a significant pain point in the world of event planning and management. Low registration numbers, high no-show rates, and the complexities of outdated tech stacks can leave event organizers and attendees alike feeling frustrated and overwhelmed. But there's an alternative!
Modern event registration platforms are transforming the industry, paving the way for smoother, more efficient registrations. No longer just tools for collecting attendee information, they have become the foundation upon which successful events are built. The best event registration platforms empower event organizers to plan and execute successful, customized, and personalized experiences.
Efficiency, Engagement, and Excellence: The Power of Event Registration
Let's explore the multitude of benefits these platforms offer, ranging from enhanced efficiency and heightened attendee engagement to a steadfast commitment to data-driven excellence.
Boosting Registration Rates
Attracting registrations for on-site events can be a challenging feat, especially in the face of fierce competition. So, how do you set yourself apart and achieve impressive registration numbers? The answer lies in a multifaceted approach.
Turn your event into an attendee magnet with these five strategies:
Create Compelling Content:


Create content that goes beyond information; make it

inspiring, actionable, and tailored

to your audience's needs and interests. Engage renowned speakers, thought leaders, and subject matter experts to provide valuable insights.



Choose an Engaging Event Design:


A fresh and innovative design can set your event apart from the competition. Embrace innovation with unconventional layouts (circular seating arrangements or lounge-style seating) interactive sessions (e.g., live polls, Q&A), and unique experiences (e.g., VR demos, art installations).



Invite Top-Notch Speakers and VIP Attendees:


Attract top-tier speakers and VIP attendees who are respected figures in your industry. Their presence not only adds prestige but also provides networking opportunities and the potential for valuable business collaborations.

Implement Networking Hooks:


Leverage technology, such as AI-driven matchmaking, to connect attendees with like-minded peers. Host dedicated networking sessions, roundtable discussions, or interactive games to encourage meaningful interactions. Consider offering matchmaking incentives, like exclusive access to certain speakers or content.

Develop a multifaceted marketing strategy:


To reach your target audience effectively, leverage all the digital channels at your disposal, including social media, email campaigns, and targeted online advertising. Create teasers and trailers that build anticipation. Highlight your event's unique selling points, and don't forget to emphasize the value attendees will gain. Collaborate with industry influencers and partners to extend your event's reach and credibility.
When choosing an event registration platform that will help increase registration rates, look for customizable registration pages, seamless marketing integrations, and in-depth analytics.
At Swapcard, we've recently released a new feature to help you reach a wider audience than ever before. The Swapcard registration widget is a game-changer for promoting your registration form quickly and effectively. By embedding the widget on your website, getting visitors to click on your registration page is as easy as pie!

💡 Boosting your event registration rates is all about finding ways to minimize friction in the registration process.
Tackling the No-Show Scenario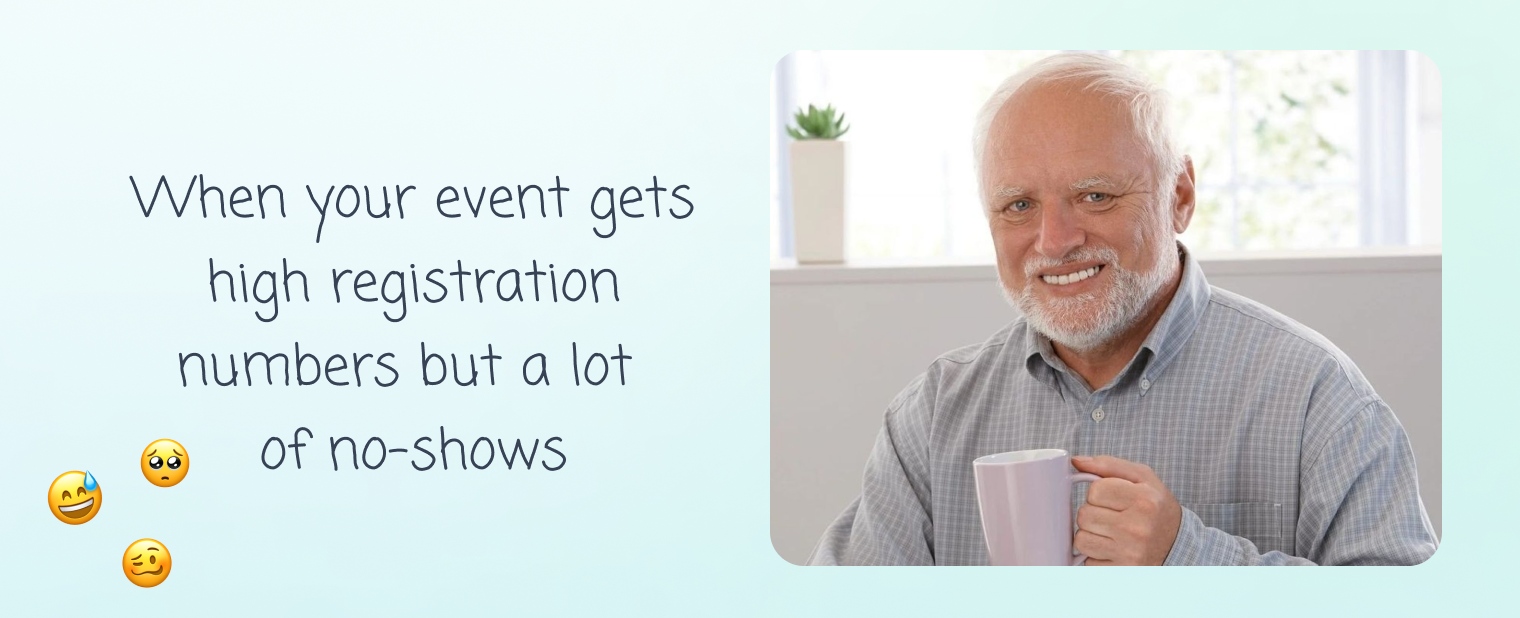 Every event organizer knows the heartbreak of getting high registrations but a low turnout on event day. We've got a few tips to help you avoid the dreaded no-show scenario.
Here are three event registration platform features that can help you boost attendee attendance:
Automated confirmations and reminders: Sending automated confirmations upon registration and timely reminders leading up to the event date is the easiest way to keep your registered attendees engaged and committed to showing up.
Personalized attendee journeys: An experience tailored to your attendees' interests and needs increases the likelihood of a strong turnout. Use data from your registration form to send personalized recommendations well before the event starts.
Leverage data insights: Review registration dates from previous years to optimize early bird incentives. Also, use Net Promoter Scores and behavioral data to identify which attendees are less likely to return and which are your biggest fans. Tailor registration offers to secure those who are on the fence.
💡 Consider going badge-free by offering digital passes. Encourage your attendees to download your event check-in app so they can receive real-time updates.
A tailored journey for your attendees
Crafting differentiated pricing structures and tailored registration journeys can be a daunting task. Event registration tools, with their user-friendly interfaces, simplify this complexity, making it easier for you to cater effectively to various attendee groups.
Here are five key ways that an event registration platform helps you create a tailored journey for your attendees:
Personalized communication: Within the registration module, organizers can segment attendees based on the information provided during registration. This segmentation capability allows organizers to send personalized communications through the platform. You can send welcome messages, session recommendations, and networking suggestions, all tailored to each attendee's interests and goals.


Agenda and session selection: Registration modules often include features for attendees to choose from various sessions, workshops, or networking events based on their preferences and objectives. This functionality allows attendees to create a personalized event schedule, enhancing their event experience.


Networking opportunities: Many registration modules incorporate networking features connecting attendees with similar interests or goals.


Personalized recommendations: Optimized registration modules utilize advanced algorithms to provide attendees with personalized recommendations for sessions, exhibitors, or networking opportunities based on their registration data and preferences. These recommendations enhance attendees' experience by guiding them toward relevant content and interactions.


Post-Event Resources: Even after the event, a registration module can continue to deliver value. Using data from what your attendees said they find interesting, you can send personalized resources post-event, e.g., session recordings, presentation materials, and content that incentivizes attendees to continue connecting with others.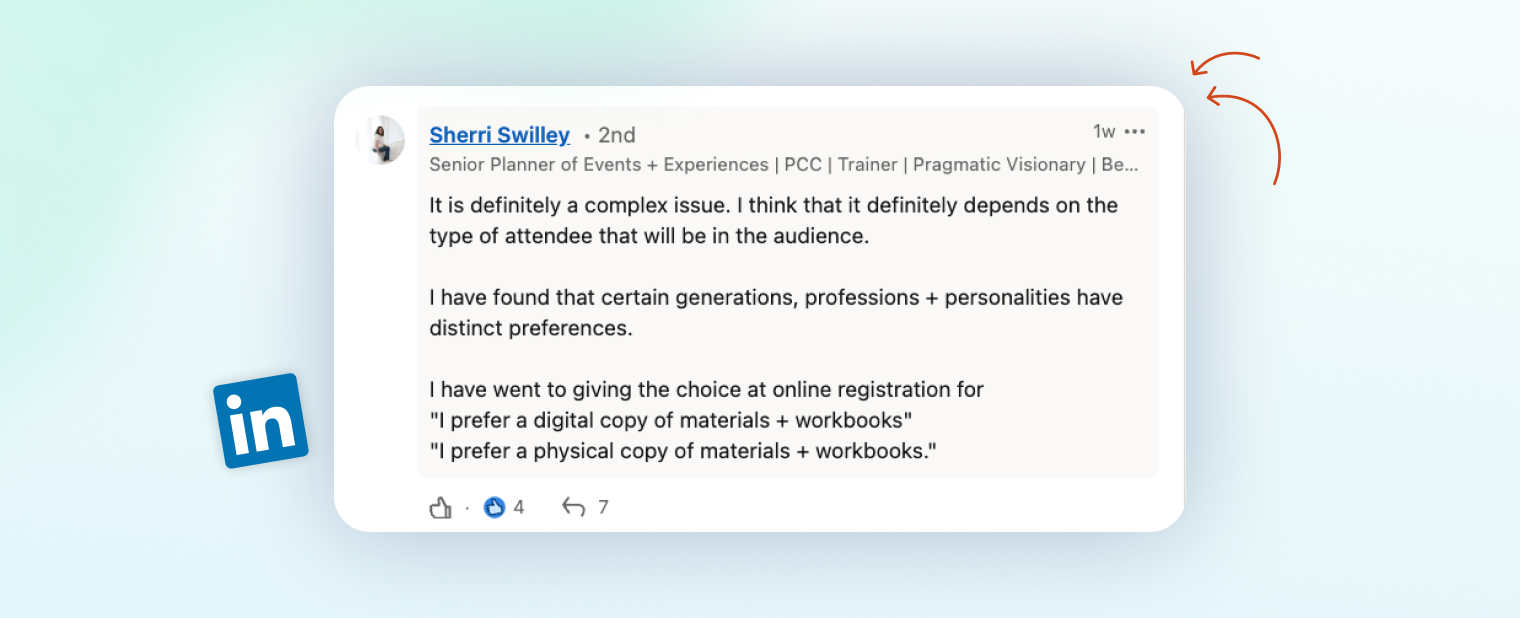 By utilizing a registration event platform, organizers can create a highly customized and personalized attendee journey that aligns with each individual attendee's unique goals and preferences, resulting in greater attendee satisfaction and engagement throughout the event.
Efficient On-site Check-in
The on-site check-in process serves as the crucial initial point of contact for attendees at your event. Ensuring your attendee's first impressions are positive will set the tone and align them with your goals.
Here's how to create an exceptional on-site check-in experience for your attendees using an event registration platform:
Badge printing software: Some registration platforms offer a

print-at-home functionality

to reduce waiting times and enhance the overall efficiency of the check-in process.

Automated badge reprinting: Badges do get lost or damaged, so it's a good idea to set up automated badge reprinting stations using the registration platform. This allows attendees to request and receive replacements hassle-free.
Offer digital passes: By offering digital passes, you can sidestep the need to print physical badges altogether. Mobile-friendly check-ins save resources and align with eco-friendly initiatives, contributing to a more sustainable event.
Zero-line check-in for VIP attendees: With a registration platform, you can allow VIP attendees to use self-check-in desks, allowing them to bypass queues and enjoy a seamless, expedited check-in process.
Self-service kiosks: Choose to give the VIP treatment to all your attendees by enabling these kiosks for all attendees who have already registered on your registration platform. All they have to do is scan their digital passes or QR codes for a speedy process.
Real-time attendee tracking: Leverage the platform's real-time tracking capabilities to monitor check-in progress and attendee arrivals. This allows event staff to make informed decisions, allocate resources efficiently, and address any potential bottlenecks promptly.
Personalized welcome messages: Customize the registration platform to display personalized welcome messages or digital agendas upon check-in. This adds a warm and personalized touch, making attendees feel valued and engaged from the outset.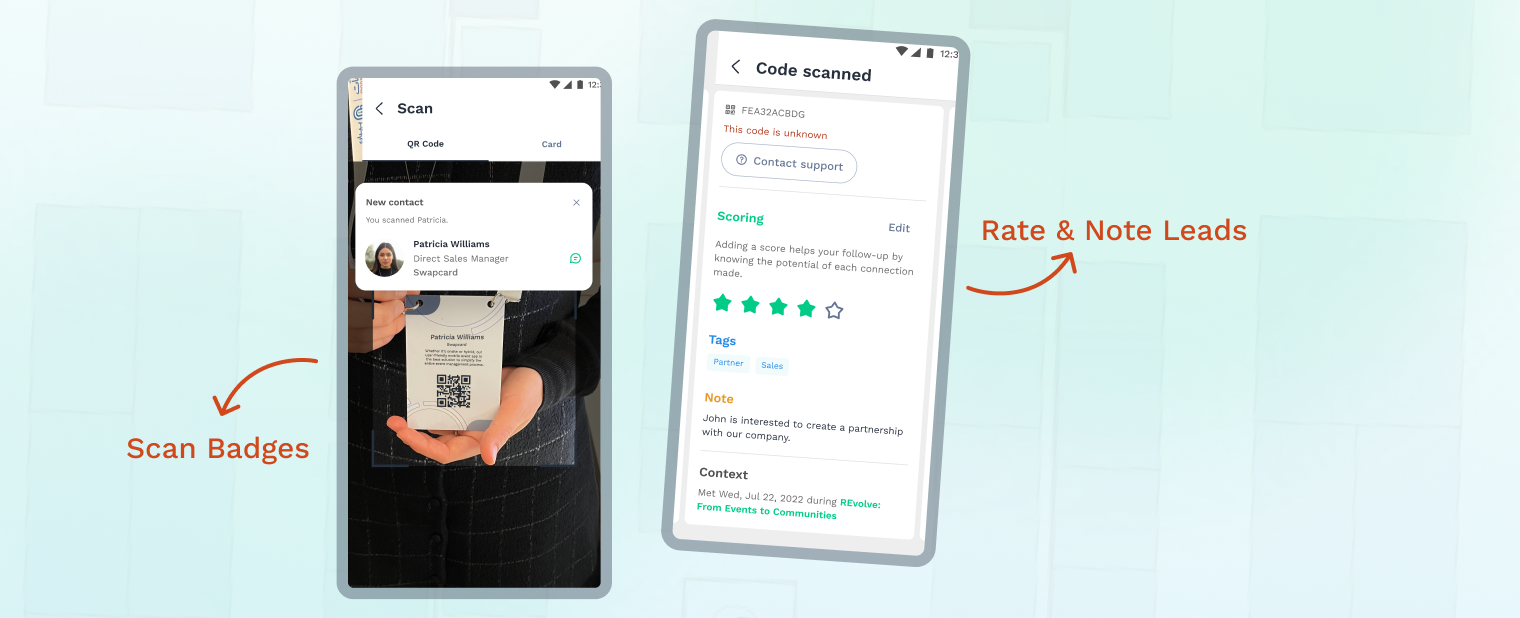 Simplifying a Complex Tech Stack
When looking for an event tech platform that will meet your registration needs, you essentially have two choices:
Option A: You can assemble an array of independent tools and then grapple with the challenge of figuring out how to integrate them all.
Option B: Alternatively, you can opt for an all-in-one event registration platform that serves as the single source of truth and offers seamless registration journeys.
While the choice may seem like a no-brainer, selecting an event management platform with a built-in registration module can still be a challenge - let's be honest, most big-name all-in-one platforms can be a nightmare to use 👹.
Here are some common issues users face when using an event platform with an integrated registration solution:
👎 Complex features
👎 Slow performance
👎 Limited accessibility
👎 Lack of self-service options
👎 Data entry challenges
👎 Payment limitations
👎 Security concerns
To avoid these challenges, opt for a modern solution that prioritizes ease of use that actually enhances the overall attendee experience.

Intuitive, all-in-one platforms such as Swapcard simplify and streamline processes, ensuring that anyone, regardless of their technical proficiency, can navigate the event's registration and check-in procedures with confidence. Attendees benefit from a smoother, more efficient experience, setting a positive tone for the event while organizers save time and resources.
Minimizing On-Site Technical Challenges
A huge part of having a successful event is being able to expect the unexpected and plan accordingly. Unfortunately, when working with tech, bugs and malfunctions can happen at any time, even on E-day (event day).
Here are a few common technical issues that users may experience with a registration module at an on-site event:
Slow or unresponsive systems: The registration module may suffer from slow performance or become unresponsive, leading to delays during check-in and frustrated attendees.
Compatibility problems: Compatibility issues with different devices and browsers can arise, making it difficult for some attendees to access or complete the registration process.
Payment processing failures: Technical glitches in the payment processing system can lead to payment failures or delays, hindering the registration process.
Barcode or QR code scanning problems: Issues with barcode or QR code scanning during check-in can slow down the process and create bottlenecks.
Technical challenges have the potential to disrupt the seamless flow of your on-site event, creating unwanted hurdles for both you and your attendees.
To mitigate these risks, evaluate platforms using reviews from peer review sites such as G2 and thoroughly test your chosen platform well before your big day. A stable event registration platform is half the battle. The other half is having a team of experts on hand to resolve any issues that may pop up.
💚 Event registration platforms like Swapcard offer robust on-site support and remote assistance, providing organizers with a safety net to address any technical issues swiftly and effectively.
Anticipating Attendee Volumes
It's tough to accurately predict how much space you need for each session when you're uncertain about the exact number of attendees. Underestimating can lead to overcrowded rooms, compromising the attendee experience and potentially violating safety regulations. On the other hand, overestimating can result in wasted resources and underutilized spaces, impacting the event's efficiency and cost-effectiveness.
However, an all-in-one event registration platform equips organizers with real-time data and analytics that help anticipate and manage attendee volumes effectively. Using this data ensures an improved check-in experience and queue and session access management.

From tracking registrations in real time to implementing waitlists, an event registration platform ensures that you always have a clear picture of attendee numbers. This data-driven approach enables precise session planning, preventing the hassles of overcrowded or underutilized rooms. Organizers can allocate resources efficiently, ensuring that every session is optimized to accommodate the expected audience.
In doing so, attendees can enjoy well-organized sessions with ample space, minimal wait times, and a smoother flow throughout the event. This not only leaves a positive impression but also contributes to the event's success, and it enhances the overall attendee experience.
Promoting Inclusivity and Accessibility
Event registration provides valuable opportunities to promote inclusivity and accessibility right from the outset of your event planning. At its core, inclusivity ensures that everyone, irrespective of their background, identity, or abilities, enjoys equitable access to the benefits of your event. It goes beyond fairness—it extends an equal opportunity for participation, which in turn, catalyzes innovation, enriches discussions, and broadens networking horizons, ultimately elevating the overall quality of the event.
Here are several actionable ways to cultivate inclusivity and ensure that all attendees feel genuinely welcomed at your event:
Pronouns on badges: Implement the option for all participants to include their preferred pronouns on their badges or digital passes. This empowers individuals to express their identities comfortably, fostering an environment that values respect and inclusivity.
Customized assistance: Enable attendees to request specific accommodations or support during the event registration process. Whether it's sign language interpreters or mobility assistance, offering these options during registration allows organizers to proactively make necessary adjustments, ensuring that all participants can fully engage with your event, regardless of their abilities.
Accessibility options: Integrate accessibility options directly into the event platform, including the registration module. Examples include screen readers, captioning for presentations, and adjustable font sizes so that all participants can navigate the platform with ease.
Language preferences: Provide registration forms and event materials in multiple languages to accommodate attendees from diverse linguistic backgrounds. This ensures that language barriers do not hinder engagement and participation.
Diverse content: Offer a diverse selection of session topics and speakers to reflect a wide range of perspectives and backgrounds. By doing so, you create an event that resonates with a broader audience and offers opportunities for meaningful learning and exchange.
Don't forget to offer opportunities for your attendees to offer feedback on the event's inclusivity and accessibility. These insights will allow you to continually refine and enhance the event's inclusiveness, ensuring that it evolves in a way that meets the needs and expectations of all attendees.
Advanced Data Capture
An all-in-one event registration platform goes beyond basic registration details to capture comprehensive data ranging from attendee demographics and preferences to engagement metrics and behavioral insights. This data can be used to enhance every area of your event.
Here's how you can use the data from your event registration to build a better event:
Create highly personalized event experiences, e.g., content recommendations, session suggestions, and matchmaking buyers and sellers.

Segment attendees based on their interests and engagement history, allowing for more targeted marketing campaigns.

Measure event success using key performance indicators (KPIs) such as attendance rates, session popularity, and sponsor engagement.

Demonstrate the value of sponsorship packages and help sponsors make data-driven decisions.

Improve Event ROI by leveraging the insights gained from attendee data to optimize resource allocation, streamline event logistics, and identify cost-saving opportunities.



💡 Be mindful of data privacy laws, especially when considering passive tracking that may infringe on attendee privacy. Swapcard provides custom data privacy that can be prompted in the reg form to ensure compliance from the start.
Summary
From boosting registrations to managing no-shows and streamlining tech stacks, event registration platforms are the key to tackling many obstacles you face at your on-site event.
Looking for an on-site event registration platform to help you build a data-driven event that generates revenue?