You spend your days planning events—it only makes sense to check some out for yourself!
In this fast-paced industry, we know that live events are still the best way to network, learn and see what innovations are underway. They may even spark some inspiration for your planning and connect you with your next big opportunity.
We're halfway through 2019, and while there are still lots of incredible shows on the horizon for the end of the year, we know how much you like to (and need to) plan in advance.
From around the globe, here's our guide to the best conferences and trade shows for event organizers to attend in 2019 and 2020.
EUROPE
France
Heavent
There are two annual editions of Heavent—a top-rated event for meeting professionals in France. The first, Heavent Expo, takes place every November in Paris at Porte de Versailles and focuses on innovations and new technologies in the event industry. For 2019, their Paris November show will take place on the 26, 27 and 28 (2020 dates coming soon!)
Heavent Meetings happens at the Palais des Festivals et des Congrès in Cannes. The goal of this smaller event is to foster meetings between event service providers and venue managers with decision makers and event buyers.
Location & Dates:
Heavent: Paris, Porte de Versailles, November 26, 27 & 28, 2019
Heavent Meetings: Palais des Festivals et des Congrès in Cannes, April 20 - 22, 2020
Who should attend: Event professionals who focus on B2B meetings and conferences, trade shows and anyone interested in event technology. Exhibitors include event tech startups, venues, decor and other serviced relevant to the needs event professionals!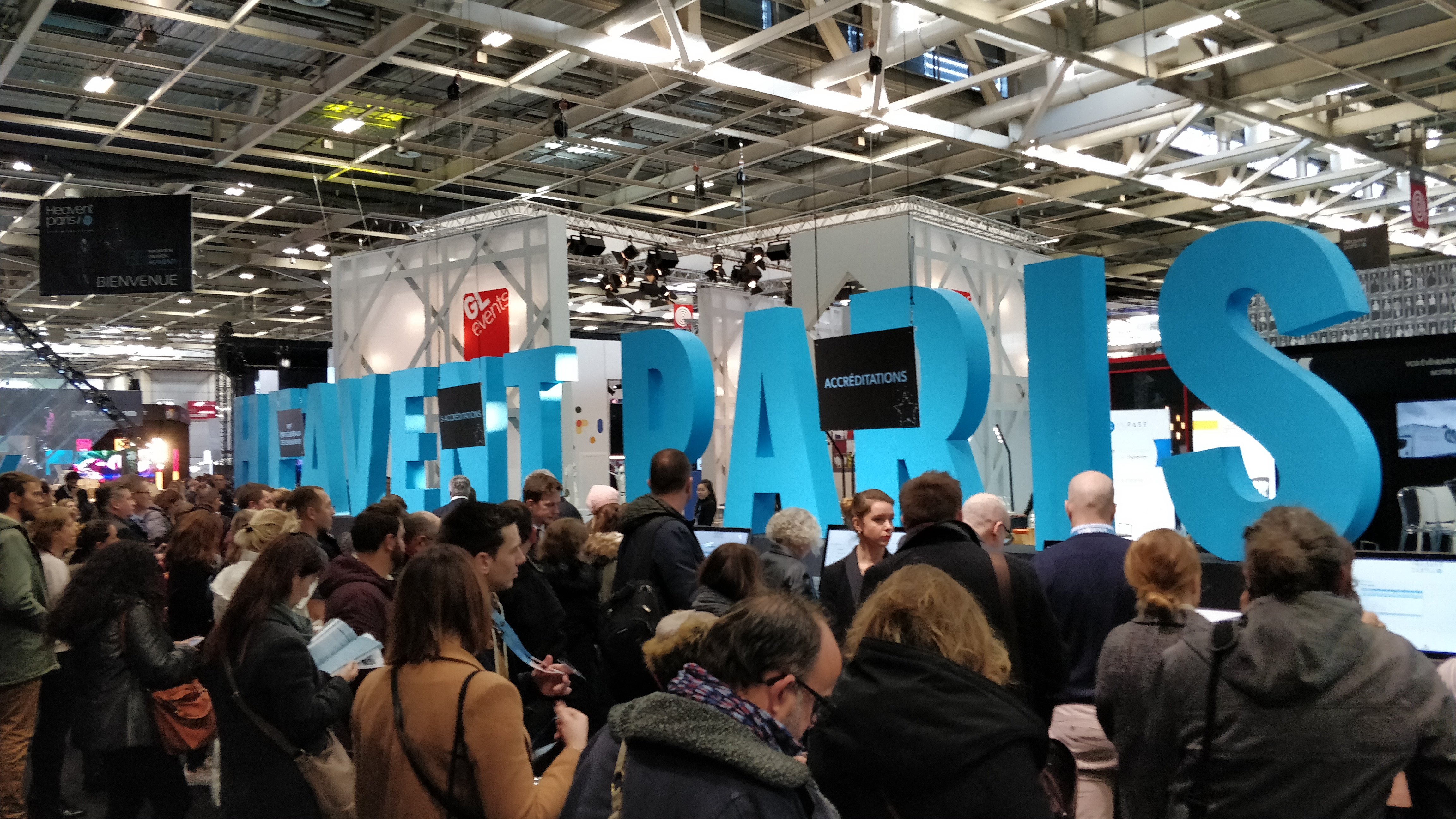 Heavent Paris 2018
United Kingdom
Confex
A long-standing favourite among event organizers, Confex will host its 2020 edition at ExCeL London from February 25 to 26, 2020. Confex gathers over 8,000 event and meeting professionals to network, get inspired and scout new business prospects. Highlights include speed networking sessions and a mentorship program with industry leaders.
Location & Dates: ExCeL London, February 25 to 26, 2020
Who should attend: Anyone who organizes trade shows, conferences, exhibitions, meetings — really, event professionals from all walks of life can find a reason to go. You'll find a wide array of exhibitors, from event apps and registration platforms to venues and rental services.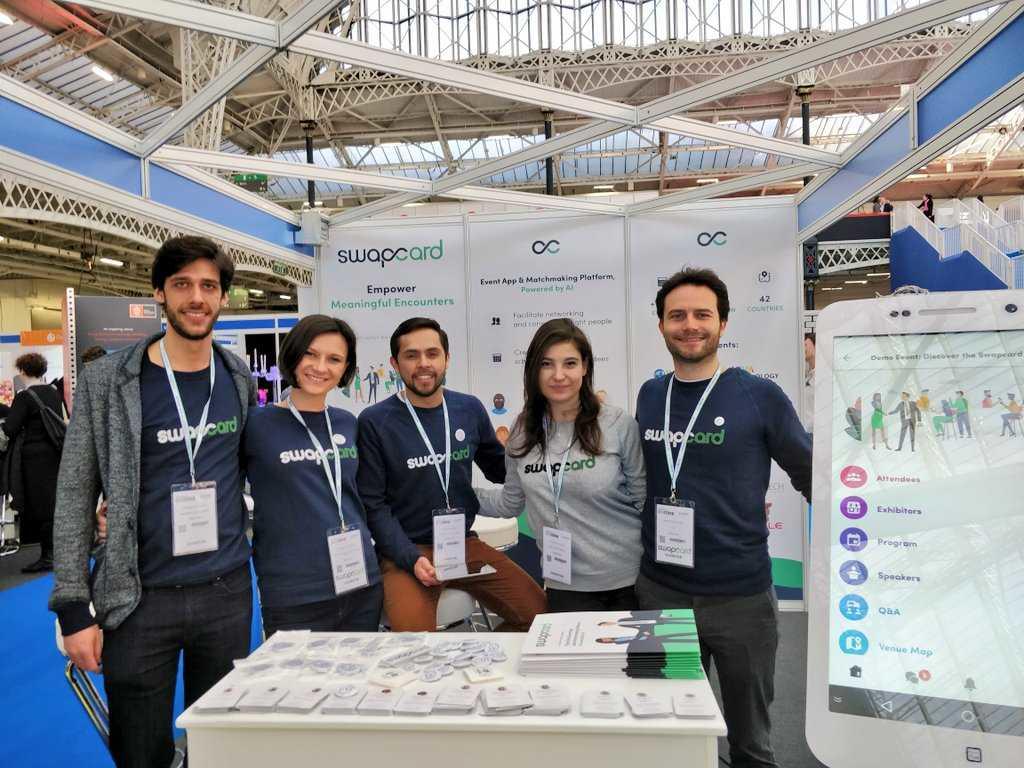 The Swapcard Team at Confex 2019
Event Tech Live
Event Tech Live is the only free show in Europe dedicated to event technology, collecting 115 exhibitors and over 2,000 attendees to provide an educational event with over 50 speaker sessions surrounding the exciting world of event tech.
Here's what the event's organizer, Adam Parry, had to say about this year's show:

"As with every year, there will be the latest technology and software available to the industry on show at ETL. These range from software to help plan, organize and deliver the event through to attendee-facing technology such as AR, VR and other engagement technologies.
New for 2019 will be the launch of a dedicated MarTech area with a dedicated stage across the two-day event delivering the latest education, tactics and tips when it comes to marketing an event.
Topics will include SEO for events, using technology such as HubSpot, retargeting website visitors, digital and online marketing as well as much more. This new area will also feature a range of exhibitors who supply marketing technologies and software designed for events."
Dates & Location: London, The Old Truman Brewery, November 6 & 7, 2019
Who should attend: Anyone who is an event tech enthusiast or new to the event tech sphere⁠—this show is an excellent opportunity to network and learn.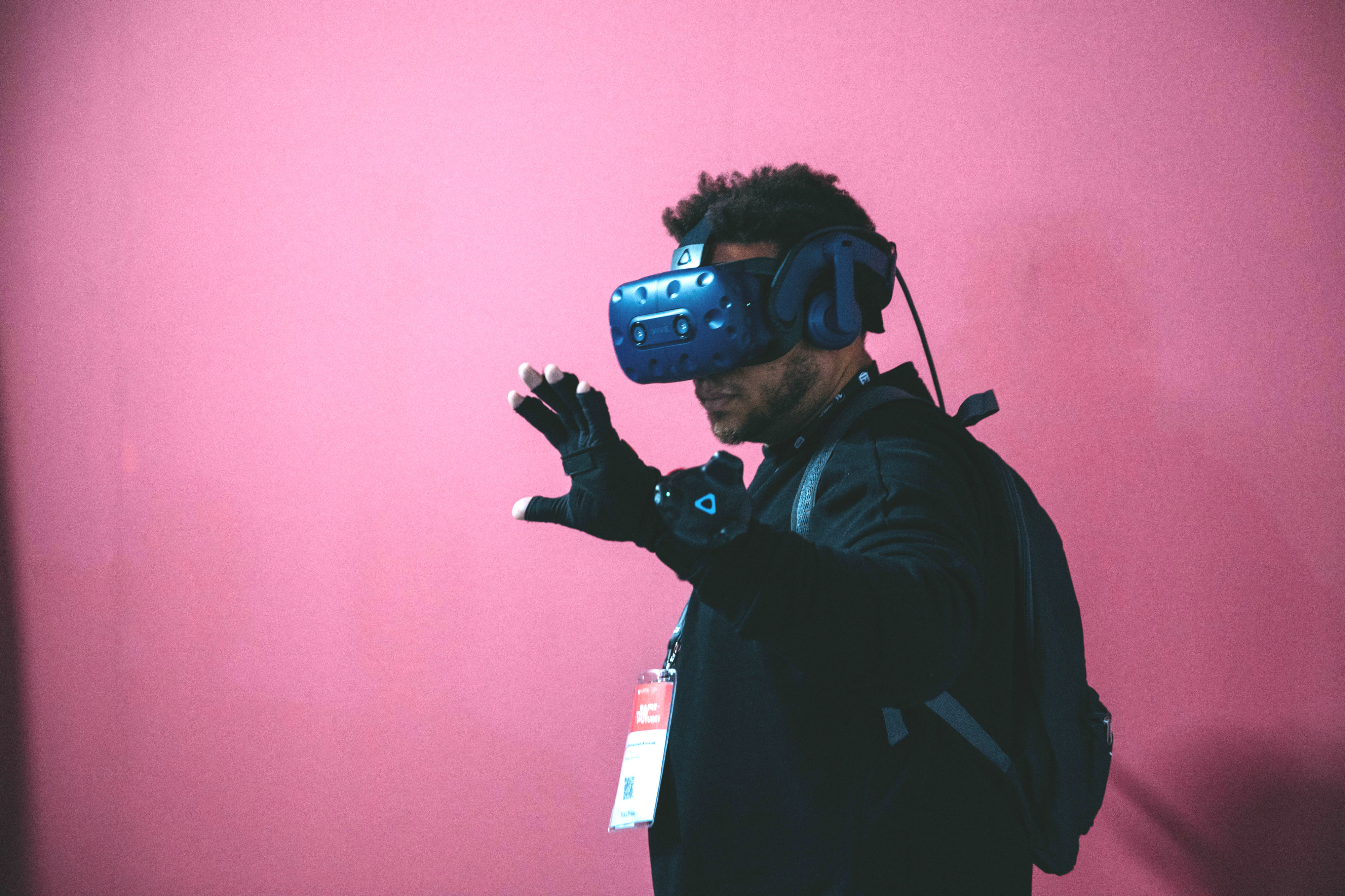 Learn about event tech like VR at Event Tech live
The Meetings Show
Join the 4,500 event organizers, agency buyers and meeting professionals that will attend The Meetings Show this summer in the UK. Over 600 global suppliers will be showcasing their products, including event tech suppliers, conference venues, destination management companies and more. As the only fully-hosted buyer program in the UK, The Meetings Show attracts hundreds of industry buyers from around the world.
Dates & Location: Olympia London, June 26 - 27, 2019
Who should attend: Whether you're an in-house or agency planner, a media member or a buyer—any event professional with a passion for the industry can benefit from attending. The show is free for buyers, industry visitors and non-exhibiting suppliers.
Conference Awards
The Conference Awards honours and celebrates achievements in the events and conferences industry, with a panel of experts who select event professionals—including agencies, marketing teams and operations—who have demonstrated top-of-their-class efforts and contributions to the industry and recognizes them during a lavish ceremony.
Dates & Location: The Pavilion, Tower of London, July 5, 2019
Who should attend: While you can attend as an individual, why not participate as a team to boost company visibility and celebrate your potential wins together. You can register here.
Conference Awards 2018 Winners - Photo courtesy of Conference Awards
AEO Conference
The AEO Conference offers engaging content and prime networking opportunities to event industry professionals. Highlights this year include an opening keynote from award-winning entrepreneur and world-record breaker, Neil Laughton, and other sessions from high-level industry speakers.
Dates & Location: De Vere Beaumont Estate, Windsor, September 5 - 6, 2019
Who should attend: Those looking to network with other event professionals and learn from inspirational CEOs, communications, marketing and sales experts.
Turkey
ACE of M.I.C.E. Exhibition
ACE of M.I.C.E. collects key players in the MICE community from around the world for their three-day show held annually in Turkey. Visitors will gain insights into new industry trends and can request appointments with exhibitors through an online platform before the show begins.
Dates & Location: Istanbul Congress Center, January 22 - 24, 2020
Who should attend: Corporations, event management companies, incentive groups, hotels, venues, media and travel agencies.
Germany
BOE
An international trade show for experience marketing, BOE will host approximately 500 exhibitors and 10,400 visitors at its 2020 show. Industry thought leaders will round out the trade show component with forums on topics ranging from digital & technology to safety & security.
Dates & Location: Messe Dortmund, January 15 - 16, 2020
Who should attend: Professionals in the MICE industry, prospective job seekers, buyers and event professionals looking to learn.
UNITED STATES
The Special Event
With over 8,500 attendees, 300 speakers, 200 sessions and 500 exhibitors, The Special Event gives visitors myriad networking, sourcing and learning opportunities. The event has two components: an education-rich conference over three days and a trade show the runs consecutively for two days.
Dates & Location: Las Vegas, Mandalay Bay, March 9 -12, 2020
Who should attend: Event planners (weddings, corporate, catering and so on) who want to discover new event products and services or learn from intriguing speakers.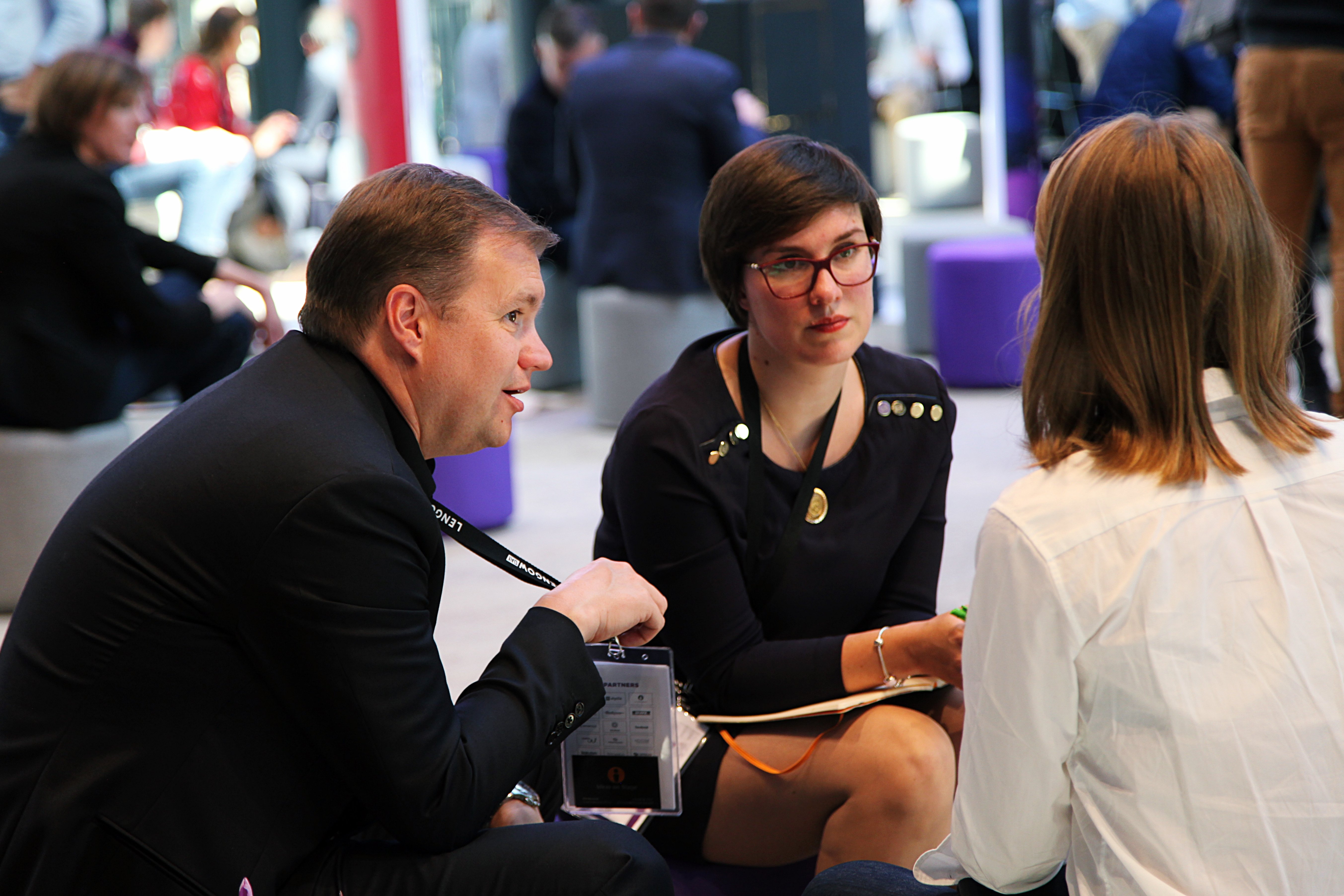 Network and meet new people at conferences and trade shows for event organizers
ILEA Live
Uniting their global community—a collection of thousands of creative event professionals including journalists, meeting planners, caterers, decorators and more—The International Live Events Association (ILEA) live event for 2019 will focus on the theme 'Cultivating Creativity'. Via sessions led by industry veterans and leadership panels, the event aims to incite curiosity and creativity amid its attendees and inspire new ventures in their planning.
Dates & Location: Minneapolis, Hyatt Regency Minneapolis, August 8 - 10, 2019
Who should attend: You need to be a member of the ILEA community to attend. For more information on how to join, you can visit their website here.
PCMA EduCon
PCMA's EduCon focuses on impactful and in-depth education at their annual event. Small-group workshops, a Collaboration Studio with hands-on activities and post-session follow up discussions with speakers create an intimate atmosphere for anyone who wants to learn and grow as a planner.
Dates & Location: JW Marriott Los Angeles LA Live, June 25 - 28, 2019
Who should attend: Event marketers, event designers and business event strategists.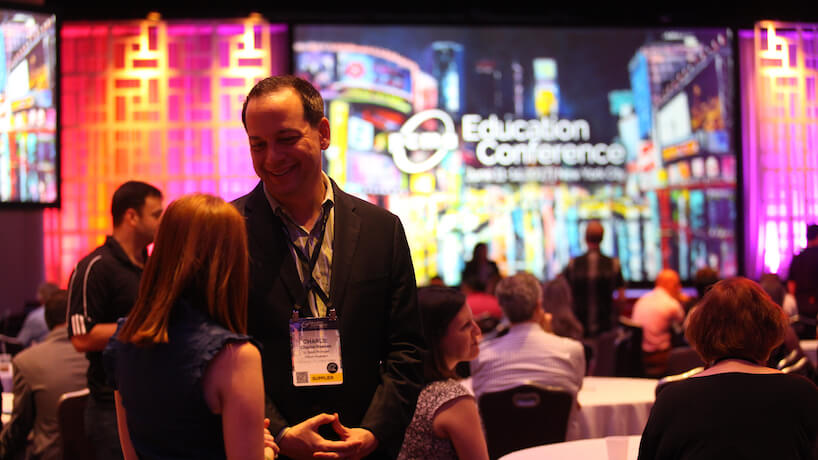 PCMA Education Conference 2017 / Photo courtesy of PCMA.org
BizBash Live
Event media company BizBash presents BizBash Live, a series of one-day events across four major cities in the United States. While the Florida edition has already passed for this year (2020 dates will be announced soon), there are still opportunities for this year to network and get inspired by fellow event industry professionals and compelling leaders in Los Angeles, Washington and New York.
Dates & Locations:
California Market Center, Los Angeles, July 24, 2019
Ronald Reagan Building, Washington DC, July 31, 2019
Jacob Javits Center, New York, October 23, 2019
Who should attend: Perfect for those with limited time, these one-day events in major cities are an excellent opportunity for busy event professionals to familiarize themselves with the industries latest trends through inspirational content and educational sessions.
Xlivecon
Geared towards festivals and live events in the entertainment, sports, food and beverage industries, Xlivecon is an action-packed three-day event that covers everything from sponsorship and marketing to ticketing and technology solutions. Noteworthy speakers for this year's show include Marcie Allen of Mac Presents, Bryan Icenhower of IMG Live, and Brian Irving from Eventbrite.
Dates & Location: MGM Grand Las Vegas Hotel & Casino, November 17 - 20, 2019
Who should attend: Anyone who organizes festivals (food, music, film, eSports), convention and visitor bureaus, event tech providers, event services companies and A/V/lights/staging ventures.
ASIA & MIDDLE EAST
UFI Global Congress
The UFI Global Conference combines networking and content for a members-only event on an international scale. Attendees will gain insights into the trends and challenges of today's events through workshops, networking lunches and keynote speeches. This year's show in Bangkok will be moderated by Caitlin Read of Comexposium and Stephan Forseilles of Easyfairs.
Dates & Locations:
Avani Bangkok Riverside Hotel, Bangkok, Thailand, November 6 - 9, 2019
Oman Convention & Exhibition Centre, Muscat, Oman, 9–12 November 2020
Who should attend: This exclusive event is open to members only. For information on how to become a member, check out this page for details.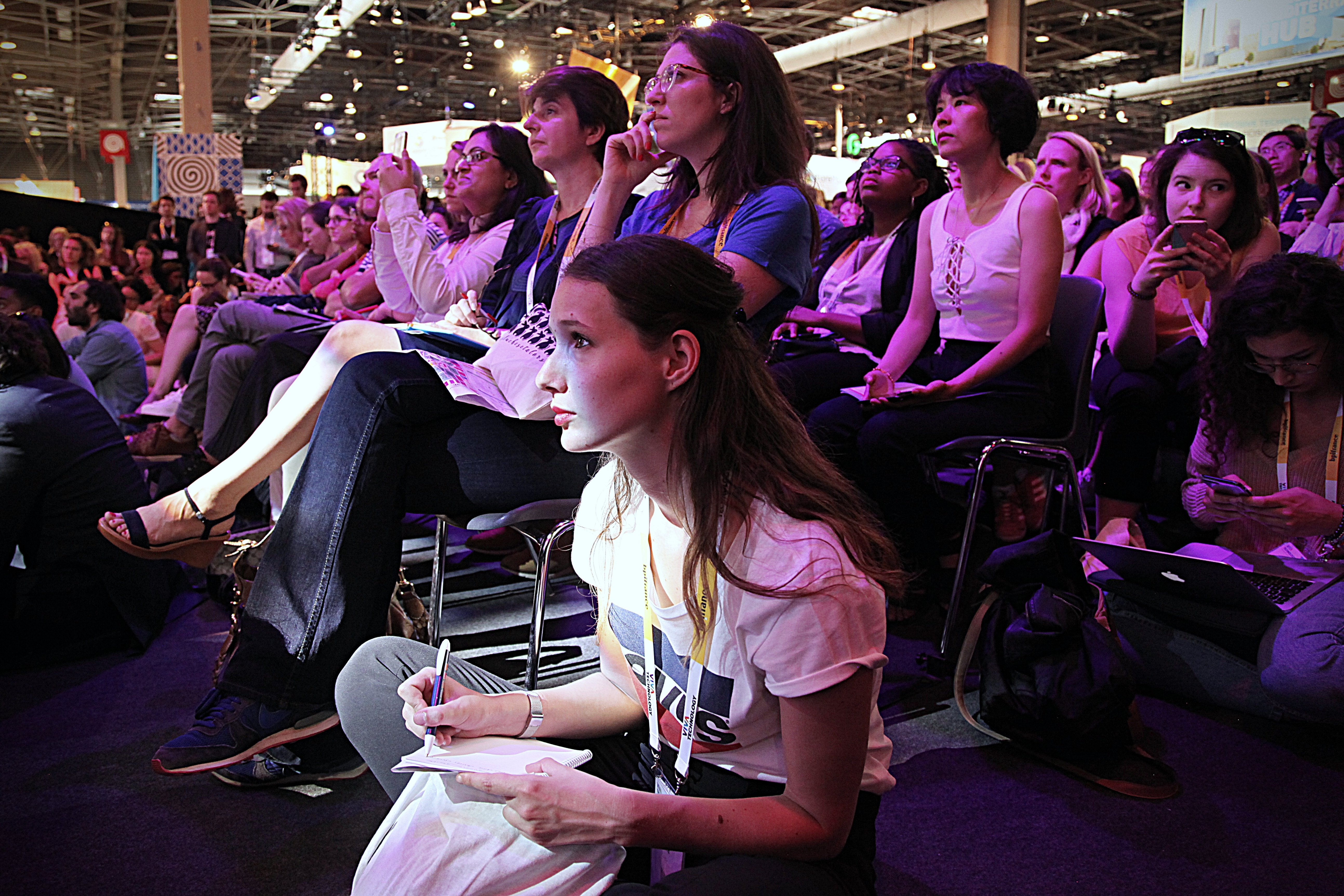 Attend educational workshops at the UFI Global Conference
WORLDWIDE
IBTM
No matter your corner of the world, you can probably find one of IBTM's four editions near you. Still left to take place for 2019 are IBTM China and IBTM World (this year in Barcelona), but there are also yearly shows in the Americas and Arabia.
Each edition is slightly different in its focus: Arabia matches Middle Eastern MICE suppliers with buyers, Americas is geared towards event inspiration, IBTM China looks at education, networking and career development in the Chinese market and the largest, IBTM World, covers networking, buying and driving innovation among its 13,000+ attendees.
Dates & Locations:
IBTM China, China National Convention Center, Beijing, China, 28-29 August 2019
IBTM World, Fira Barcelona Gran Via, Barcelona, Spain, 19-21 November 2019
Who should attend: Buyers, suppliers, and anyone looking to network, learn and boost their career.
IMEX
One of the largest events for incentive travel, meetings and events, IMEX Frankfurt connects more than 5,100 attendees with 3,500 exhibitors and 250 speakers. The same event takes place in the Americas in September annually with an average of 6,300 attendees and 180 speakers.
Dates & Locations:
Sands Expo, Las Vegas, September 10 - 12, 2019
Messe Frankfurt, Germany April 12-14, 2020
Sands Expo, Las Vegas, USA, September 15 - 17, 2020
Who should attend: If you're a meeting or event professional, incentive travel buyer, in-house expert or head of an agency on the hunt for new suppliers, this is the show for you. Showcasing their services are event tech providers, hotel groups, destination management companies and others.