Networking isn't the only way to keep people engaged at a virtual event. Swapcard found that the best way to keep virtual attendees engaged at an online event is through speakers and content.
Events are driven by their content. Learning is one of the key drivers that draw people to events. We love to learn and be on top of the latest industry insights. We want to listen to stories that will stick with us long after the event has ended. We attend conferences to stay ahead of the curve in our respective industries.
Knowing that, it's important to remind yourself that one of the best ways to bolster attendee engagement is to create high-quality, engaging content that keeps attendees wanting more. The more you leave your audience craving to know what's next, the more you keep your audience involved.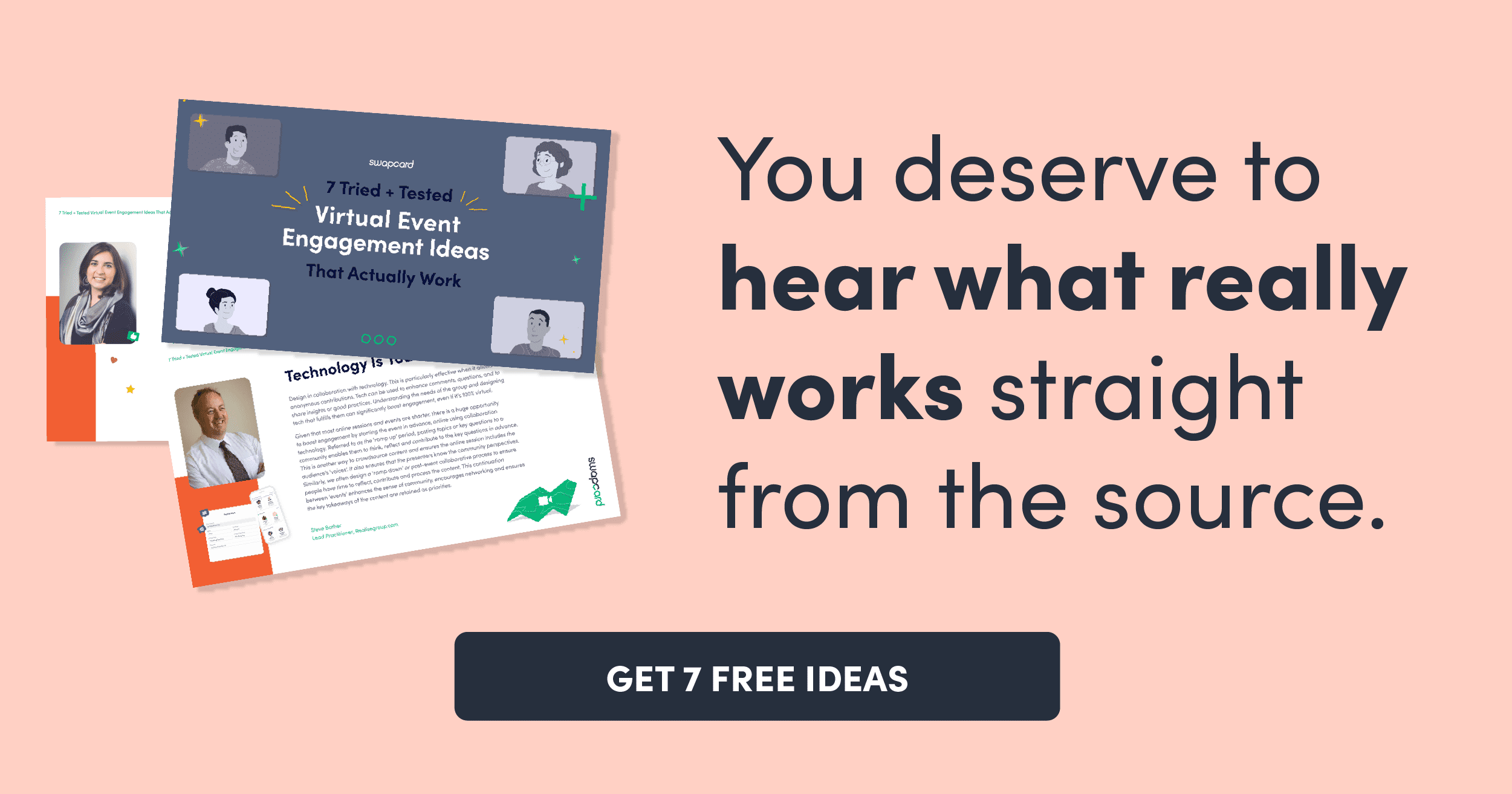 Remember: the best content is interactive. It combines presentations with networking. The difference between successful content and bland content boils down to the right blend of engaging speakers and real opportunities to network.
The best virtual events are a dialogue, not a monologue.
(If you're looking for awesome virtual event ideas, steal some ideas from this list.)
With that in mind, let's take a look at a few ways you can help beat boredom at your next virtual event. You'll see that these ideas are a great starting point to get inspired and kickstart your planning process!
Attention-grabbing sponsored sessions
Speaking of engaging content: it works for sponsors as well as speakers.
Data from Swapcard events reveal that "the most profitable investment on a virtual platform for exhibitors is a sponsored session, and that's where they generate the most leads. During a 1-day, a 3-day or a 5-day trade show, 40% of leads are generated during sponsored sessions. During a 1-day virtual conference, over 40% of leads come in through watching a sponsored session; a 2-day conference is 50% and a 4-day conference is as much as 60%."
Just because they're sponsored doesn't mean they have to be bland.
Make sure your sponsors know that this session is the best time for them to make an impression on their target audience. They shouldn't let this opportunity go by. This is the prime time to showcase all they have to offer.
Whether through an interactive workshop where presenters engage directly with the audience or having an expert speaker in high demand sharing their highly sought-after knowledge, this is the time to shine and generate interest.
Don't forget to get creative with it! Virtual audiences appreciate the effort and will be curious enough to tune in.
Eye-catching virtual booths
Some virtual event apps include virtual booths for sponsors. Like physical booths at live conferences, virtual booths allow event sponsors to speak directly with conference attendees.
Online attendees access these booths through their preferred device. They can learn about new products, follow up about something a speaker said during a sponsored section, or simply browse the virtual booths — just as people do at live conferences.
The big question is: do virtual booths actually drive sales?
Swapcard found that, at virtual trade shows, 30% - 45% of sales were closed at virtual booths. At virtual conferences, that number can be as high as 33%.
What does this mean for beating boredom? First, it means that exhibitors and sponsors need to invest in their online presence the same way they would invest in their onsite presence!
A virtual event uses its digital platform as a virtual venue. Designing your booth with this in mind will help you develop some creative ways to draw a virtual audience to your booth. Bright colors, exciting banners or images, captivating videos, are all ways you can catch a virtual attendee's eye. Have fun with it!
Networking tools designed for the virtual experience
As an event organizer, the key to success is making sure everyone — from sponsors to online attendees — achieves their goals.
In virtual events, choosing the right event platform is the best way to meet everyone's needs — and exceed their expectations. The best virtual platforms offer both a native mobile app and a web-based platform, giving attendees the freedom to choose how they'd like to experience your content.
Virtual event platforms give sponsors and attendees ample opportunity to connect with the right people, hear great speakers, and sell products. They have been explicitly designed with the virtual audience in mind, which is why they are primed to provide the best virtual experience.
How, you might wonder? Consider AI-powered matchmaking, a tool offered by Swapcard. It is an intelligent matchmaking feature that works to make sure connections are made between the right people. It connects individuals with similar interests and matches attendees with sessions that interest them.
Other features that can break the monotony of a virtual event include: breakout rooms, video and audio roundtables, engaging real-time chats, group video calls, and so on. The event tech sector is continually working to find ways to help people connect more authentically, so there are sure to be even more features to look out for soon!
What to remember
Ultimately your virtual event is what you make of it. Once you embrace the fact that a virtual event is not meant to replicate an in-person event, you can begin planning for an online experience that your attendees will remember.
Remember to grab your audience's attention with sponsored sessions, create eye-catching virtual booths, and use a platform that is specifically designed with your virtual audiences' engagement needs in mind.
All you have to do is make sure everyone leaves happy.
To achieve that is a matter of creativity and trial-and-error. Your event isn't meant to be perfect. It's intended to be memorable.
Swapcard would love to help you get your audiences as pumped about your upcoming event as you are. Let's work together to make your next virtual event one that will keep your audience coming back.