Paris, May 2020
Laval Virtual World partnered with Swapcard for the 22nd edition of their annual event from April 22-24, 2020, which went 100% digital for the first time in the face of COVID-19. Over the past 20 years, Laval Virtual has established itself as a key facilitator for organizations in the VR/AR sector. Its mission is to serve, inform and animate the community of users of VR/AR and immersive techniques in its BtoB uses through meeting and discussion platforms and information services.

"What we loved about Swapcard was the possibility to synchronize the content on the web and mobile app. We saved a lot of time with ability to integrate speakers, the program and more. We also wanted to encourage networking before, during and after the event and Swapcard gave us this added value not only for exhibitors and speakers, but also for our professional visitors." - Laurent Chretien, CEO of Laval Virtual
What was originally planned as a live event had to pivot to virtual a little over a month before the event launch due to the global COVID-19 health crisis and subsequent restrictions on gatherings and travel. The organizer team had to work quickly to adapt their communication strategy, choose the best platform and train their speakers, attendees and their own team on the virtual platform. It was no easy feat, but with the right tools and technology, Laval Virtual made a success of the event and exceeded all expectations.

"The world is changing, I think a lot of events will have to adapt and to go digital. There are people who can't attend events in person, so it's great to be able to attend the event online at least!" - Nataliya Velykanova, Founder of Gate22, Laval Virtual attendee

Laval Virtual chose to work with Swapcard for their event app and AI-powered matchmaking technology. The event app, which was mostly used as a web app, allowed attendees to access an integrated programme, see the attendee list, register to sessions and see speakers' profiles. The AI-powered matchmaking led to many new connections being made among attendees and exhibitors.

"With our online edition of Laval Virtual, in the face of COVID-19, the Swapcard app was crucial to our attendee experience, and we achieved a high usage rate. More than 50% of our visitors used the platform during the event, notably to schedule networking meetings in the Laval Virtual World: more than 3,000 meetings were created!" - Laurent Chretien, CEO of Laval Virtual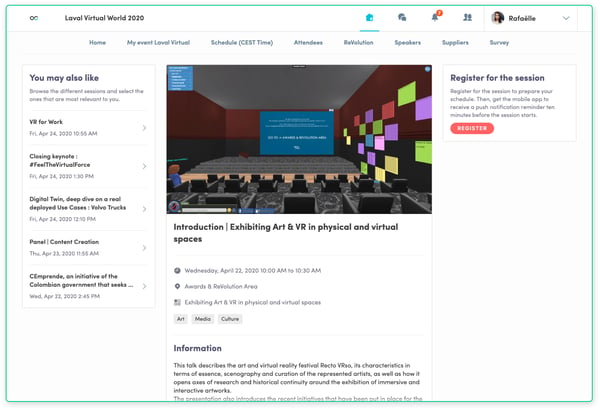 Some key results:
Over 7,000 messages exchanged
Average length of video calls at nearly 14 minutes
Attendees visited the "Schedule" section of the platform to check the integrated and updated event programme and their personalized agenda nearly 12,000 times
Attendees also visited the "Speakers" and "Attendees" sections of the platform nearly 13,000 times to look for people they wanted to connect with
The prize for the "Best Networker" went to an attendee that made over 210 brand-new business contacts
From an attendee point of view, the event was a great success:

"It was easier to target the right people than at a physical event. We had a great overview of the sector and managed to connect with the community." - Nataliya Velykanova, Founder of Gate22, Laval Virtual attendee
Swapcard is event app and AI-powered matchmaking technology.